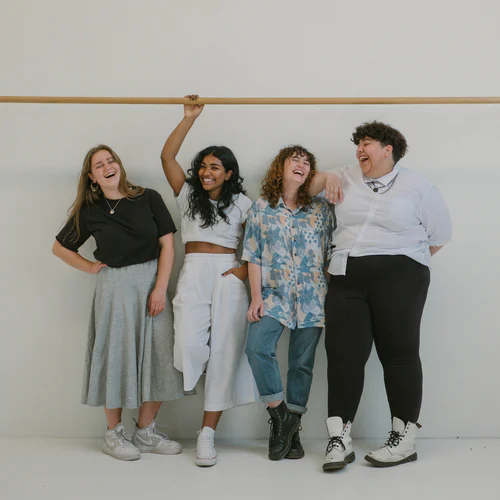 Studies confirm the well-known fact that the media impacts body image and nutrition. 
One study shows that 53% of thirteen-year-old girls are "unhappy with their bodies." At age 17, the percentage grows to 78%. 
The portrayal of preference for thin bodies and the emphasis on beauty in the media, advertisements, and movies sparked the social movement towards body positivity. 
The body positivity movement and organizations such as The Body Positive seek to challenge how society views the body and to promote the acceptance of all bodies. In doing so, body positivity encourages and builds confidence and acceptance of an individual's body, and addresses the unrealistic body standards that the media portrays. 
Social media has reshaped the beauty industry, with brands both big and small leaning into the opportunity to connect with their consumers directly on their feed. 
There are almost 15,000,000 #bodypositive posts on Instagram, showcasing the growing popularity of the body positive movement. 
Established and popular leaders in the beauty industry, such as Vogue, are also proclaiming that it's time for big beauty brands to embrace body positivity.
 This article will explain how they are doing so, and what growth there is still to come for a body-positive future in the beauty industry that is expected to grow in global value from $507.8 billion in 2018 to a projected $758.4 billion by 2025.
Marketing Tactics
The new rules for beauty advertising in this dynamically evolving and consumer-led industry are driven by a focus on body positivity and diversity.
 Beauty products have long been sold as "hope in a jar" to consumers in response to the effects of beauty propaganda on consumers. 
This includes "perfection fatigue" where conventional ads are highly polished, re-touched, and display an unrealistic or unattainable image of the product through the selection of models or marketing language. 
In the modern world of beauty marketing, products that resonate with consumers are ones they can see themselves using. 
A study on body shape and endorser effect on brand attitude and body image noted that body image and cultural backgrounds should be considered in the marketing of products. 
The use of more realistic body shapes and ethnically relevant models are not only more socially responsible, but also create interest and success in beauty brands through relevant advertising. 
Another report on the future and disruption of the beauty industry found that roughly half of those surveyed about beauty advertisements said that "seeing people who look like them portrayed positively in advertising and media makes them feel beautiful." 
This was particularly noted for body size, age, race, and ethnicity. Nearly 70% of Black respondents to the survey agreed that "they feel beautiful when they see people positively depicted with their race or ethnicity."  The report notes that implications for the future of the beauty industry will hinge on:
Inclusivity and rejecting long-entrenched beauty ideals.

Big beauty brands are learning how to become innovation disruptors.

Finding new strengths as social media crowns beauty ambassadors.
In essence, brands and players in the beauty industry must promote body positivity through inclusive advertising in marketing and imagery that is diverse to remain competitive in this market; this is because consumers have come to desire products that are designed for and represent the wide range of the human form.
 This may include eye creams, anti-aging eye creams, or dark spot correctors that showcase aged models. Other areas for opportunity and focus may include sunscreens, foundations, and color palettes that are designed and marketed to an audience rich in a palette of diverse skin pigmentations. 
A study by Google found that inclusive ads affect customer behaviors. The study noted that 64% of those surveyed took some sort of action after seeing an ad they considered diverse or inclusive. 
The percentages were even higher among specific consumer groups who viewed the inclusive and diverse ad:
Latinx: 85%.

Black: 79%.

Asian/Pacific Islander: 79%

LGBTQ+A:85%

Millennial: 77%

Teen: 76%.
Body Positivity Ambassadors and User-Generated Content
Ambassadors include famous body positivity spokespeople like musician Lizzo, who now identifies as "body-normative" and seeks to move the conversation in a way that normalizes and celebrates bodies of all sizes. 
However, not all body positivity or body-normative ambassadors are famous. Beauty brands also offer opportunities for the lay-consumer, enthusiast, or influencer to become ambassadors for their brand on social media. 
This offers the opportunity for brands to engage directly with their consumer base, and to build trust and credibility. These ambassadors and their followers can then hold the beauty brand accountable in bridging the gap of promoting and delivering body-positive products.
Diverse Leadership
Following the historical year of 2020 where global movements toward anti-racism became highlighted in the news, the beauty industry committed to effect change in diversification of the workplace through systemic internal changes.
 While some reports note that beauty brands are already displaying diminished representation efforts, other studies show that diverse teams are smarter, and that diverse leadership boosts innovation. Opening the door to usher in a diverse team offers more than just innovation for successful product creation, but also brings an element of authenticity, which is critical as trust waivers among consumers who question historical body and beauty standards that they cannot relate to — and no longer wish to aspire to.
Brand Transparency
Modern consumers are demanding transparency from companies, including transparency in beauty and wellness companies. Consumers want to make informed decisions on the products they purchase — what the ingredients are, where ingredients are sourced, if the products are produced in sustainable ways, etc. But that isn't all that consumers want to know, they also want to purchase from companies that have a genuinely positive social impact.
Transparency can come in a direct form from the brand — providing data and statistics on the diversity of their leadership and employees. Yet, transparency can also be supported indirectly by promoting body-positive brand ambassadors and user-generated content.
Prioritizing Different Needs
It is not surprising that customer satisfaction is still important in creating a successful business, but to truly satisfy your customers, you need to understand their needs. 
For example, the beauty market has largely been focused on products for women. Products designed for men typically used aggressive branding and/or 3-in-1 solutions rather than focusing on the diverse needs, preferences, and appropriate products for male consumers. 
The men's personal care and beauty market presents many opportunities for businesses to create an inclusive and body-positive approach to their products and marketing that are focused on meeting the specific needs of their customers. 
Modern male consumers have demonstrated an interest in buying face moisturizers, facial toners, and exfoliators and facial scrubs, leaving behind conventional multi-products for more custom, effective items — a trend that traditional beauty brands have yet to fully embrace.
Another example may include the recent trend of skinimalism, which focuses on creating a minimalistic skin regimen that is curated to your specific skin type. Rather than targeting aspects of skin as negative — acne, wrinkles, discoloration — brands can focus more on developing products that normalize the specific needs of different types of skin.
Why Is Body Positivity Important?
The importance of body positivity is entrenched in disrupting the historical standards of beauty and ideal body shape, size, or general appearance. The messaging that arises from a narrow definition of beauty — one that was traditionally young, white, thin, or muscular — can be damaging for many who don't meet these criteria. These unrealistic expectations can lead to poor mental health, body dissatisfaction, and unhealthy behaviors.
Additionally, The Body Positive, a leader in the body positivity movement since 1996 notes in their frequently asked questions page: "It's important because… too many people have lost their lives to eating disorders…  there is so much incredible beauty in the diversity of people on this planet and we deserve to see and experience it all.  We need all of our energy and resources to be put towards making the world a better place, not wasted on lamenting about and/or trying to perfect our bodies… so we can shift the predominant culture of our society."
Issues Facing the Beauty Industry
The beauty industry is facing many challenges as they navigate a consumer landscape that strays from conventional body images and supports new trends; including the movement for body positivity, diversity, and even environmental initiatives. Not all players in the beauty industry are agile enough to meet these changing consumer demands and inevitably, some will fail. 
However, brands that offer transparency, promote diversity, and meet the consumer where their preferences and needs are, may have a better chance at navigating an evolving industry.