At some point in our lives, those crinkly little laugh lines around our eyes morph into deep set crow's feet. Lines around the eyes are inevitable part of the aging process as the eyes are one of the first areas on the face to show the signs of aging. But is there anything that can be done to help prevent crow's feet, and minimize their appearance?
What Causes Crow's Feet?
Lines around the eyes can be chalked up to a multitude of different things. The skin around our eyes is drier and thinner than other places on the body. As we get older, our skin loses its collagen and elastin, which are responsible for keeping skin plump and firm. This is due to age as well as external factors such as sun damage, free radicals and changes in hormone levels.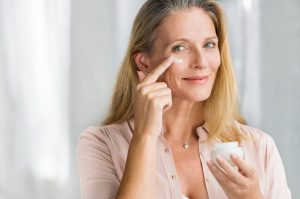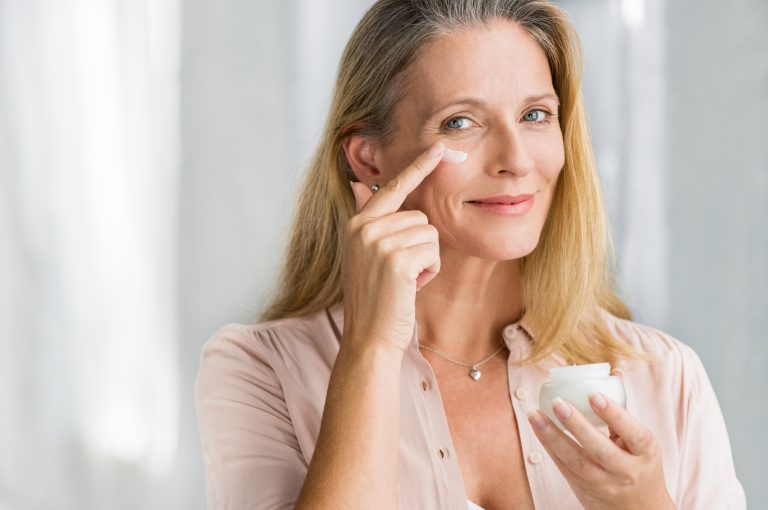 Related: How To Get Rid of Wrinkles

There are a few more culprits: the eye area has less oil glands than other parts of the body, which leaves the skin there dry and less supple. Fat levels under the eye also decrease with age, which can exacerbate the look of lines. Any and all repetitive facial movements also contribute to wrinkles, whether that is laughing, crying or squinting as the constant contraction of muscles leads to lines. Even blinking counts, and on average we all blink more than 15,000 times a day. Rubbing your eyes is another bad habit than can contribute to lines.
Sleep is another factor. Although we all know we need our beauty sleep, it can sometimes backfire. How you hit the pillow can be another cause of eye wrinkles. If you always sleep on one side of your face, the side that is crushed against the pillow can ended up being more wrinkled. If sleeping on your back isn't an option, consider switching to a silk pillowcase, which will cause less creasing.
How Can You Prevent Crow's Feet?
Although Kim Kardashian told an interviewer that her secret to smooth skin was "not smiling," keeping your face immobile isn't a viable option for most people. The good news is that there are plenty of ways to keep fine lines at bay. Prevention is key and here are some of the best ways to do it.
Sunscreen

One of the most important weapons in the fight against aging is sunscreen. This should be worn every single day. Choose an eye cream with a high SPF so that it automatically becomes part of your routine.

Wear Sunglasses

Another way to shield your eyes from the sun and prevent squinting is to Invest in a large pair of sunglasses. Wear them anytime it is sunny, even in the winter, to prevent squinting.

Get Your Eyes Checked

Speaking of squinting, if you find yourself unable to read your screen or a magazine, it could be time to have your eyes checked out.

Remove Makeup Gently

The eye area is prone to dryness and should be treated accordingly. Don't strip the eye area of its natural oils by over cleansing. Use a gentle eye makeup remover to gently whisk away eye makeup and don't tug. A cotton bud may be more delicate on the eye area than a cotton pad.

Quit Smoking

If you happen to be a smoker, it's time to stop – for your health, and your face. Nicotine accelerates the aging process, especially around the mouth and eyes.

Load Up on Healthy Foods

It's always a good idea to reexamine your diet. While food cannot erase the passage of time, we are what we eat, so ditch the sugary, processed foods and reach for nutrient dense foods that are high in antioxidants. Choose foods that have healthy fats such as the omega 3s found in salmon and mackerel, nuts and seeds, avocados and olive oil.

Drink Plenty of Water

You know you're supposed to drink eight glasses of water a day but few of us actually do it. Water is essential for keeping skin hydrated and healthy, as sometimes fine lines on the face can be chalked up to dehydration rather than aging. Keep a refillable water bottle with you all day, or add hydration topically by misting your face with water or rose water. Jurlique's Rosewater Balancing Mist has been a beauty editor favorite for years.

Buy A Concealer with SPF

Double up on your sun protection by using a concealer that also has SPF protection. It pulls double duty for brightening the eye area and also adding sun protection to help prevent more crow's feet. Neutrogena's Healthy Skin 3-in-1 Concealer For Eyes Broad Spectrum SPF 20 comes in four shades.
What Are The Best Eye Creams for Crow's Feet?
Preventing eye wrinkles is a multi-step process that comes down to changing habits as well as choosing the right products. While no product can permanently erase the look of eye wrinkles, they can improve the appearance of the eye area by plumping it up and hydrating it, while also preventing more fine lines from forming with the right ingredients.
Invest in a good eye cream and use it daily. You may have to buy two separate creams depending on your needs, such as a daytime eye cream with a high SPF, and a nighttime cream that works on fine lines while you sleep. A little trial and error is always needed to find the right eye cream for your skin type. Some people prefer a rich cream that feels instantly soothing, but this may feel too greasy for some – and cause eye makeup to slide off. Heavier creams may not be suitable for anyone who lives in a hot, humid climate. A gel is a lightweight option that tends to be absorbed quickly and won't cause makeup to crease. Another consideration when choosing an eye cream is the applicator. A metal tip feels cooling to the eye area and roller balls feel soothing and also help with puffiness.
Here are some products (and ingredients) to look out for.
Chemical Exfoliation

Exfoliation is a key part of any beauty routine as it gets rid of dead skin cells that dull the skin and also make it look drier – and more lined. While you would never want to attack your eye area with a harsh exfoliator, you do want to encourage skin cell turnover here. Try a product with glycolic acid for a gentle chemical exfoliation of the eye area, such as Mario Badescu Glycolic Eye Cream, or Clarins Multi Active Eye Cream.

Peptides

Peptides are the building blocks of skin. They are amino acids which are thought to help boost collagen production. SkinCeuticals A.G.E. Eye Complex contains peptides and antioxidants to help target dark circles, puffiness and crow's feet.

RetinolRetinol, a vitamin A derivative, is considered the gold standard when it comes to anti-aging skincare. That's because retinol encourages cell turnover, which reveals fresher, smoother looking skin. A retinol laced product will help fade fine lines and dark spots, and it's the key ingredient in Formulyst's Complete Anti-Aging Eye Cream. This multi-tasking formula contains retinyl complex and peptide technology to help reduce the appearance of fine lines and wrinkles, while hyaluronic acid and cucumber extract soothe and hydrate the delicate eye area.
Antioxidants

Antioxidants help protect the skin against damaging free radicals, which can lead to wrinkles. Look for ingredients such as vitamins A, C, E and green tea in eye creams which not only help protect the skin but can soothe it and help brighten the eye area. Drunk Elephant's C-Tango Multivitamin Eye Cream is formulated with five forms of vitamin C along with cucumber extract and eight peptides.

Reach for Plumping ProductsOne of the best ways to minimize the appearance of crow's feet is to fill in the lines with a plumping product such as hyaluronic acid, which can hold up to 1,000 times its weight in water. Formulyst Anti-Aging Eye Cream is packed with hyaluronic acid and delivering five anti-aging actions in one. It also helps reduce the look of dark circles, puffiness and crow's feet.
Apply An Eye Mask

In addition to your eye cream, an eye mask is a perfect pick me up for the eye area, as it delivers a boost of hydration and helps plump up lines. A cult favorite classic eye path is Shiseido Benefiance WrinkleResist24 Pure Retinol Express Smoothing Eye Mask, which help hydrate and brighten the eye area.

Massage with Oil

Massage not only feels good, but it can also help do good on your skin. Apply a small amount of facial oil to the eye area and lightly massage it with your pinkie. It feels soothing but helps to stimulate blood flow to the area. Be careful not to pull and tug the thin skin here.
Are There Other Treatments for Crow's Feet?
There are a few more non-surgical treatments to consider. One option is microneedling, which can be done in a medical spa or at home. The procedure involves creating tiny wounds to the skin to kickstart the healing process. Put another way, it is a controlled injury to the body. Here's how it works. A numbing cream is applied before tiny needles puncture the skin to trigger the healing process. The concept is that during the healing process, the body creates collagen and elastin, leading to smoother, firmer skin and fine lines appear less noticeable.