There is no such a thing as a miracle, but when it comes to skincare, one product come close- retinol. This vitamin A derivative is considered the gold standard of anti-aging products and works in multiple ways. Retinol boosts collagen production, which helps to plump up the skin and make it look firmer. It also encourages cell turnover, by sloughing off the outer layer of the skin to reveal a newer, fresher looking complexion. Using a retinol regularly will leaves skin looking smoother with an improved texture, and also work to unclog pores. And there's more: retinol helps to fight acne and reduce the appearance of fine lines and wrinkles, and also tackles hyper pigmentation.
This powerhouse wrinkle fighter is commonly found in anti-aging face creams as well as eye creams. The eyes are often the first place to show the signs of aging, such as fine lines and dark circles. That's because the skin around the delicate eye area is the thinnest on the body. Habits such as squinting, smoking and exposure to the sun can also deepen eye wrinkles. If you frequently rub your eyes when you're tired or need a break in front of the screen, try to stop. Constant tugging on the eyelids doesn't help. Genetics and skin color also play a part in issues such as dark circles and puffiness.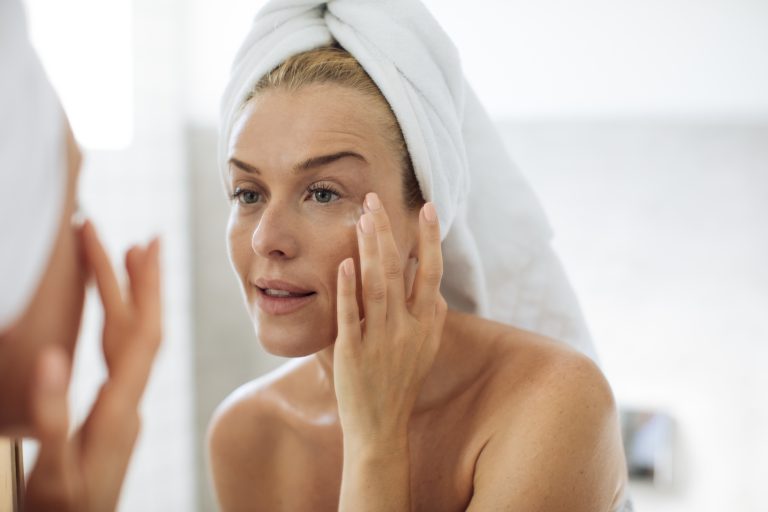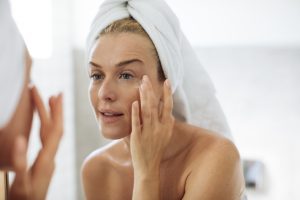 There are some natural remedies and habit changes to help prevent wrinkles, such as always wearing sunglasses when driving and in the outdoors, adding a humidifier to the bedroom and sleeping on your back to avoid unnecessary creasing of the face. Drinking plenty of water and avoiding salty foods can also make a difference with under eye bags and dark circles.
While getting enough sleep and applying sunscreen are no brainers, arguably the most powerful weapon in your beauty regimen to tackle eye wrinkles comes in a little tube. An eye cream with retinol can help tackle multiple eye issues, from reducing the appearance of wrinkles, as well as lightening dark circles. Choosing the right eye cream can help make you look refreshed and awake, as if you've slept a solid eight hours when in reality you've pulled long hours in front of a computer.
Retinol, a powerhouse ingredient, can work wonders on the undereye area as well. It helps to reduce the appearance of fine lines and wrinkles, as well as prevent any future ones from cropping up. Retinol can also minimize the appearance of under eye circles and work to depuff undereye bags. Think of it as treatment as well as prevention.
As with any retinol product, start slowly and remember that less is more. Most eye creams use a lower concentration of retinol than what would be found in a face cream but the same rules apply. Start by applying a tiny amount of the cream a few times a week and build up to using it daily to prevent any redness, peeling or irritation. Using a retinol can make the skin more sensitive to the sun, so remember to use a broad-spectrum sunscreen as well to protect the eye area.
The best retinol eye creams are also packed with nourishing moisturizers, such as hyaluronic acid, to help combat any side effects of the retinol, such as redness and peeling, as well as to keep the thin skin on the eye area well hydrated. The best eye creams should also be loaded with antioxidants and skin soothing ingredients to prevent any irritation. Try to choose a tube rather than an open jar to prevent the retinol cream from losing its effectiveness.
Remember that the eye area is delicate so apply the product with your pinkie or ring finger in a tapping motion – don't rub or tug at the skin. Start by applying the retinol eye cream at night although some people may build up to applying it twice a day. And be patient: results can take time to show up. Most people see improvement in eight to 12 weeks of use but this varies. As with any skincare routine, consistency is half the battle.
Here's a look at some of the best retinol eye creams.
Dr. Dennis Gross Ferulic & Retinol Eye Cream
This rich eye cream provides a one-two punch. The creamy formula nourishes the delicate eye area and tackles crepey skin while also smoothing out fine lines, wrinkles and crow's feet. The skin area is left looking brighter thanks to a dose of ferulic acid while willow bark extract tackles puffiness. Apply the cream twice a day.
RoC RETINOL CORREXION Eye Cream
Drugstore favorite RoC pulls double duty, tackling dryness as well as fine lines with its Retinol Correxion Eye Cream. The lightweight formula targets wrinkles thanks to retinol while zinc, copper, and magnesium work to boost cell turnover and reveal fresher looking skin. The eye cream also works to depuff eyes.
Murad Retinol Youth Renewal Eye Serum
Say sayonara to eye wrinkles with this supercharged serum from Murad. The lightweight formula contains three forms of retinol, including a booster as well as time-released version. Swertia flower extract works to improve firmness while the addition of hyaluronic acid keeps the eye area hydrated.
Dermalogica Age Reversal Eye Complex
Fine lines and wrinkles are no match for Dermalogica's Age Reversal Eye Complex. The fragrance free formula does a little bit of everything. It reduces fine lines around the eyes, brightens dark circles, and helps to minimize puffiness. Retinol is the key ingredient along with vitamin C for a boost of brightness. Peptides work to increase skin's firmness.
Olay Eyes Pro Retinol Eye Treatment
Drugstore favorite Olay offers an eye cream that is not only affordable but could be the right choice for anyone with sensitive eyes. The eye cream contains retinyl propionate, a more gentle form of vitamin A. The applicator tip can be used to apply the cream gently to the eye area. It's also packed with nourishing ingredients to help soothe the delicate eye area skin.
Philosophy Ultimate Miracle Worker Eye Cream
This eye cream is aptly named the Miracle Worker as it deftly handles just about all eye issues- and contains broad spectrum SPF 15. The workhorse ingredient is plant-based retinol derivative that works to ward off the signs of aging while encouraging collagen production. A boost of caffeine works to depuff eyes and tackle dark circles.
PCA Skin Retinol Renewal
One to two pumps of this light weight serum is all that's needed to harness its anti-aging powers. PCA's serum blends retinol with botanicals to help minimize any irritation and is best suited for younger skin or anyone with sensitivity issues. Vitamin E and hyaluronic acid shore up moisture levels to keep skin well hydrated, while rice bran protein works to improve firmness.
Exuviance Super Retinol Concentrate
This supercharged cream glides on like a lightweight serum but contains 1% retinol to target deep wrinkles and crow's feet. The retinol is released with a time delay to avoid any irritation and can also be used on sensitive skin. Start slowly and build up to daily use. Apply the cream at night.