Who wouldn't want to look like Cindy Crawford? The iconic supermodel may be in her early 50s now but she hardly looks any different than she did in her modeling heyday. What's her secret? Crawford might attribute her flawless looking skin to Meaningful Beauty, the anti-aging skincare line she founded with French skincare expert Dr. Jean-Louis Sebagh.
What are the Best Skin Care Products of 2021?
You've probably seen the infomercials for Meaningful Beauty on television. It was launched in 2005 by Crawford and Sebagh. The line is based on Crawford's skin care routine and includes a wide range of products with an anti-aging focus.
But can the Meaningful Beauty products really give you flawless skin like Cindy Crawford? To answer this question, we'll review the top 10 best Meaningful Beauty products with a scientific lens, meaning we've evaluated the research that supports (or doesn't support) the ingredients that you'll find in these products. We'll also share some Meaningful Beauty reviews so that you can get a better idea of what customers really think about these products.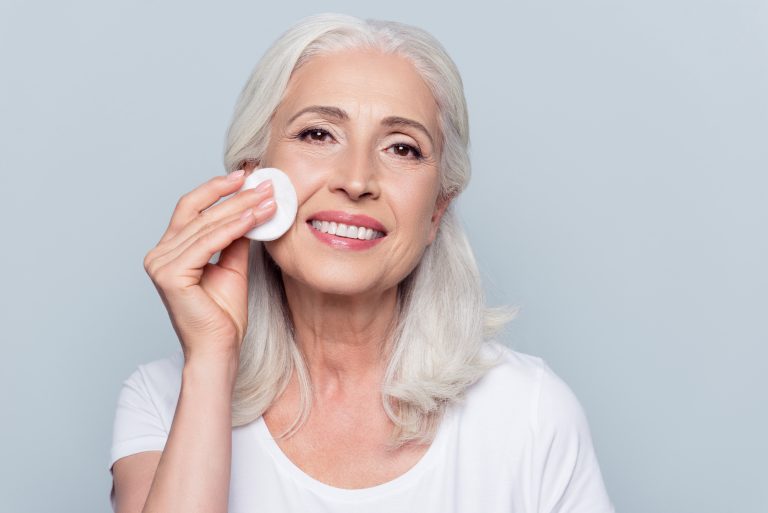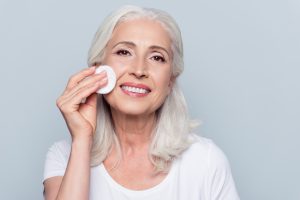 What Are The Top 10 Best Meaningful Beauty Products?
The Meaningful Beauty product collection provides everything you need to build a skin care routine, including cleansers, toners, exfoliators, masks, eye creams, moisturizers, sunscreens, and serums.
The brand offers three different kits:
Glow and Go Trio (three Meaningful Beauty products)

5-Piece Skincare System

7-Piece Skincare System
If you aren't ready to invest in a kit, here's a breakdown of the top 10 best Meaningful Beauty products. 
Meaningful Beauty Creme De Serum
Formulated to combine the potency of a serum with the moisturizing effect of a cream

This serum is said to help skin's overall firmness and hydration lost through the years, as well as target the appearance of fine lines and wrinkles

Key ingredients include silicones, synthetic emollients, glycerin, vitamin E, melon fruit extract, sodium hyaluronate, and peptides

Contains a synthetic fragrance blend
Meaningful Beauty Dark Spot Correcting Treatment
Facial treatment for those who want to fade dark spots and other unsightly changes in pigmentation

Formula contains 2% hydroquinone as the active ingredient, which is considered to be the gold standard treatment option for hyperpigmentation

Additional brightening ingredients include glycolic acid (a type of alpha hydroxy acid), ascorbyl palmitate (vitamin C derivative), and retinyl palmitate (vitamin A derivative)

It is recommended to apply this treatment to the affected areas only, and follow with a broad spectrum sunscreen when going outside

Contains two parabens

Contains a synthetic fragrance blend
Meaningful Beauty Skin Softening Cleanser
A mild, soap-free cleanser that is formulated to maintain the skin's natural pH balance while gently removing excess oil, impurities, makeup, and mascara

Formula contains sodium laureth sulfate as the key cleansing ingredient. Despite the name similarity, sodium laureth sulfate (SLES) is not the same as sodium lauryl sulfate (SLS), which is known to cause skin irritation. Rather, SLES is a mild cleansing agent that can clean the skin without causing dryness, tightness, or irritation

A unique ingredient in this cleanser is galactaric acid, which is a potent antioxidant extracted from apples

Fragrance free
Meaningful Beauty Ultra Lifting and Filling Treatment
A dual-action serum that is said to give the skin a visible lift

Key ingredients include glycerin, dimethicone, melon fruit extract, orchid leaf/root/stem extract, and Neodermyl (blend of glycerin, copper lysinate/prolinate, and methylglucoside phosphate)

Neodermyl readily absorbs into the deep layers of skin, directly targets fibroblasts, and triggers the essential elements needed to reactivate collagen and elastin. Plus, Neodermyl works fast, demonstrating high clinical efficacy within 15 days, resulting in visible reduction of deep wrinkles and improvement of skin firmness

Contains synthetic fragrance ingredients
Meaningful Beauty Glowing Serum
An anti-aging serum that is said to help nourish and revitalize, leaving your complexion with a more youthful, luminous glow

Contains a high concentration of hydrolyzed soy protein, which is a rich source of isoflavones. Isoflavones have a weak estrogenic effect and therefore may be able to increase skin thickness

Other key ingredients in this serum include ascorbyl methylsilanol pectinate (a vitamin C derivative), kelp extract, pumpkin fruit extract, and vitamin E

Contains one paraben

This formula contains over 10 different synthetic fragrance ingredients, which have the potential to cause skin irritation and sensitivity
Meaningful Beauty Youth Activating Melon Serum
An anti-aging serum that is said to visibly increase firmness and elasticity while helping to protect the skin from future environmental damage

One key ingredient in this serum is encapsulated melon leaf stem cells. It's theorized that plant-based stem cell factors can mimic the action of human stem cells, secreting the same growth factors to repair and regenerate the skin

Another unique ingredient in this Meaningful Beauty serum is sea daffodil extract, which helps to even skin tone and enhance clarity by addressing the signs of age and sun-related pigmentation

Contains a synthetic fragrance blend
Meaningful Beauty Lifting Eye Cream
A lightweight anti-aging eye cream that is said to visibly firm and smooth the appearance of fine lines, as well as reduce the appearance of puffiness

Key ingredients include glycerin, dimethicone, synthetic emollients, hydrolyzed hazelnut protein, melon fruit extract, aloe vera leaf juice, cholesterol, bisabolol, and sodium hyaluronate

Fragrance free
Meaningful Beauty Eye Enhancing Serum
An anti-aging eye serum that is recommended to be used together with the brand's Lifting Eye Cream

This serum is said to fight the appearance of puffiness and dark circles, helping to protect the eye area from aging free radicals

Key ingredients include silicones, synthetic emollients, melon fruit extract, and botanical hyaluronic acid

Fragrance free
Meaningful Beauty Anti-Aging Day Creme 
Facial moisturizer that includes chemical sunscreen ingredients to provide broad spectrum SPF 30 protection

Additional key ingredients include silicones, synthetic emollients, silica, vitamin E, peony root extract, melon fruit extract, and several more botanical extracts

This moisturizer is said to hydrate and protect your skin from modern-day environmental factors such as blue light emitted by our phones, TVs and computer screens, infrared light, and pollution

Contains a synthetic fragrance blend
Meaningful Beauty Age Recovery Night Cream
Hydrating overnight facial treatment that is said to reduce the appearance of fine lines and wrinkles around the eyes, mouth and forehead, increase the look of visible firmness and impart a smooth overall texture

Key ingredients include synthetic emollients, sweet almond oil, retinol, melon fruit extract, vitamin E, and ascorbyl methylsilanol pectinate (a vitamin C derivative)

Contains a synthetic fragrance blend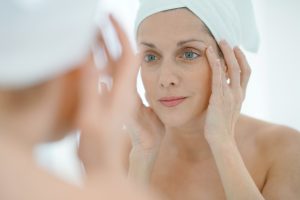 What Are The Key Ingredients in Meaningful Beauty Products?
There's one key ingredient that's used throughout the entire collection of Meaningful Beauty products, and that's melon fruit extract. According to the brand, this rare French melon extract is used because it contains superoxide dismutase (SOD). But what exactly is SOD and is it really the key to youthful skin? Let's take a look at the science. 
SOD is an antioxidant enzyme found in all living cells. Antioxidants limit oxidative damage caused by free radicals, the unstable molecules that contribute to the formation of premature wrinkles and fine lines on the skin. Specifically, superoxide dismutase catalyzes the dismutation of the superoxide free radical into oxygen and hydrogen peroxide. 
Topical application of superoxide dismutase has been shown to protect cell membranes and also protect against fragmentation from free radical damage to type I collagen. Ultimately, this helps to prevent fine lines, wrinkles, and age spots. Research also indicates that superoxide dismutase may help with wound healing, soften scar tissue, and protect against UV rays.
A 2018 controlled clinical study published in the journal Nutrients  investigated the potential skin photoprotective effects of a food supplementation and a topical administration of a melon concentrate alone or in combination.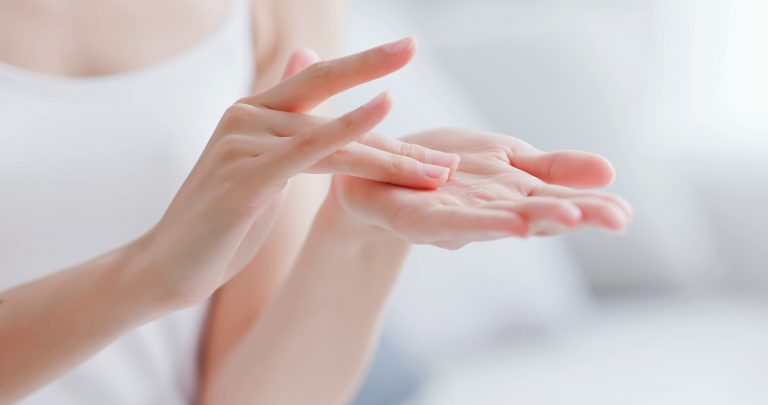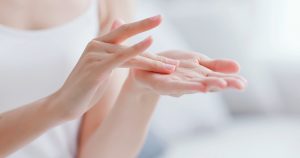 The study was conducted with four test groups including the placebo group (n = 22), the active cream group (n = 22), the active supplement group (n = 22), and the double active group (n = 22). Results from this study demonstrated a significant increase of minimal erythema dose (MED) after melon concentrate application and supplementation compared to the placebo group. Ultimately, this means the melon concentrate had a photoprotective effect due to the antioxidant superoxide dismutase. 
Besides melon fruit extract, many of the Meaningful Beauty product formulations contain high concentrations of silicones. The main function of silicones in skin care is to improve a product's spreadability while imparting a silky, smooth skin feel.
Silicones also help to improve moisture retention in the skin. After topical application, silicones form a protective covering on the skin that provides both water-binding and water-resistant properties. The water-binding portion of the molecule is the highly flexible and mobile siloxane backbone, which binds to moisture in the air and holds it to the skin. This backbone also allows the water-repelling methyl groups to orient themselves toward the surface, creating a waterproof "umbrella" that prevents trans-epidermal water loss (TEWL).
Lastly, it's important to keep in mind that nearly all of the Meaning Beauty products contain synthetic fragrance ingredients. The use of synthetic fragrance ingredients can be a problem because the brand can use a proprietary blend of chemicals to create the fragrance, and they do not have to disclose which chemicals they use on the label. They are allowed to list this blend as "Fragrance (Parfum)" on the ingredient list.
A 2018 study by Women's Voices for the Earth discovered that in over 3,000 chemicals reportedly used for fragrances, 1,242 were chemicals of concern – and that included at least 7 possible carcinogenic (cancer-causing) agents. Fragrance ingredients also have the potential to cause skin irritation and sensitivity.
Where to Buy Meaningful Beauty Products?
Meaningful Beauty products are sold on the brand's website, as well as several third party online retailers such as Ulta, QVC, and Amazon.
What is The Meaningful Beauty Return Policy?
Meaningful Beauty offers a 60-day money back guarantee. The policy states, "If for any reason you're not completely satisfied, just return the containers within 60 days of receipt, and you'll get a full refund of the purchase price (minus shipping and handling), even if the bottles are empty."
Is Meaningful Beauty Cruelty Free?
Yes, Meaningful Beauty is cruelty free. 
Meaningful Beauty Reviews
Meaningful Beauty reviews on the brand's website are very positive, with the brand as a whole receiving an average of 4.6 out of 5 stars after more than 6,000 customer ratings (the brand does not display reviews for specific products, but rather groups all reviews together).
The Meaningful Beauty reviews range from "I used Meaningful Beauty for about 10 years then quit for about 3 years and since, haven't found anything I've liked as much so I'm back!" to "Such a big difference after only 30 days. Fine lines are gone."
There are a smattering of 1 to 3 star reviews, which are mostly customers expressing their disappointment with the line. "I didn't see any improvement in my skin after using the product," writes one reviewer, while another one says, "Average product at best. Too expensive. Not worth it."
We also read through the Meaningful Beauty reviews on Amazon. The five-piece Meaningful Beauty kit has more than 1,500 reviews with an average rating of 4.3 out of 5 stars. There are many 5-star ratings with comments that say things like, "While every product in the sample kit may not be right for everyone, some are very good. Within a week, my skin is smoother, deep lines less noticeable and I look 10 years younger than I did in prior months. I say Hoorah!" Another user writes, "Love it!! My skin looks better than it ever has!!"
Click on the one-star Meaningful Beauty reviews and the complaints are due to the pricing, subscription delivery method, and the general effectiveness of the product. Some reviewers say they broke out in a rash or hives while others felt the products did nothing for their skin. For example, one review says "Honestly? I expected something a little better. But it was no different than anything I would get at a drugstore. I would not buy it again, total waste of money."
Some users who may have initially been drawn in by Crawford expressed doubt that her ageless looks were chalked up to Meaningful Beauty, while others say, "I think Cindy Crawford has beautiful skin to begin with. That makes it much easier."
Our Verdict
Overall, we think that some Meaningful Beauty products are better than others. Some products contain low concentrations of key ingredients, and others contain synthetic fragrances, dyes, and parabens. 
Pros
Research supports the antioxidant properties of melon fruit extract

Many positive Meaningful Beauty reviews
Cons
Some products contain synthetic fragrances and dyes

Some products contain parabens

Some products contain low concentrations of key ingredients
What Are Some Alternatives to Meaningful Beauty Products?
While the melon fruit extract in Meaningful Beauty products does have research to support its antioxidant properties and photoprotective effects, your skin needs more than just melon extract to look its best. That's why we recommend using a brand that includes high concentrations of evidence-based ingredients in their products, such as Formulyst. 
Formulyst believes in long-term skin care treatments rather than short-term cover-ups. For example, their Pro-Collagen Serum is specifically formulated for aging skin that has experienced a loss of collagen. The formula contains a highly concentrated mix of peptides and proteins, derived from seaweed, wheat, and soy, to help tackle signs of aging.

Another brand that balances the power of plants with cutting edge science is Carrot & Stick. Not only is Carrot & Stick good for your skin, it is also good for the environment as the formulas skip harmful chemicals as well as the preservatives, emulsifiers, and thickeners commonly found in skincare products.
References:
1.Nutrients. 2018 Apr; 10(4): 437.
2.Women's Voices for the Earth "Unpacking The Fragrance Industry" 2018