It's a fact of life that skin changes as we age. Wrinkles, dark spots, sagging, deep creases, fine lines, loss of moisture — all of these are unwelcome skin changes that we try to do battle against with a multitude of anti-aging products that fill our bathroom counters. While many of us can be carefree about skin care in our 20s, by our 30s it's a different story. Skin can start to lose firmness and appear a little saggy, and fine lines and wrinkles may start to make themselves known. Loss of collagen also starts to accelerate; starting around age 30, we lose 1% of collagen each year.  So what can we do about it? Plenty, from staying out of the sun, protecting the collagen that we have and using the right products to help the face and neck look and feel its firmest. Here's a look at the best firming and tightening creams of 2021.
Related: Best skin care products of 2021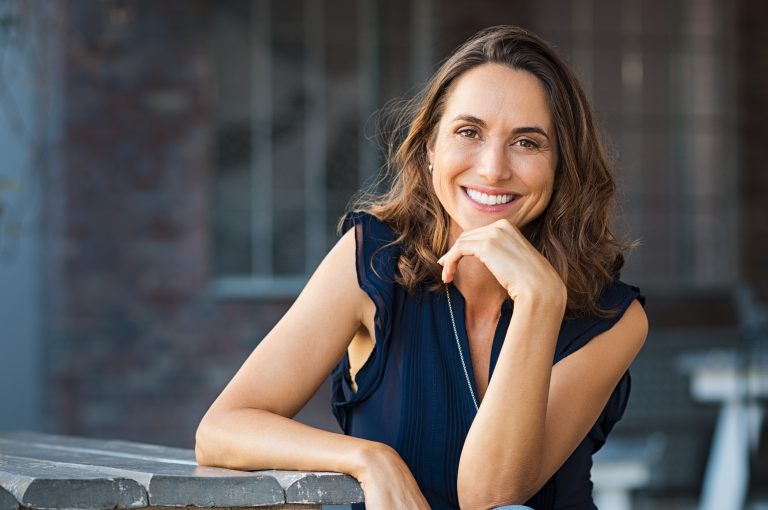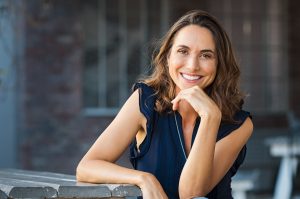 Why Skin Becomes Saggy and Loose
Skin becomes slack as we age due to a multitude of reasons. It mainly comes down to a breakdown of elastin, a protein that, in conjunction with collagen, keeps skin firm and gives it that nice springy bounce. Put another way, it's what allows skin to snap back once it's been stretched. Elastin degradation is a natural process of aging, but it can be impacted and accelerated by sun exposure, environmental stressors and bad habits like smoking and drinking too much alcohol.
The natural process of aging, or intrinsic aging, cannot be helped. This type of aging is largely influenced by genetics and is inevitable. As WebMd notes, one of the hallmarks of aging is that skin becomes slack. "The loss of the elastic tissue (elastin) in the skin with age causes the skin to hang loosely. Skin becomes more transparent. This is caused by thinning of the epidermis (surface layer of the skin)." As we age, skin becomes more fragile and can look sunken due to a loss of fat.
But extrinsic aging, the type brought on by sun exposure and other factors that result in premature aging, can be controlled to a point. Wearing sunscreen daily, using anti-aging creams diligently and dropping bad habits can all help slow down the extrinsic aging process. Skin firming creams and skin tightening creams can help slow down elastin degradation with ingredients that help to boost this protein in the body. They can also help the face, neck and body look tighter and smoother.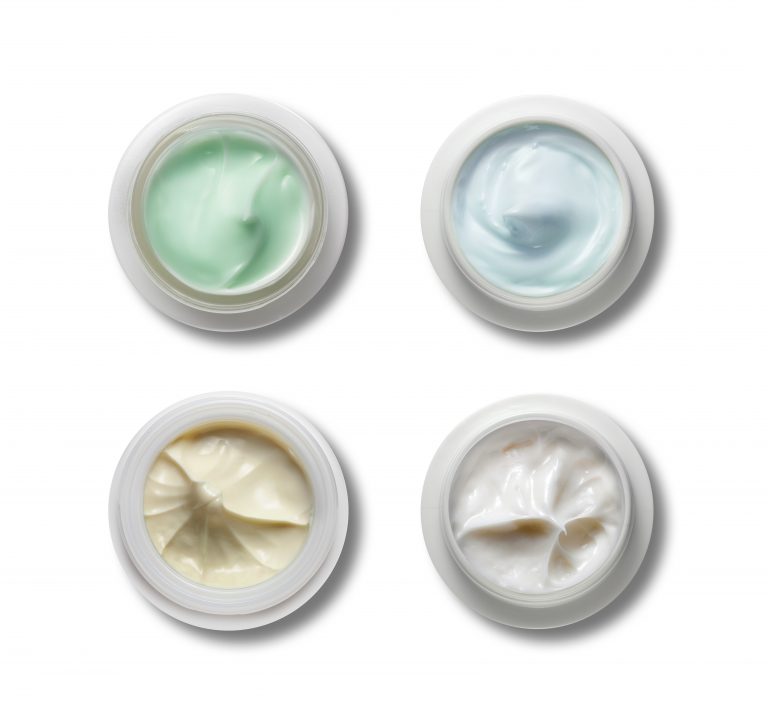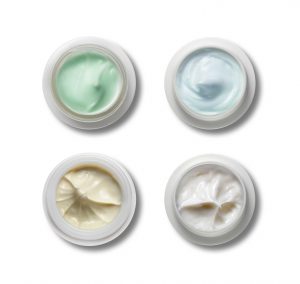 How to Tighten and Firm The Skin at Home
Although  puffy eyes can easily be helped at home with an ice cube or a few slices of chilled cucumbers, there's no quick fix for firming and tightening skin. But there are some things you can do at home. Some people swear by facial exercises or facial yoga to strengthen and tone the face muscles, but the jury is still out. Others embrace hand held devices which can range from simple jade rollers to radio frequency (RF) devices. The best way to tone and tighten the skin is to take a cumulative approach, which includes embracing a healthy lifestyle through diet and exercise, drinking plenty of water, wearing sunscreen religiously and using the right skin care products.
Other Ways to Firm and Tighten the Skin
Sagging skin can happen all over the body, including the face, neck, stomach area and arms. Some people may consider surgery to tighten skin, especially when excessive skin is caused by extreme weight loss. There are other procedures to help firm and tighten the skin, which can be performed by a doctor or medical professional. This  includes chemical peels and laser resurfacing. Results may vary, and recovery can take weeks. 
The Best Ingredients in Firming and Tightening Creams
Whether you're looking to firm and tighten the face, or the face, neck and body, there are a few important ingredients to look for. First, start with a deeply hydrating cream, as it can help make the skin look firmer. As the American Academy of Dermatology points out in an article about firming/tightening creams, "When you see immediate results, the product tends to be an effective moisturizer. A good moisturizer can plump up your skin, making fine lines and wrinkles less noticeable. This result is temporary. To continue seeing any benefit, you need to apply the product every day.
Firming creams and skin tightening creams should contain super hydrating ingredients like glycerin, shea butter, hyaluronic acid and jojoba oil to keep skin properly moisturized, as dryness can often exacerbate that saggy, loose look.
Another ingredient to look for is retinol, a vitamin A derivative that encourages cell turnover. As the ADA notes in the same article, "…you may see a small change if a product contains a retinoid, such as retinol, which can help your body make more collagen."
A few other key ingredients to look for in tightening and firming creams is  vitamin C, which helps with collagen production and works to brighten skin; peptides, which support collagen and elastin; and vitamins B3 and E. Vitamin B3, also known as niacinamide, helps prevent water loss and leaves skin looking smooth. The antioxidant vitamin E helps nourish the skin and protect the skin barrier.
Caffeine can have a temporary tightening effect, and using a product with an exfoliator such as salicylic acid (a beta hydroxy acid) or glycolic acid (an alpha hydroxy acid) can help skin look smoother and refreshed.
What Are the Best Firming and Tightening Creams for the Face?
The best firming and tightening products for the face are Formulyst Pro-collagen Serum, Carrot & Stick The Repair Serum and Advanced Dermatology Youthful Boost Eye Cream. 

The Wrinkle Firming Night Treatment serum is one part of the entire Advanced Dermatology regimen, which is formulated to target all the signs of aging. The skincare kit includes a gentle cleanser that boosts cell regeneration; the Super Youth Serum to fight free radicals and Regeneration Cream to help boost collagen and elastin production to preserve skin tightness. Lastly, the Youthful Boost Eye Cream helps diminish dark circles, wrinkles and puffiness.
Formulyst's Pro-collagen Serum
Collagen is the most abundant protein in the body and provides essential support structure for the skin. It's what keeps skin soft, supple and firm. But as we age, collagen production slows down, leading to wrinkles and sagging. One way to tackle these visible signs of aging while also firming and tightening up the look of skin is with the right serum. Formulyst's Pro-Collagen Serum contains a potent mix of peptides and proteins, derived from natural ingredients such as seaweed, wheat and soy. A few drops of this hydrating serum helps to minimize the appearance of fine lines and wrinkles.
Carrot & Stick The Repair Serum
Thanks to a combination of hyaluronic acid and vitamin E, this serum not only nourishes skin but also protects it. The Repair Serum by Carrot & Stick is designed to lift, tighten and firm the look of skin while protecting it against damaging free radicals. Seven plant-based neuropeptides enhance the skin's structural integrity from the inside out, promoting smoother, more resilient skin. A blend of synthesized growth factors promotes elasticity, cell turnover and nutrient absorption to support revitalization. The skin is also left looking brighter thanks to chamomile, licorice root and green tea.
Advanced Dermatology Youthful Boost Eye Cream
Who couldn't benefit from a bit of a youth boost? That's the concept behind Advanced Dermatology Youthful Boost Eye Cream. It helps fight visible signs of aging around the eyes including dark circles and wrinkles. Here's how it works. Tetrapeptides and plant extracts combine to give collagen a much-needed boost in this eye firming cream formulation. By increasing collagen, tetrapeptides help firm up the skin in the delicate eye area, which can sag far more easily than skin in other places. The plant extracts in this cream include jojoba seed oil and spilanthes acmella flower extract. Jojoba seed oil hydrates and helps protect the skin barrier to prevent skin from becoming more damaged. Spilanthes acmella flower extract also helps moisturize like jojoba oil and helps relax the appearance of wrinkles.
Chanel Le Lift
Chanel knows a thing or two about beauty. The Le Lift line was specifically created to target the most obvious signs of aging — wrinkles and sagging. This firming face cream's key ingredient is dicaffeoylquinic acid, or 3.5-DA, derived from the Edulis morning glory. According to Chanel, its researchers spent 12 years isolating this extract that is meant to promote collagen synthesis and improve skin elasticity. This cream also improves suppleness, making skin appear smoother and softer, and it helps with overall tone. 3.5-DA  has antioxidant and anti-inflammatory properties. As an antioxidant, this compound helps prevent and reverse signs of aging as a result of free radical damage. If left to run rampant without the neutralizing effects of antioxidants, free radicals can erode elastin and collagen, resulting in loose, lax skin and fine lines and deep wrinkles. This line also features an eye cream, eye revitalizer, serums and a hybrid cream-oil.
DDF Advanced Firming Cream
DDF calls this cream a multi-tasking fountain of youth in a jar. This moisturizer is  brimming with powerful ingredients to help the face and neck look firmer and tighter.  Vitamins E, B5, B3 and A fight free radicals and also increase hydration, even out skin tone and work to increase cell turnover. Zinc and copper rev up cell turnover while glycerin and shea butter hydrate the skin. Finally, borage oil, coconut oil and evening primrose oil add extra moisture and are anti-inflammatory.
Estée  Lauder Resilience Multi-Effect Night Lift
Estée  Lauder offers a wide range of anti-aging products, and the Resilience Lift cream is packed with tri-peptides to address face and neck concerns. It can be used as a weekly mask for added hydration. It's packed with peptides to help strengthen collagen, which means the face and neck will be left looking smoother and firmer. Some of the key ingredients include algae extracts, including laminaria digitata, which have antioxidant qualities. The algae also adds hydration. Plankton extract, another key ingredient, is a light-responsive enzyme that gives a lifting and tightening effect that can be noticed right away. Another lifting ingredient is thermus thermophilus ferment, a specialized bacterium strain full of amino acids and peptides that help strengthen skin. Benefits of thermus thermophilus ferment include deep hydration, skin barrier protection and the protection of fibroblasts against free radicals. Fibroblasts are cells that produce collagen, and thus very important in keeping skin firm.
Estée Lauder Resilience Lift Firming/Sculpting Eye Creme
The eye firming cream in the Resilience Lift line features similar collagen and elastin-enhancing ingredients that are found in the face cream. Algae and plankton extracts play a big role, as do various botanicals like melon extract and avocado oil that provide hydration. This product helps leave the eye area looking lifted and firmer, and helps fade the look of dark circles and puffiness. According to Estée Lauder, the Resilience lines' Tri-Peptide Complex has demonstrated in in-vitro testing to help significantly amplify collagen by 124% in just three days.
Elizabeth Arden Ceramide Lift and Firm Night Cream
This intense overnight lifting and firming cream is powered by ceramides. Ceramides 1,3, and 6 are used in the cream, which helps to strengthen the skin barrier, the skin's first line of defense against environmental stressors like pollution. If the skin barrier is compromised, it can lead to dramatic loss of moisture, resulting in dryness, flakiness, redness and itching, and accelerate aging of the skin. Other key ingredients include cholesterol and phytosphingosine, which also help strengthen the skin barrier and guard against dehydration. Phytosphingosine is a type of lipid found in the skin that helps it create ceramides naturally.
Elizabeth Arden's Ceramide Lift and Firm Night Cream also contains a type of retinol, which helps tackle wrinkles and fine lines. It is formulated with retinyl palmitate, as well as a stable form of vitamin C known as tetrahexyldecyl ascorbate and vitamin E. Retinyl palmitate helps encourage cell turnover to allow the skin to shed dead surface skin cells, enabling skin to look younger and firmer – as well as tighter.. Vitamin C works to stimulate collagen synthesis, which also gives skin that firming effect, and vitamin E is a powerful antioxidant that can undo free radical damage. Another ingredient, acetyl octapeptide-3, helps reduce wrinkles by directly affecting the muscles that create expression lines.
Exuviance Age Reverse Night Lift
What makes this firming night cream different is that it delivers deep hydration along with an exfoliation. Exuviance's Age Reverse Night Lift is a true multi-tasker. It helps to support collagen to reveal firmer, more youthful looking skin. A cocktail of  peptides along with AHAs (alpha hydroxy) and PHAs (poly hydroxy acids) plumps up the look of skin and whisks away dead skin cells, to reveal a fresher, more youthful looking complexion. The formula is also powered by grape seed extract, Vitamin E and berry extracts to help protect the skin's firming and smoothing benefits.
Filorga Iso-Structure
The Filorga Iso-Structure Absolute Firming Cream is a triple threat. It helps to firm and tighten the face and neck, and leaves skin looking strong and radiant. It's powered by the brand's signature NCTF complex, which is a high molecular weight hyaluronic acid along with a slew of other powerhouse ingredients. NCTF contains 12 vitamins; 23 amino acids that support collagen and elastin function; six coenzymes, minerals and an antioxidant. The hyaluronic acid delivers a big dose of moisture and also helps to make skin look plumped up.
Elemis Pro-Definition Day Cream
This face firming cream is a great choice for those with mature or post-menopausal skin. After menopause, skin tends to lose moisture, become less firm and develop more wrinkles. This cream can help with all of that, and is rich but feels lightweight on the skin. The active ingredients in this formulation are the humectant glycerin along with plant stem cells (sweet iris, Chinese hibiscus), arjuna bark extract, lupin and starflower oil. The plant stem cells work to tighten and plump up the skin, while the antioxidant lupine is a type of plant estrogen that helps repair the skin. Starflower oil is a potent skin moisturizer that is often used in the treatment of eczema and psoriasis. Arjuna bark extract works to improve skin texture, leaving behind firmer, smoother looking skin.
Natura Bisse High Density Lift
Natura Bisse's High Density Lift is an advanced wrinkle cream designed to tackle multiple signs of aging, including fine lines, dehydration and loss of firmness. It's powered by PDGF-Remodeling Complex, a platelet-derived growth factor that helps to improve the skin and leave it looking tighter. PDGF also contains  dual hyaluronic acid, which helps the skin retain moisture and leaves skin looking plumped up. Rounding out the ingredients in this firming cream are amino acids, peptides and retinol to encourage cell turnover.
Eve Lom Intense Firming Serum
This lightweight firming serum absorbs quickly into the skin and helps the face look  tighter and smoother. The Intense Firming Serum has only eight ingredients — and some of the key ingredients include glycerin, a humectant, and milk-derived MPC concentrate. Milk-derived MPC concentrate is rich in cytokines, which are growth factors found naturally in the body that improve communication between cells. In skin care, cytokines stimulate cell renewal to help boost the amount of collagen in the skin, allowing for an increase in elasticity.
Lancôme  Renergie Lift Multi Action Day Cream
Lancôme's Renergie Lift Multi Action Day Cream promises results within just one week of use. This rich day cream aims to help firm and tighten the face and neck area, along with SPF 15 for added sun protection. The silky cream contains hyaluronic acid for hydration and to help plump up the look of the skin, along with black tea ferment, hydrolyzed soy protein and acetyl tetrapeptide-9. It is suitable for all skin types.
Clinique Repairwear Laser Focus
A face firming serum designed for all skin types, Clinique's Repairwear Laser Focus helps leave skin looking smooth and tight. It also helps improve skin texture with a mix of peptides and amino acids. Some of the key ingredients include the peptide acetyl hexapeptide-8 which helps relax the muscles behind fine lines. The amino acids work to keep skin firm and promote elasticity. Rounding out the formula are sea whip extract, moisturizing glycerin and hyaluronic acid and clary extract.
Olay Eyes Eye Lifting Serum
Peptides and vitamins come together in this eye firming cream to make the eye area appear more youthful by toning it and softening the look of wrinkles. Olay calls niacinamide (vitamin B3) its "unicorn" ingredient as it does a little bit of everything. As Olay notes, it keeps skin hydrated while also encouraging skin cell turnover and regeneration, as well as exfoliation to remove dull skin. Green tea extract and tocopherol acetate (vitamin E) both act as antioxidants to reduce free radical damage and prevent further skin degradation. Another key part of this lifting eye serum is the addition of amino peptides. which are chains of amino acids and the building blocks of skin cells. Olay calls them "boss babe" molecules  which are known to help skin look smoother and firmer.
Perricone MD High Potency Eye Lift
Perricone's eye serum addresses many signs of aging around the eye area, from wrinkles and loss of firmness to dark circles.  The eye serum contains DMAE (derived from vitamin B) to help lift sagging skin, while hyaluronic acid and squalene leave the delicate eye area well hydrated. The addition of vitamin C lasers in on the dark circles.
Vichy Liftactiv Supreme Anti-Wrinkle and Firming Eye Cream for Dark Circles
Vichy Liftactiv Eyes is designed to tackle a whole host of eye concerns from reducing dark circles and puffiness to helping the eye area look more firm. It's formulated with rhamnose, caffeine and escine. Rhamnose is a sugar molecule that's effective in improving overall skin appearance, along with lifting and tightening. Caffeine helps to constrict blood vessels, and escine is found in horse chestnut extract, which has anti-inflammatory capabilities. This cream can be used twice a day.
Best
Firming
Creams For The Body
Shiseido Essentials Firming Body Cream
Shiseido's Essentials Firming Body Cream promises to deliver supple, hydrated and firm looking skin with regular use. This body firming cream contains apricot juice, which is rich in vitamin C and can help boost elasticity. Citrus unshiu is another ingredient brimming with plenty of vitamin C. Crataegus monogyna flower extract exists in this formulation to help protect against UV damage. Sodium hyaluronate is the salt of hyaluronic acid, a hydrating molecule that can hold 1,000 times its weight in water. This ingredient draws moisture from the environment and from within the dermis to keep skin plump, reducing the appearance of lines and helping to promote a tightening effect.
Strivectin Crepe Control Tightening Body Cream
Nobody likes the look of loose, crepey skin, and this body cream by Srivectin is meant to tackle it. The powerhouse ingredients in Strivectin's Crepe Control Tightening Body Cream are jojoba seed extract, turmeric root extract and a butter blend of shea, murumuru and capuacu (a Brazilian fruit). Here's what they do. Jojoba seed extract is rich in vitamins E and B, as well as fatty acids which help firm and tone the skin. Turmeric root extract has anti-inflammatory and antioxidant properties, and works to even out skin tone. The three different types of butters moisturize the skin and leave it looking smoother.
 Clarins Extra-Firming Body Cream
Like all Clarins products, the Extra-Firming Body Cream is powered by potent botanicals. This body firming cream contains lemon thyme, centella and bocoa extracts. Centella is also known as Indian pennywort and is thought to help calm skin and support collagen production. Bocoa comes from a tree in the Amazon and helps promote skin firmness and tightness. For best results, use an exfoliator before applying the body firming cream.
Skinceuticals Body Tightening Concentrate
This body firming cream from Skinceuticals has an immediate cooling sensation when applied, and targets sag-prone areas like the buttocks, thighs, upper arms and abdomen. The key ingredient is 2% hydrolyzed rice protein, which provides the firming effect. Other ingredients include 2.5% tripeptides, which help boost collagen synthesis, and 5% yeast extract, which helps soften skin and gives an overall calming feel. Two antioxidants, vitamin E and rosemary leaf oil, round out the ingredients. Both of these are great at counteracting free radical damage and sun damage that can loosen the proteins that keep skin tight and firm.
 Source: WebMd, American Academy of Dermatology
References:
Caberlotto, E., Ruiz, L., Miller, Z., Poletti, M., & Tadlock, L. (2017). Effects of a skin-massaging device on the ex-vivo expression of human dermis proteins and in-vivo facial wrinkles. PloS one, 12(3).
Al-Niami, F & Chiang, N 2017. 'Topical Vitamin C and the Skin: Mechanisms of Action and Clinical Applications', The Journal of Clinical and Aesthetic Dermatology, vol. 10, is. 7, pp. 14-17. 
Murray, J, Burch, J, Streilein, R, Iannacchione, M, Hall, R & Pinnell, S 2008. 'A topical antioxidant solution containing vitamins C and E stabilized by ferulic acid provided protection for human skin against damage caused by ultraviolet radiation' Journal of the American Academy of Dermatology, vol. 59, is. 3, pp. 418-425. 
Ganceviciene, R., Liakou, A. I., Theodoridis, A., Makrantonaki, E., & Zouboulis, C. C. (2012). Skin anti-aging strategies. Dermato-endocrinology, 4(3), 308–319.