It's a fact of life that skin changes as we age. Wrinkles, dark spots, sagging, deep creases and fine lines, loss of moisture — all of these are skin changes that we arm ourselves against with de-aging products that fill our bathroom counters. It's often a lifelong battle! Sure, we can get away with being a little careless and carefree in our teens and maybe even 20s, but by 30 we've lost 50% of the collagen in our skin, and the amount keeps dropping year after year. It's up to us to do whatever we can to preserve or promote this collagen, to keep our skin bouncy and plump.
Related: Best skin care products of 2018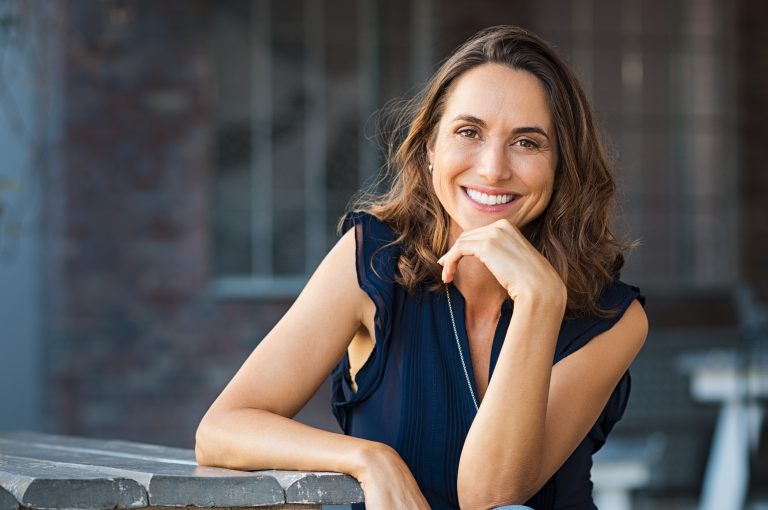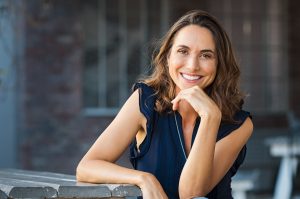 Why Skin Becomes Saggy and Loose
Skin becomes slack thanks to a breakdown of elastin, a protein that, alongside collagen, keeps skin firm and gives it that nice springy bounce — essentially what allows skin to snap back once it's been stretched. Elastin degradation is a natural process of aging, but it can be impacted and accelerated by sun exposure, environmental stressors and bad habits like smoking and drinking too much alcohol.
The natural process of aging, or intrinsic aging, cannot be helped. This type of aging is largely influenced by your genes and is inevitable. But extrinsic aging, the type brought on by sun exposure and other factors that result in premature aging, can be controlled to a point. Wearing sunscreen daily, using anti-aging creams diligently and dropping bad habits can all help slow down the extrinsic aging process. Skin firming creams and skin tightening creams can help slow down elastin degradation with ingredients that help to boost this protein in the body. Isn't science just lovely?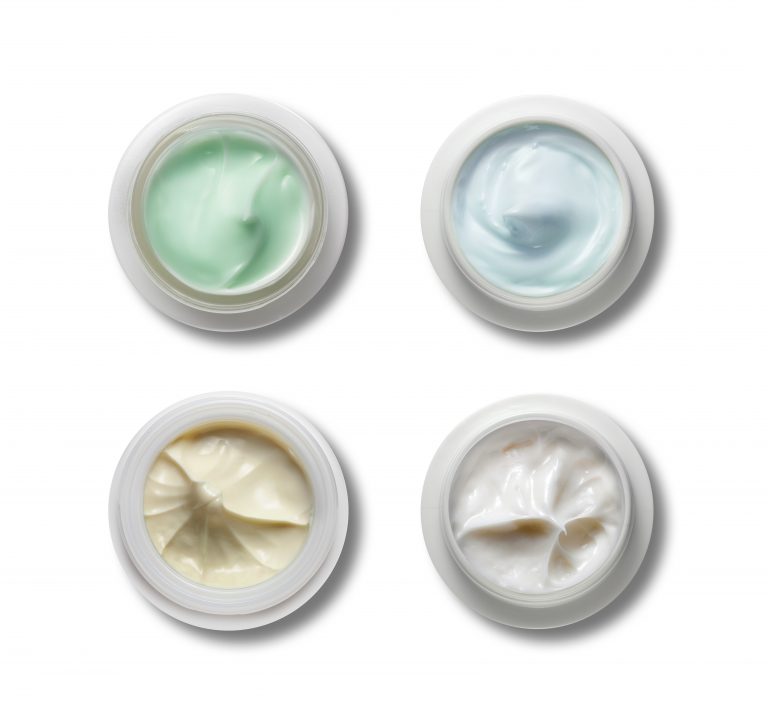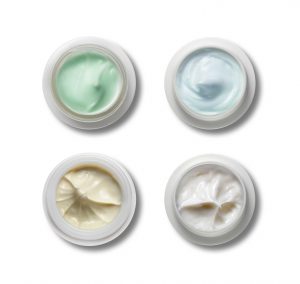 The Best Ingredients in Anti-Wrinkle Cream and Anti-Aging Skin Care
We've gathered a formidable list of the best firming creams and skin tightening creams available today to help you fight the skin laxity that comes with age or as a result of pregnancy or significant weight loss. A few common ingredients you'll encounter include vitamin C (very good at boosting collagen production), algae and plankton extracts (give an immediate tightening and lifting effect) and various peptides (boost collagen and elastin in the skin).
Firming creams and skin tightening creams also often contain hydrating ingredients like glycerin, shea butter, hyaluronic acid and jojoba oil to keep skin properly moisturized, as dryness can often exacerbate that saggy, loose look we try so hard to avoid.
Take a look below at our curated list of firming and skin tightening creams for the face, eyes (an area that often starts to sag early because the skin is so thin) and body, and you'll be sure to find something that works for you.
For The Face
Chanel Le Lift
A trusted and revered company, Chanel knows a thing or two about beauty. The Le Lift line was specifically created to target the most obvious signs of aging — wrinkles and sagging. This firming face cream's key ingredient is dicaffeoylquinic acid, or 3.5-DA, derived from the Edulis morning glory. Chanel researchers labored for 12 years to isolate this powerful extract that is said to promote collagen synthesis to improve skin elasticity. This cream also improves suppleness, making skin appear smoother and softer, and overall tone. 3.5-DA also has antioxidant and anti-inflammatory properties. As an antioxidant, this compound helps prevent and reverse signs of aging as a result of free radical damage. If left to run rampant without the neutralizing effects of antioxidants, free radicals can erode elastin and collagen, resulting in loose, lax skin and fine lines and deep wrinkles. This line also features an eye cream, eye revitalizer, serums and a cream-oil.
DDF Advanced Firming Cream
This firming face cream is simply brimming with effective ingredients to help turn back time. Vitamins E, B5, B3 and A not only fight free radicals but also increase hydration, even out skin tone and help increase cell turnover. Zinc aids in regenerating skin and increasing healing time by helping to promote collagen synthesis (and helping create a lifting effect), while copper also helps increase collagen in the skin and the effectiveness of antioxidants. Perhaps the most important ingredient in this cream is the 5x amino acid peptide chain, which helps skin become stronger and less prone to sagging. Finally, borage oil, coconut oil and evening primrose oil deeply hydrate to keep skin soft and younger-looking. The company further claims this cream neutralizes 82% of free radicals and strengthens the skin barrier. A strong skin barrier is important to keep nutrients in while keeping pollutants and irritants out.
Estee Lauder Resilience Lift
Another great company for skin care, Estee Lauder offers cutting edge products that promise to offer visible anti-aging results. Algae extracts, including laminaria digitata, provide powerful antioxidant effects in this lifting cream. Laminaria digitata, also known as horsetail kelp, is also very hydrating with skin-protecting qualities. Plankton extract, another key ingredient, is a light-responsive enzyme that gives a lifting and tightening effect that can be noticed right away. Another lifting ingredient is thermus thermophilus ferment, a specialized bacterium strain full of amino acids and peptides that help strengthen skin. Benefits of thermus thermophilus ferment include deep hydration, skin barrier protection and the protection of fibroblasts against free radicals. Fibroblasts are cells that produce collagen, and thus very important in keeping skin firm.
Resilience Lift Firming/Sculpting Eye Creme
The eye firming cream in the Resilience Lift line features similar collagen and elastin-enhancing ingredients as in the face cream. Algae and plankton extracts play a big role, as do various botanicals like melon extract and avocado oil that provide hydration. This product helps re-sculpt the eye area to make it firmer while reducing that dreaded crepe-y look that so often plagues that delicate region. Peptides like acetyl hexapeptide-8 also work on wrinkles as a muscle relaxer, helping to reduce fine lines produced by common expressions like laughing or smiling.
Elizabeth Arden Ceramide Lift and Firm Night Cream
Ceramides are the top ingredient in Elizabeth Arden's face firming cream, as the name suggests. Ceramides 1,3, and 6 are present in this cream, helping to strengthen the skin barrier, the skin's first line of defense against environmental stressors like pollution. If the skin barrier is compromised, it can lead to dramatic loss of moisture, resulting in dryness, flakiness, redness and itching, and making skin age a lot faster as a result. Other key ingredients include cholesterol and phytosphingosine, both of which also help strengthen the skin barrier and help guard against dehydration, which is one of the primary causes of wrinkles. Phytosphingosine is a type of lipid found in the skin that helps it create ceramides naturally. This formulation also contains a derivative of vitamin A called retinyl palmitate, as well as a stable form of vitamin C known as tetrahexyldecyl ascorbate and vitamin E. Retinyl palmitate helps encourage cell turnover to allow the skin to shed its dead cells from the surface, enabling skin to look younger and firmer. Vitamin C is known to stimulate collagen synthesis, which also gives skin that firming effect, and vitamin E is a powerful antioxidant that can undo free radical damage. Another ingredient, acetyl octapeptide-3, helps reduce wrinkles by directly affecting the muscles that create expression lines. All in all, there are quite a few potent ingredients in this cream to give you a lifted, firmer appearance.
Exuviance Age Reverse Night Lift
Peptides help create the lifting effect in this face firming cream. Palmitoyl oligopeptide and palmitoyl tetrapeptide-7 can help firm skin and reduce wrinkles. Palmitoyl oligopeptide is believed to induce collagen synthesis to increase the amount of this important protein in the skin. The more collagen, the firmer and tighter skin can get. Palmitoyl tetrapeptide-7 is also believed to stimulate collagen production. A few other great ingredients include retinyl palmitate (helps with shedding dead skin cells), vitamin E (an antioxidant) and tetrahexyldecyl ascorbate (stimulates collagen). Meanwhile, maltobionic acid is there to help preserve collagen in the skin and also protect against oxidative stress (the imbalance of antioxidants and free radicals). Maltobionic acid is also a humectant that can help bind water to skin to keep it plump and less saggy looking. Creams that contain this ingredient can help reduce the appearance of wrinkles while also maintaining firmness.
Filorga Iso-Structure
The Filorga Iso-Structure Absolute Firming Cream works thanks to an NCTF complex. NCTF contains vitamins A, C, E and several B vitamins including B3 and B5. It further contains hyaluronic acid, several amino acids and minerals like calcium, phosphorus and magnesium. Vitamin A, also called retinol, aids in collagen synthesis along with vitamin C. Vitamin E acts as an antioxidant and the B vitamins assist in several cell functions, essentially helping them to work at their best ability. Hyaluronic acid keeps skin plump and less likely to wrinkle and sag. Furthermore, when combined with the vitamins mentioned above, hyaluronic acid helps in fibroblast proliferation, contributing to collagen synthesis. The amino acids in this formulation help build collagen. All of these collagen boosting ingredients help keep skin taut, firm and much more lifted.
Elemis Pro-Definition Day Cream
This face firming cream is a great choice for those with post-menopausal skin. After menopause, skin tends to lose moisture, become less firm and develop more wrinkles. This cream can potentially help reverse these problems (or prevent them from getting worse). The active ingredients in this formulation are plant stem cells (sweet iris, Chinese hibiscus), arjuna extract, lupin and starflower oil. Plant stem cells show much promise as anti-aging ingredients. Though research is ongoing, there is much to be optimistic about. They often contain very large amounts of antioxidants to help neutralize free radical damage. In studies, some have shown promise in increasing elastin. The plant stem cells in this particular formulation help tighten and plump up, according to the company. Arjuna extract, meanwhile, has shown remarkable qualities in studies, including the ability to reduce transepidermal water loss (moisture loss from within the dermis), increase hydration, relieve scaliness and "significantly improve elasticity." Lupin is an antioxidant and emollient that protects and hydrates. Starflower oil is a potent skin moisturizer that is often used in the treatment of eczema and psoriasis. With the plant stem cells and arjuna extract increasing elasticity and lupin and starflower oil providing hydration, this cream can help treat sagging and wrinkles to improve signs of aging.
Natura Bisse High Density Lift
Natura Bisse's High Density Lift incorporates PDGF-Remodeling Complex, a platelet-derived growth factor that helps to improve the quality of collagen, elastin and hyaluronic acid, all already naturally occurring in the skin. This allows the cream to give skin a lifting and tightening effect. This formulation also contains dual hyaluronic acid, a combination of a low molecular weight and high molecular weight hyaluronic acid, which provides volume to skin, plumping it up and defining facial contours to look more refined. Vitamin A and vitamin C are also included in this cream, both working together to increase collagen production. Though certainly not cheap, this cream has great potential in improving skin quality and tightening sagging skin.
Eve Lom Intense Firming Serum
This is a non-greasy face firming serum that dissolves and absorbs quickly in the skin, feeling essentially weightless. Active ingredients include glycerin and milk-derived MPC concentrate. Glycerin is a humectant found in quite a few moisturizers. It helps attract moisture to skin to keep it hydrated. It can also decrease the appearance of wrinkles with regular use. Milk-derived MPC concentrate is very rich in cytokines, which are growth factors found naturally in the body that improve communication between cells. In skin care, cytokines stimulate cell renewal help boost the amount of collagen in the skin, allowing for an increase in elasticity. This formulation only has eight ingredients total — quite a departure from many other skin care products out there, but not any less effective.
Lancome Renergie Lift Multi Action
Lancome's Renergie Lift Multi Action Day Cream promises results within just one week of use. Ingredients like black tea ferment, hydrolyzed soy protein, hydrolyzed hyaluronic acid and acetyl tetrapeptide-9 combine to provide anti-aging benefits including reduction of wrinkles and sagging. The acetyl tetrapeptide-9 is the ingredient that accounts for the lifting effect, because it is able to assist in collagen synthesis. Black tea ferment works as an antioxidant to help treat oxidative stress damage. Hydrolyzed soy protein is also an antioxidant that further helps the skin to retain moisture to keep it well hydrated. It visibly smooths to treat rough texture and the appearance of wrinkles. Hydrolyzed hyaluronic acid also helps the skin retain water to improve hydration. In studies, it has shown to be effective in improving skin elasticity, making it firmer and more taut. This Lancome line also includes a concentrate, night cream and eye cream that can be used in conjunction with the day cream.
Clinique Repairwear Laser Focus
A face firming serum designed for all skin types, Clinique's Repairwear Laser Focus helps promote elastin and collagen to give skin that lovely springy feeling associated with youth. A peptide called acetyl hexapeptide-8 also helps treat wrinkles and expression lines. Acetyl hexapeptide-8 is a muscle relaxer that calms the muscles of the face to prevent them from forming more expression lines like forehead lines and crow's feet. Another important ingredient in this formulation is whey protein. The amino acids in this ingredient keep skin firm and help to promote elasticity. This is what accounts for that lifting feeling and look. This formulation also contains an algae extract called laminaria digitata, a powerful antioxidant that helps maintain the integrity of the skin network to prevent collagen and elastin from breaking down due to free radical damage.
Advanced Dermatology Wrinkle Firming Night Treatment
This face firming treatment goes to work at night, and its powers are accelerated thanks to the fact that blood flow is increased while we sleep, allowing for better absorption of ingredients. Peptides like acetyl tetrapeptide-2 and palmitoyl tripeptide-5 help provide the firming effect. Acetyl tetrapeptide-2 helps stimulate the production of new cells. As we age, cells regenerate at a slower rate, accounting for many of the common signs of aging. This peptide can help reverse that process. Palmitoyl tripeptide-5 helps stimulate collagen production to maintain skin firmness. This formulation also contains lactic acid to help shed dead skin cells and increase skin brightness and improve texture. This ingredient also helps fight wrinkling. PhytoCellTec, another trademarked key ingredient, is a plant stem cell derived from a rare apple that acts as protector of skin cells to stop degradation and improve firmness. The entire Advanced Dermatology regimen is ideal to use if you really want to target all signs of aging with rigor and care. It begins with a gentle cleanser that boosts cell regeneration. The Youth Serum fights free radicals with its exceptional antioxidant properties. The moisturizer works hard to stop the glycation process that damages cells and protects against UV damage. The Regeneration Cream also helps boost collagen and elastin production to preserve skin tautness. Lastly, the Youthful Boost Eye Cream helps diminish dark circles, wrinkles and puffiness.
Formulyst Pro-collagen Serum 
Collagen is the most abundant protein in the body and provides essential support structure for the skin. It's what keeps skin soft, supple and firm. But as we age, collagen production slows down, leading to wrinkles and sagging. One way to tackle these visible signs of aging is with the right serum. Formulyst's Pro-Collagen Serum contains a potent mix of peptides and proteins, derived from natural ingredients such as seaweed, wheat and soy. A few drops of this hydrating serum helps to minimize the appearance of fine lines and wrinkles.
For The Eye
Olay Eyes Eye Lifting Serum
Peptides and vitamins come together in this eye firming cream to make the eye area appear more youthful by firming it up and reducing wrinkle appearance. Niacinamide (vitamin B3) is one of the top ingredients — in fact, it comes in at number four. This ingredient, in addition to proving to be effective at reducing discoloration, has also shown a propensity in improving elasticity. Green tea extract and tocopherol acetate (vitamin E) both act as antioxidants to reduce free radical damage and prevent further skin degradation. Panthenol (vitamin B5) improves hydration to plump up sagging skin and wrinkles, while palmitoyl pentapeptide-4 is a messenger peptide that helps renew cells.
Perricone MD High Potency Eye Lift
The key ingredients in this lifting eye firming cream are vitamin C ester and DMAE. Vitamin C ester (also called tetrahexyldecyl ascorbate and the second ingredient in this formulation) is a more stable form of vitamin C, which has proven itself over and over again as being a great ingredient at boosting collagen production to help firm up loose, sagging skin. DMAE, also called dimethyl MEA, is derived from vitamin B choline. It has shown promise in tightening and firming up skin. Another ingredient, resveratrol, acts as a potent antioxidant to help target free radicals to both treat present damage and prevent new damage. A few peptides round up the ingredients list, including acetyl tetrapeptide-5 (fights puffiness and eye bags) and palmitoyl tetrapeptide-7 (helps rejuvenate skin).
Vichy Liftactiv Eyes
Vichy Liftactiv Eyes utilizes rhamnose as one of its main ingredients. Rhamnose is a sugar molecule that goes far in improving overall skin appearance and lifting and firming. It not only helps thicken the epidermis (which becomes thinner over time), but it also boosts collagen and elastin production, significantly achieving a lifted, tighter look in the eye area. This remarkable ingredient further helps block the enzymes in skin that lead to collagen degradation in the first place. Other key ingredients include caffeine and Vichy mineralizing water. The former helps diminish puffiness by constricting blood vessels, while the latter strengthens the skin barrier to keep it protected from outside aggressors and environmental damage.
Advanced Dermatology Youthful Boost Eye Cream
Tetrapeptides and plant extracts combine to give collagen a much-needed boost in this eye firming cream formulation. By increasing collagen, tetrapeptides account for the firming up of skin in the delicate eye area, which can sag far more easily than skin in other places. The plant extracts in this cream include jojoba seed oil and spilanthes acmella flower extract. Jojoba seed oil hydrates and helps protect the skin barrier to prevent skin from becoming more damaged. Spilanthes acmella flower extract also helps moisturize like jojoba oil and helps relax the appearance of wrinkles.
For The Body
Shiseido Essentials Firming Body Cream
Shiseido's Essentials Firming Body Cream promises to give you supple, hydrated and firm skin with regular use. This body firming cream formulation contains apricot juice, which is rich in vitamin C and can help boost elasticity. Citrus unshiu is another ingredient that is brimming with loads of vitamin C, further helping to promote elasticity and collagen production. Crataegus monogyna flower extract exists in this formulation to help protect against UV damage. Sodium hyaluronate is the salt of hyaluronic acid, a hydrating molecule that can hold 1,000 times its weight in water. This ingredient draws moisture from the environment and from within the dermis to keep skin plump, reducing the appearance of lines and helping to promote a tightening effect.
Strivectin Tightening Body Cream
The active ingredients in Strivectin's Tightening Body Cream are caffeine and peptides. Caffeine works by constricting blood vessels to temporarily tighten skin. It works similarly in eye creams to ease puffiness. Dipeptide-4 is skin nourishing and conditioning, and also helps keep skin toned and tight. Other ingredients in this formulation include several plant-based ingredients like shea butter, jojoba seed oil and grape seed oil. These are mostly moisturizing ingredients that help keep skin supple and smooth. Well-hydrated skin is less likely to sag as it is being fortified by nourishing ingredients. This formulation also contains a type of vitamin C called ascorbyl palmitate, which can potentially increase collagen in the skin.
Clarins Extra-Firming Body Cream
The de-aging blend of lemon thyme, centella and bocoa extracts in Clarins' Extra-Firming Body Cream target wrinkles and sagging for a more youthful-looking and refined appearance of skin. Lemon thyme is smoothing and conditioning to help strengthen skin, essentially helping it fight degradation. Centella extract has been found to be able to assist in wound healing. This suggests it can promote collagen production. It is also an antioxidant high in vitamins C (also known for boosting collagen) and A (encourages cell turnover). Bocoa extract is both skin conditioning and skin protecting, helping to keep skin hydrated and strong.
Skinceuticals Body Tightening Concentrate
This body firming cream gives an immediate cooling sensation when applied, and targets sag-prone areas like the buttocks, thighs and abdomen. The key ingredient is 2% hydrolyzed rice protein, which provides the firming effect. Other ingredients include 2.5% tripeptides, which help boost collagen synthesis, and 5% yeast extract, which helps soften skin and gives an overall calming feel. Two antioxidants, vitamin E and rosemary leaf oil, round out the ingredients. Both of these are great at counteracting free radical damage and sun damage that can loosen the proteins that keep skin tight and firm.