It's no secret that the world around us is chock full of beneficial natural ingredients. People have been making salves, tinctures, lotions, and balms from the vegetation foraged from our surroundings for hundreds of years.
With a drastic return to self-care and natural beauty, many people have found themselves enjoying the act of creating face masks and other beauty products from natural ingredients and reaping the benefits of forgotten traditions.
Keep reading for our 15 favorite homemade face mask recipes made with ingredients that you probably already have in your kitchen. And the best part? Their properties and effectiveness are backed by science and research.
1. DIY Vitamin C Serum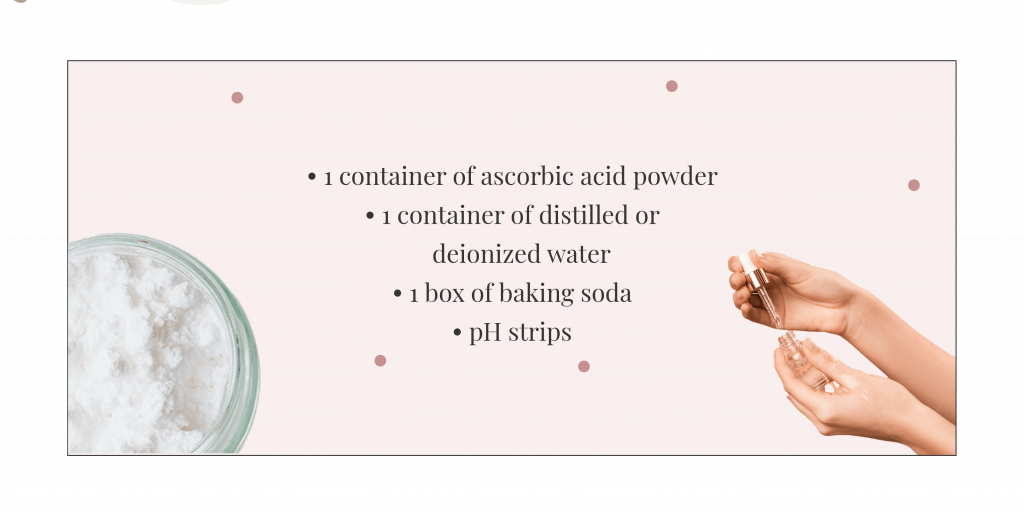 Vitamin C is a very beneficial friend to our bodies. From boosting our natural collagen products to helping strengthen our immune system, vitamin C is a great addition to our beauty routine. This DIY Vitamin C Serum is sure to help you feel your best.
What You Need (see below for specific measurements):
1 container of

L ascorbic acid

powder

1 container of distilled or deionized water

1 box of baking soda

pH strips

Aluminum foil

Amber bottle

Jewelry scales
How It Works:
L-ascorbic acid is the main type of vitamin C that's been proven to work in anti-aging products and it's the main ingredient in this serum.
Your exact recipe will depend on whether you want a 5%, 10%, or 20% serum. First, you'll want to thoroughly wash out the semi-airtight container you're going to use to store the serum. It's recommended to wash and rinse it out with soap and water, distilled water, and alcohol, and let it dry completely.
The next step is to figure out how much serum can fit into your container.
Then you'll need to calculate how much L-ascorbic acid you're going to need. To do this, you divide the percentage serum you want by 100 and then multiply it by the volume of the container. This will tell you how many grams of L-ascorbic acid you're going to need. Add it to your container.
Fill it up halfway with distilled water and shake to dissolve the powder. Then fill up the container with additional distilled water and shake again.
The next step is to test the serum's pH by adding a drop on the pH strips. The ideal pH is between 3 and 4, so very gradually add small amounts of baking soda, shake the container and test it on the pH strips until you reach the right range. The last step is to wrap your container in aluminum foil to protect it from the light.
Vitamin C is an excellent anti-aging agent, acting as an antioxidant and soaking up free radical damage to your skin. This vitamin is also effective in fading hyperpigmentation, such as sunspots and brown spots from acne, and in improving different inflammatory skin issues.
2. Soothing Aloe Vera Mask

B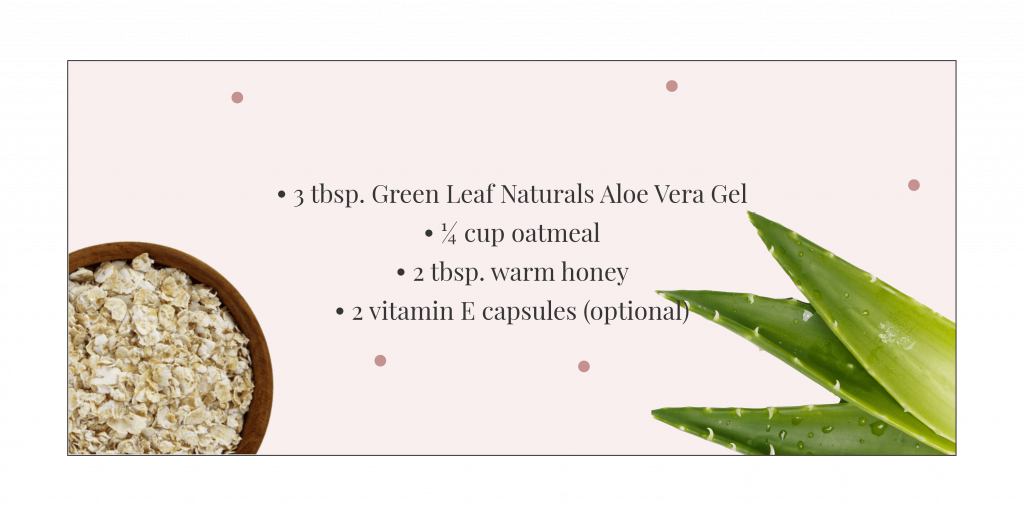 This is an excellent natural face mask, especially if you have sensitive combination skin, as it is very gentle. The aloe vera, oatmeal, and honey work together to help exfoliate, clarify and moisturize and you can expect radiant, glowing skin as a result. Aloe vera is a super ingredient thanks to its cooling, anti-inflammatory, and moisturizing properties.
What You Need:
3 tbsp of aloe vera gel

¼ cup of oatmeal

2 tbsp of warm honey

2 vitamin E capsules (optional)
How It Works:
This mask couldn't be easier to make. First, grind the oatmeal in a blender or food processor for a few seconds until it's coarsely chopped. Overprocessing it to a fine powder may destroy the benefits of the oats. Then combine all of the ingredients in a bowl and apply to your face. Leave it on for 15 to 45 minutes and then rinse it off completely.
Aloe vera is a wonderful ingredient that offers multiple benefits when applied to your face. Not only can it help treat acne and dry skin, but it also has potent antioxidant properties and is highly anti-inflammatory. It also contains vitamin A, which speeds up healing and prevents breakouts, and vitamin C, which promotes collagen production and reduces fine lines. For anyone with aging on the brain, aloe vera can also help prevent you from getting deeper lines and wrinkles.
Like aloe vera, oatmeal also contains anti-inflammatory compounds, such as avenanthramides, a potent antioxidant, that are effective at soothing skin that is dry, irritated or itchy. Oatmeal is also able to absorb oil from the surface of the skin, which makes it an ideal face mask ingredient for acne-prone people.
Honey has a plethora of benefits for the skin as it has antimicrobial properties, can soothe inflammation, helps slow the formation of wrinkles, and can regulate your skin's pH. It also has moisturizing and hydrating effects.
If you choose to add vitamin E capsules to your face mask, it's worth noting the cosmetic benefits of this oil, which include a moisturizing effect to combat dry skin and relief from itching. Keep in mind that vitamin E is a beauty product and is not regulated by the US Food and Drug Administration. As a result, different oils will likely have different concentrations and lead to different effects.
3. Calming Turmeric Mask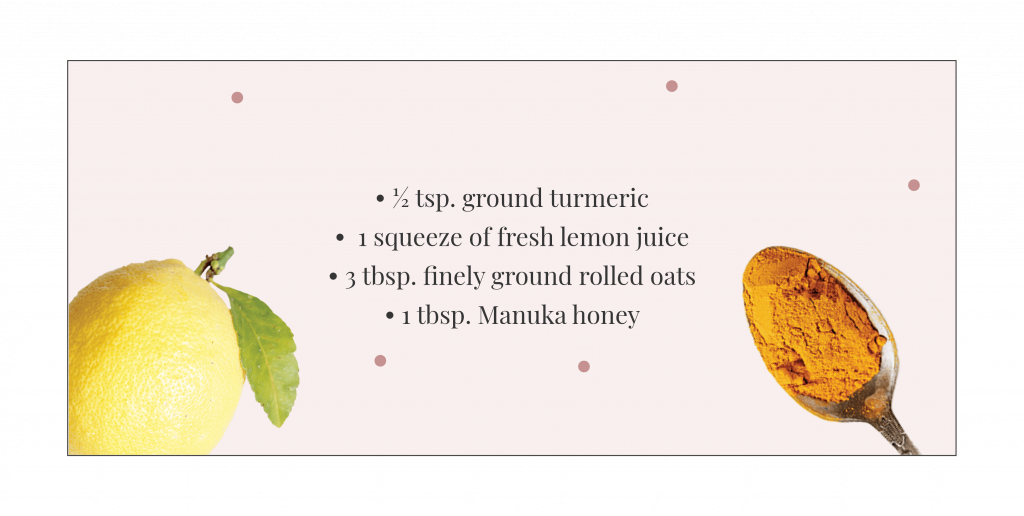 You might not know it, but turmeric is a pretty powerful DIY mask ingredient. From reducing redness and treating breakouts to its anti-inflammatory properties, this golden-yellow powder will work wonders. The ingredients in this natural face mask will calm, moisturize and soften your skin.
What You Need:
½ tsp. ground turmeric

1 squeeze of fresh

lemon juice

3 tbsp. finely ground rolled oats

1 tbsp. Manuka honey
How It Works:
First, you'll need to grind your rolled oats finely, ideally in a food processor; alternatively, you can use oat flour. Combine all of the ingredients in a bowl and apply to clean skin. As this can get messy, it's best to apply the mask over the sink. Leave it on for 15 to 20 minutes and then wash your face.
Keep in mind that turmeric can stain and you may need to wash your face several times to remove the yellow tint. Make sure you wear an old t-shirt that can get dirty and use a dark towel when you dry your face. Another option is to wash your face with a sulfur soap after you've removed the mask as it may be more effective at eliminating any lingering yellow color.
Turmeric is a very interesting spice that has been used for centuries for both beauty and medicinal purposes. Since it contains curcumin, known for its anti-inflammatory and antimicrobial properties, it is believed to be effective in fighting the bacteria that contribute to acne.
Please keep in mind that this recipe calls for just a squeeze of lemon juice. As it's very acidic— too much can cause irritation and make your skin red and dry, so make sure you use just a little bit.
When used appropriately, lemon has tons of benefits including antimicrobial properties to eliminate bacteria that cause breakouts, and the ability to act as an exfoliant. Vitamin C is also an effective antioxidant that can boost collagen production, brighten your skin over time, and neutralize free radicals.
Oats, as we mentioned above, are rich in avenanthramides, which have an anti-inflammatory and anti-itching effect. When ground very finely, they're the perfect gentle exfoliant. Oats are also rich in amino acids which, when applied to your face, enter the skin. They also support collagen formation.
Manuka honey has a lengthy list of benefits for your skin. This includes its ability to exfoliate, soothe, hydrate, and fight and destroy bacteria. When buying this honey, stick to the raw version if possible, otherwise, make sure you read the label and look for honey with a UMF (Unique Manuka Factor) of at least 15 or an MGO (which refers to the methylglyoxal content) of at least 250.
4. Rejuvenating Cocoa Mask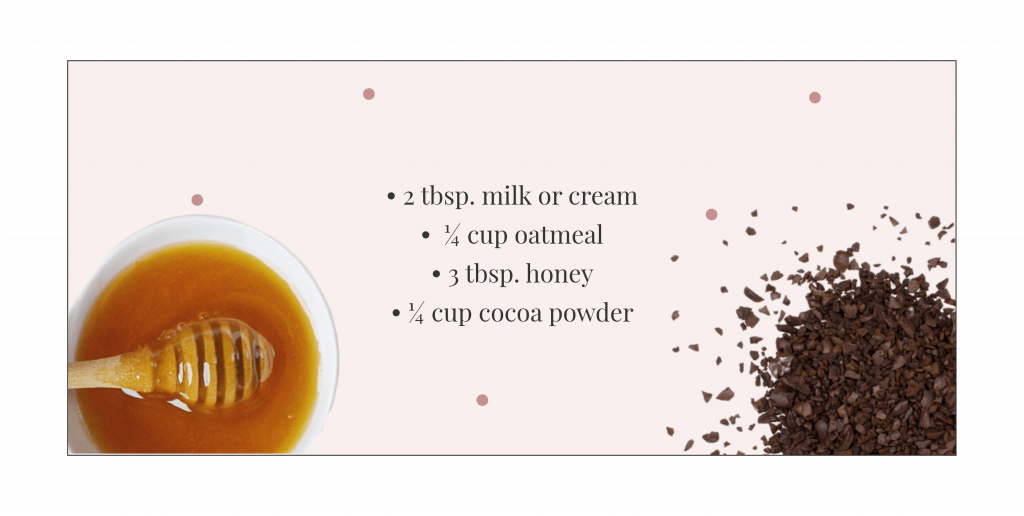 Give your skin a boost with this refreshing cocoa mask. The combination of milk, oats, honey and cocoa powder can increase blood flow to the skin, unclog pores, combat inflammation, and add moisture. The result? Great looking skin.
What You Need:
2 tbsp. milk or cream

¼ cup oatmeal

3 tbsp. honey

¼ cup cocoa powder
How It Works:
Grind chop the oats until they are coarsely chopped, either in a food processor or in a blender. Mix the oatmeal with the rest of the ingredients. Apply to your face and leave on for 20 minutes. Wipe it off with a warm towel.
The cream in this recipe acts as a moisturizer by hydrating and softening your skin. If you choose to use milk, the lactic acid should help eliminate dead skin cells and stimulate new cell growth. Additionally, that lactic acid together with milk's natural acidity levels might act as a gentle exfoliator.
Oatmeal also has the ability to open up your pores and act as a gentle exfoliant, plus it contains vitamin E and has anti-inflammatory properties. Oats can strengthen the skin barrier while soothing and moisturizing it and they can balance the microbes on your skin and keep it healthy. Overall, it's an excellent ingredient that leaves your skin looking its best.
As a humectant, honey keeps your skin moist but not oily and it also has natural healing and soothing properties. It's extremely moisturizing and acts as a clarifying agent as it naturally opens up your pores.
Cocoa powder is a gentle exfoliant, leaving your skin extra soft, and the caffeine and theobromine helps drain fatty cells, which firms your skin and also reduces puffiness. It's got everything from vitamin C and magnesium to antioxidants and omega 6 fatty acids, which work together to reduce wrinkles, heal damaged skin, renew skin cells and fight free radicals.
5. Hydrating Honey Mask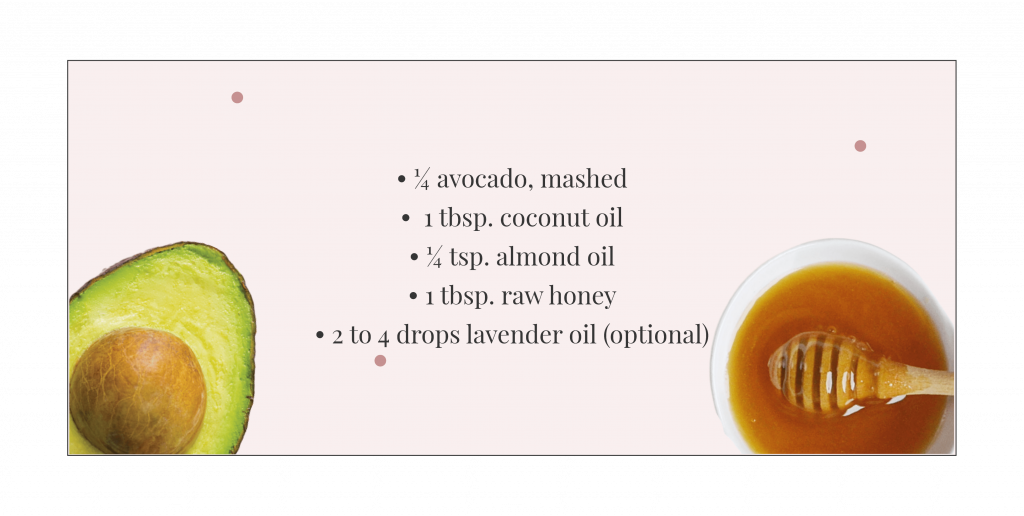 This natural hydrating mask will give you beautiful, glowing skin thanks to the powerful combination of ingredients like avocado, honey, and almond, and coconut oil, all of which have notable moisturizing capabilities. Together they rejuvenate, calm, and soothe the skin all while leaving it soft and supple.
What You Need:
¼ avocado, mashed

1 tbsp. coconut oil

¼ tsp. almond oil

1 tbsp. raw honey

2 to 4 drops lavender oil (optional)
How It Works:
Mash up the avocado as best as you can, either with a fork, a blender, or even a food processor. Add in the coconut and almond oils, the honey, and the lavender oil if you're using it. Be careful with the lavender oil, as too much can be damaging to the skin if too much is used.
Mix well and apply it to your face. Wait about 10 minutes and then wet a washcloth with lukewarm water and cover your face for 30 seconds to open up your pores and allow the mask to work its magic. Then use the washcloth to gently remove the mask.
For this recipe, you can substitute ½ teaspoon of avocado oil instead of the avocado, and if you're allergic to them, swap in a banana instead. Additionally, if you're allergic to nuts, simply skip the almond oil.
Avocado oil is choc-full of healthy components, from omega-3 fatty acids and vitamins A, D, and E to potassium and lecithin. It does an excellent job of nourishing and moisturizing the skin. Like many of the other ingredients here, it has anti-inflammatory properties, which is positive for people with acne or acne-prone skin.
Coconut oil has antimicrobial, antioxidant, and anti-inflammatory effects on the skin, and topical application not only protects it, but it also improves its appearance. This oil has rich, moisturizing properties for people with dry skin, such as those with eczema, but for those of you who are acne-prone, it's best to avoid this ingredient as it can clog pores.
Almond oil, preferably sweet as opposed to bitter, contains a lot of interesting nutrients, including zinc, which can help heal acne; omega-3 fatty acids, which can help prevent premature aging; vitamin E, which can help prevent cell damage; and vitamin A, which can help stimulate new cell production.
Beyond these benefits, this oil is also believed to reduce the appearance of scars, as it has done in ancient Ayurvedic medicine.
Honey is a natural humectant, so it keeps the skin moist but does not make it oily, and can be used on both acne-prone and oily skin as it has both antiseptic and antibacterial capabilities.
Make sure that the honey you're using has healthy bacteria, or it won't be effective. And of course, if you are severely allergic to pollen, you'll want to steer clear of honey in case it also causes a reaction.
If you decide to use lavender oil, you'll reap many of the benefits that come from this essential oil, which is distilled from lavender flowers. This includes leveraging its antimicrobial, anti-inflammatory, antiseptic, and antibacterial properties. It can especially benefit people with eczema and psoriasis.
6. Anti-Bac Ginger Mask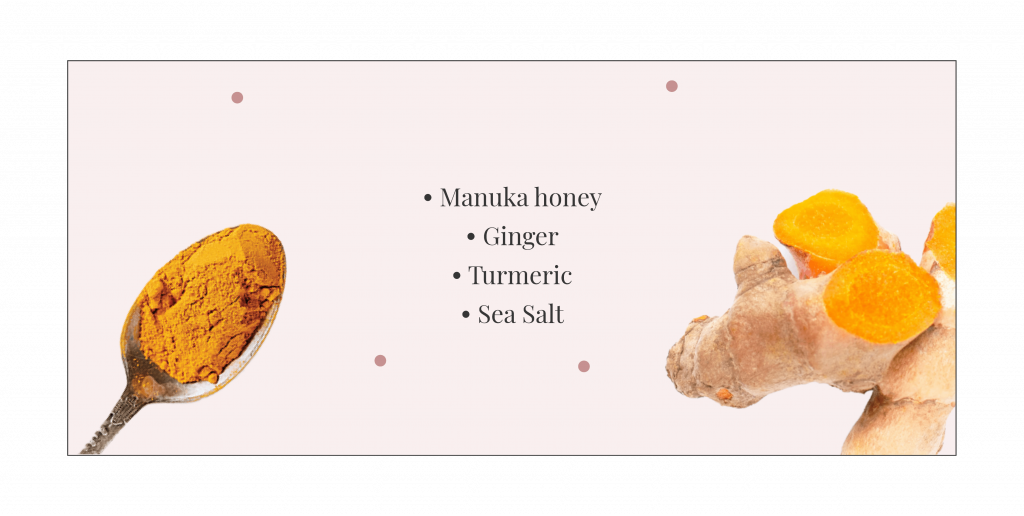 Our skin comes into contact with all kinds of impurities—from dirt and pollution to bacteria—on a daily basis, and this can lead to a wide range of skin conditions. When you apply an antibacterial mask like this ginger-based one, the ingredients really get to work eliminating bacteria, unclogging your pores, and cleansing your skin.
What You Need:
2 tbsp. Manuka honey

1 tsp ginger

1 tsp turmeric

1 dash sea salt
How It Works:
Mix the Manuka honey, ground ginger, and turmeric together with just a dash of sea salt. Dab it onto your face (don't scrub, as that can be damaging to the skin) and leave it on for 10-15 minutes. When you're finished, gently wipe it off with a soft towel.
Manuka honey, which is made by bees that feed on the Manuka trees in New Zealand, has become a popular ingredient in today's beauty products not only because it gently exfoliates and is a natural moisturizer, but also because it has antibacterial properties. It's also proven to be effective in soothing skin irritation caused by eczema and psoriasis.
Ginger, when used in a face mask, rejuvenates and restores the skin and improves elasticity while also helping to fade scars and even out skin tone. This root superfood also has antioxidant properties that help protect against aging and prevent free radical damage.
Turmeric has antibacterial potential and may be able to prevent and treat bacteria in the skin that contribute to acne. It can reduce inflammation, even out discoloration of the skin, and remove redness from scarring.
Sea salt is a powerful antibacterial substance that inhibits the growth and multiplication of bacteria. It also contains potassium, sodium, calcium, and magnesium, which help keep your skin hydrated and improve its texture. Sea salt is a gentle and natural exfoliator, but again, be sure not to scrub your face too hard as it could be damaging and cause scratches.
7. Toning Yogurt Mask
Here's a very simple face mask which does wonders to tone your skin and restore balance. Even better: yogurt is a total beauty multi-tasker, capable of helping prevent breakouts, exfoliating gently, reducing the appearance of fine lines, fighting acne, and moisturizing.
What You Need:
½ cup yogurt

1 tsp. honey

½ tsp. ground turmeric
How It Works:
Simply mix the ingredients together in a bowl and apply to a clean face. Leave it for 15 minutes and then wash it off. As it contains turmeric, which has the propensity to stain (especially if your skin is light), you might need to wash your face several times to fully remove any lingering yellow color. You might also stain your clothes!
This mask calls for yogurt, which has been proven to help lock in moisture, thanks to its creamy texture, while its naturally occurring probiotics may even help you even out your skin tone if you suffer from sunspots, age spots or acne scars. Yogurt is believed to help increase skin elasticity and the probiotics it contains may even help treat issues like rosacea, eczema, and psoriasis.
Honey, as you know by now, has many benefits and is a source of proteins and nutrients that can be effective in helping people with psoriasis, eczema, and dry skin. Unpasteurized honey can reduce inflammation and even speed up healing and raw honey acts as an exfoliator as it helps remove dry skin and reveal new skin cells.
Turmeric has outstanding anti-inflammatory effects and can be used to treat skin conditions like psoriasis, acne, and atopic dermatitis, among others. Thanks to its antioxidant properties, it's also known for providing glow and luster to the skin and may help prevent skin aging.
8. Antioxidant Green Mask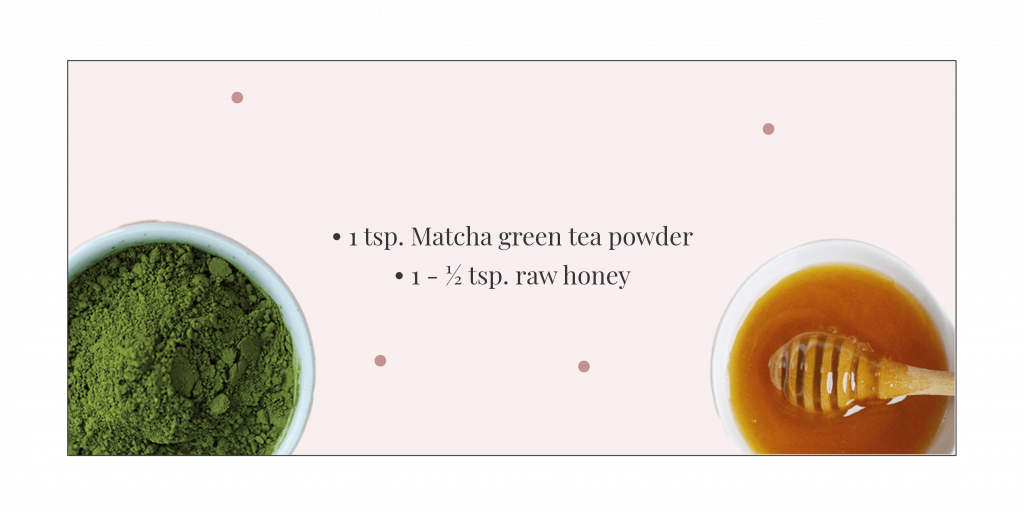 If you're looking for a face mask that is both nourishing and moisturizing and leaves your skin feeling silky soft, this is a perfect, simple option. Given that the ingredients are shelf-stable, you can make this mask and store it in your bathroom in a jar for future use.
What You Need:
1 tsp. Matcha green tea powder

1 – ½ tsp. raw honey
How It Works:
Mix the two ingredients to create a paste. You might need to use more or less honey, depending on the consistency. Spread it on your face and neck using a circular motion and leave it on for 10 to 15 minutes. Remove it with a warm, wet washcloth.
Matcha green tea powder is rich in antioxidants. Whether you drink it or put it on your skin, your body reaps the rewards. It contains epigallocatechin gallate (EGCG), which can even out skin tone and reduce inflammation, and the antioxidants can help increase skin elasticity.
The chlorophyll in matcha is a natural antibacterial, eliminating the bacteria that cause acne as well as excess oil on your face, and the texture offers a gentle exfoliation.
Raw honey contains several bioactive plant compounds and antioxidants that protect the skin from cell damage caused by free radicals, which contribute to aging. Antioxidants include phenolic compounds like flavonoids.
9. Impurity-Fighting Clay Mask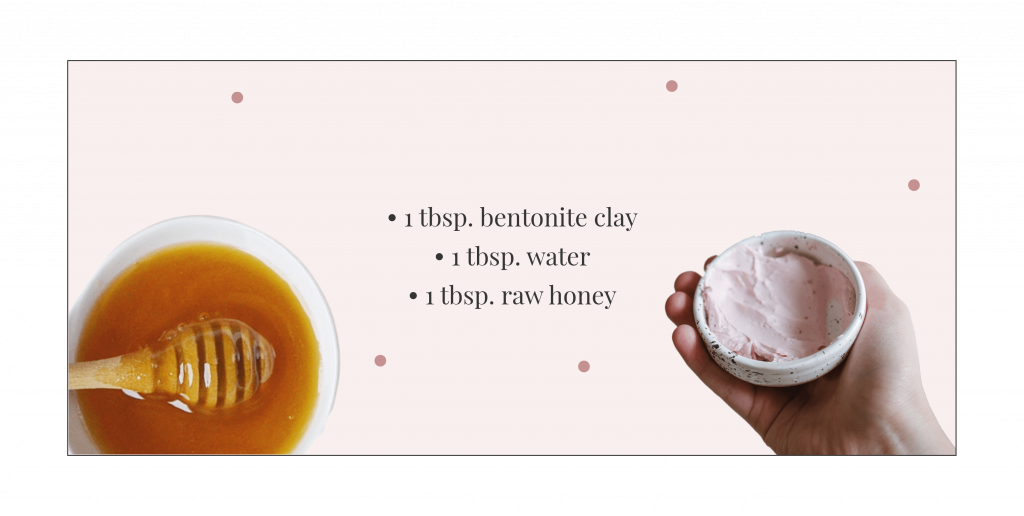 A clay mask can work wonders on acne-prone skin. In this case, we recommend an easy-to-make bentonite clay mask that reduces the risk of skin infections and pimples as it removes impurities from the skin.
What You Need:
1 tbsp. bentonite clay

1 tbsp. water

1 tbsp. raw honey
How It Works:
Combine all three ingredients but do not use a metal bowl, as the clay will absorb the metals and become less effective. Apply the mask to your face and leave it on for 10 to 15 minutes. Remove with a warm washcloth.
Bentonite clay is an interesting material people have put on their skin for thousands of years and is formed from volcanic ash.
When you use it on your face, it attracts and absorbs dirt, bacteria, and oil, like sebum, acting like a sponge. Since too much sebum can lead to acne, this clay can effectively get rid of the excess. It also has bacteria-fighting abilities and it can zap the bacteria that leads to breakouts.
This clay also has a powerful drawing power as it has a negative electrical charge whereas impurities, bacteria, and toxins have a positive charge. This allows the clay to draw them to the surface of your skin. The fine granules in bentonite clay also act as a gentle exfoliator, which is important for people with acne. Dead skill cells are one of the things clogging those pores and this clay can help remove them.
It's also an anti-inflammatory and can soothe and help heal the skin and has a calming effect on inflamed breakouts.
Honey, especially unpasteurized versions like manuka honey, is capable of healing blemishes and helping with inflammation and redness. It's an ideal face mask ingredient for people with psoriasis, acne, and eczema as it has natural calming and antibacterial qualities.
This may have something to do with honey's glucuronic acid content, which is converted into glucose oxidase. This, in turn, is converted into hydrogen peroxide, which works in a similar way as benzoyl peroxide, a well-known acne treatment.
10. Acne-Buster Banana Mask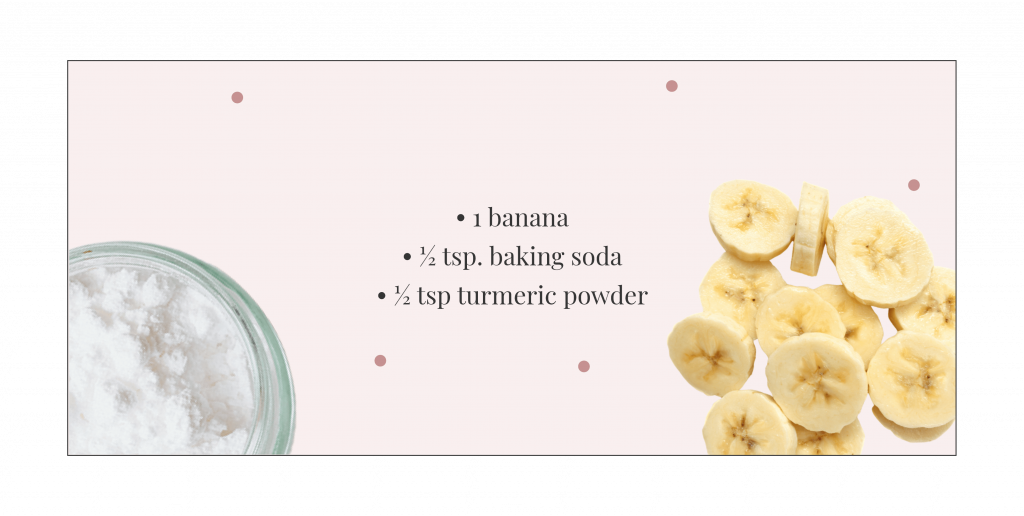 For those of you with acne-prone, oily skin, this dermatologist-approved natural face mask is for you. The combination of ingredients does a great job of absorbing any excess oil on your skin, helping your pores stay clean, promoting skin cell turnover, and fighting bacteria that cause acne.
What You Need:
1 banana

½ tsp. baking soda

½ tsp turmeric powder
How It Works:
Mash up one ripe banana and mix it with the other ingredients and apply to your face. Let it sit for 10 to 15 minutes and then rinse with lukewarm water to remove it. The baking soda in the recipe might cause a slight sting, but this is nothing to worry about. You might also consider applying a light moisturizer afterward. Recall that turmeric can stain, both your clothes and your face.
You surely know about all the health benefits of eating bananas, but do you know about the benefits of putting them on your face? Their nutrient content, which includes potassium and vitamins C, B6, and A, has a positive impact on skin health, and their vitamin A content is believed to help reduce inflammation caused by acne. They're also rich in antioxidants, with the result that they can help protect your skin from free radical damage.
In this recipe, the baking soda will soak up excess oil on your face, not to mention deep clean your pores and break down any excess grime and dirt. Baking soda also works as a gentle exfoliator here. Too much baking soda can do more harm than good, disrupting the pH of your skin, so just be mindful that your skin may be sensitive to this ingredient.
The turmeric will work its antibacterial powers, which will help destroy any bacteria on your face before it can cause pimples, and its anti-inflammatory properties do a good job of calming the skin.
11. Papaya Pigment Restoration Mask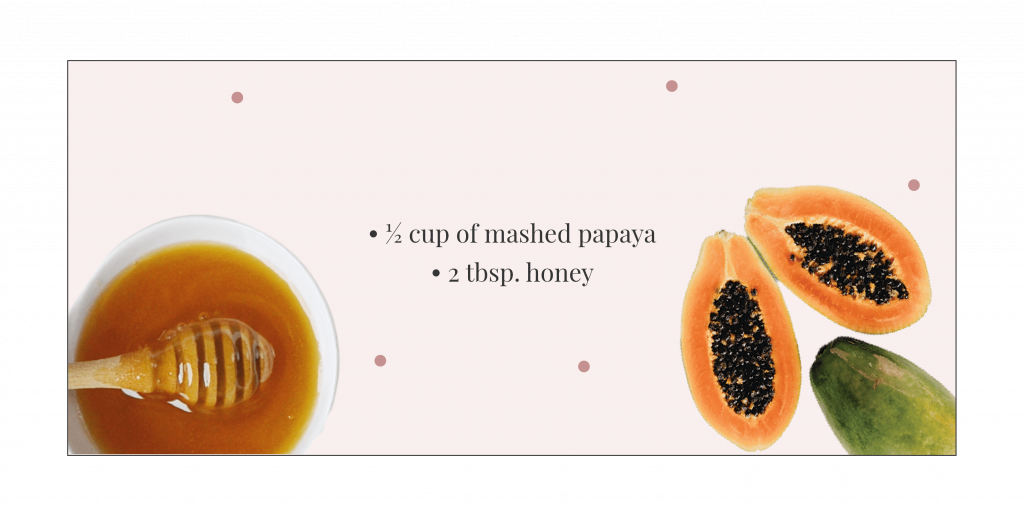 If you're stressed about uneven skin tone, sun or age spots, or hyperpigmentation, you'll want to check out this easy, budget-friendly DIY mask. Get your skin back on track with juicy papaya, which contains plant compounds and beta carotene to enhance your skin glow and complexion.
What You Need:
½ cup of mashed papaya

2 tbsp. honey
How It Works:
Blend together the two ingredients to form a paste. Apply it gently to your face and leave it on for 15 to 20 minutes. Wash it off and then moisturize.
Papaya isn't just a delicious fruit you can eat, you can also take advantage of its many qualities by putting it on your face. This tropical fruit has become increasingly popular as a skin product.
Papayas contain enzymes such as chymopapain and papain. The latter in particular acts as an exfoliator, getting rid of dead skin cells and leaving your face both lighter and more supple.
These enzymes also decrease inflammation and can help control acne, and the latter is believed to be effective in treating scars. Papayas have a high antioxidant content, which may help reduce signs of aging and definitely fights free radical damage to keep your skin looking young and smooth.
As you know by now, honey is a fantastic product for your skin as it reinforces the skin barrier and helps protect it from environmental factors. Additionally, its flavonoid and polyphenol compounds help reduce inflammation, redness, and irritation, restoring your skin and complexion.
12. Hydrating Breakfast Mask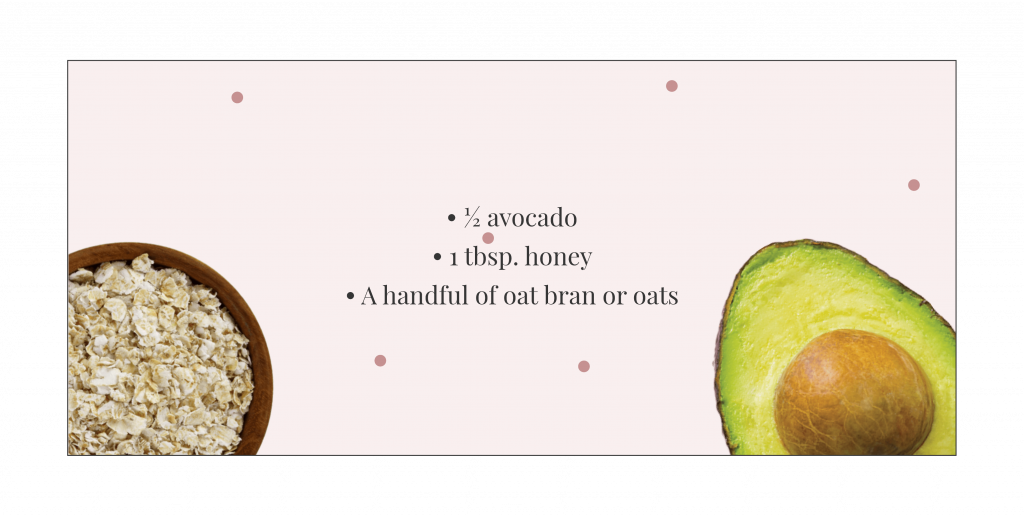 If you have dry skin and can't seem to find the right moisturizer, look no further than this hydrating mask. The oil, honey, and oats all have nourishing properties and will leave your face feeling soft and smooth. Although the ingredients sound like a delicious breakfast, trust us on this one: There are plenty of advantages to putting this on you instead of in you.
What You Need:
½ avocado

1 tbsp. honey

A handful of oat bran or oats
How It Works:
Roughly chop the oats in a blender. Mix all of the ingredients together and apply to your face. Leave the mask on for 15 minutes and rinse it off.
Avocado is extremely moisturizing and nourishing as it contains vitamin E, potassium, and lecithin, among other nutrients which are easy to absorb and help form new skin. Avocado oil also keeps your skin hydrated with no oily residue, thereby reducing the risk of acne. Beyond its hydrating properties, this oil also has anti-inflammatory effects, may promote collagen synthesis, can be used to treat sunburn, and helps heal dry, flaky skin.
Honey is a super ingredient in DIY face masks because of its many benefits. Here, in particular, the sugars act as a natural humectant and emollient, drawing moisture into the skin without making it oily and reducing dryness. Honey also goes above and beyond to reduce the appearance of scars, regulate pH and slow the formation of wrinkles.
Like avocado and honey, oats and oat bran also have moisturizing and healing properties and are highly capable when it comes to soothing and nourishing the skin. Oats are effective in providing protection from environmental conditions and UV and they can help repair lingering damage from conditions like atopic dermatitis, rosacea, and acne.
13. Light and Bright Pumpkin Mask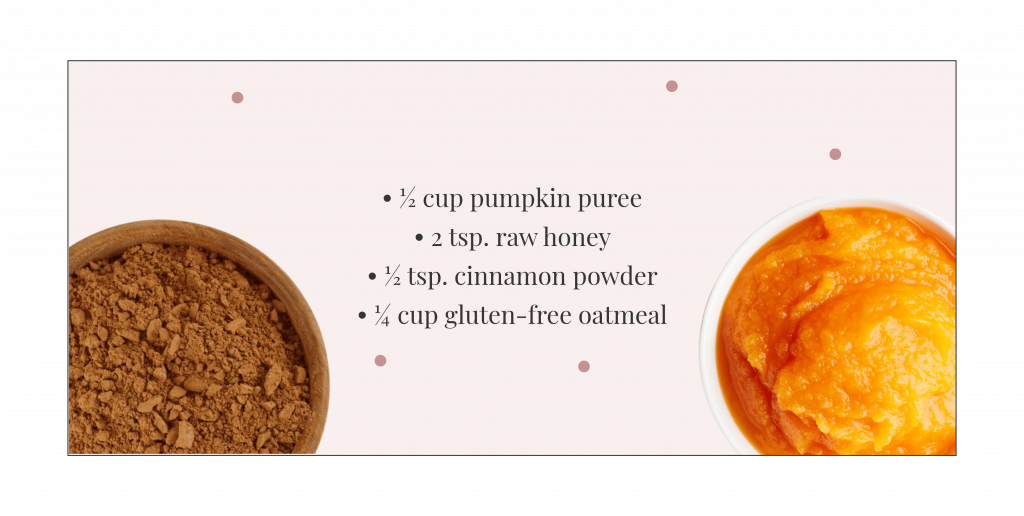 Brighten and smooth your skin with this powerful DIY pumpkin mask. Pumpkin contains fruit enzymes and alpha hydroxy acids, which help get rid of old skin cells, increase cell turnover and keep your skin glowing and bright.
What You Need:
½ cup pumpkin puree

2 tsp. raw honey

½ tsp. cinnamon powder

¼ cup oatmeal
How It Works:
First, use a coffee grinder to coarsely grind the oats.
Combine the pumpkin and the 1/4 cup of oats, add the cinnamon and mix well. Add the honey and stir it until you get a paste. If it's too thick, you can add a little more honey or a few drops of water and mix thoroughly again.
Apply to your face and leave on for 10 to 15 minutes. If you have especially sensitive skin, remove the mask a little bit earlier. Wash off with a damp washcloth, rinse your face and apply your favorite moisturizer.
Pumpkin brightens your skin, thanks to the alpha hydroxy acids, which increase cell turnover. If you've got aging skin, pigmentation, or a dull complexion, the pumpkin will be able to penetrate deeper into the skin compared with other ingredients.
In general, pumpkin has a lot going for it. It's got vitamin C and beta-carotene, which not only prevent fine lines and wrinkles, they also reverse UV and free radical damage. Its B vitamin content helps treat acne, the folate and niacin improve circulation, and the zinc helps control oil production.
Raw honey can also play a role in improving your skin's appearance. It's believed that honey has exfoliating properties, with the result that using it on your face can help remove dead skin cells that leave you looking dull, giving way to brighter skin.
Beyond this, honey can be used to treat chronic skin conditions like acne, psoriasis, and eczema, and when mixed with cinnamon, like in this natural face mask recipe, the result is a powerful antioxidant and antimicrobial combination.
Cinnamon also has astringent properties, which means it can shrink pores and make skin look more even and smooth, and it may have anti-aging abilities.
As for the oatmeal, it may improve moisture in the skin and brightness, and the saponins compounds it contains can help unblock pores. Ground oats can be effective for treating sensitive, red and itchy skin as they have a calming effect and anti-inflammatory and antioxidant qualities.
If you have very sensitive skin, use this mask with caution as the ingredients may cause a burning sensation for some people.
14. Blemish Fighter Milk Mask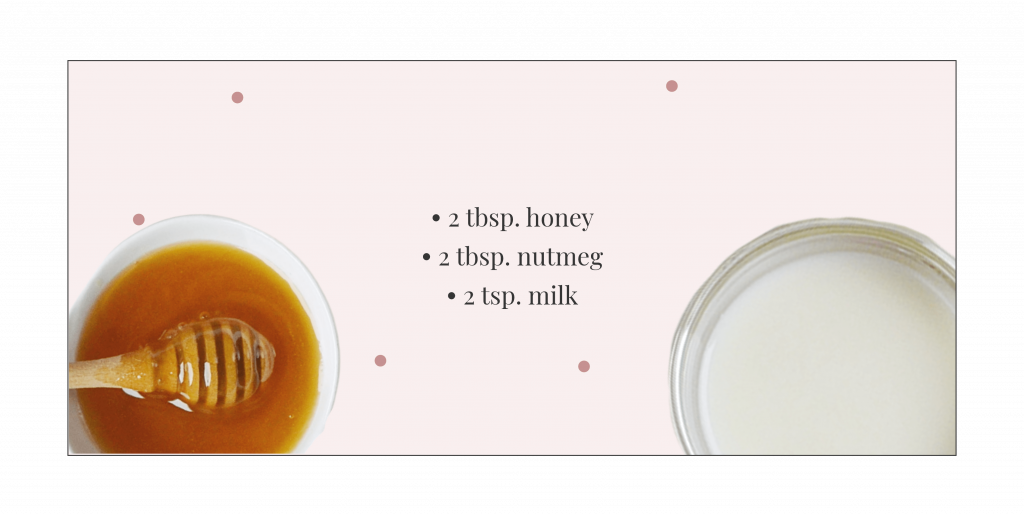 Say bye-bye to embarrassing blemishes with this milk mask. If you have acne-prone skin or suffer from some other inflammatory skin condition, this mask packs a 3-way punch as it kills off bacteria to prevent future breakouts, gently exfoliates, and leaves you looking better than ever.
What You Need:
2 tbsp. honey

2 tbsp. nutmeg

2 tsp. milk
How It Works:
Combine all of the ingredients and apply the mixture to your face for 10 to 15 minutes. Rinse it off completely and apply a moisturizer.
Although honey might not be ideal for treating open acne or blackheads, it is quite effective if you have red, inflamed blemishes. But honey doesn't eliminate impurities; instead, it draws out excess water. Its soothing and antibacterial properties can help reduce irritation and redness, which is ideal for people with acne and psoriasis.
Nutmeg also has anti-inflammatory properties and, therefore, the ability to combat pimples. It has been used in Ayurvedic medicine as an antibacterial compound that can help reduce clogged pores and balance oily skin.
Even better, it's a natural astringent, which is ideal for people who have cystic or hormonal acne. For those of you with dry skin, nutmeg has proven to be an effective exfoliator and moisturizer.
Milk's lactic acid content can help eliminate dead skin cells while also boosting new cell growth. It's got protein, which supports tissue repair and growth and promotes wrinkle-free skin; vitamin B12, which can heal uneven skin and even out discoloration; and selenium, which fights free radicals and helps maintain skin that is firm and elastic.
15. Wrinkle-Be-Gone Chocolate Mask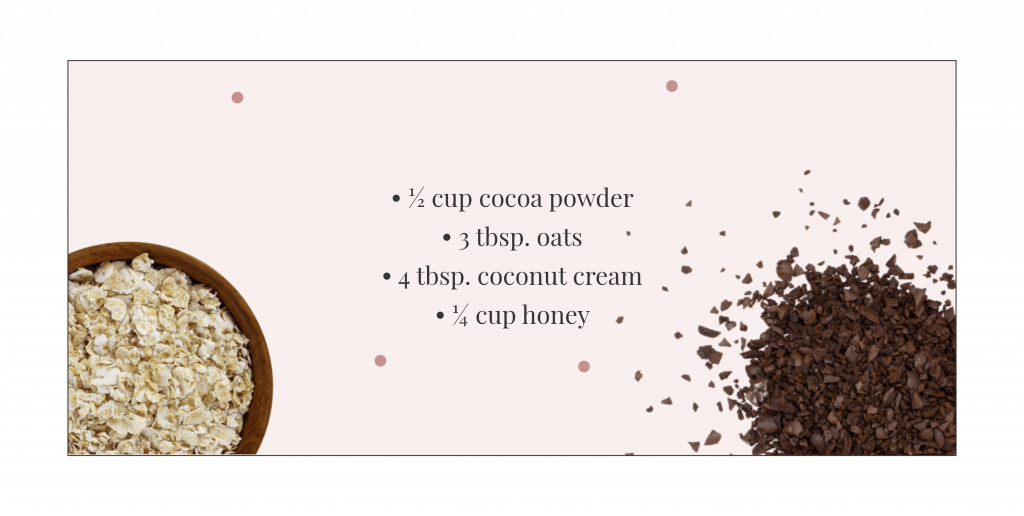 Give your face a youthful glow with this anti-aging mask. Cocoa powder has been shown to reduce oxidative stress, which in turn reduces skin damage and signs of aging. It also contains antioxidants called flavanols, which can positively impact wrinkles and elasticity. In short, this is an excellent natural face mask that can make you look younger!
What You Need:
½ cup cocoa powder

3 tbsp. oats

4 tbsp. coconut cream

¼ cup honey
How It Works:
Blend the oats in a blender or food processor until you have a fine powder. Mix all of the ingredients together and gently apply a delicate layer to your face. Let it sit for 10 minutes and then rinse it off.
The Mayans and Aztecs weren't too far off when they described chocolate as "the food of the gods." Cocoa powder boosts blood flow to the skin, which in turn gives you a more radiant complexion, keeps your skin hydrated, and promotes healing and skin damage repair typical of aging.
It also boosts collagen production, thanks to its vitamin E content. This supports your skin's firmness, smoothness, and elasticity. When collagen is depleted, we start to see fine lines and wrinkles, which makes cocoa powder an excellent anti-aging face mask ingredient.
Like cocoa powder, oats support the production of collagen, which helps reduce the appearance of fine lines and wrinkles.
They have anti-itching and anti-inflammatory properties, which are ideal for people with atopic dermatitis, acne, and rosacea. They're also rich in amino acids, such as lysine, histidine, and methionine, which are absorbed by, and help rebuild, the skin.
Coconut cream and coconut milk moisturize and nourish the skin, and milk is rich in antioxidants with the ability to delay the appearance of lines and age spots, and other signs of aging. Coconut milk also has vitamin C, which supports elasticity and flexibility and its copper content prevents sagging skin and wrinkles.
Honey has the ability to tighten the skin and reduce wrinkles, and its exfoliating and healing powers can reduce the appearance of fine lines. It also contains an alpha hydroxy acid called gluconic acid, which is known for stimulating collagen and elastin production and increasing skin elasticity.
What's great about these homemade face masks is that you can tailor them to your preferences and skin type.
That being said, keep in mind that even though these face masks use natural ingredients, it is possible to have a reaction. Talk to your dermatologist before attempting to treat any skin condition on your own and make sure you do a patch test on the inside of your elbow at least 24 hours before you apply your natural face mask.
Whether you're looking for something to brighten your skin, add moisture, reduce wrinkles or improve your acne, there's most definitely a natural mask out there for you. Even better, you can probably make it using the ingredients you already have in your kitchen.
Next time ditch the fancy cosmetic brand masks and do it yourself. It's healthier, less expensive, more natural, and just as—if not more—effective.