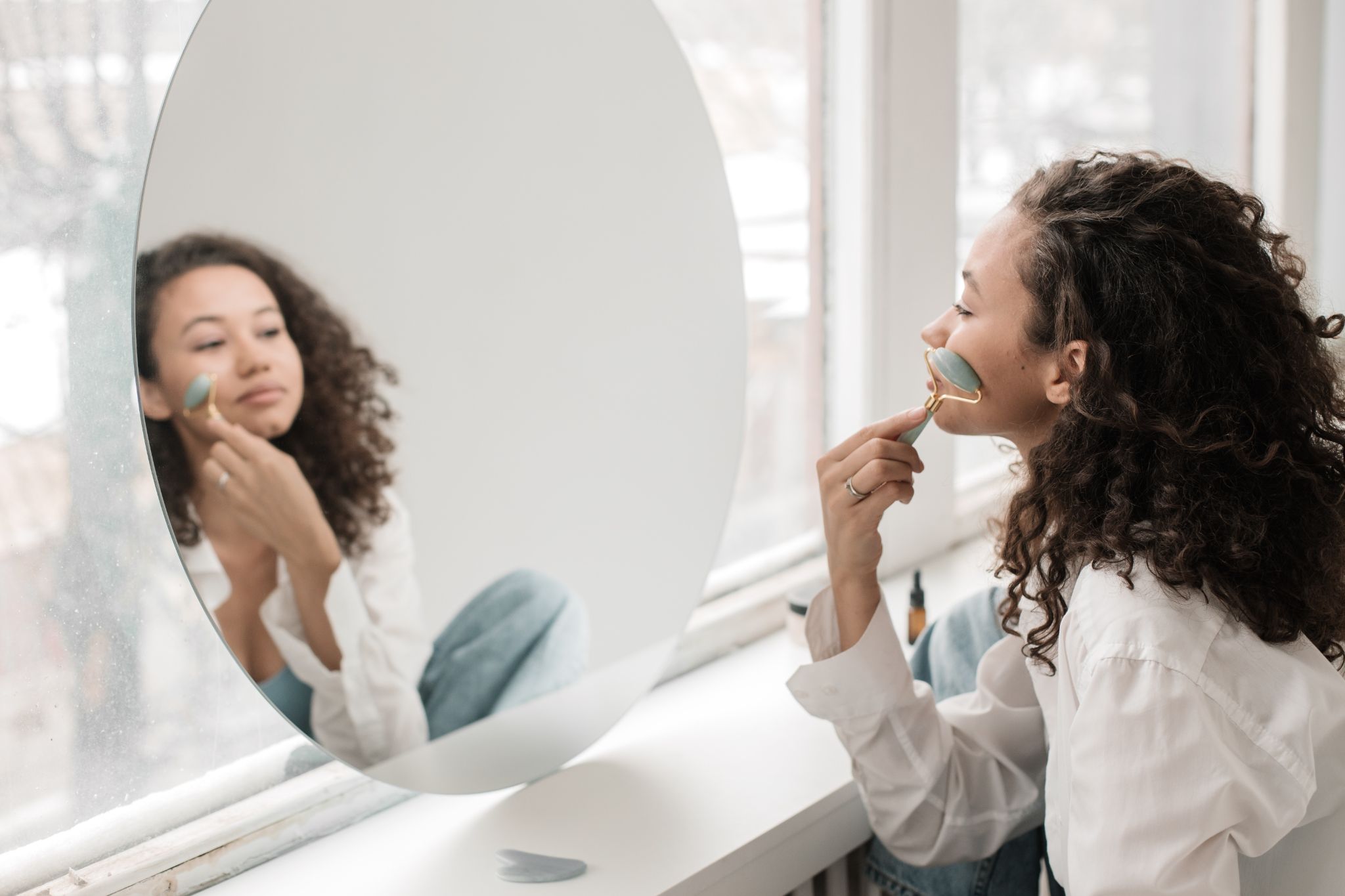 Indulging in self-care doesn't mean you're being selfish, or indifferent to other peoples' needs. If you don't prioritize your own mental, emotional, and physical health by looking after yourself, you won't have the energy to look after other people or do the things that need to be done every day. 
Most importantly, when you care for yourself, you give yourself permission to be loved and nourished. We all need more self-love. 
We've curated some of the best self-care quotes we could find on the internet for beauty, mental health, productivity, work, technology, pampering, spirituality, travel, men, and family to help inspire your own journey to wellness.
Let's get started!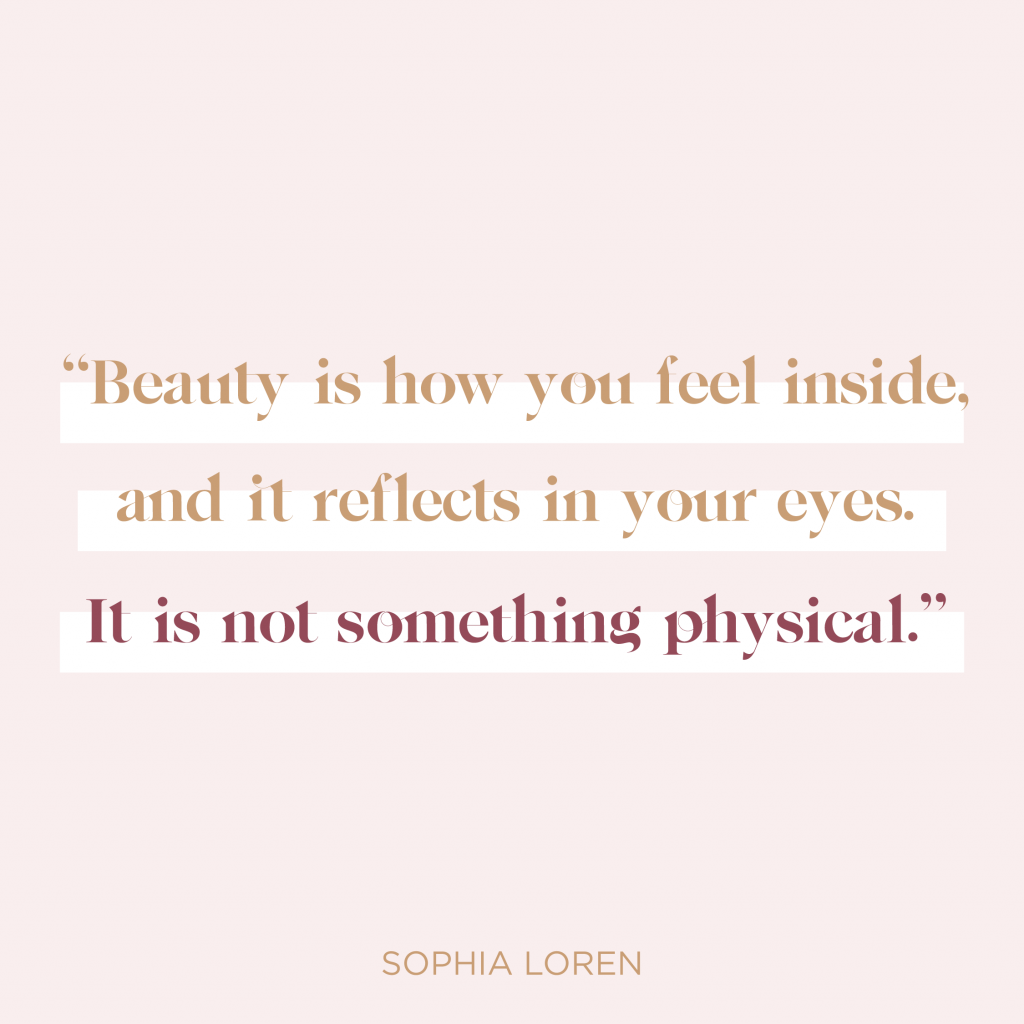 Self Care and Beauty
"Beauty is how you feel inside, and it reflects in your eyes. It is not something physical." – Sophia Loren

"Loving yourself isn't vanity. It's sanity." – Katrina Mayer

"Self-care is the non-negotiable. That's the thing that you have to do. And beauty is the thing that can be the benefit of the self-care. Beauty is not the point. Beauty is just a cute side-effect from self-care." – Jonathan Van Ness

"I believe more in looking after yourself than in doing make-up. So if it's skin care versus make-up or taking care of your inner body instead of just looking good, choose the former. You will end up looking good in whatever you wear." – Rhea Chakraborty

"Beauty is only temporary, but your mind lasts you a lifetime," – Alicia Machado

"I like my skin best when it's clean and glowy, and that comes from sleep, hydration, and happiness." – Tracee Ellis Ross

"I'm a big believer in that if you focus on good skincare, you really won't need a lot of make-up." – Demi Moore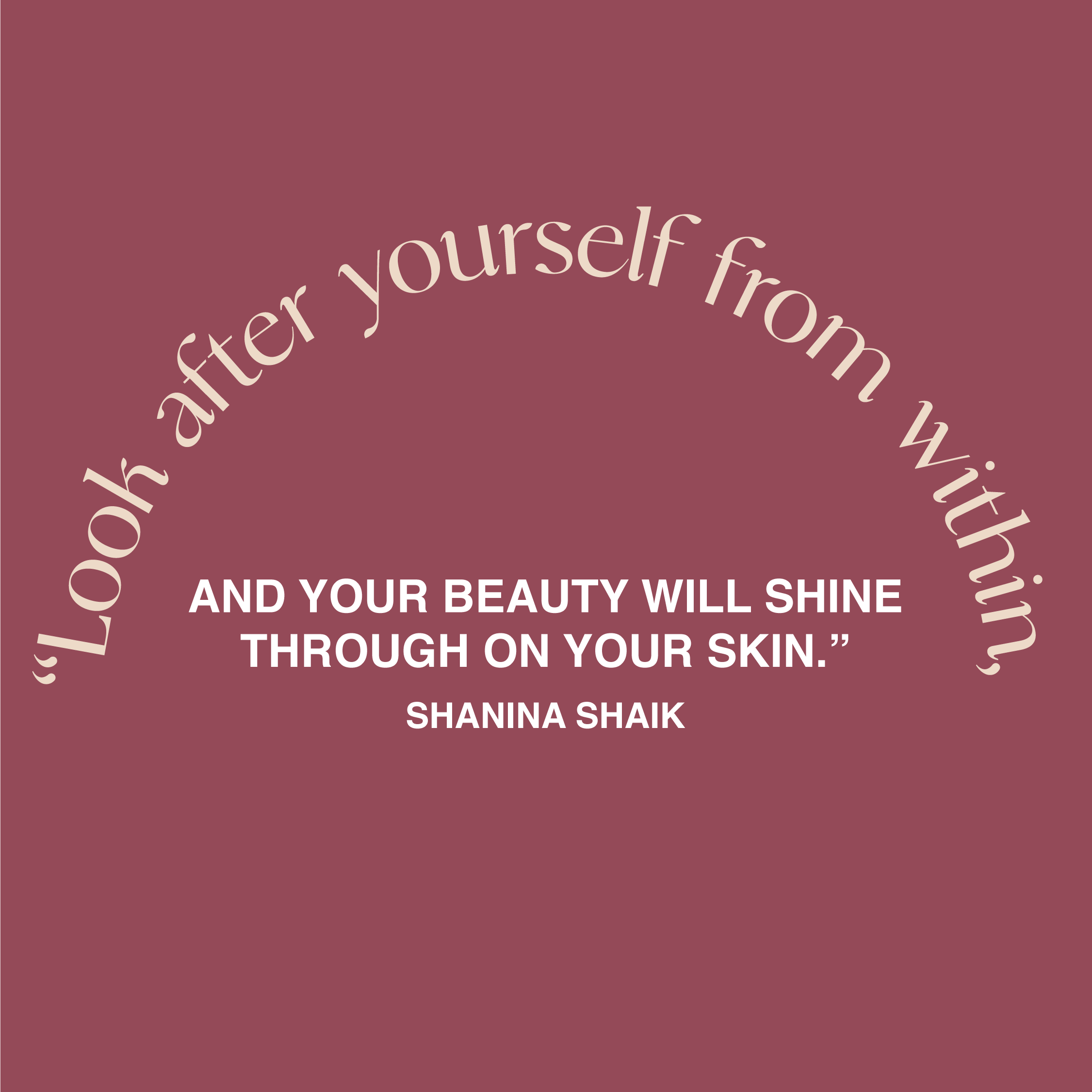 "Self-care is so much more than a beauty regimen or an external thing you do. It has to start within your heart to know what you need to navigate your life. A pedicure doesn't last, but meditating every day does." – Carrie-Anne Moss

"I need to see my own beauty and to continue to be reminded that I am enough, that I am worthy of love without effort, that I am beautiful, that the texture of my hair and that the shape of my curves, the size of my lips, the color of my skin, and the feelings that I have are all worthy and okay." – Tracee Ellis Ross

"Look after yourself from within, and your beauty will shine through on your skin." – Shanina Shaik

"To be beautiful means to be yourself. You don't need to be accepted by others. You need to accept yourself."  – Thich Nhat Hanh

"People are their most beautiful when they are laughing, crying, dancing, playing, telling the truth, and being chased in a fun way." –  Amy Poehler

"Beauty—real everlasting beauty—lives not on our faces, but in our attitude and our actions. It lives in what we do for ourselves and for others." – Justina Chen


"Beauty is being comfortable and confident in your own skin." – Iman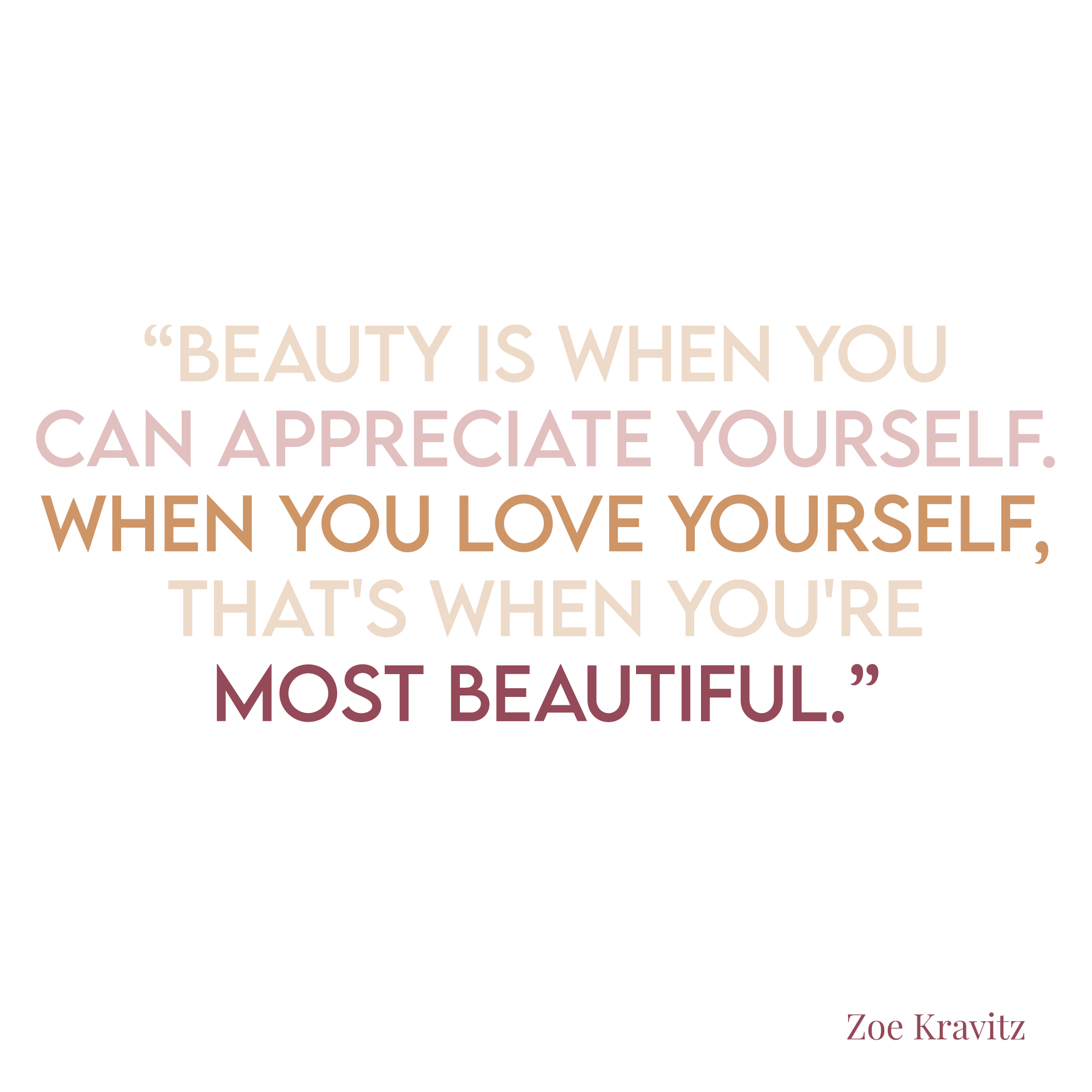 "Beauty is when you can appreciate yourself. When you love yourself, that's when you're most beautiful." – Zoe Kravitz

"Nobody looks stupid when they're having fun." – Amy Poehler

"Be good to your skin. You'll wear it every day for the rest of your life." – Renee Rouleau

"Aging is a fact of life. Looking your age is not." – Dr. Howard Murad

"Beautiful skin requires commitment, not a miracle." – Erno Laszlo

"Imperfection is beauty, madness is genius, and it's better to be absolutely ridiculous than absolutely boring." – Marilyn Monroe


"I think I got to that place by not being happy with the other side—hating your body and criticizing yourself all the time. When I was around 18, I looked in the mirror and said, you're either going to love yourself or hate yourself. And I decided to love myself. That changed a lot of things." – Queen Latifah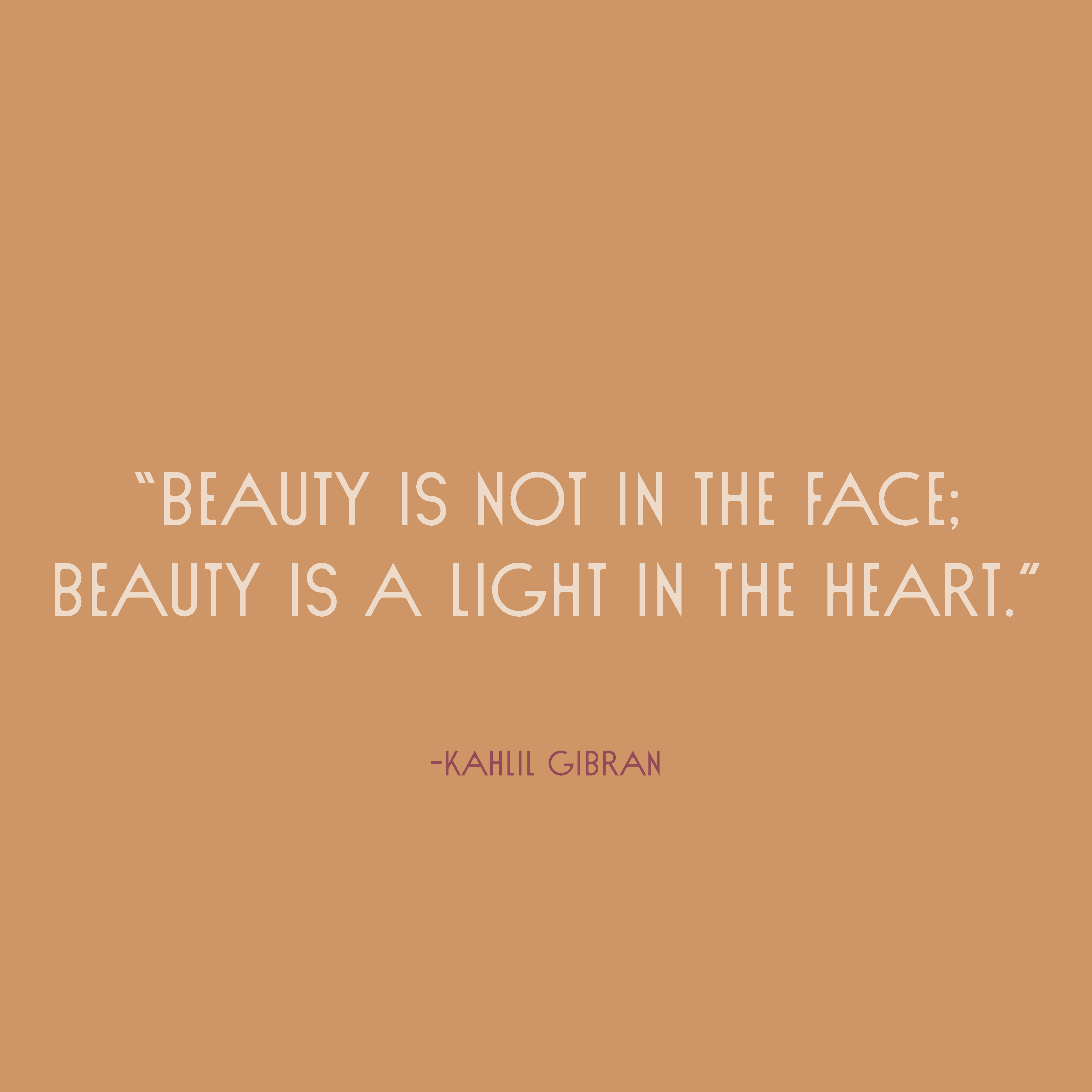 "You know you've made it when you can dye your hair blue." – Demi Lovato

"There's an ideal beauty that is harder to define or understand, because it occurs not just in the body but where the body and the spirit meet and define each other. – Ursula K. Le Guin

Your skin has a memory. In ten, twenty, thirty years from now, your skin will show the results of how it was treated today. So treat it kindly and with respect." – Jana Elston

"It's okay to fall down. Get up, look sickening, and make them eat it!" – Ru Paul

"Beauty is not in the face; beauty is a light in the heart." – Kahlil Gibran

"Next time you count beautiful things, don't forget to count yourself in." – Unknown


"Take care of your inner, spiritual beauty. That will reflect in your face." – Dolores del Rio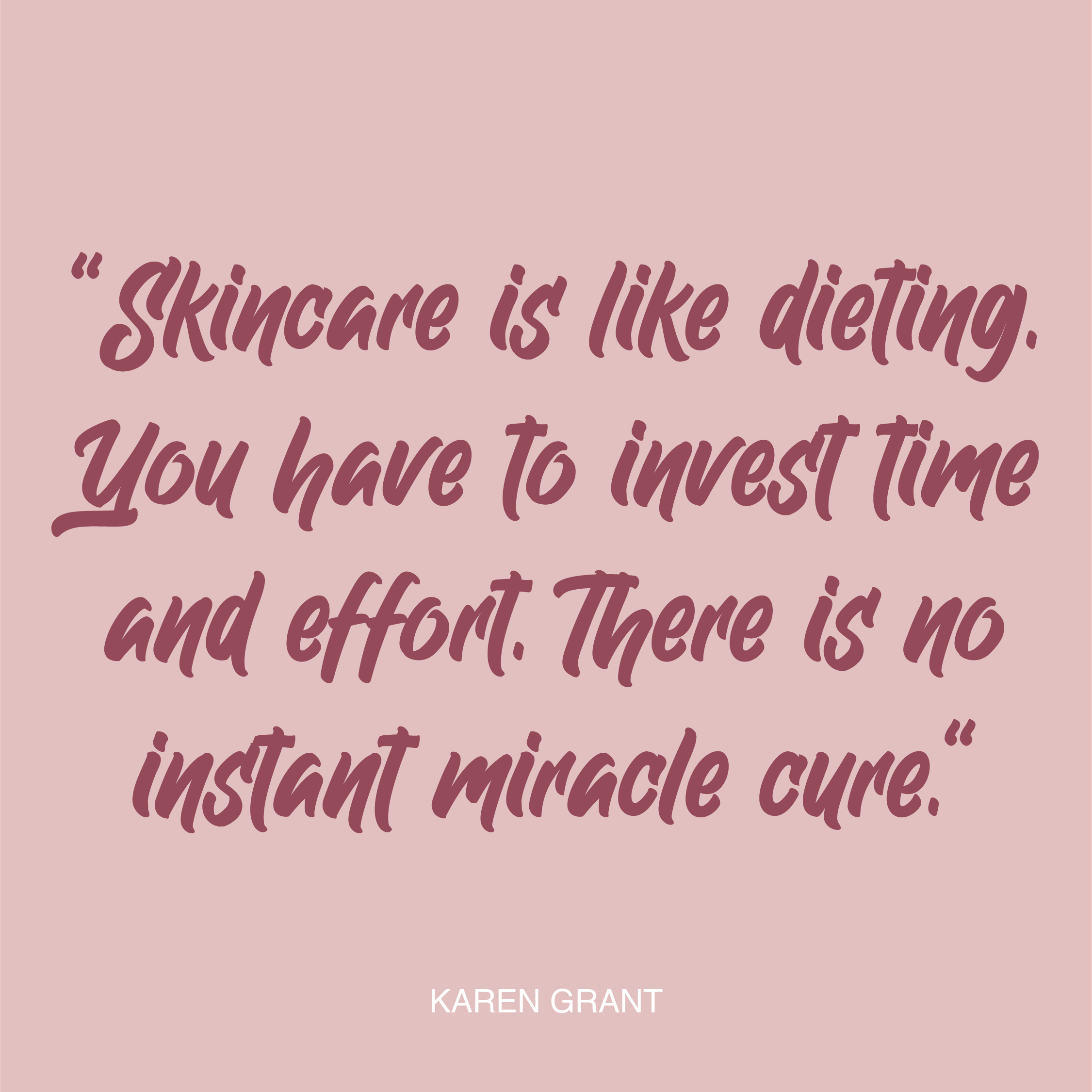 "The real sin against life is to abuse and destroy beauty, even one's own even more, one's own, for that has been put in our care and we are responsible for its well-being." – Katherine Anne Porter

"I feel an important part of beauty is not only what you do on the outside but also what you put into the inside. Good fresh food with many vegetables along with love and caring for others. I spend way more time serving others than I do on my beauty routine daily." – Kim Alexis

"It is now time to reverse the trend we have seen developing over the years, that of beauty at all costs and health will take care of itself." – Bill Munson

"Live quietly in the moment and see the beauty of all before you. The future will take care of itself…" – Paramahansa Yogananda

"Skin care is like dieting. You have to invest time and effort. There is no instant miracle cure." – Karen Grant


"The most beautiful make-up of a woman is passion. But cosmetics are easier to buy." – Yves Saint Laurent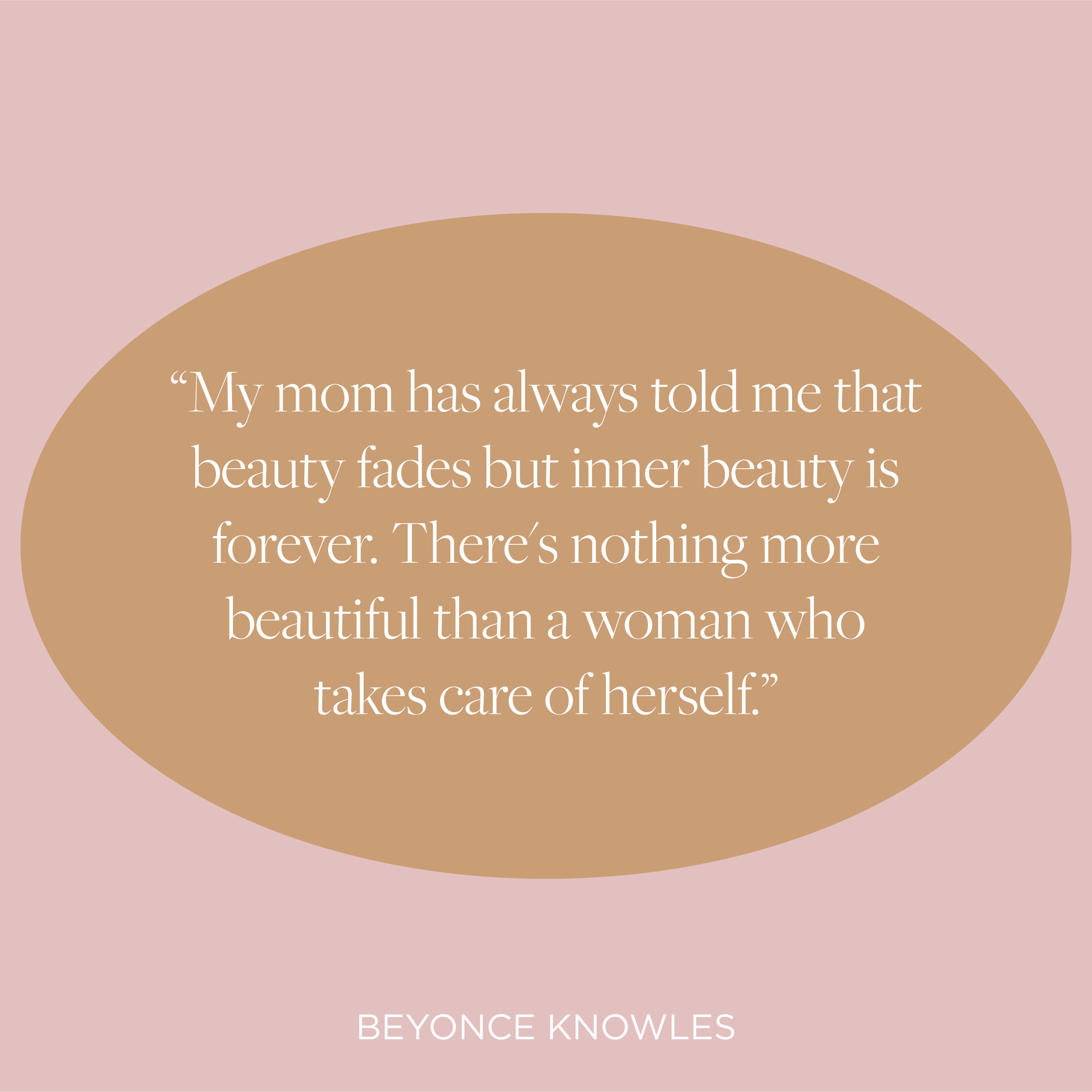 "Invest in your skin. It is going to represent you for a very long time." – Linden Tyler

"The beauty of a woman is not in a facial mode but the true beauty in a woman is reflected in her soul. It is the caring that she lovingly gives the passion that she shows. The beauty of a woman grows with the passing years." – Audrey Hepburn

"I do take very good care of myself, and I'm always in love. And by that I mean I have an appetite for life. I'm in love with beauty and things and people and love and being in love, and those things I think, on the inside, show on the outside." – Gloria Vanderbilt

"By taking good care of your posture now, you will enjoy and savor lifelong health benefits and beauty." – Cindy Ann Peterson

"My mom has always told me that beauty fades but inner beauty is forever. There's nothing more beautiful than a woman [who] takes care of [herself]." – Beyonce Knowles


 "All the makeup in the world won't make a difference without great skincare." – Khloe Kardashian
Self Care and Mental Health
"Mindfulness not only makes it possible to survey our internal landscape with compassion and curiosity but can also actively steer us in the right direction for self-care." – Bessel van der Kolk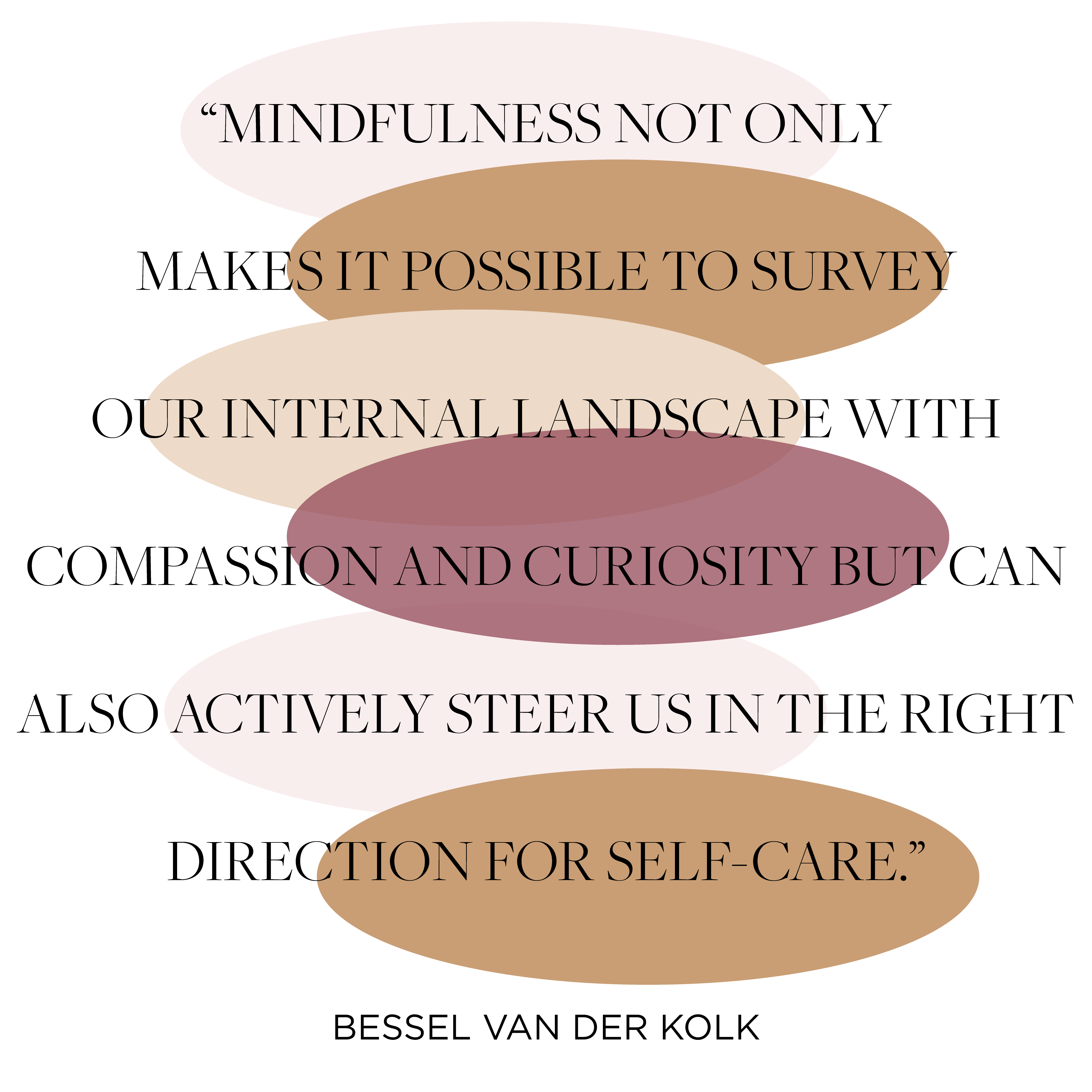 "How we care for ourselves gives our brain messages that shape our self-worth so we must care for ourselves in every way, every day." – Sam Owen

"Self-care is how you take your power back." – Lalah Delia

"With every act of self-care your authentic self gets stronger, and the critical, fearful mind gets weaker. Every act of self-care is a powerful declaration: I am on my side, I am on my side, each day I am more and more on my own side." – Susan Weiss Berry

"Your mind will answer most questions if you learn to relax and wait for the answer." – William S Burroughs

"The challenge is not to be perfect — it is to be whole." – Jane Fonda

"Part of my identity is saying no to things I don't want to do… I check in with myself throughout the day and I say, 'Do I really want to do this?' and if the answer is no, then I don't do it. And you shouldn't either." – Lady Gaga

"What people never understand is that depression isn't about the outside; it's about the inside." – Jasmine Warga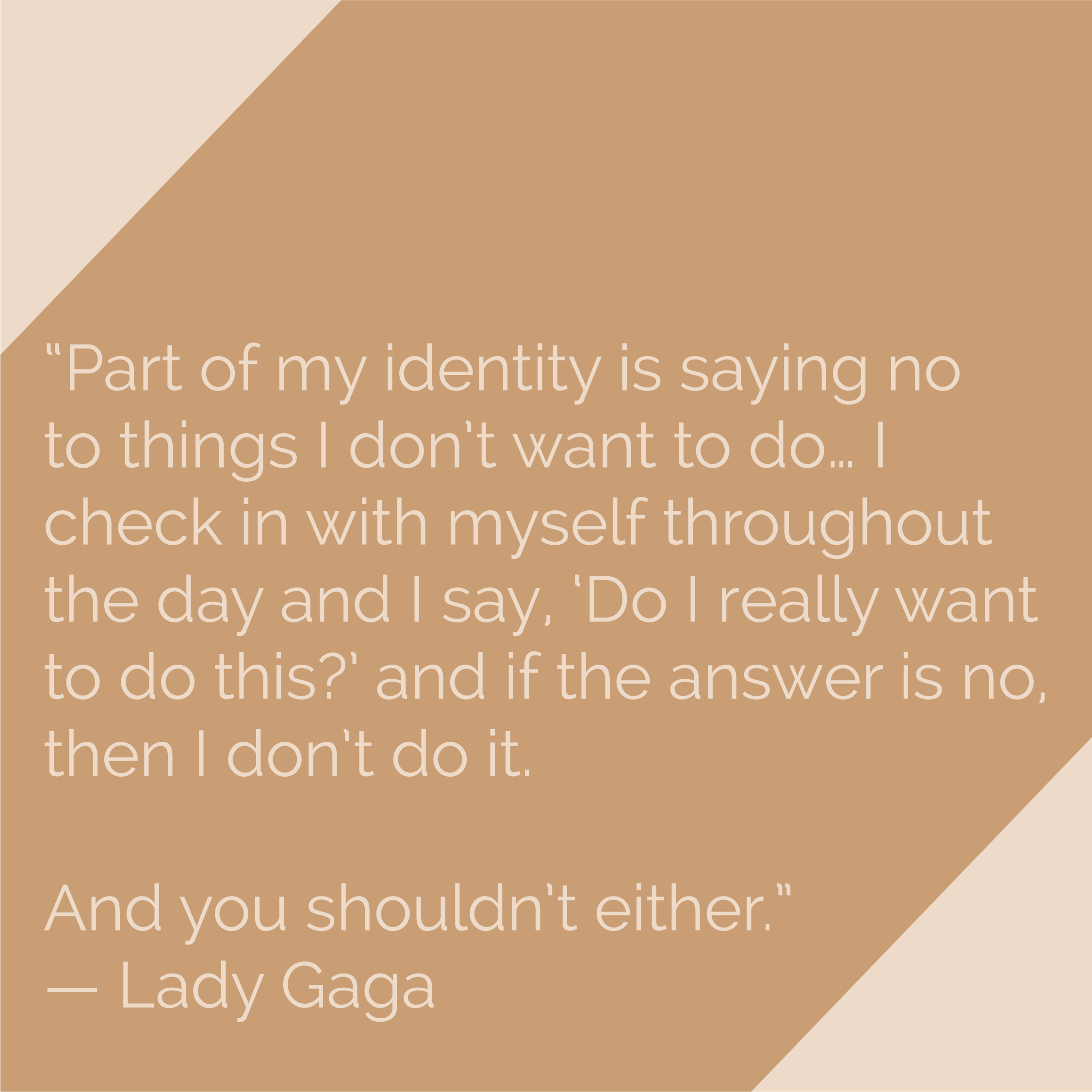 "Don't let your mind bully your body into believing it must carry the burden of its worries." –  Astrid Alauda

"If you want to conquer the anxiety of life, live in the moment, live in the breath." – Amit Ray

"The gentlest reminder: You might not need to read another self-help book, attend another training, or bookmark another Instagram post as much as you need to listen to, trust, and practice what you already know. What if the answer you're looking for is actually within you already?" – Lisa Olivera

"Deep breathing is our nervous system's love language." – Dr. Lauren Fogel Mersy

"Take your time healing, as long as you want. Nobody else knows what you've been through. How could they know how long it will take to heal you?" – Abertoli

"Self-care is how you take your power back." – Lalah Delia

"An empty lantern provides no light. Self-care is the fuel that allows your light to shine brightly." – Unknown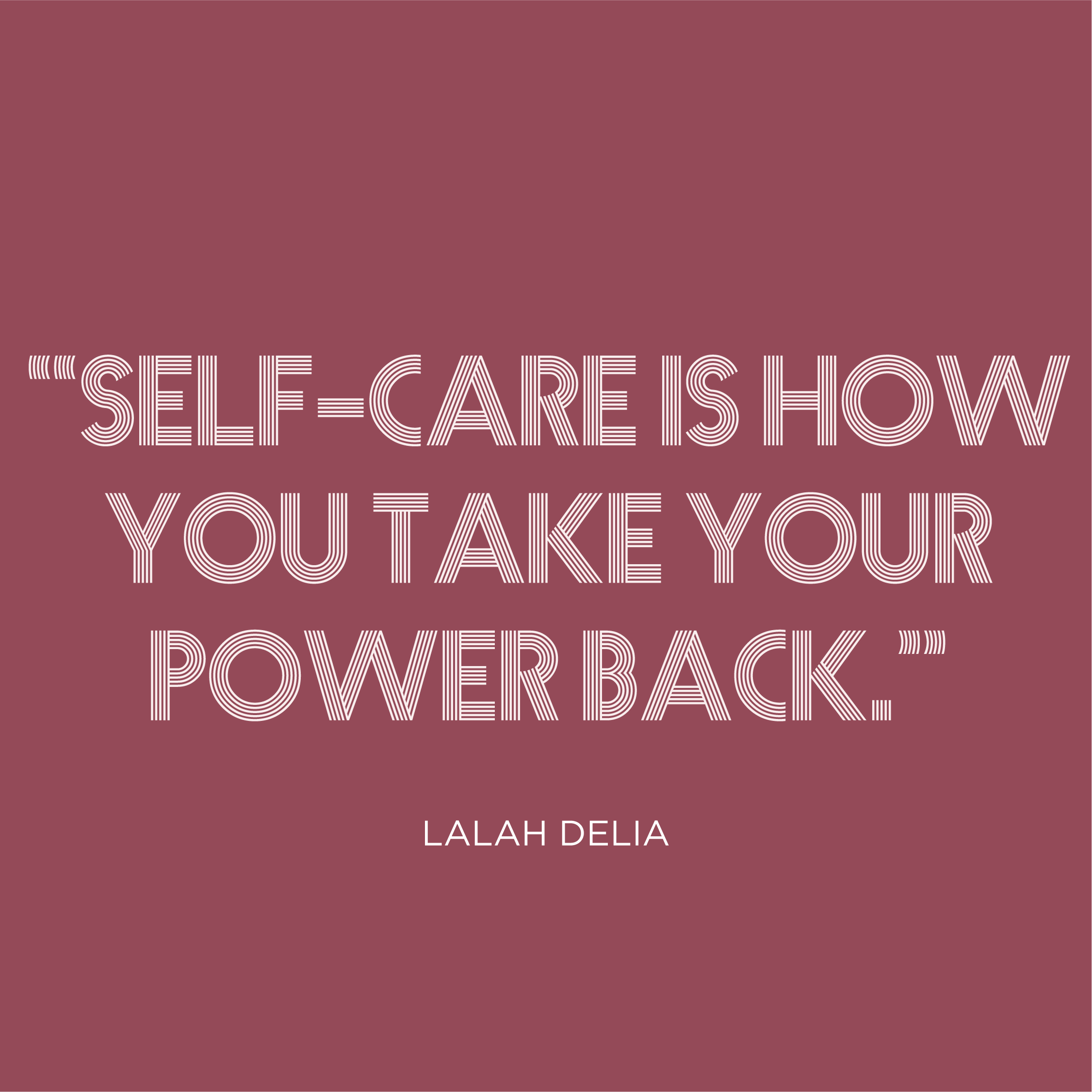 "We must take care of our minds because we cannot benefit from beauty when our brains are missing." – Euripides

"The only person who can pull me down is myself, and I'm not going to let myself pull me down anymore." – C. Joybell C.

"The irony is that when we take care of ourselves first, we are in a much stronger place to take care of those we love." – Kate Hudson

"What you think of yourself in your mind is nobody's business. Make it count." – Majid Kazmi

"Regardless of how anyone else feels about me, I am going to choose to love myself today." – Unknown
Self Care and Productivity 
"No matter how much pressure you feel at work, if you could find ways to relax for at least five minutes every hour, you'd be more productive." – Dr. Joyce Brothers

"The key is not to prioritize what's on your schedule, but to schedule your priorities." – Stephen Covey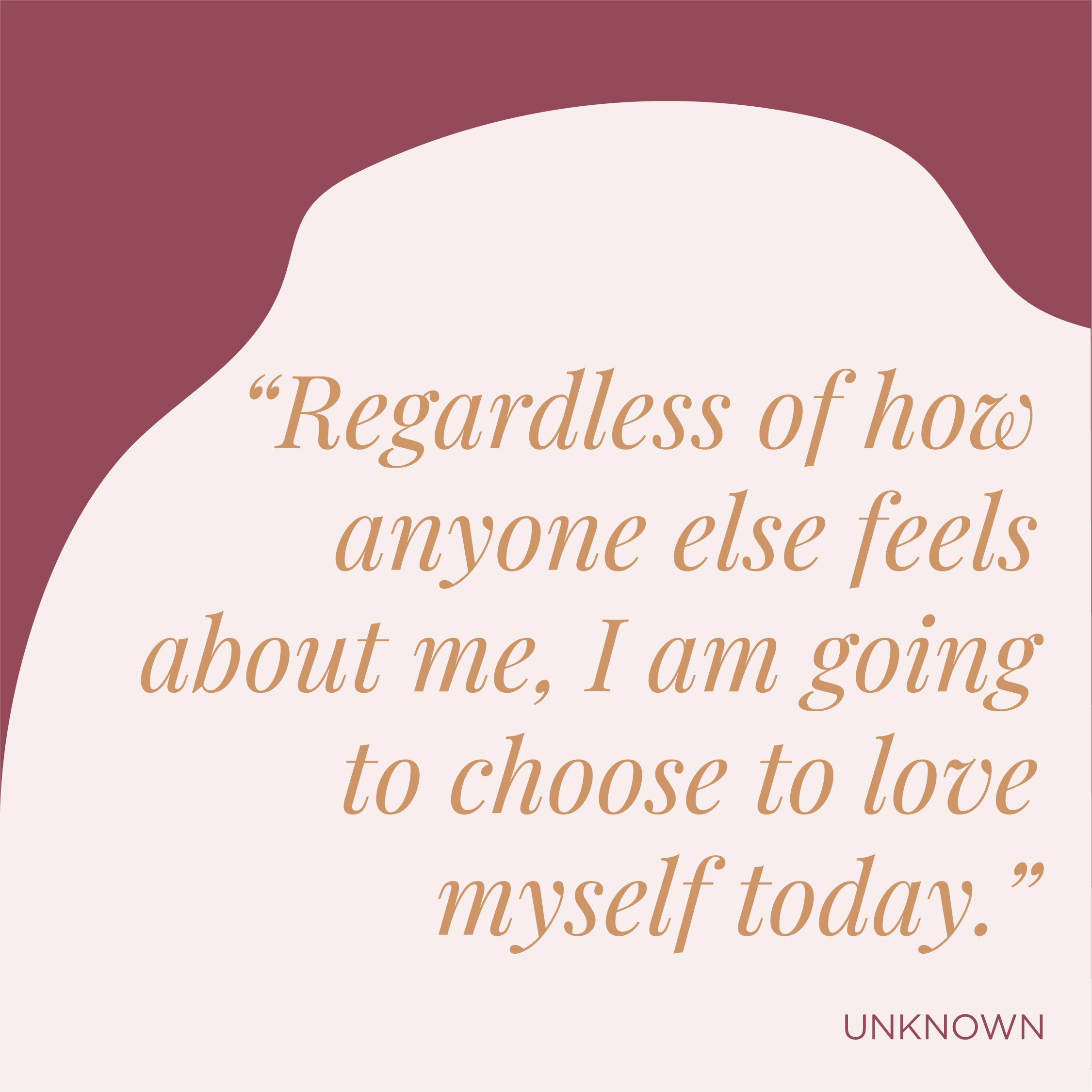 "Don't worry about breaks every 20 minutes ruining your focus on a task. Contrary to what I might have guessed, taking regular breaks from mental tasks actually improves your creativity and productivity. Skipping breaks, on the other hand, leads to stress and fatigue." – Tom Rath

"Multitasking is a lie." – Gary Keller

"Find your time when you're the most productive and creative and build your routine around it." – Pooja Agnihotri

"You can do anything, but not everything." – David Allen

"Think of many things; do one." – Portuguese proverb

"My goal is no longer to get more done, but rather to have less to do." – Francine Jay

"It's not always that we need to do more but rather that we need to focus on less." – Nathan W. Morris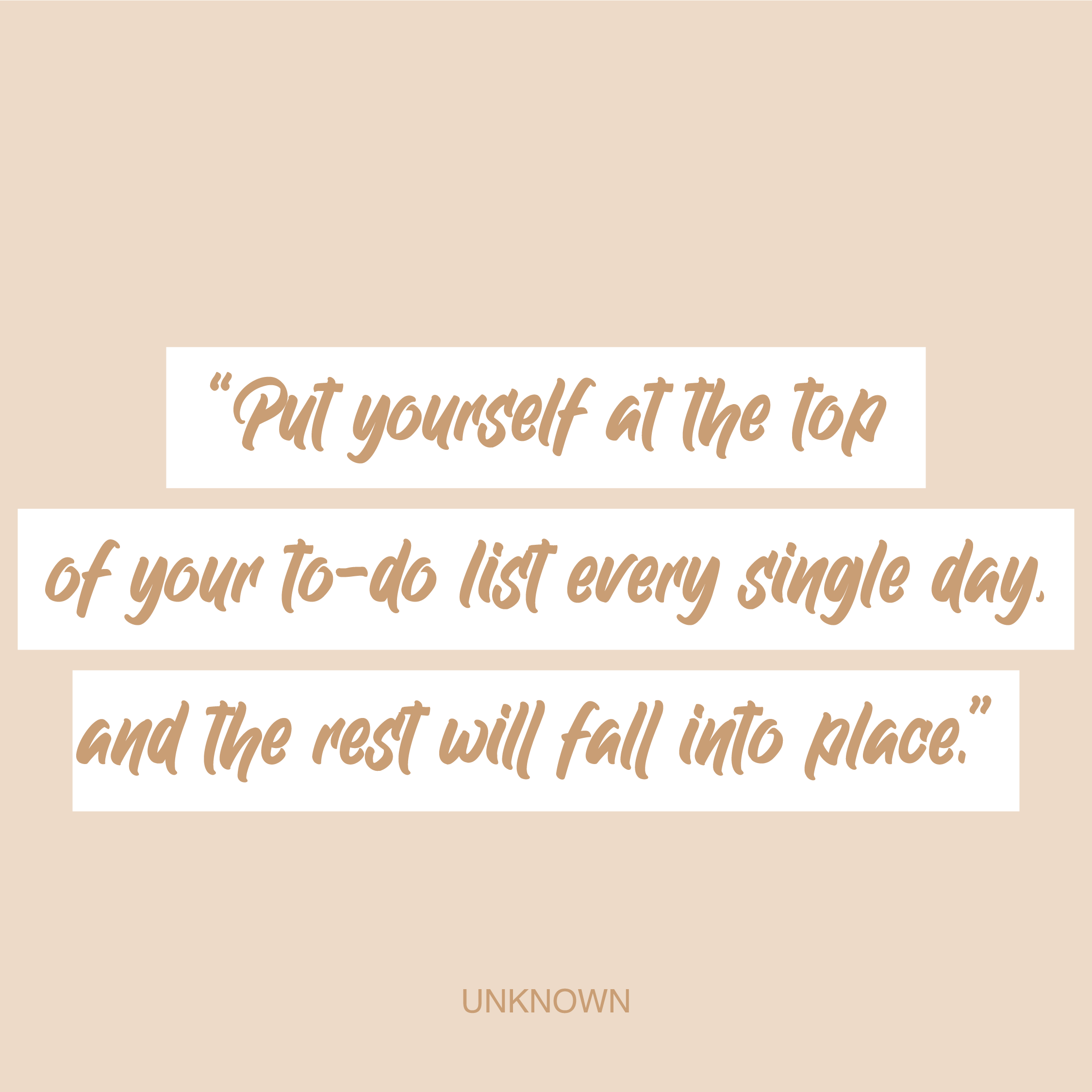 "Put yourself at the top of your to-do list every single day, and the rest will fall into place." – Unknown

"Self-care is taking all the pressures you are facing right now, and deciding to which you will respond, and how." – Imani Shola

"If you get tired, learn to rest, not to quit." – Banksy
Self Care and Work
"Your work is to discover your world and then with all your heart give yourself to it." – Buddha

"One of the symptoms of an approaching nervous breakdown is the belief that one's work is terribly important." – Bertrand Russell

"Just when you feel you have no time to relax, know that this is the moment you most need to make time to relax." – Matt Haig

"As important as it is to have a plan for doing work, it is perhaps more important to have a plan for rest, relaxation, self-care, and sleep." –  Akiroq Brost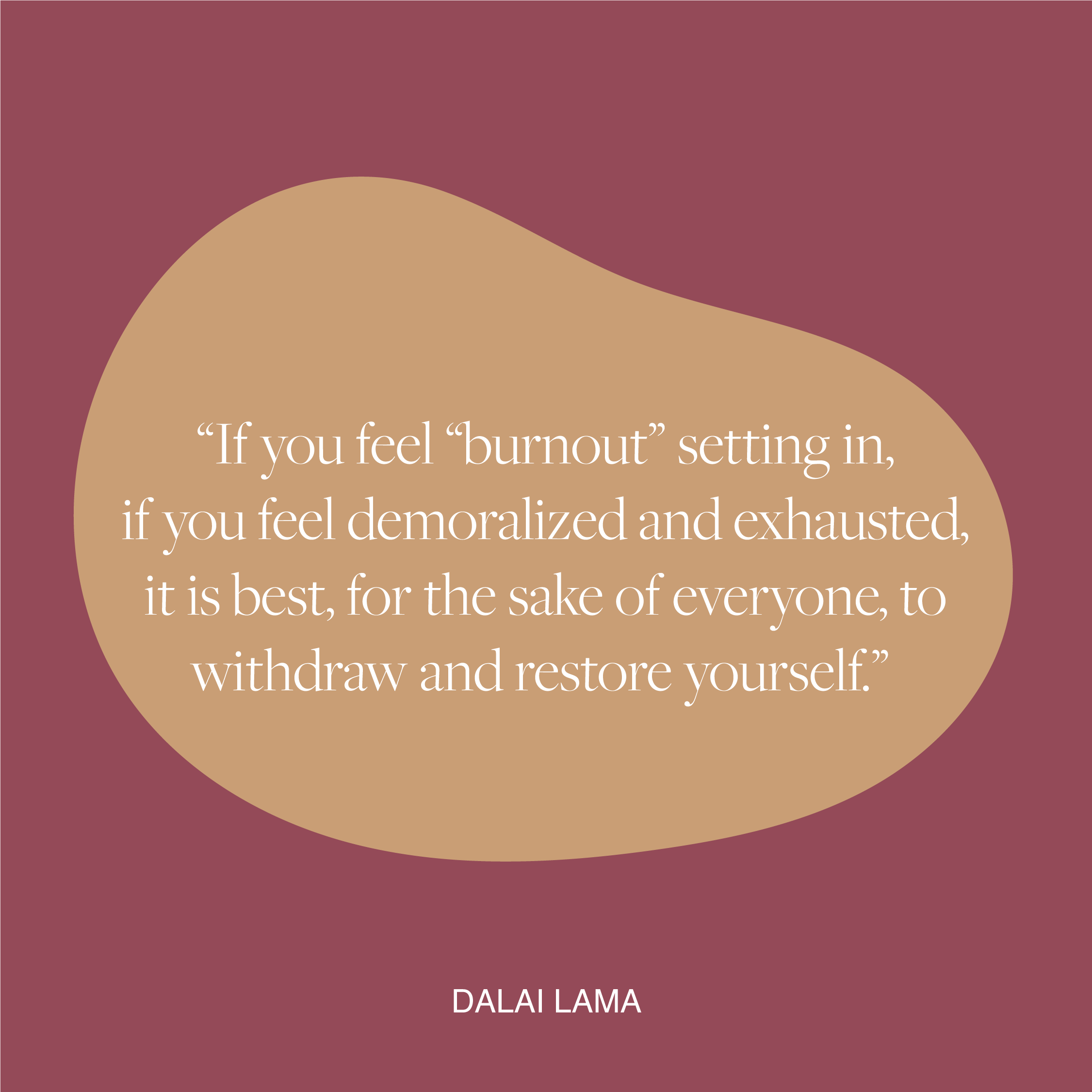 "We need to replace your vicious stress cycle with a vicious cycle of self care." – Dr. Sara Gottfried

"Stop what you are doing. Go outside and breathe. The world will not end if you take ten minutes for yourself." – Fawn Germer

"If you feel "burnout" setting in, if you feel demoralized and exhausted, it is best, for the sake of everyone, to withdraw and restore yourself." – Dalai Lama

"Good well-being leads to good working performance." – Lailah Gifty Akita

"Love yourself first and everything else falls into line. You really have to love yourself to get anything done in this world." – Lucille Ball

"Self-care is never selfish, but it may feel that way when you live a frenzied life." – Arthur P. Ciaramicoli

"Self care is not a waste of time. Self care makes your use of time more sustainable." –  Jackie Viramontez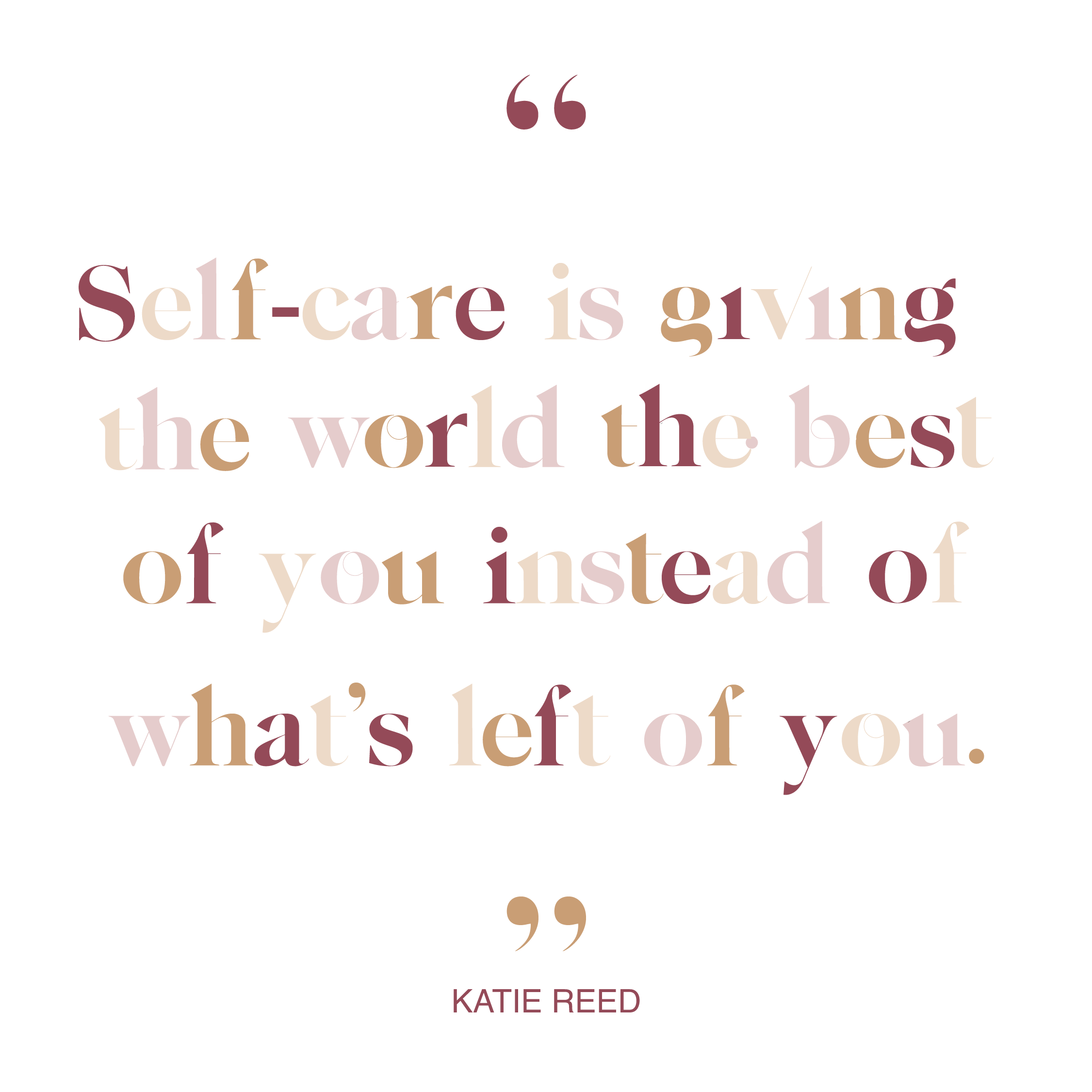 "Self-care is giving the world the best of you instead of what's left of you." – Katie Reed

"When you're stressed out and mentally wrecked, take time to do something relaxing, pamper yourself in as many ways as you can." – Unknown

"When you can't find your purpose in a day, make it to look after yourself." – Dodie Clark

"Doing nothing has become one of the lost luxuries in these hectic times. But doing nothing, even for five minutes, can be rejuvenating. Go for it: You – unplugged." – Joan Marques

"Taking care of myself doesn't mean 'me first.' It means 'me, too." – L.R. Knost

"Your finest work, your best movements, your joy, peace, and healing come when you love yourself." – Melodie Beattie

 "Self-Care equals success." – Dixie Nichols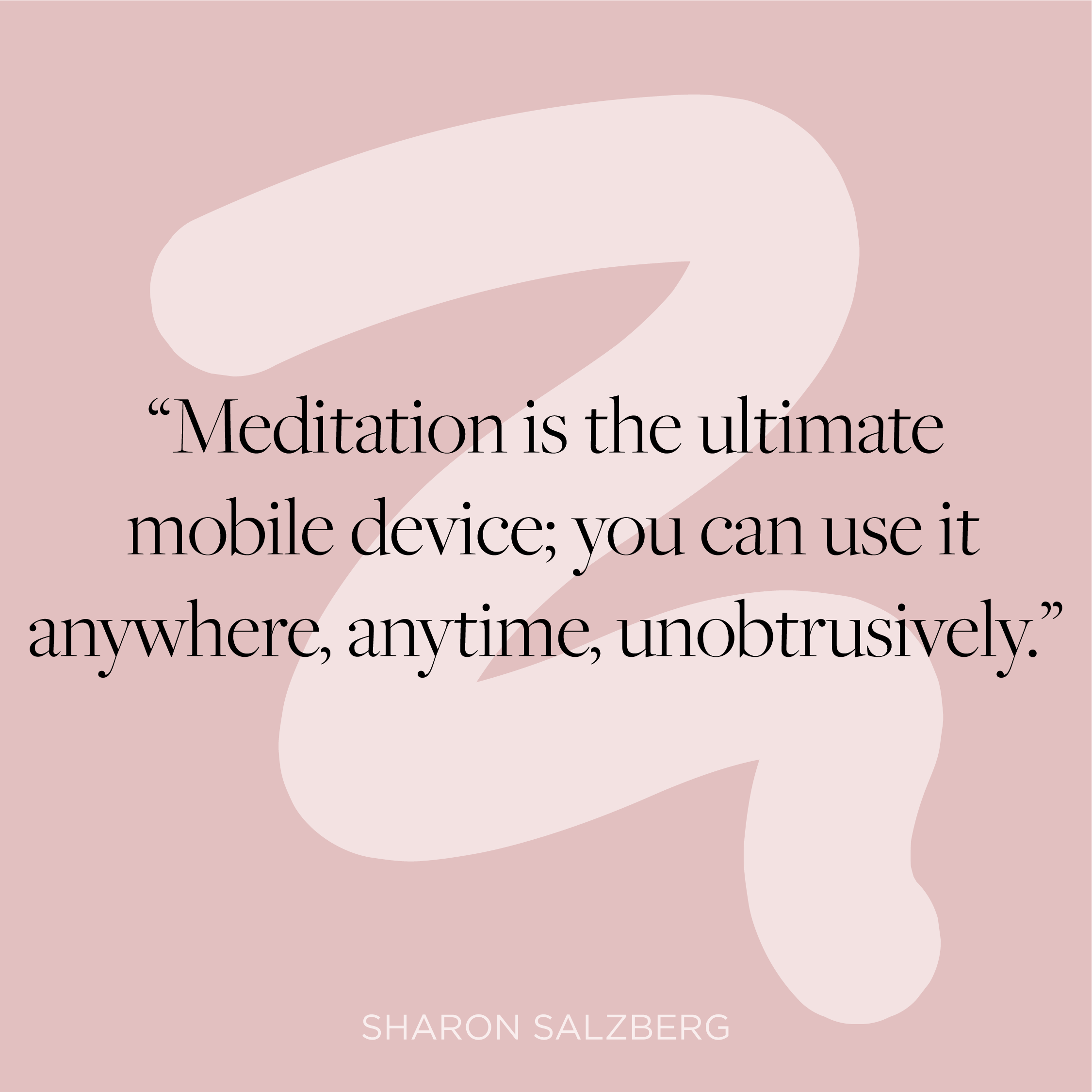 Self Care and Technology
"Meditation is the ultimate mobile device; you can use it anywhere, anytime, unobtrusively." –  Sharon Salzberg

"Books don't need batteries." – Nadine Gordimer

"We refuse to turn off our computers, turn off our phone, log off Facebook, and just sit in silence, because in those moments we might actually have to face up to who we really are." –  Jefferson Bethke

"As cities grow and technology takes over the world, belief and imagination fades away and so do we." –  Julie Kagawa

"So, your kids must love the iPad?" I asked Mr. [Steve] Jobs, trying to change the subject. The company's first tablet was just hitting the shelves. "They haven't used it," he told me. "We limit how much technology our kids use at home." – Nick Bilton

"This was before voicemail, recorded phone messages you can't escape. Life was easier then. You just didn't pick up the phone." – Joyce Carol Oates

"When technology takes over every aspect of our lives, we won't care anymore about the data but poems, songs, paintings and other creative arts." – Pooja Agnihotri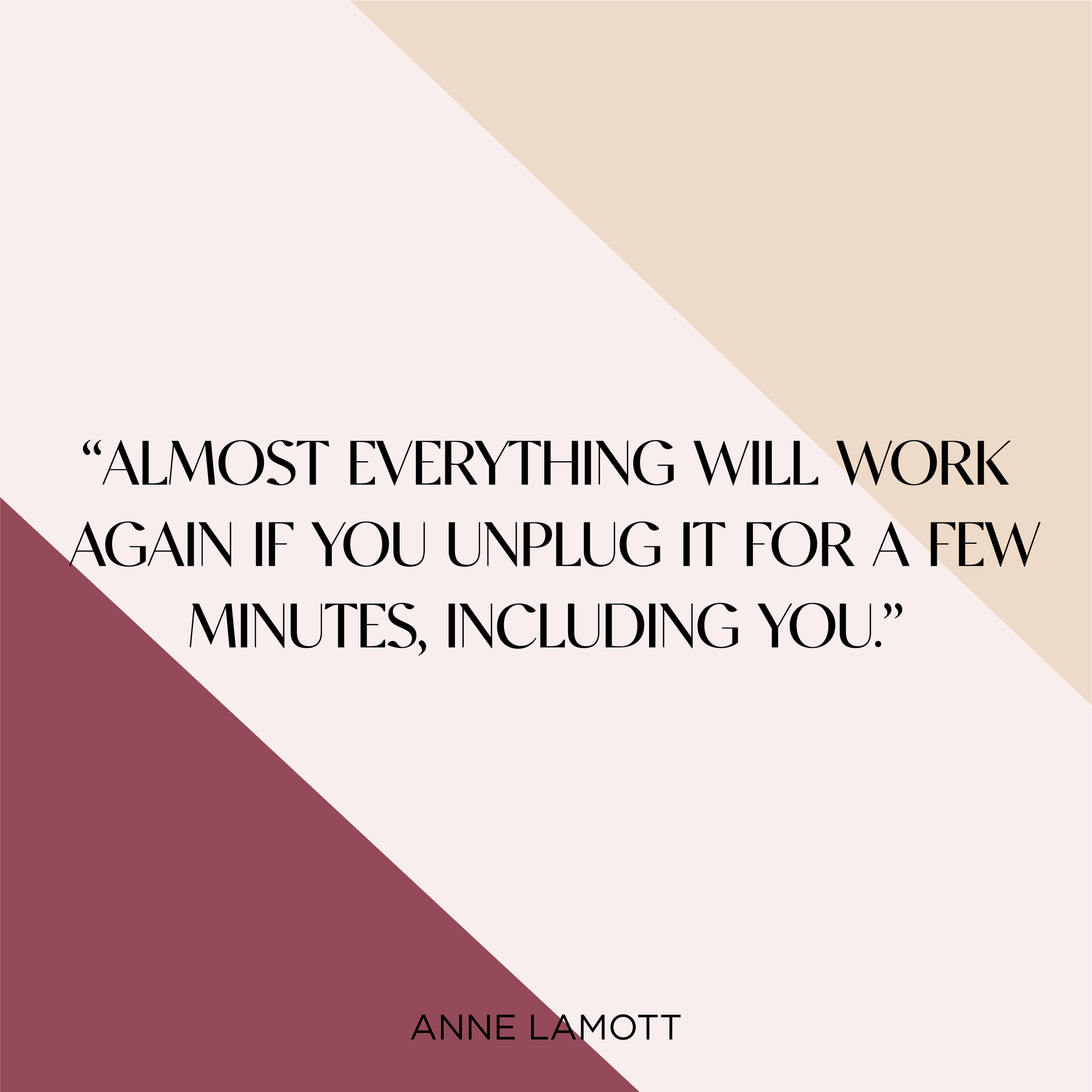 "The new information technology, indifferent to human suffering, does not accommodate humane needs unless we harness it and make it do so." – Mahnaz Afkhami

"Almost everything will work again if you unplug it for a few minutes, including you." – Anne Lamott

"Technology tries to prevent us from asking deeper questions. The megatechnology society believes that there is a technological solution to every problem. This would be correct only if the world were a machine." – Stephanie Mills

"Turn off all notifications on your phone, except the most important ones. And check your social media only once or twice a day, not every minute. If you can do this, then perhaps there is a possibility that society will not completely lose its sanity and health after all." – Abhijit Naskar

"Let's go invent tomorrow instead of worrying about what happened yesterday." – Steve Jobs

"By setting aside time every day, we can leave the pixelated wilds and rest at least for a little while in a place of unplugged, authentic human connection." – Meghan Cox Gurdon
Self Care and Pampering
"Pull out those fancy sheets and blankets from the closet, start using that fancy bone china dinnerware, concentrate on self love and self care, this is a new year, these are those rainy days." – Charmaine J Forde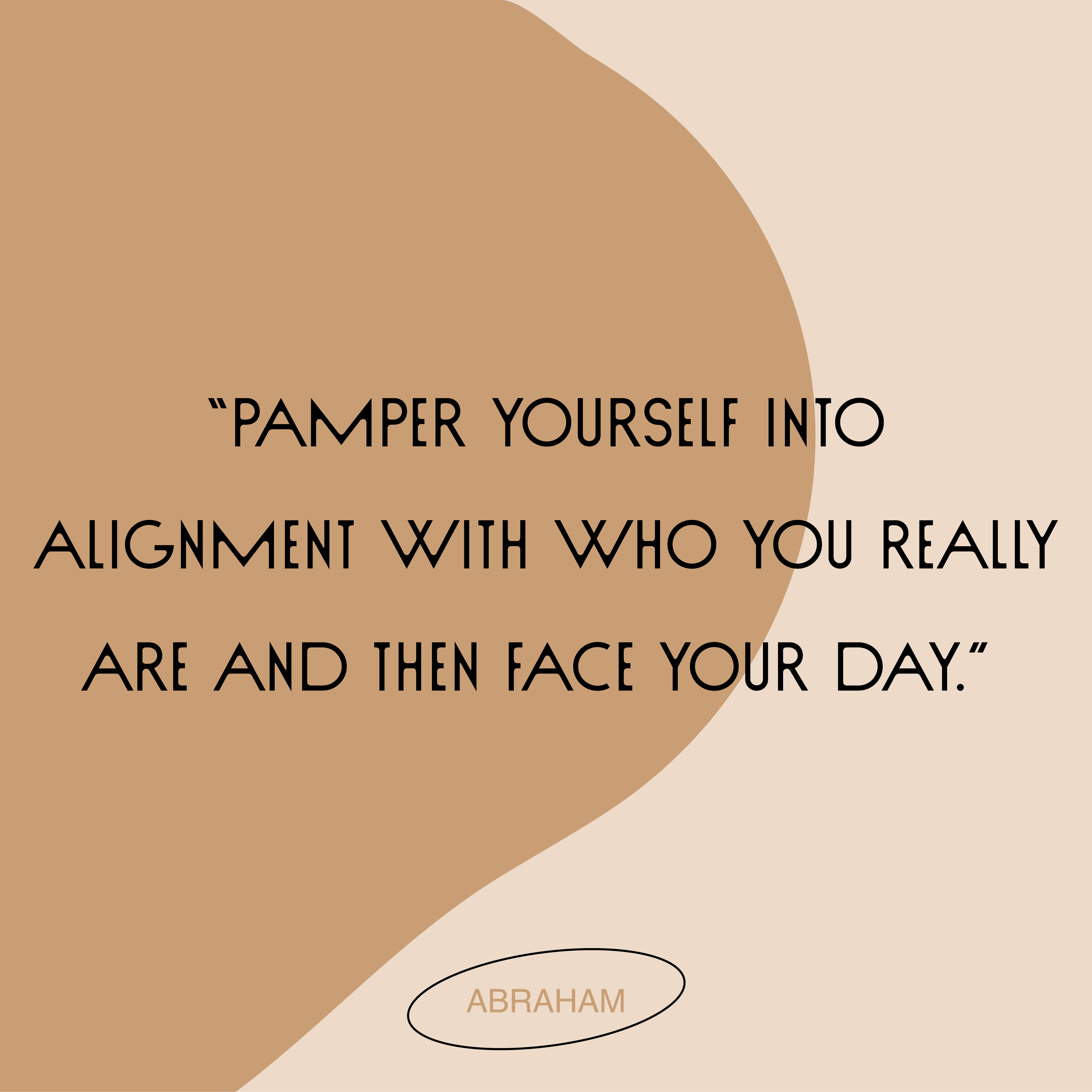 "Bathing is a basic need, but it doesn't have to be a forgettable moment in your routine." – Amy Leigh Mercree

"Doing something nice for myself is not selfish." – Christine Morgan

"Do something nice for you. Because you deserve it." – Unknown   

"Pamper yourself into alignment with who you really are and then face your day." – Abraham

"I love pampering myself, so going for a massage or getting a mani-pedi makes me feel instantly better. When my nails are done, I feel so much better — it's the little things that make me so happy, and you literally feel polished." – Jessica Lowndes

"Self-care should include the cold shower as well as the scented tub." – Mary Catherine Bateson

"I want to be as healthy as I possibly can be. I just want to make sure that I do everything to take care of myself. So I want to do the best for me. I want to pamper myself and do the best for my body." – Kriti Kharbanda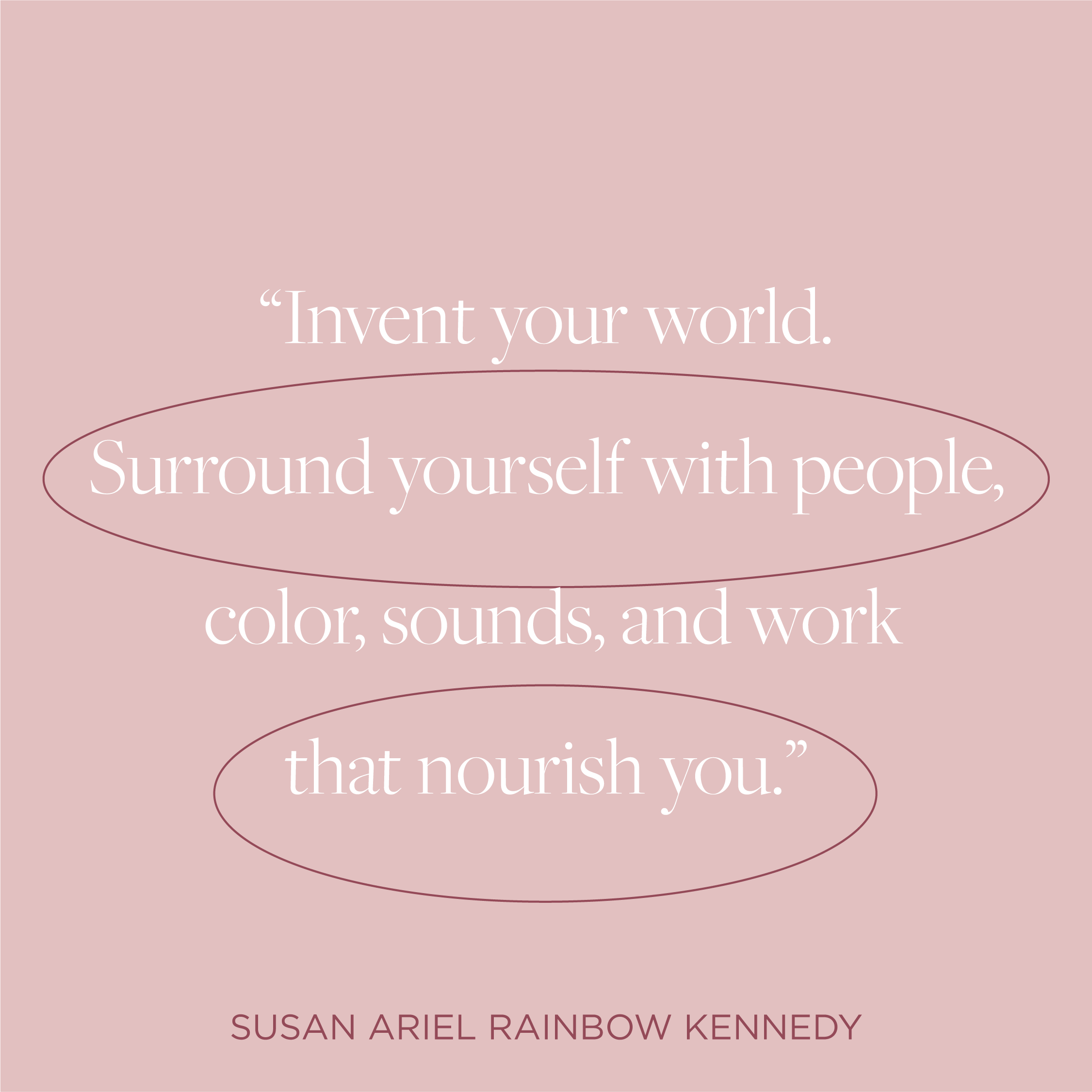 "Sometimes all we need is a little pampering to help us feel better…" – Charles M. Schulz

"Do not be afraid to give yourself everything you've ever wanted in life." – Frank Lloyd Wright

"Invent your world. Surround yourself with people, color, sounds, and work that nourish you." – Susan Ariel Rainbow Kennedy

"I think best in a hot bath, with my head tilted back and my feet up high." – Elizabeth Jane Howard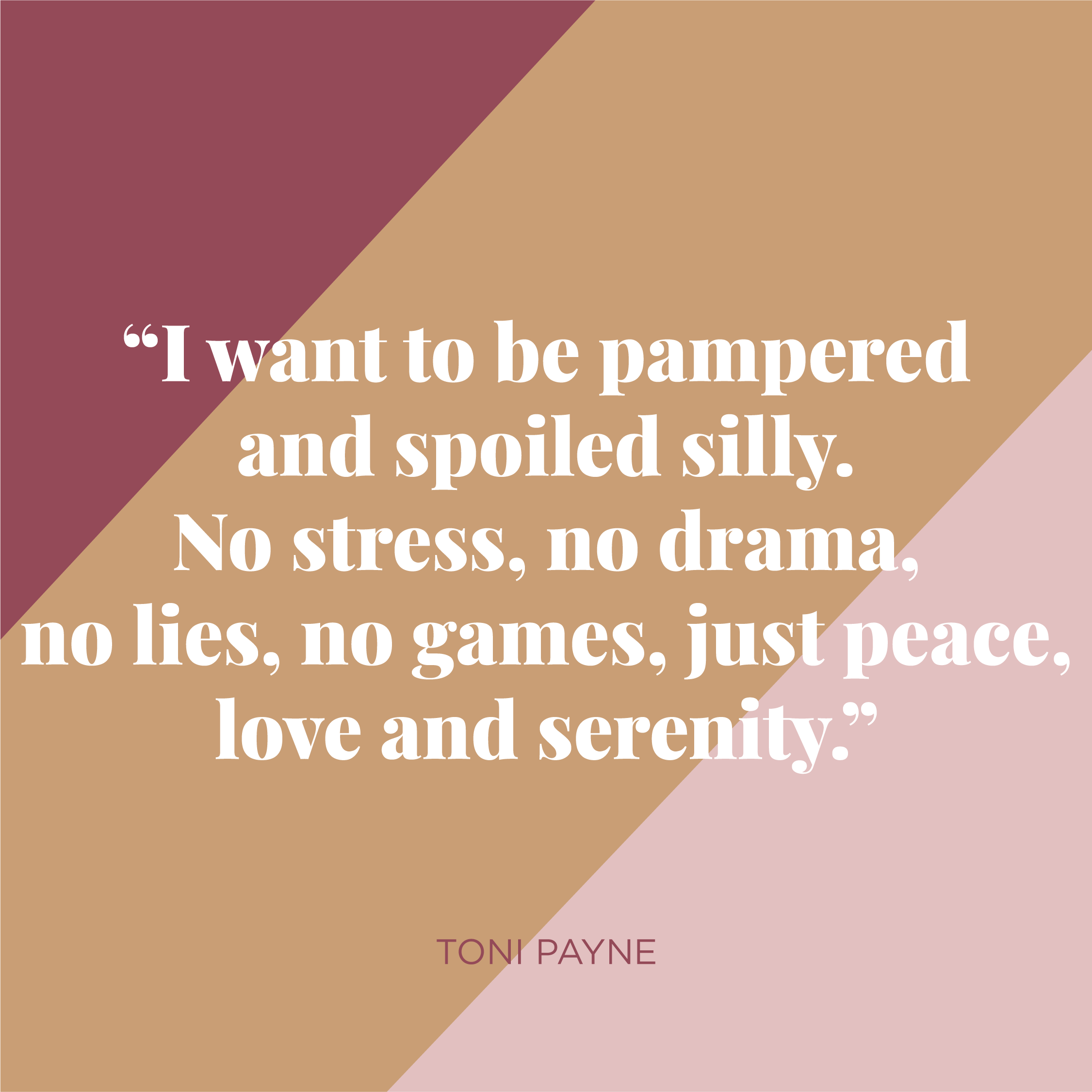 "It's not selfish to love yourself, take care of yourself, and to make your happiness a priority. It's necessary." – Mandy Hale

"I believe in manicures. I believe in overdressing. I believe in primping at leisure and wearing lipstick." – Audrey Hepburn

"A massage is just like a movie, really relaxing and a total escape, except in a massage you're the star. And you don't miss anything by falling asleep!" – Elizabeth Jane Howard

"It's okay to do nothing if you can once in a while. It's okay to not be perfect, to not get it all done…take care of yourself. Do what recharges you. Lessons I'm learning in my old age." – Leah Remini

"Being pampered is great, but sometimes, I like to do those things myself because it's a little therapeutic and gives me some downtime for myself — and I need that." – Annie Ilonzeh

"Don't forget to reward yourself every now and then. A little bit of self pampering never hurt anyone." – Unknown

"I want to be pampered and spoiled silly. No stress, no drama, no lies, no games, just peace, love and serenity." – Toni Payne
Self Care and Self Love
"Talk to yourself like you would to someone you love." – Berne Brown

"When you recover or discover something that nourishes your soul and brings joy, care enough about yourself to make room for it in your life." – Jean Shinoda Bolen

 "When I loved myself enough, I began leaving whatever wasn't healthy. This meant people, jobs, my own beliefs and habits – anything that kept me small. My judgement called it disloyal. Now I see it as self-loving." – Kim McMilllen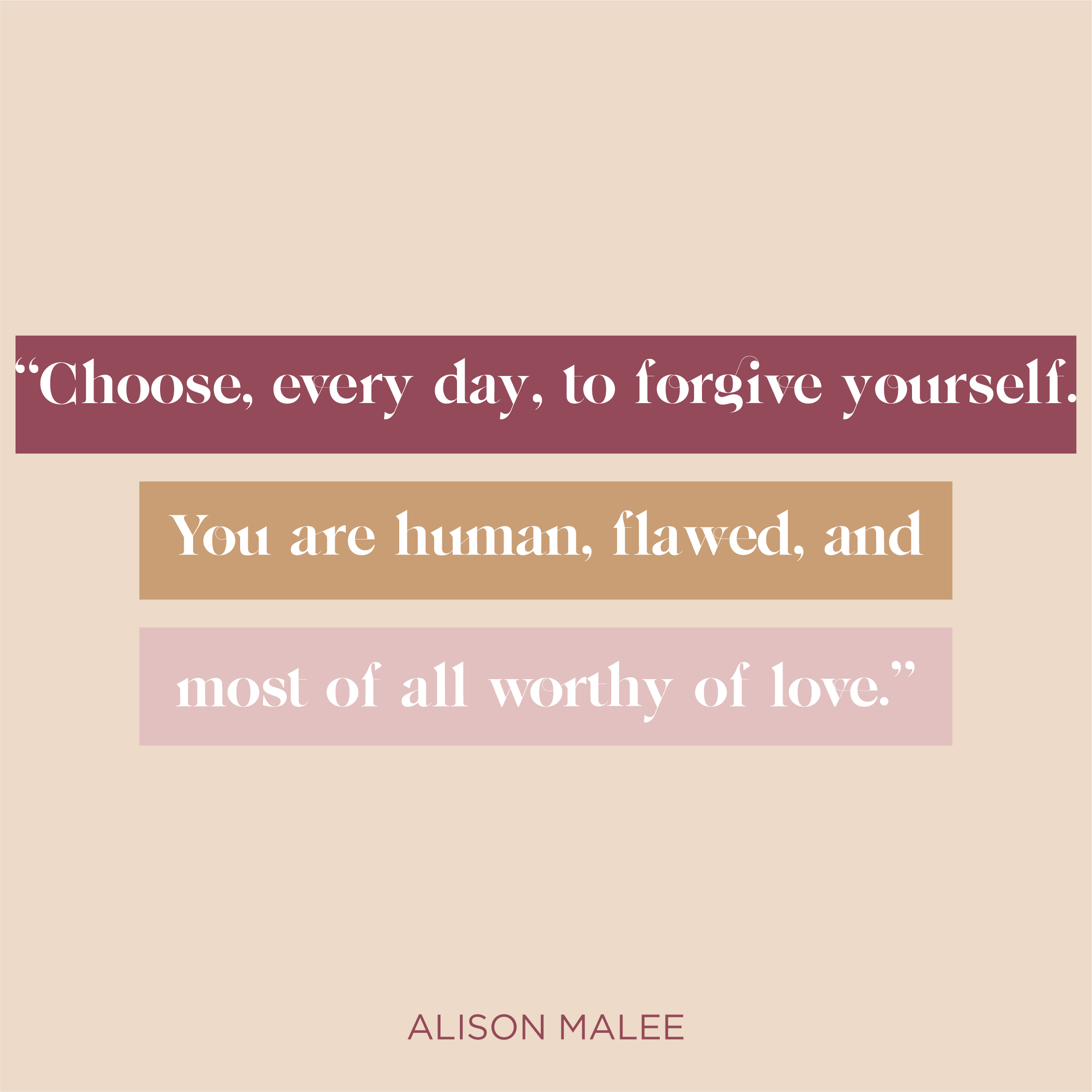 "Rest and self-care are so important. When you take time to replenish your spirit, it allows you to serve others from the overflow. You cannot serve from an empty vessel." – Eleanor Brownn

"Acknowledge, accept, and honor that you deserve your own deepest compassion and love." – Nanette Mathews

"When you recognize and reflect on even one good thing about yourself, you are building a bridge to a place of kindness and caring." – Sharon Salzberg

"The love and attention you always thought you wanted from someone else, is the love and attention you first need to give to yourself." – Bryant McGillins

"As you become your own advocate and your own steward, your life will beautifully transform." – Miranda J. Barrett

"Inner peace begins the moment you choose not to allow another person or event to control your emotions." – Pema Chodron

"Respect, love, and value yourself. Always remember to be good to yourself by taking care of yourself. Make yourself a priority and know that it's okay. Don't feel guilty for loving yourself, first! You're just as important as anybody else." – Stephanie Lahart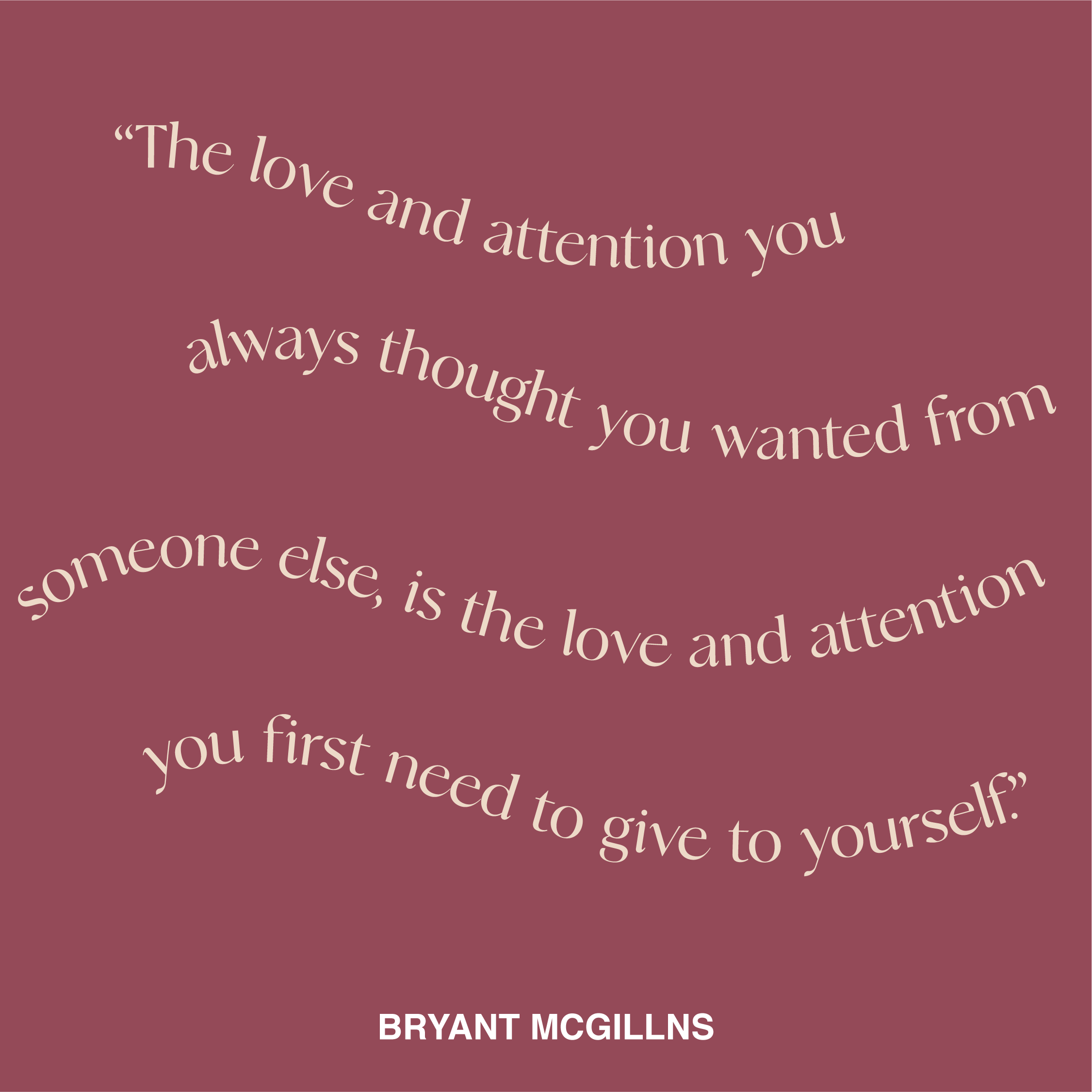 "When feelings run deep, and impulses high, it helps to have calm, secure places to retreat to." – Isabella Koldras

"Self love is asking yourself what you need – everyday – and then making sure you receive it." – Unknown

"Self-care is allowing yourself to appreciate the moment for what it is, instead of wishing it was something else." – Sharon Pearson

"When I loved myself enough, I began leaving whatever wasn't healthy. This meant people, jobs, my own beliefs and habits – anything that kept me small. My judgement called it disloyal. Now I see it as self-loving." – Kim McMilllen

"Choose, every day, to forgive yourself. You are human, flawed, and most of all worthy of love." – Alison Malee

"I'm just delighted to be living, to be able to have a simple conversation, to feel a ray of sunlight on my skin and listen to the breeze move through the leaves of a tree." – Ryuichi Sakamoto

"People who love themselves come across as very loving, generous and kind; they express their self-confidence through humility, forgiveness and inclusiveness." – Sanaya Roman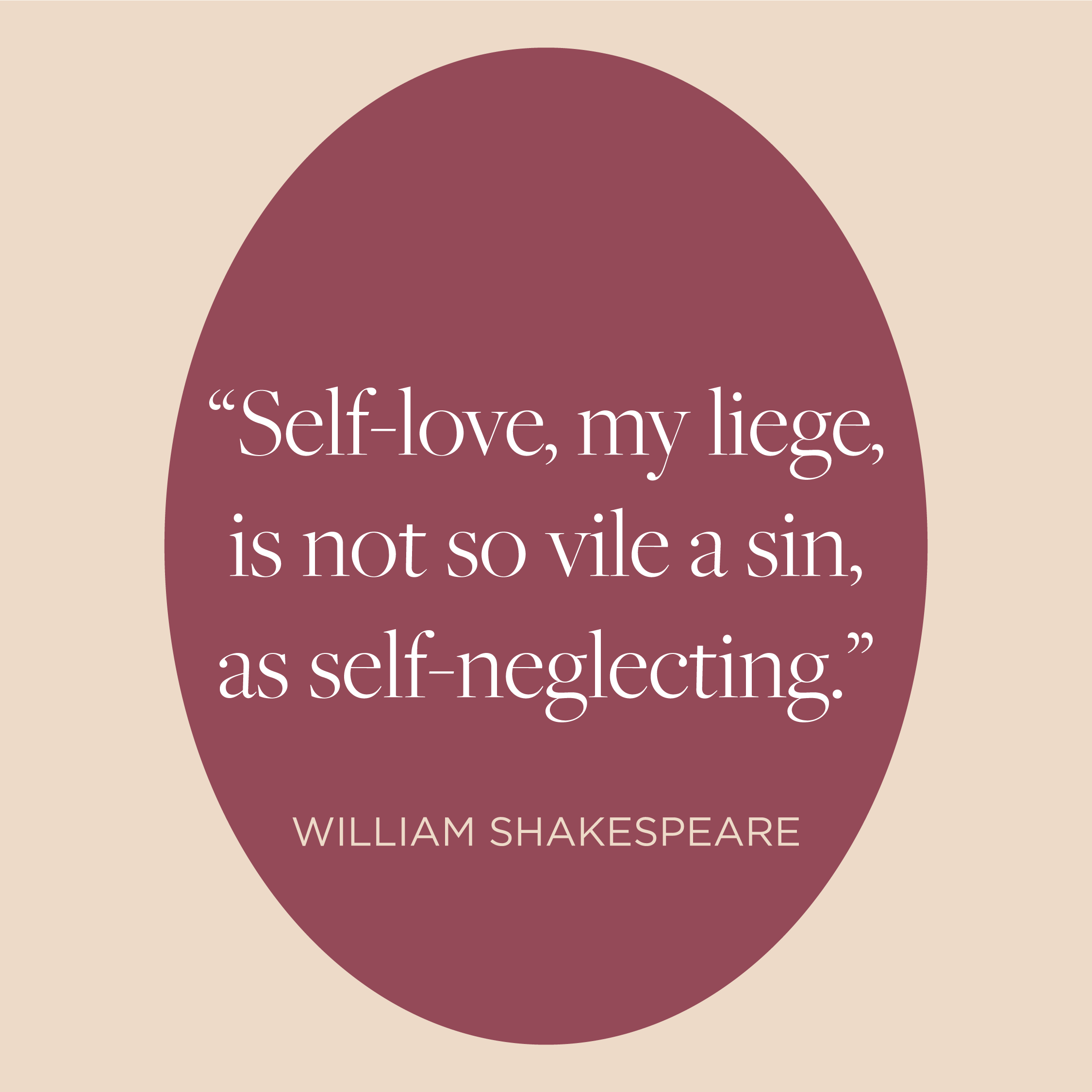 "Caring for your body, mind, and spirit is your greatest and grandest responsibility. It's about listening to the needs of your soul and then honoring them." – Kristi Ling

"Learning self-care is like building your own lifeboat, plank by plank. Once you've got your boat, you'll still be rocked by the waves of life, but you'll have a feeling of safety, and stability that means you can pick other people up on your way." – Nadia Narain

"I believe that self-care is a daily practice that should involve your interests, needs and preferences. And it should have room to evolve with you over time." – Portia Jackson-Preston

"No more martyring myself." – Sharon E. Rainey

"Our soul is like a soft and gentle flower, it needs to be nurtured, cared for, tended to, with sufficient sunlight, fresh air and freedom to bloom into its most precious and beautiful form. This, my friend, is self-love." – Miya Yamanouchi

"Respect, Love, and Value yourself. Always remember to be good to yourself by taking care of yourself. Make yourself a priority and know that it's okay. Don't feel guilty for loving yourself, first! You're just as important as anybody else." – Stephanie Lahart

"Self-love, my liege, is not so vile a sin, as self-neglecting." – William Shakespeare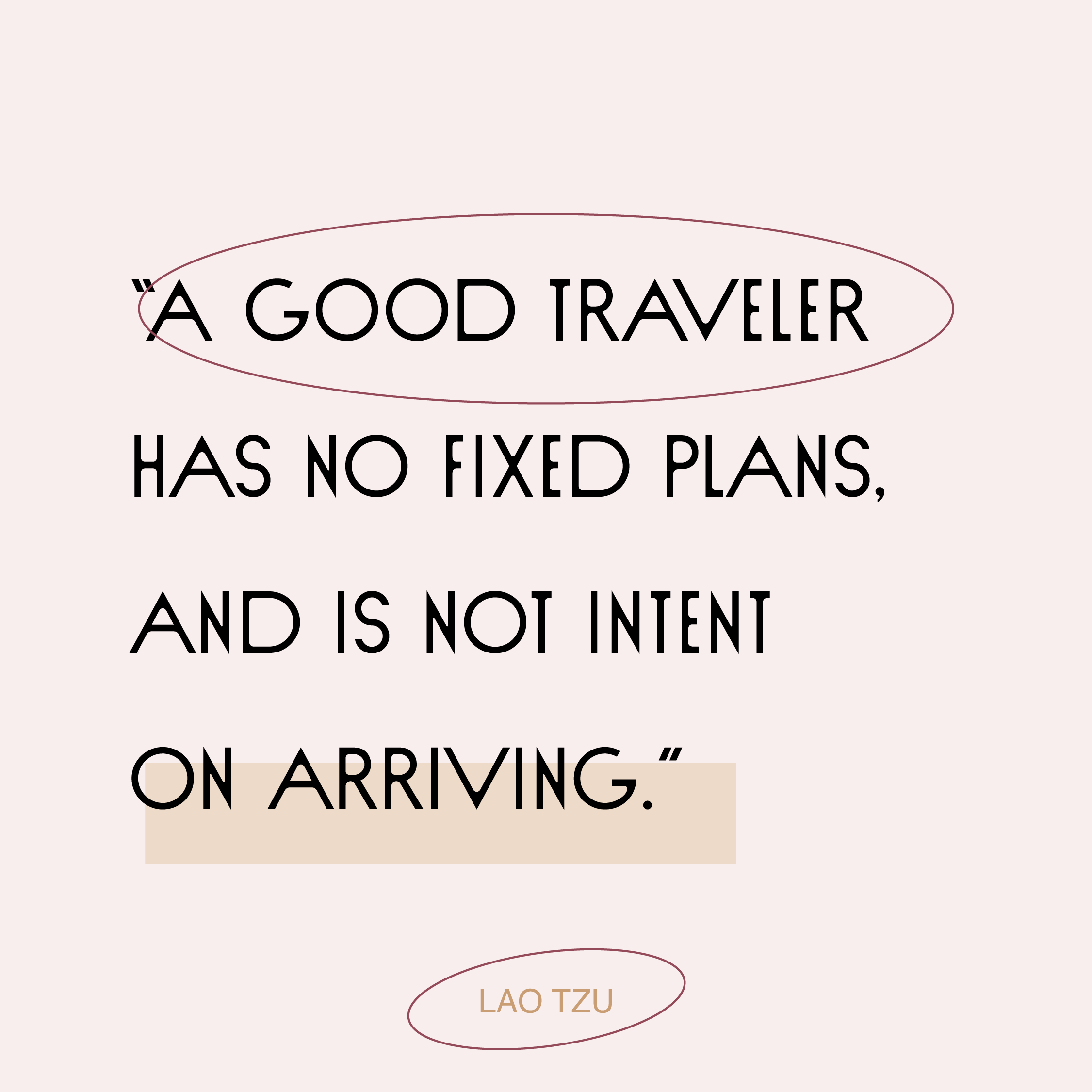 Self Care and Travel
"We both were traveling for our own self care and to feed our wandering souls…existing in other places so that we could remember who we were and then come home to ourselves." – Candy Leigh

"The gladdest moment in human life is a departure into unknown lands." – Sir Richard Burton

"Travel and change of place impart new vigor to the mind." – Seneca

"We travel, some of us forever, to seek other states, other lives, other souls." – Anaïs Nin

"Investment in travel is an investment in yourself." – Matthew Karsten

"A good traveller has no fixed plans, and is not intent on arriving." – Lao Tzu

"Talk to self, travel with self, love yourself, pamper yourself because you yourself are your best company. Discover yourself." – Jasnica Singh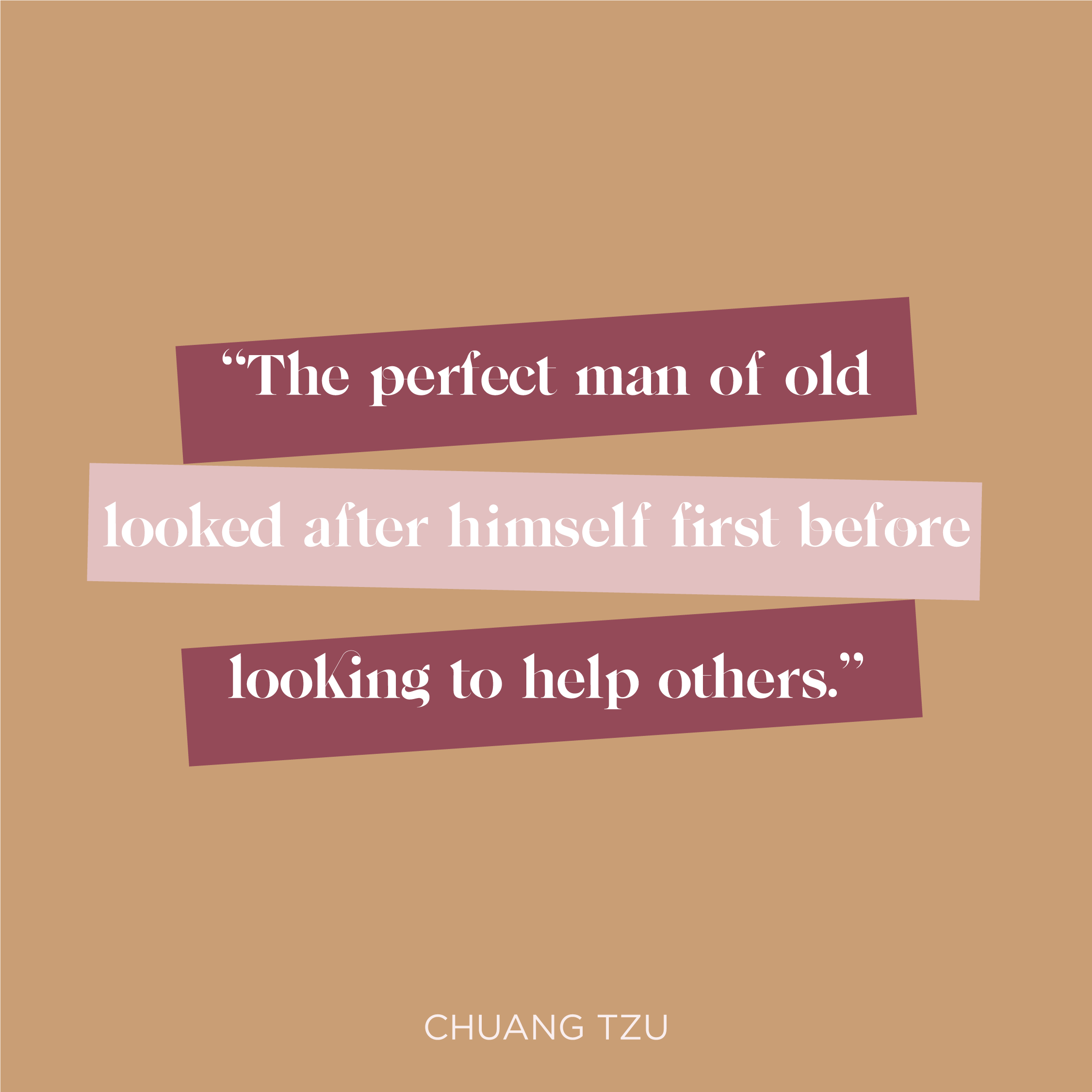 "Your brain is like a computer, you have to refresh or it's going to crash. I don't [care] how great you are, you have to take a second." – Missy Elliot

"Not all those who wander are lost." – J.R.R. Tolkien

"Travel brings power and love back into your life." – Rumi Jalalud-Din

"To travel is to live." – Hans Christian Andersen

"I think you travel to search and you come back home to find yourself there." –  Chimamanda Ngozi Adichie

"We live in a wonderful world that is full of beauty, charm and adventure. There is no end to the adventures we can have if only we seek them with our eyes open." – Jawaharlal Nehru

"The pleasure we derive from journeys is perhaps dependent more on the mindset with which we travel than on the destination we travel to." – Alain de Botton

"Ô, Wanderess, Wanderess, When did you feel your most euphoric kiss?  Was I the source of your greatest bliss?" – Roman Payne
Self Care and Men
"The perfect man of old looked after himself first before looking to help others." – Chuang Tzu

"All fortune belongs to him who has a contented mind." – The Panchatantra

"Don't sacrifice yourself too much, because if you sacrifice too much there's nothing else you can give, and nobody will care for you." – Karl Lagerfeld

"Men are at war with each other because each man is at war with himself." – Francis Meehan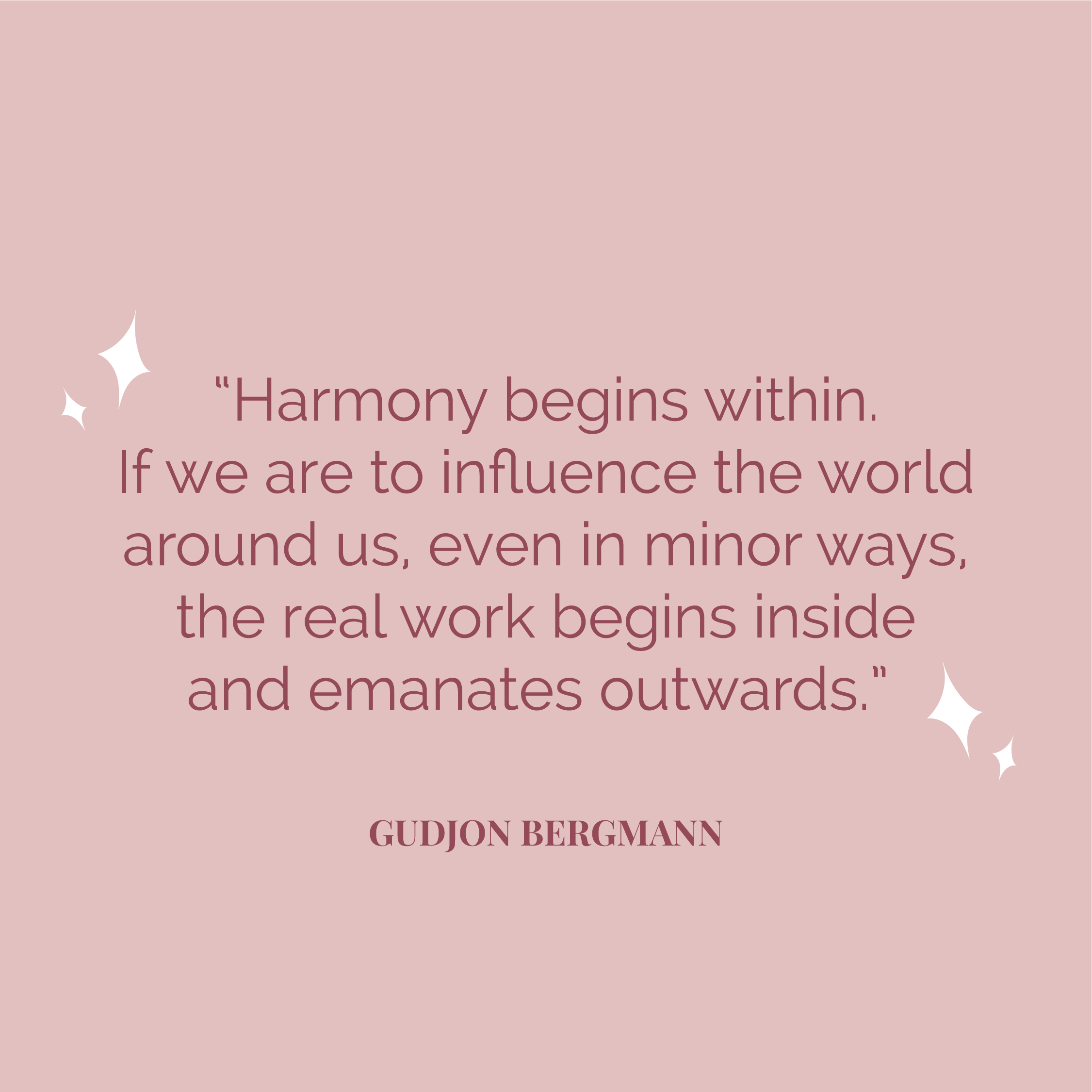 "Allow yourself to enjoy each happy moment in your life." – Steve Maraboli

"And now that you don't have to be perfect, you can be good." – John Steinbeck

"By taking care of myself I have so much more to offer the world than I do when I am running on empty." – Ali Washington

"Life's too short to spend it at war with yourself." – Unknown

"Don't forget to appreciate yourself." – Debasish Mridha

"Harmony begins within. If we are to influence the world around us, even in minor ways, the real work begins inside and emanates outwards." – Gudjon Bergmann

"You are worth the quiet moment. You are worth the deeper breaths and you are worth the time it takes to slow down, be still, and rest." – Morgan Harper Nichols

"Keep taking time for yourself until you're you again." – Lalah Delia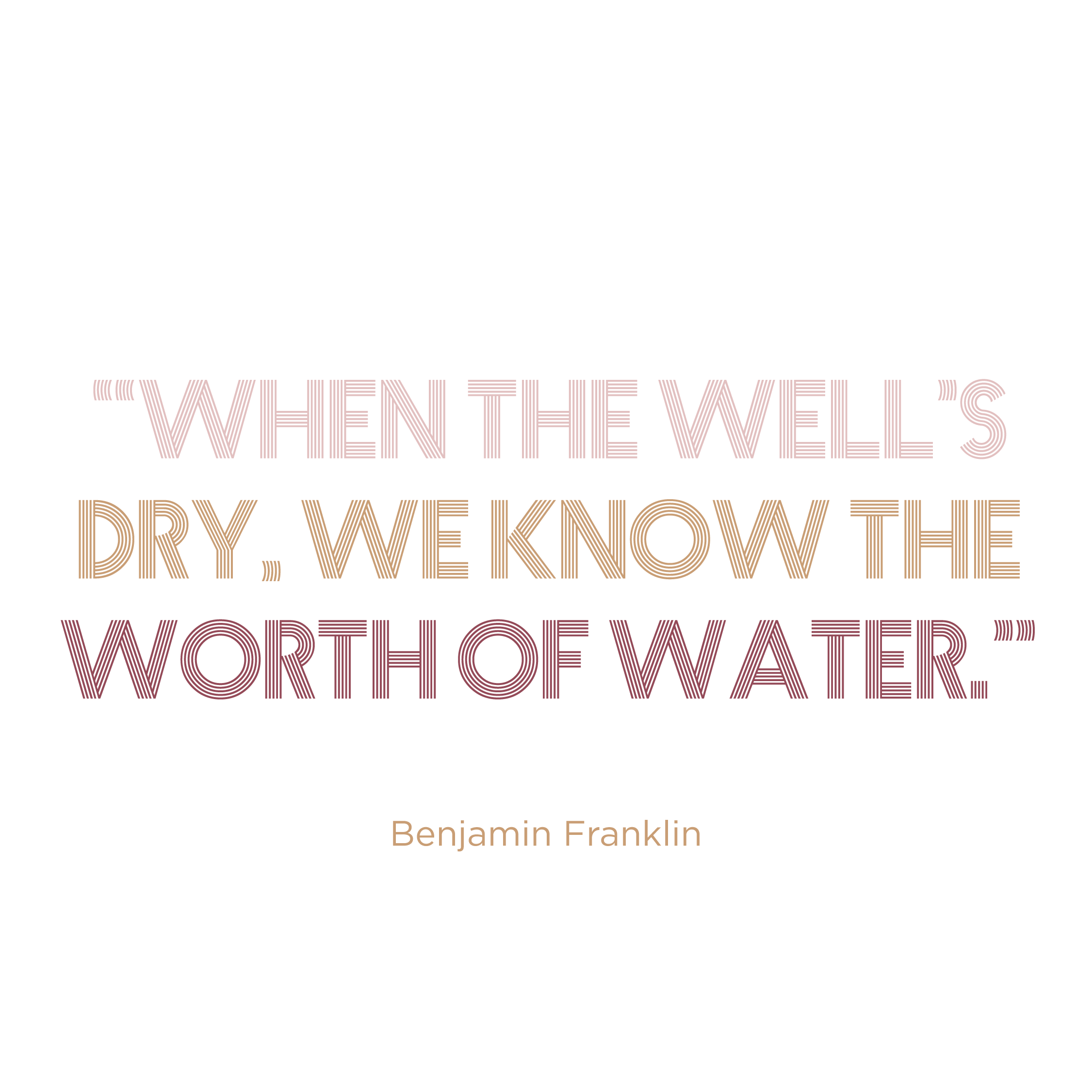 "Saying no can be the ultimate self-care." – Claudia Black

"Be enough for yourself first, the rest of the world can wait." – Unknown

"To me, self-care isn't really shallow. Showing up for yourself, putting on a little moisturizer, can inspire so many different parts of your life." – Jonathan Van Ness

"Take care of your body. It's the only place you have to live." – Jim Rohn

"If you don't love yourself, how the hell you gon' love somebody else?" – Ru Paul

"Take rest; a field that has rested gives a bountiful crop." – Ovid

"Take time off. The world will not fall apart without you." – Malebo Sephodi

"When the well's dry, we know the worth of water." – Benjamin Franklin

"It's so empowering to say 'this isn't serving me' and walk away in peace." – Unknown

"It's not selfish to do what's best for you." – Mark Sutton

"If you want to help her, you need to help yourself first. No one serves their friends by grinding themselves into dust on the altar of compassion." – Seanan McGuire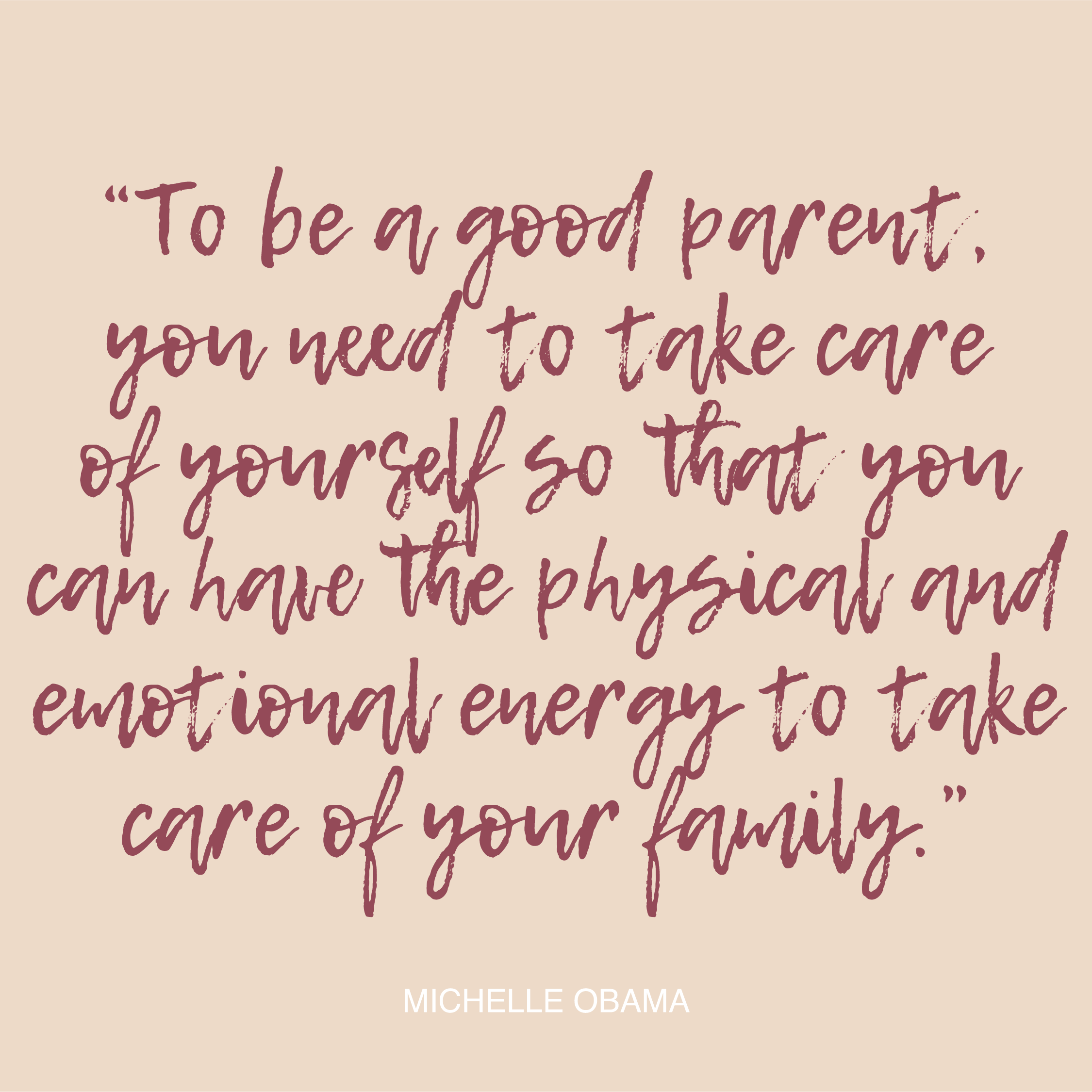 Self Care and Family
"To be a good parent, you need to take care of yourself so that you can have the physical and emotional energy to take care of your family." – Michelle Obama

"John Quincy Adams' depression was treated by his aunt with some reliable remedies, first sleep and then compassion. She said, " He was half cared for by having someone to care for him." – Paul C. Nagel

"Every one of us needs to show how much we care for each other and, in the process, care for ourselves." – Princess Diana

"You don't have to love yourself in muttered whispers, while loving everyone else with a megaphone." – Jasmine Farrell

"For those of you who struggle with guilt regarding self-care, answer this question: What greater gift can you give to those you love than your own wholeness?" – Shannon Tanner

"In most families, care-giving becomes the woman's responsibility. While care-giving can enrich you, it can also deplete you if you don't have support or make time for self care." – Kathleen Kendall-Tackett Ph.D

"You can't really be present for the people in your life if you aren't taking care of yourself." – Kerry Washington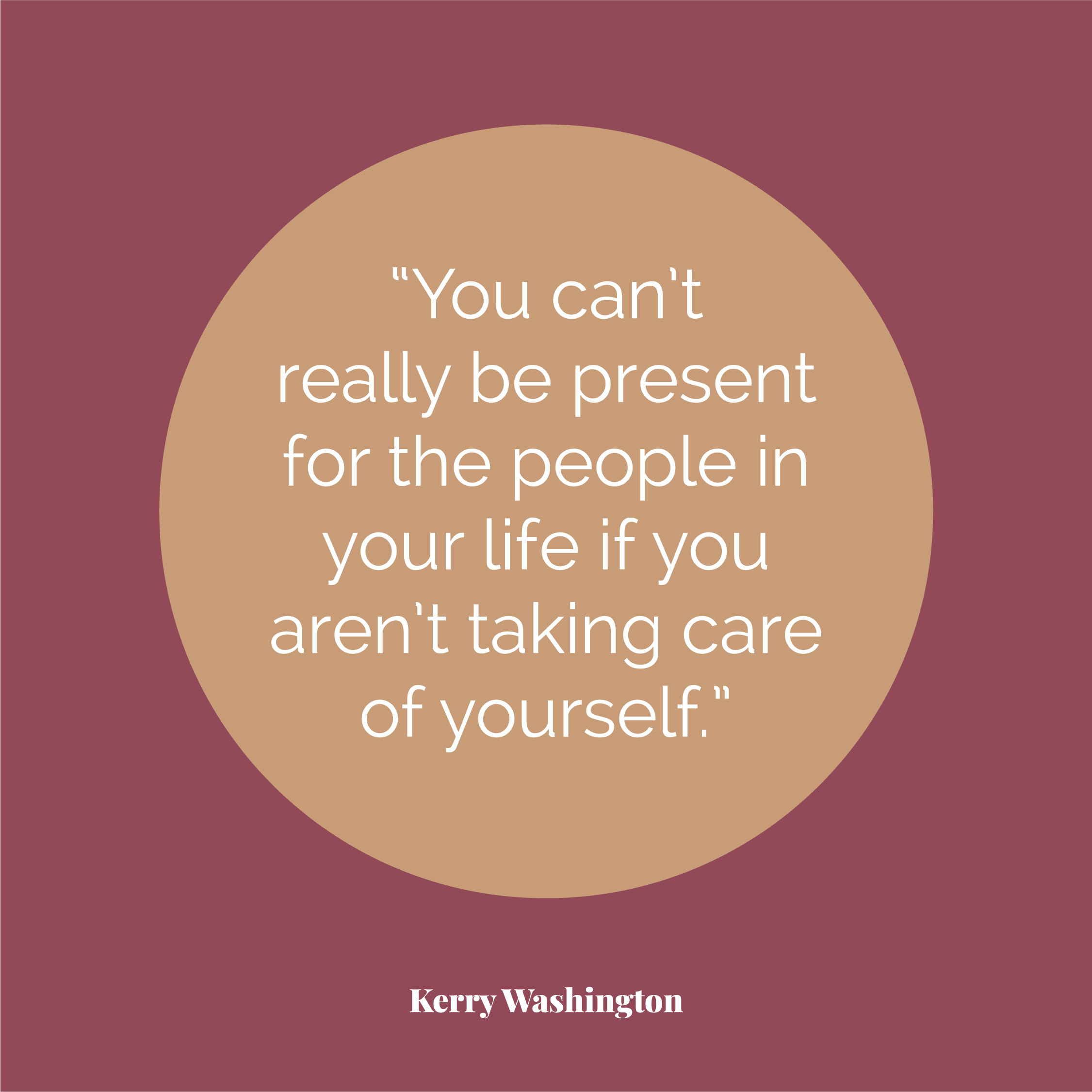 "Any time we listen to our true self and give the care it requires, we do it not only for ourselves but for the many others whose lives we touch." – Parker L. Palmer

"I love you but I got to love me more." – Peggi Speers

 "Accept yourself, love yourself, and keep moving forward. If you want to fly, you have to give up what weighs you down." – Roy T. Bennett

 "Close your eyes and imagine the best version of you possible. That's who you really are, let go of any part of you that doesn't believe it." – C. Assaad

"The most important progress and success can't be seen. If you can validate yourself internally, then external validation becomes a byproduct." – Brittany Burgunder

"Give your stress wings, and let it fly away." – Terri Guillemets

"It is so important to take time for yourself and find clarity. The most important relationship is the one you have with yourself." – Diane Von Furstenberg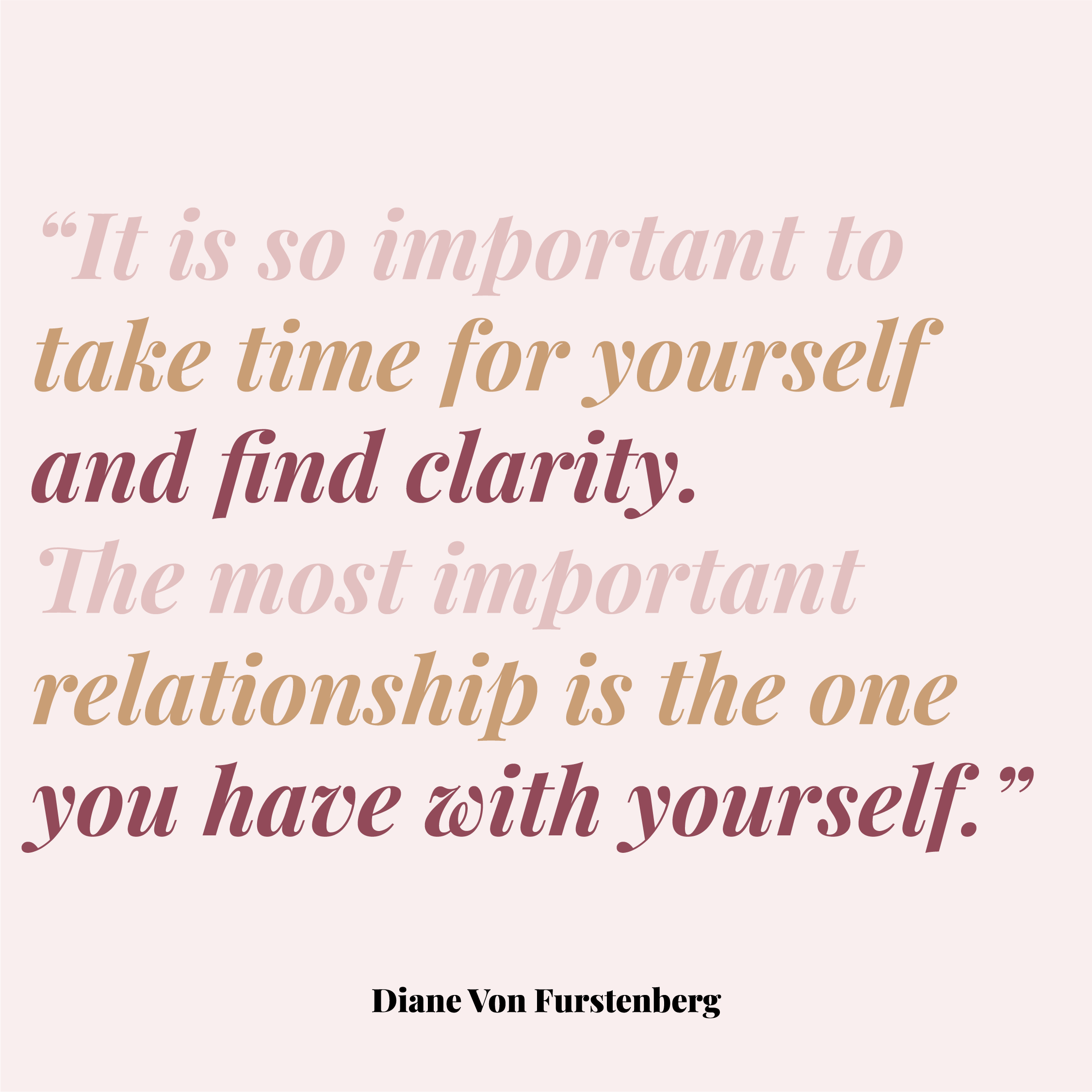 "It really is ok for there to be times when you stop putting everyone else first, and just do what's best for you." – Tracey Leech

"If we don't take care of ourselves, if we don't put on the oxygen mask first, we don't have the capacity to help those people we care so much about." – Megan McCormick
We hope you found these quotes inspiring enough to start or continue to make some much-needed positive changes in your life. Remember, you are not being selfish by wanting to take care of you. You're recreating the best version of yourself every time you self-care, so you can deal with all of life's challenges from a powerful, empowered and compassionate space. 
Take some time to take care of you!