Despite late-night parties, high stress levels and endless traveling, celebrities seem to be blessed with glowing and perfectly flawless skin whether they are on or off the red carpet.
To get an insight into the secrets behind their perfect complexion, we looked into the daily skincare routines of some of the world's most famous people, and found out how much they really spend on their skin on a daily and yearly basis.
From Victoria Beckham's complex 18 step skincare regime to the one product George Clooney swears by, here are the daily skincare routines of twenty of the world's most popular celebrities.
Key findings:
Victoria Beckham's daily skincare routine involves 18 products and costs

$48,381 per year

George Clooney's one-step skincare routine costs only

$0.16 per year

The most expensive product is

La Prairie Skin Caviar Luxe Cream

which is used by Margot Robbie and costs $530

Gigi Hadid and Dwayne 'The Rock' Johnson are both fans of

drugstore cleansers

Cetaphil Gentle Skin Cleanser ($3.29) and Neutrogena Deep Clean Cream Cleanser ($4.29)

Moisturizer is the most commonly used skincare product among celebrities with

90%

using it every day
Skincare Routine Cost Comparison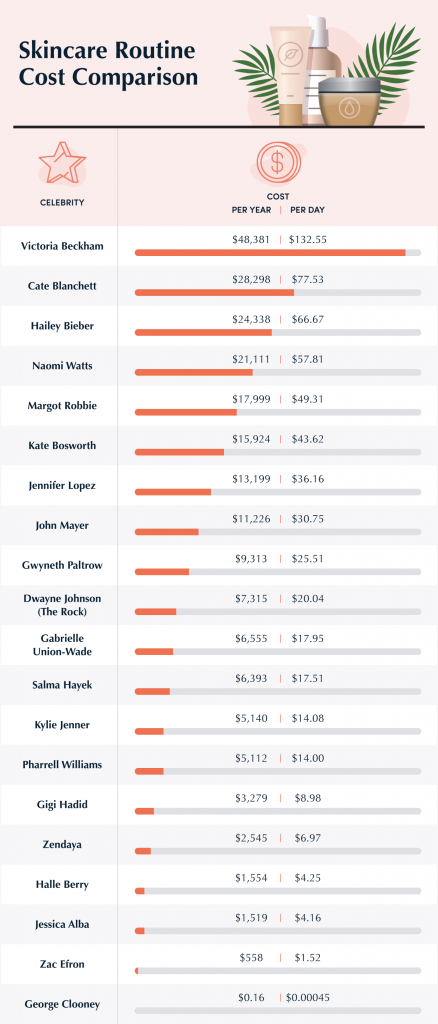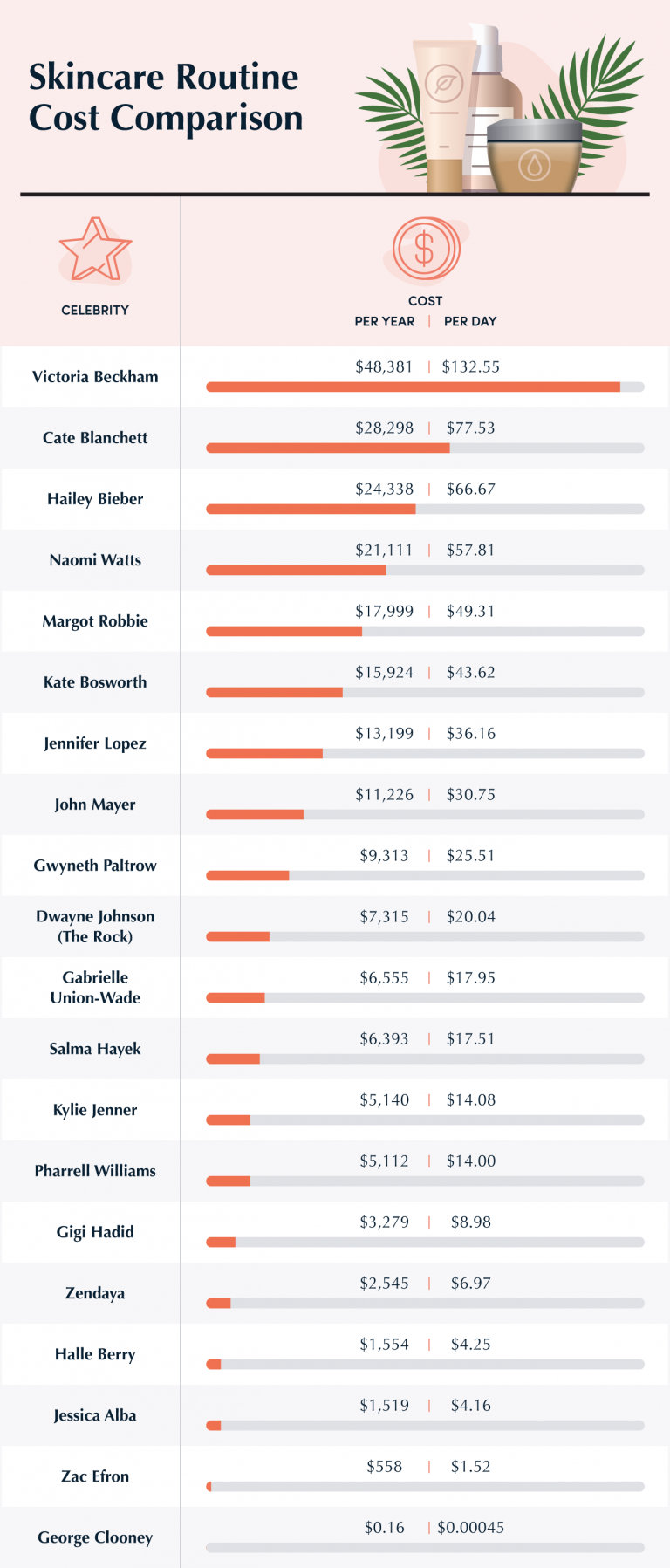 Victoria Beckham
At nearly $50,000 spent on skincare essentials each year (that's over $132 per day!), Victoria Beckham's daily routine is by far the most expensive regime we looked at. The 18-step ritual includes a range of luxury products, among them an eye cream from Lancer for $450.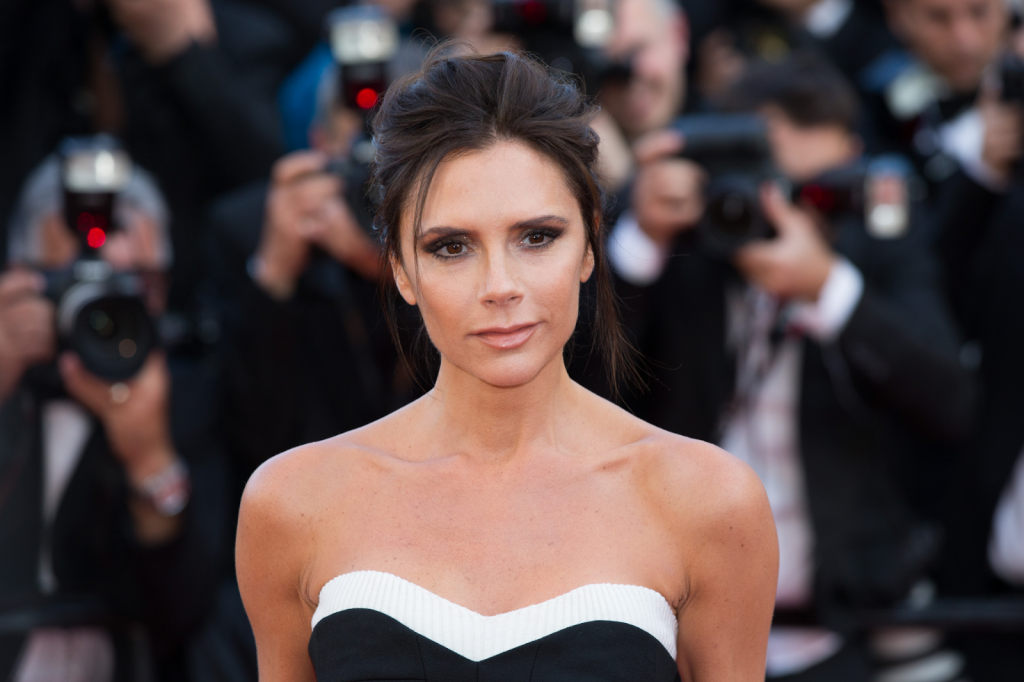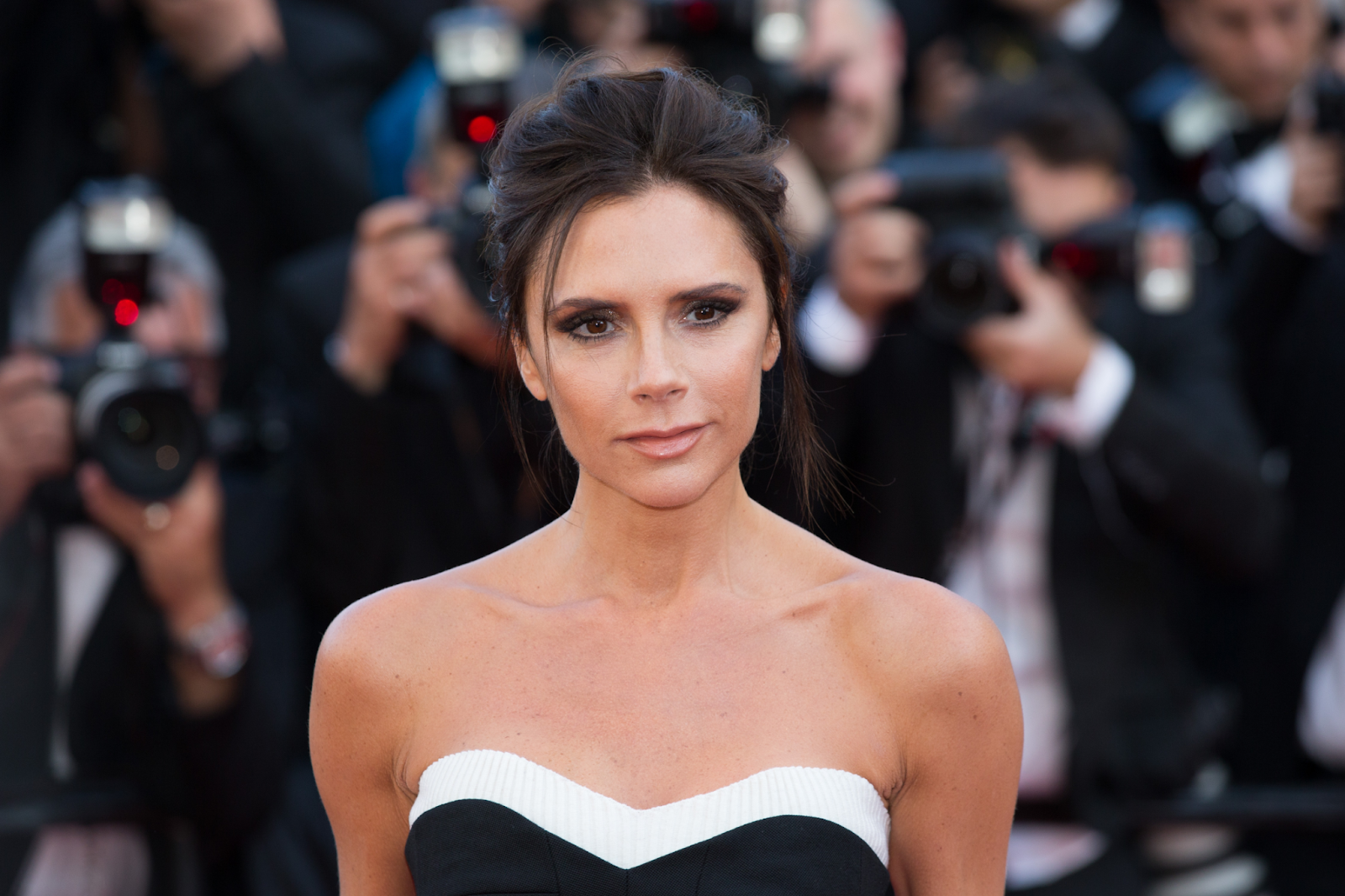 Cate Blanchett
Cate Blanchett spends over $28,000 per year on her 13 step skincare routine. She is a big fan of luxurious moisturizers and spends $13,860 on hydrating creams each year. Two of her favorites are Giorgio Armani Crema Nera Supreme Reviving Cream ($400) and SK-II LXP Ultimate Revival Cream ($383).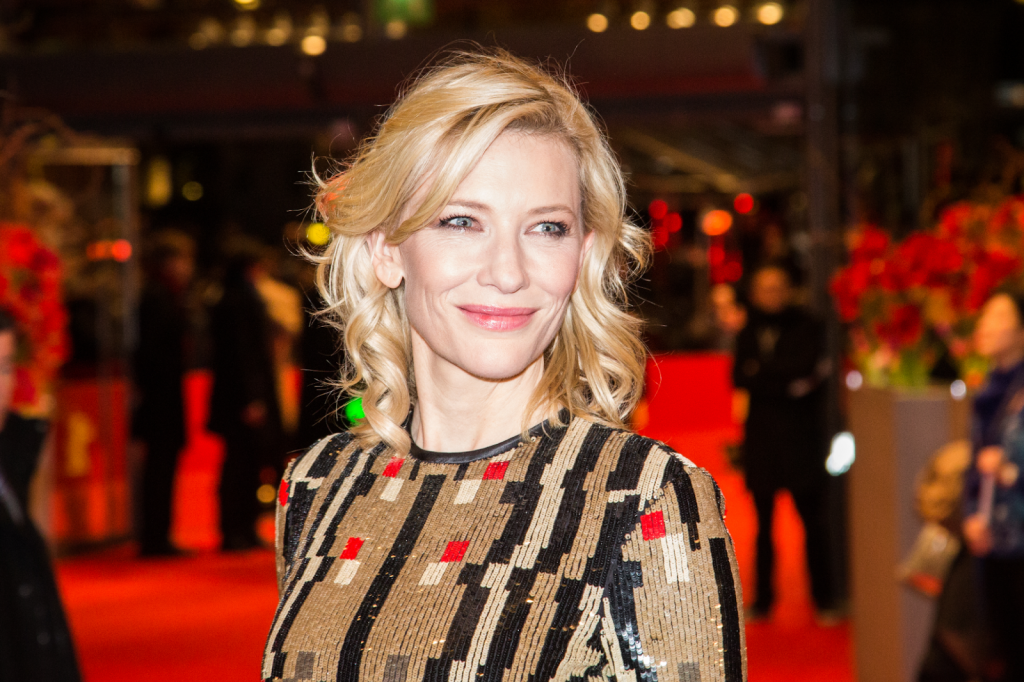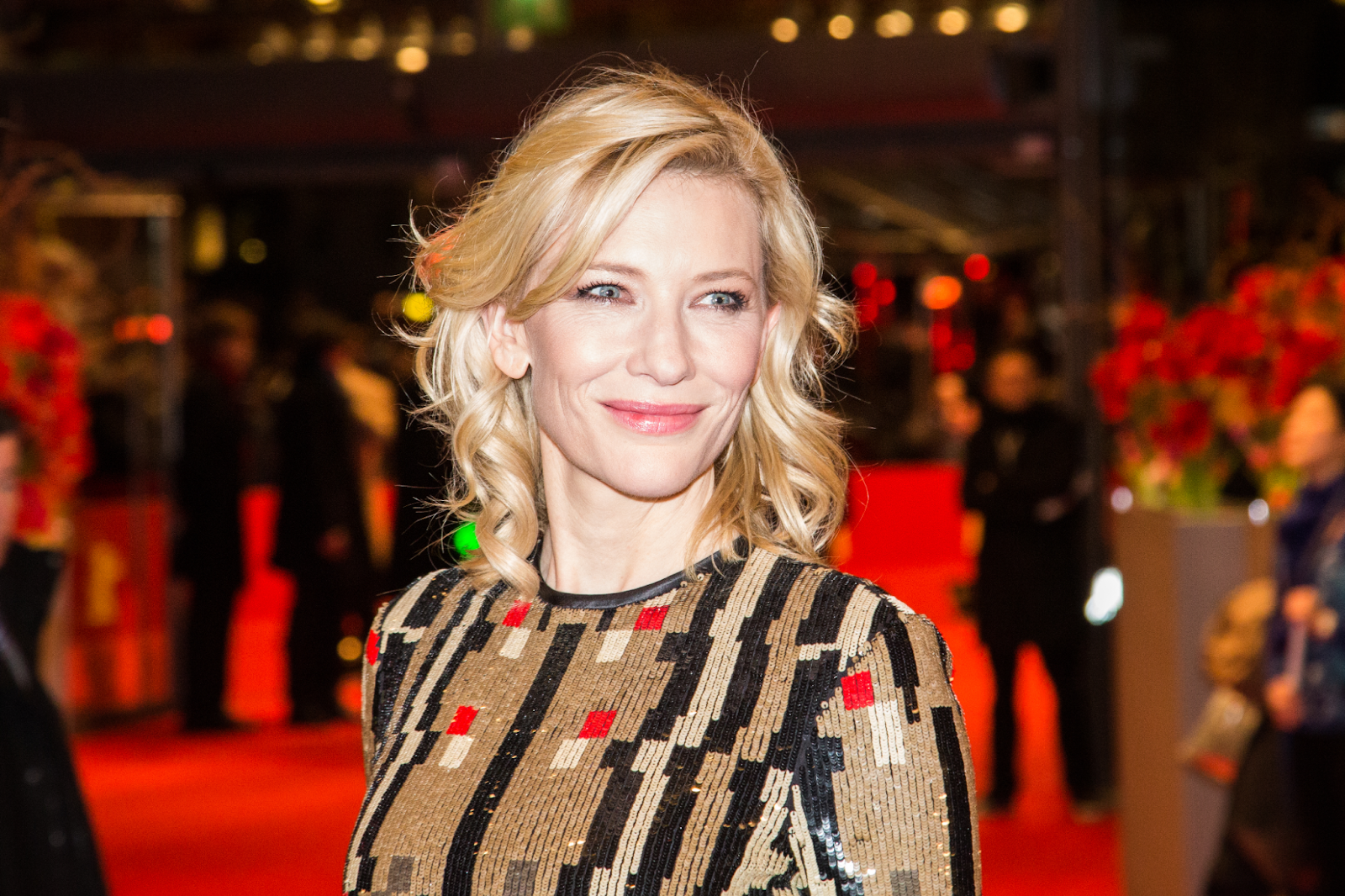 Hailey Bieber
Hailey Bieber is a strong belieber that you can "never be too young to care about your skin". The self-confessed skincare product hoarder mixes luxury products and drugstore classics in her 14 step routine, and spends $24,338 on her skin each year.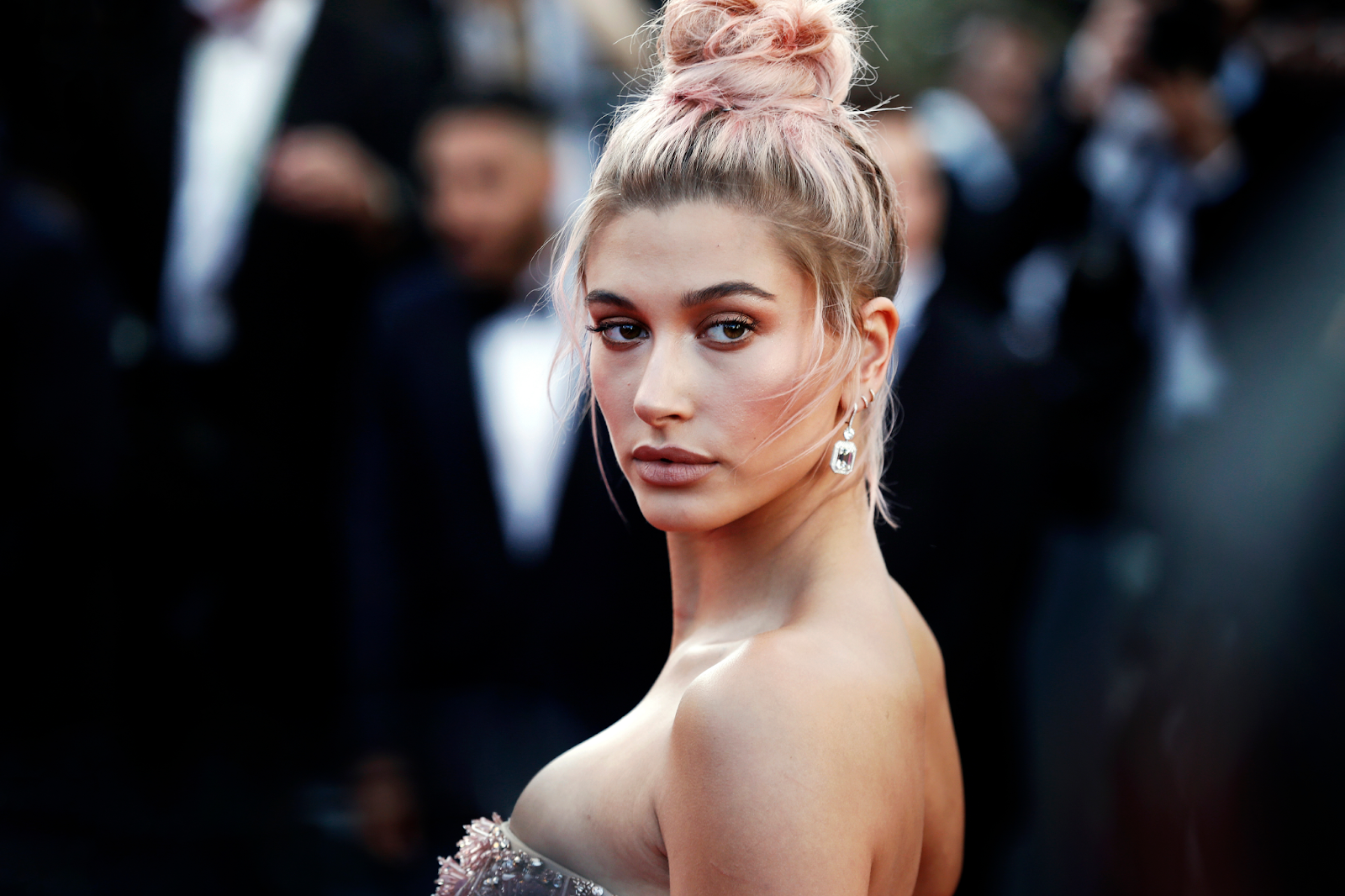 Naomi Watts
Naomi Watts has sensitive skin and favors natural products. She likes to change up her regime every so often as she "doesn't want her skin to get FOMO". Her current 14-step regime costs over $21,000 each year.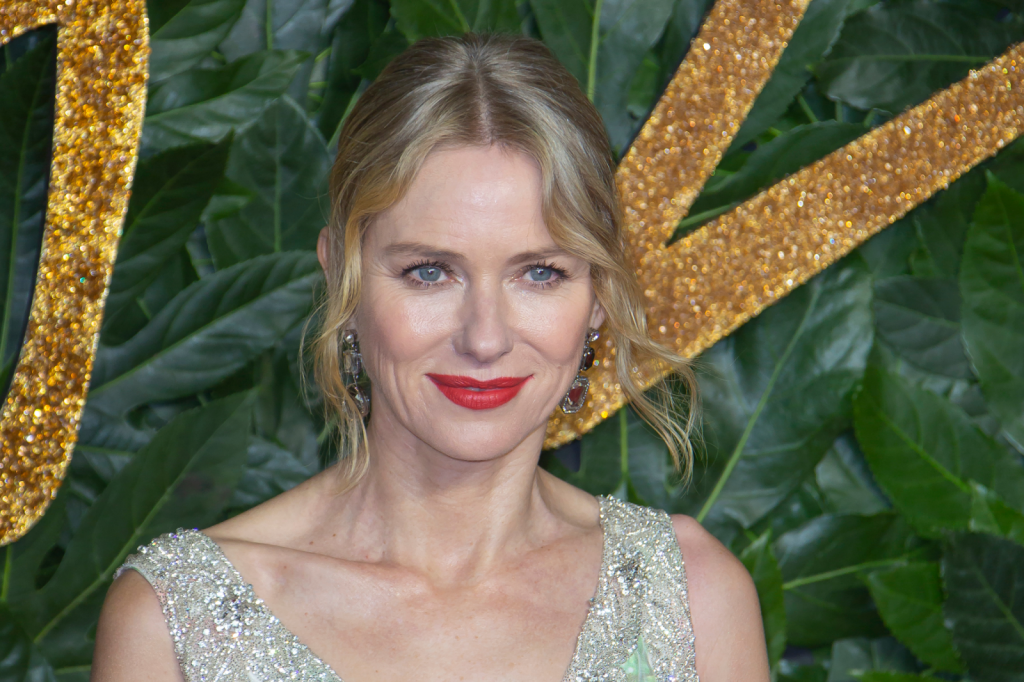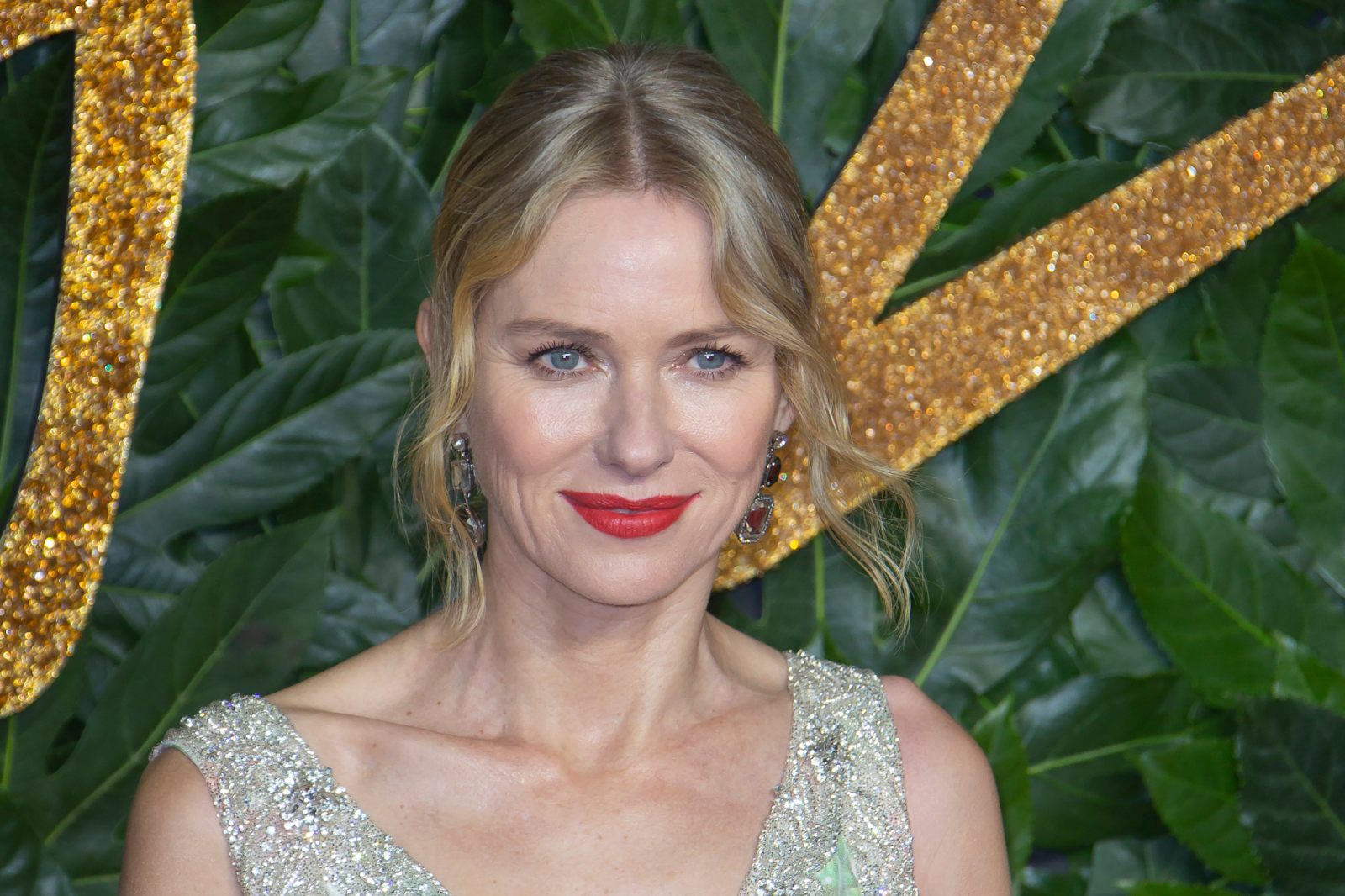 Margot Robbie
When you see Margot Robbie's flawless skin, it is difficult to believe that her skin is acne-prone and she often suffers from breakouts. Her skin is also sensitive and dry, so she takes moisturizing very seriously. Out of the $18,000 she spends on her skin each year, over half ($9,100) is spent on moisturizers.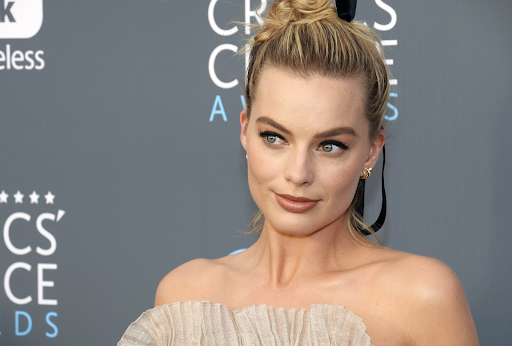 Kate Bosworth
With her fair and sensitive skin, Kate Bosworth takes sun protection seriously and uses three different sunscreens daily. Her 18-step regime costs nearly $16,000 each year and among her favorite brands are Epicuren and ISUN.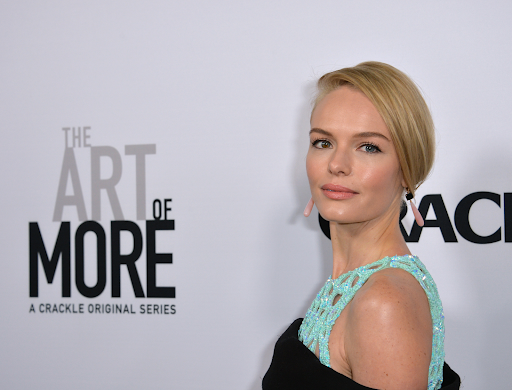 Jennifer Lopez
It is hard to believe Jennifer Lopez is 50+. Her glowing skin would make any 30 something jealous. Behind her flawless complexion is an 11-step routine costing $13,200 that she's kept secret until now. She mixes products from luxury brands such as La Mer and Lancer with more affordable products from Neutrogena and L'Oréal.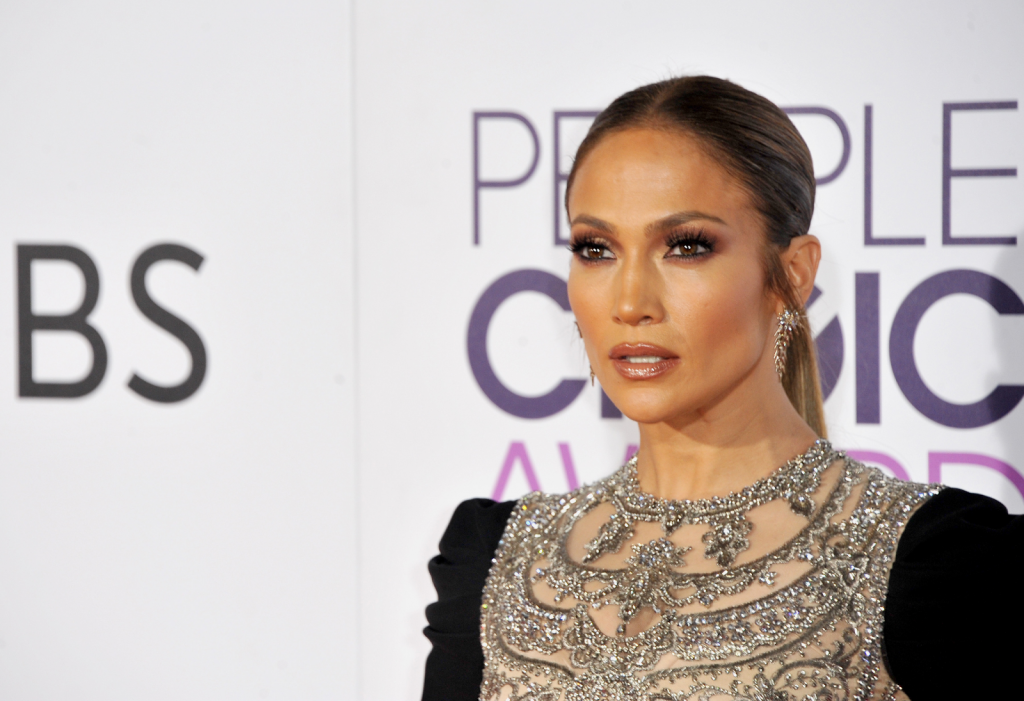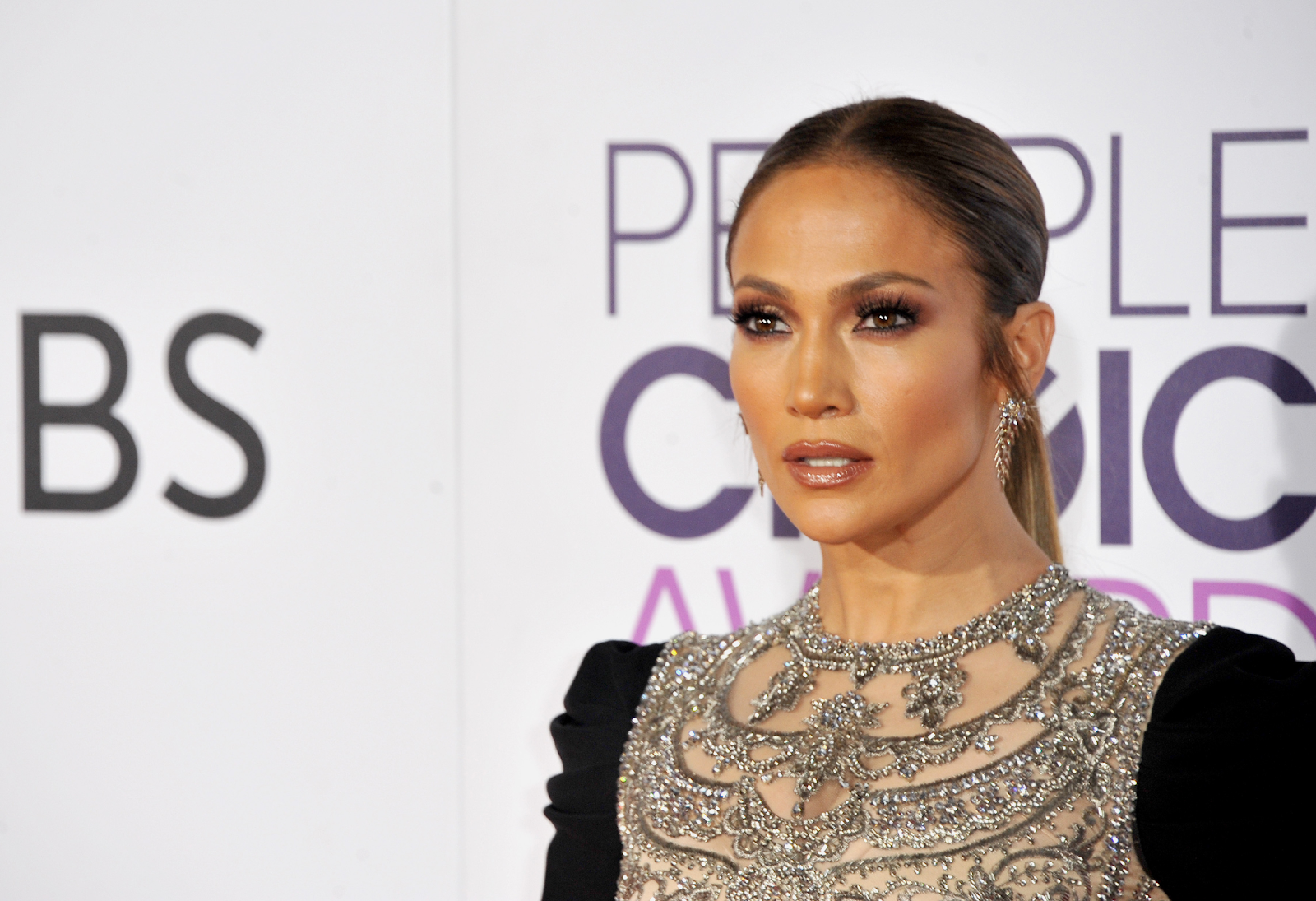 John Mayer
Out of the celebrity men on the list, John Mayer takes skincare most seriously. The 5 step routine costs $11,225 per year and includes cleanser, eye cream, serum, moisturizer and face mist from Natura Bissé and La Mer.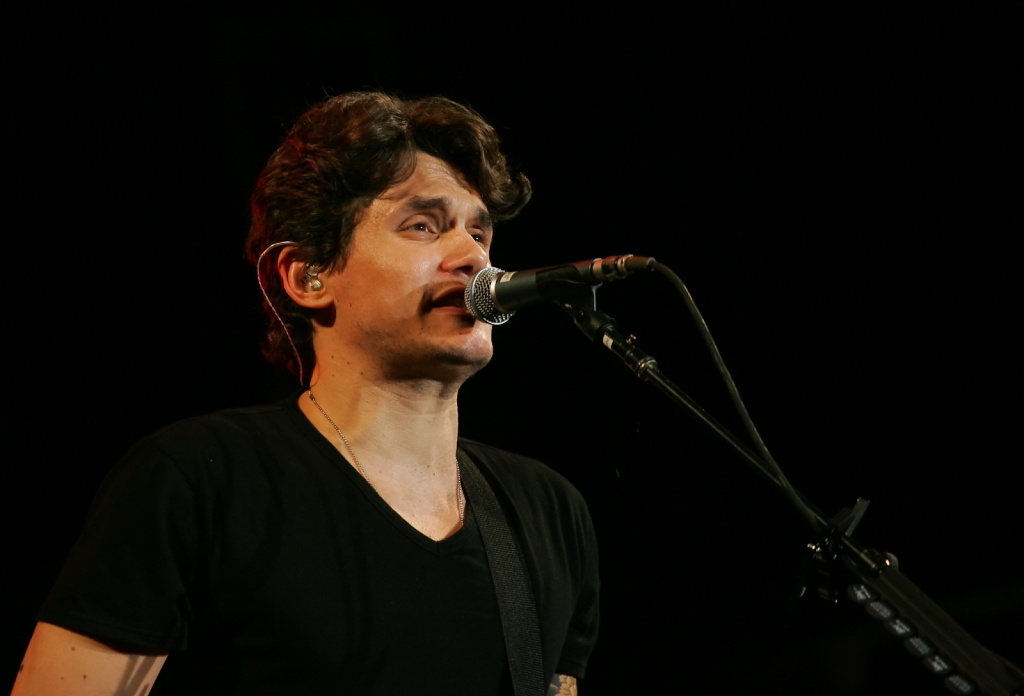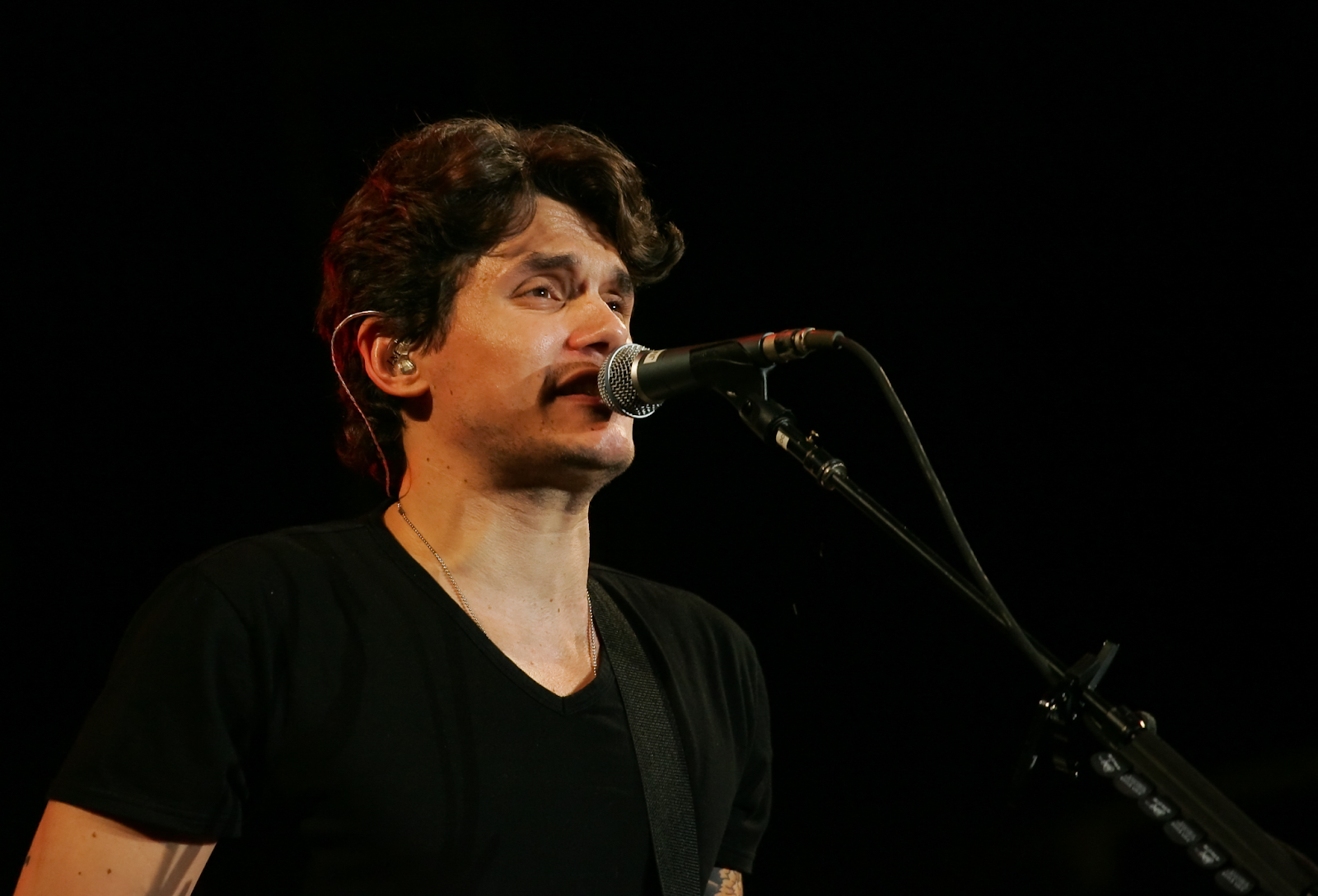 Gwyneth Paltrow
Gwyneth Paltrow is a self-confessed "exfoliation junkie" and exfoliates her body top from toe every day. As many of her skincare products come from her own brand GOOP, we suspect she doesn't have to pay for all of it. If you're keen to copy her routine however, you'd have to spend $9,313 per year.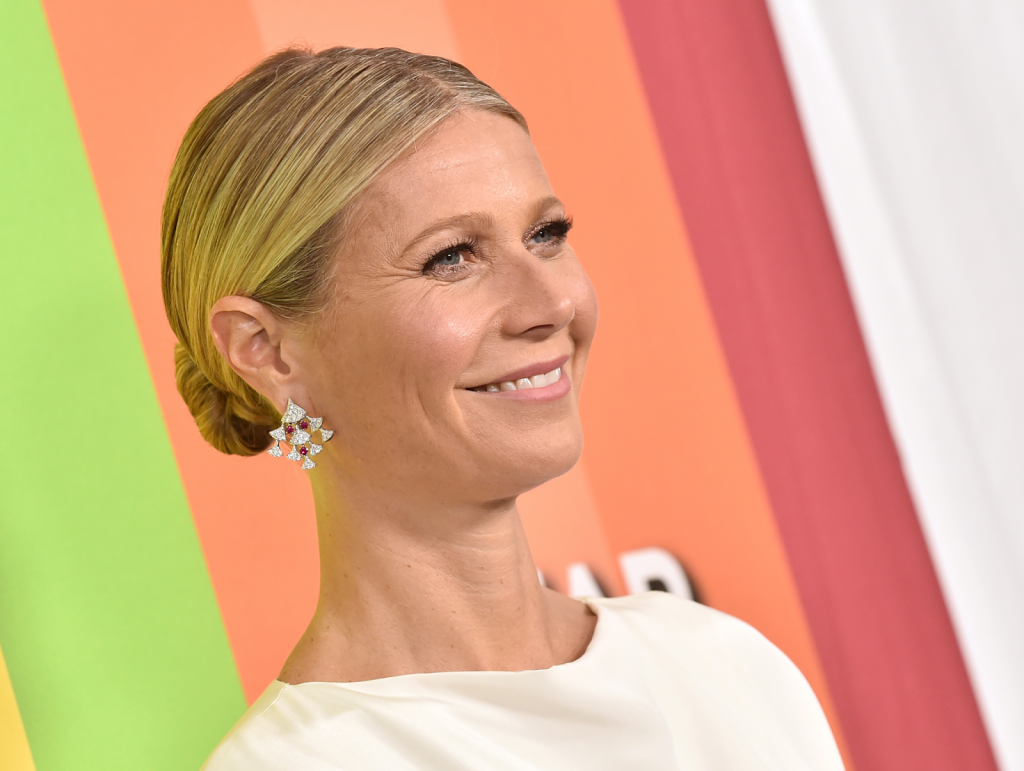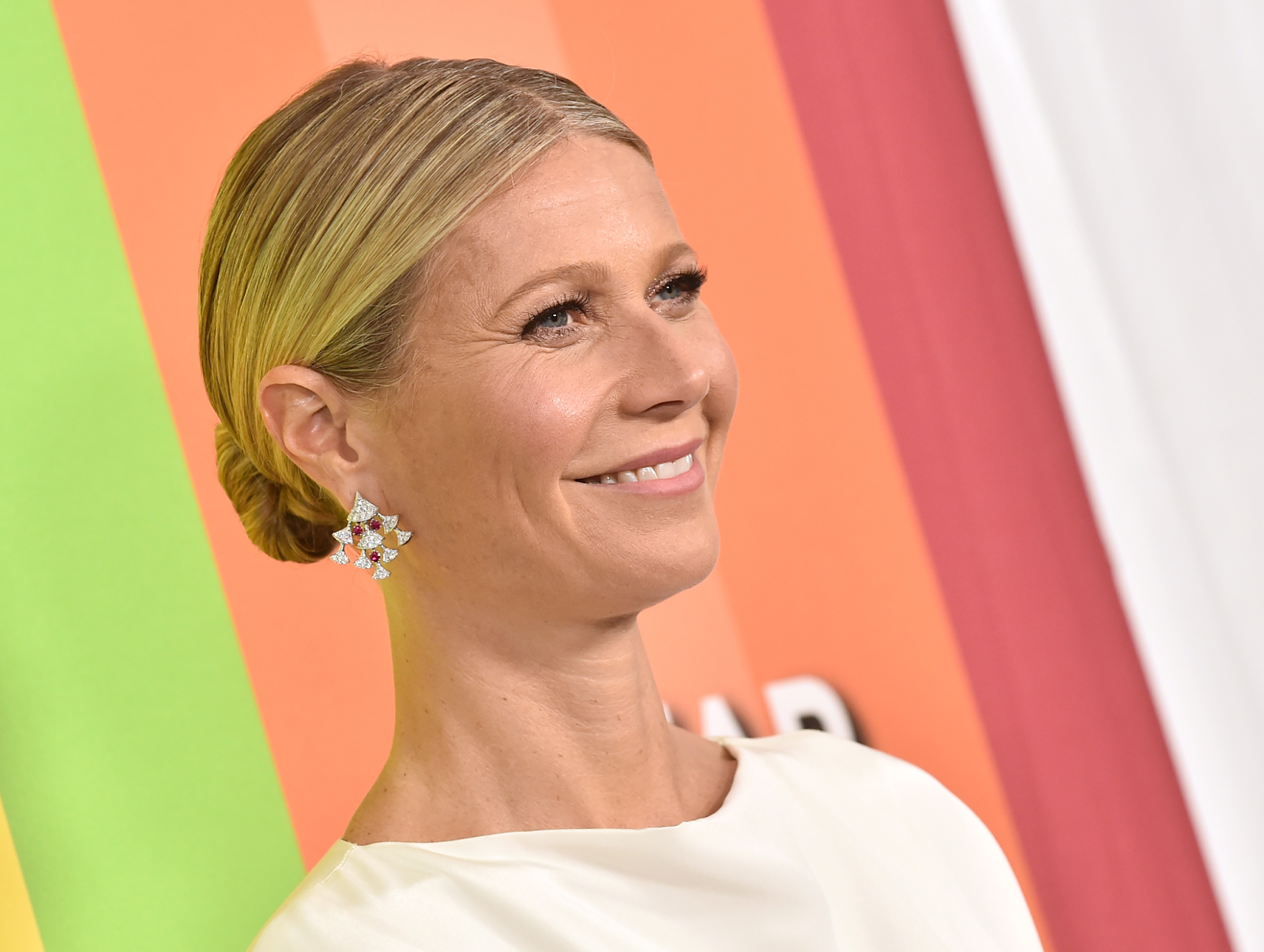 Dwayne 'The Rock' Johnson
Next year Dwayne Johnson a.ka. The Rock hits the 50-year mark, which is hard to believe if you look at the state of his skin. To keep his skin looking young and fresh, he swears by three products: Neutrogena's Deep Clean Cream Cleanser, Lancer The Method: Nourish Moisturizer and La Mer Moisturizing Soft Cream. Oh, and he also swears by tequila (not on your face, but drinking it). Minus the tequila, his routine costs $7,315 each year.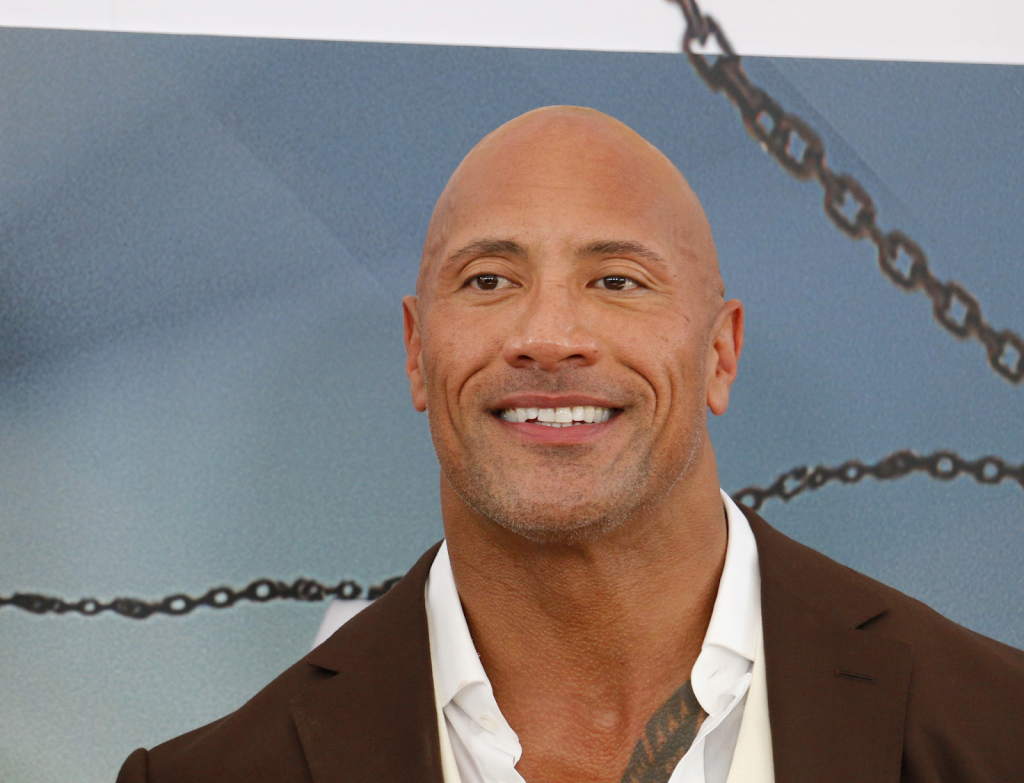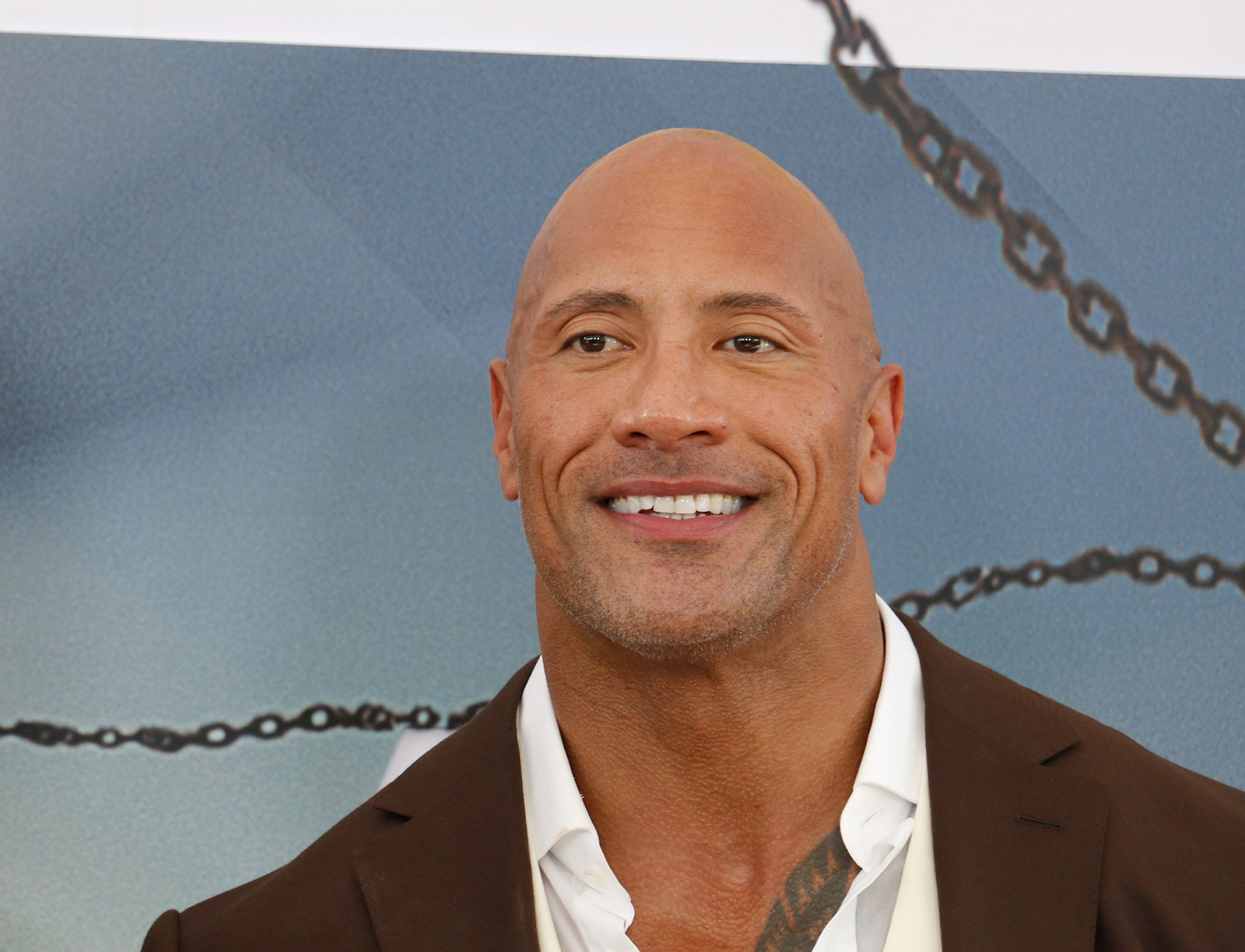 Gabrielle Union-Wade
Gabrielle Union-Wade keeps her face looking youthful with an 11-step daily routine that costs $6,555 yearly. She is a big fan of drugstore brand Neutrogena but also swears by products from clean beauty brand Luzern.
Salma Hayek
Salma Hayek's glowing skin would make anyone jealous. The 54-year old actress doesn't believe in washing her face in the morning and is also completely against SPF in creams and makeup. Despite a comparatively simple daily routine, the products she uses cost nearly $6,400 per year.
Kylie Jenner
With a passion for makeup and skincare, Kylie Jenner built her own billion-dollar beauty empire. Naturally, many of the products she favors are from her own range, but she also includes brands such as Kiehl's in her daily routine. To copy Kylie's 15-step routine, you'd have to pay $5,140 each year.
Pharrell Williams
If you're looking for a skincare routine that will seemingly stop your skin from aging, let yourself get inspired by 48-year old (yes you read that right) Pharrell Williams. With six products, it's a fairly simple routine, and most products he uses come from his own skincare brand, Humanrace. Copying the routine would set you back $5,112 per year.
Gigi Hadid
Want to copy the skincare routine of one of the world's best-paid supermodels, Gigi Hadid? If so, you may be happy to hear you already have some of her drugstore favorites in your bathroom drawer. The classic Cetaphil Gentle Skin Cleanser is only $3.29, and is the cleanser of choice for Gigi. The full routine consists of 7 steps and costs $3,279 per year.
Zendaya
Zendaya's skincare regime is surprisingly simple and affordable. None of the items on her 6-step routine cost more than $40. In a year, the Spider-Man star spends $2,550 on her skin.
Halle Berry
Halle Berry is another star that proves that gorgeous skin doesn't have to be complicated. With only three products in her routine (cleanser, exfoliator and moisturizer), she cleanses, exfoliates and moisturizes for $1,554 a year.
Jessica Alba
Jessica Alba is not just one of Hollywood's favorite actresses, she is also a founder of all-natural beauty company The Honest Co. Unsurprisingly, the products in her daily routine are all part of her own range, meaning she probably won't pay a cent for it. For you, it would cost $1,519 in a year.
Zac Efron
Zac Efron keeps his skincare routine simple. The actor uses two products daily: sunscreen from EltaMD and cult-moisturizer "Skin Food" from Weleda. The yearly cost to copy his routine is $557.
George Clooney
Actor George Clooney has by far the simplest celebrity skincare routine. He swears by one product, and one product only, namely ivory soap. The classic bar soap costs him as little as $0.16 per year.
Skincare Products Used Most by Celebrities
These are the skincare products used in each celebrities' routine. Hailey Beiber spends a large chunk of her skincare budget on serums, while Zendaya and Zac Efron believe in sunscreen. The rock spends 99% of his skincare budget on moisturizers, no wonder his skin looks so soft!


Most expensive products
The top 3 most expensive products on the list are: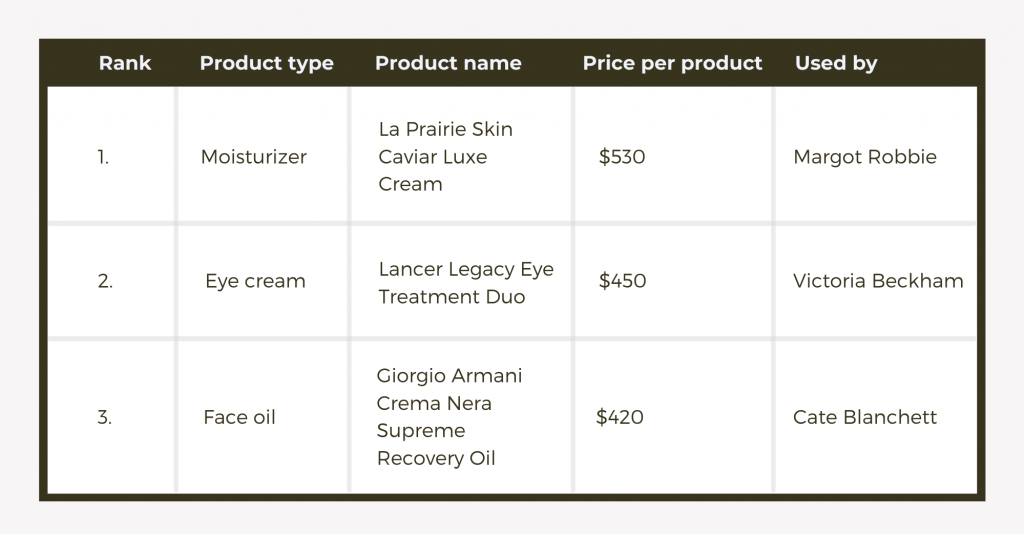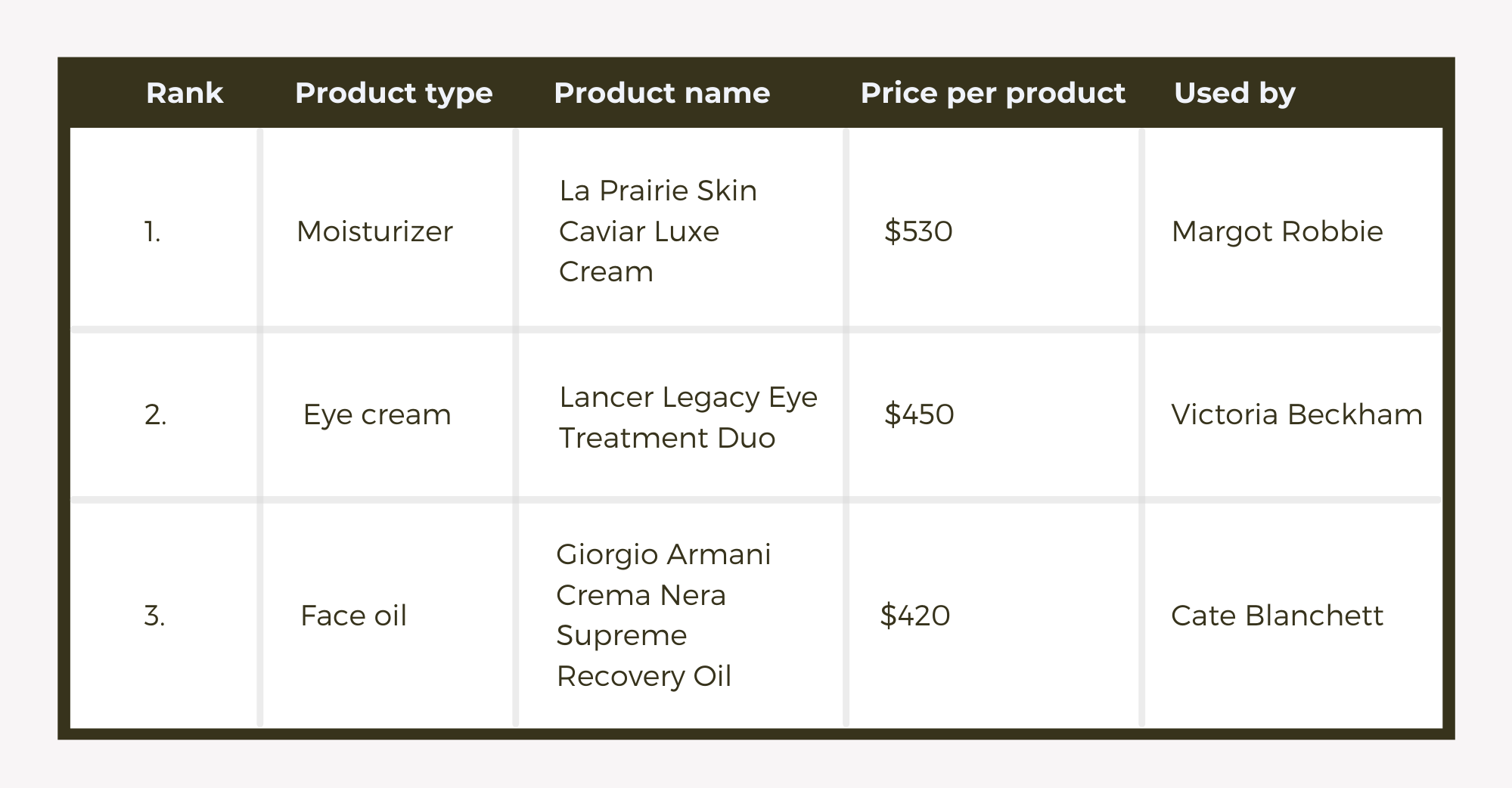 The top 3 most expensive products to use per day are: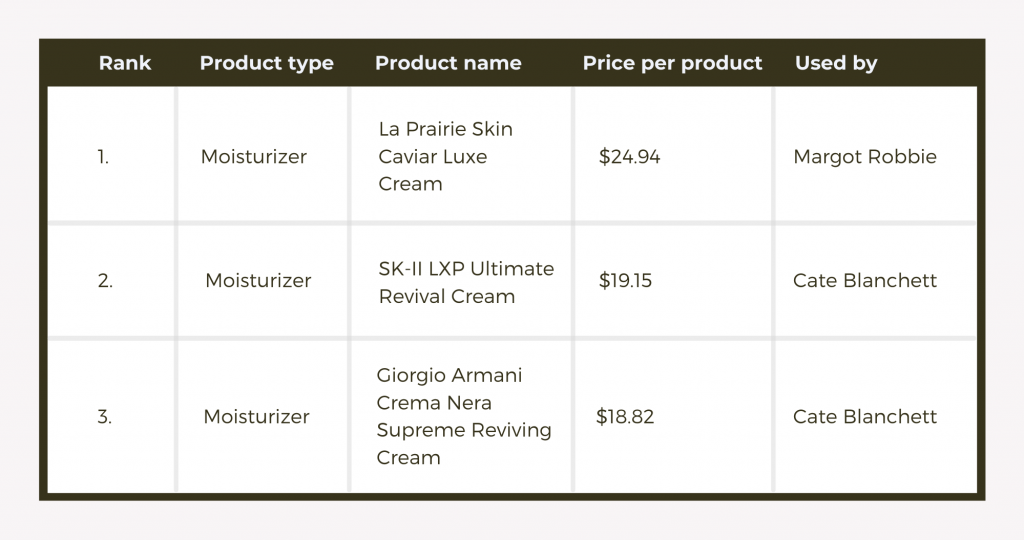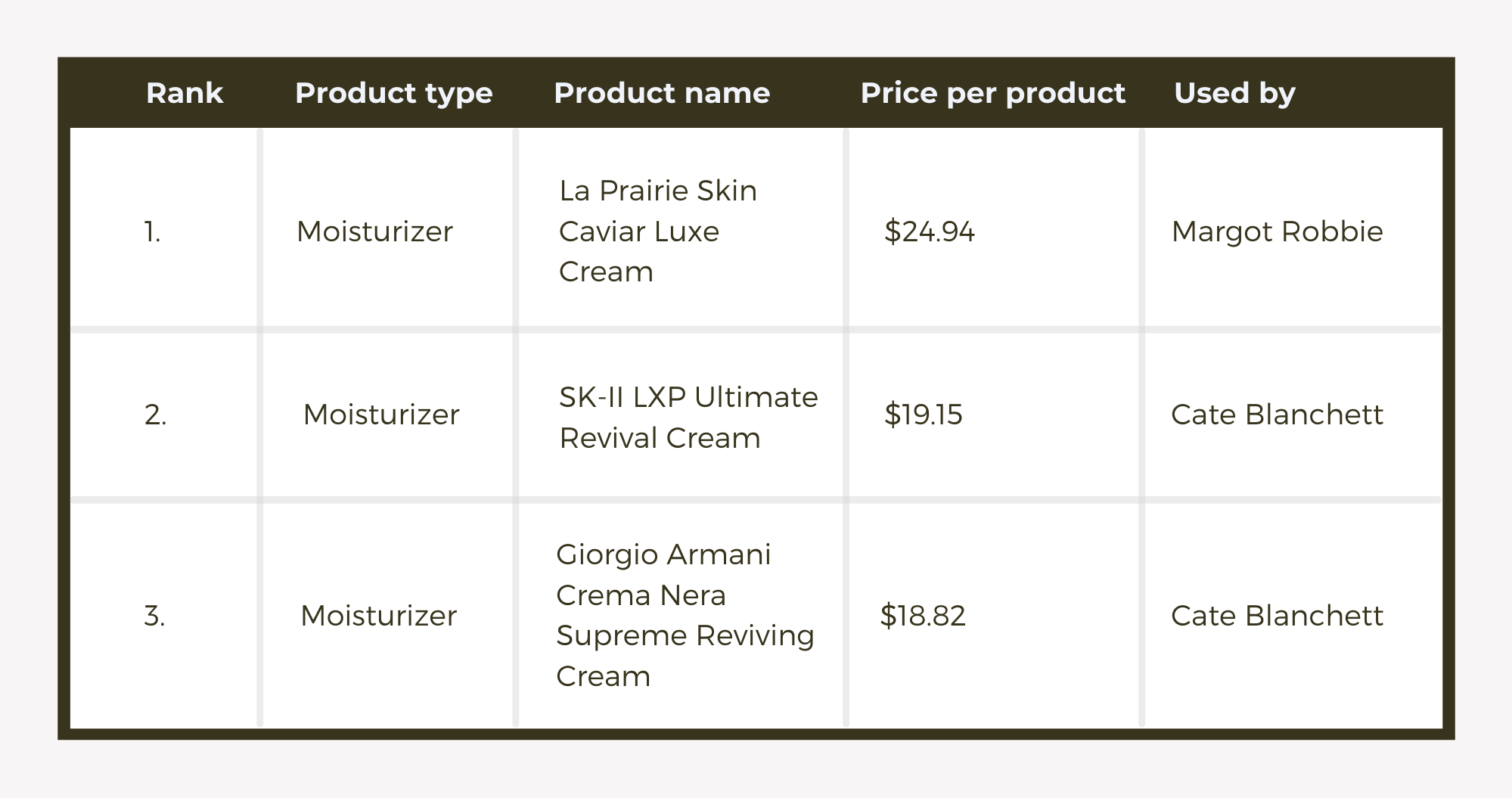 How much product is needed each day?
Here's a calculation of the recommended daily usage of each skincare product.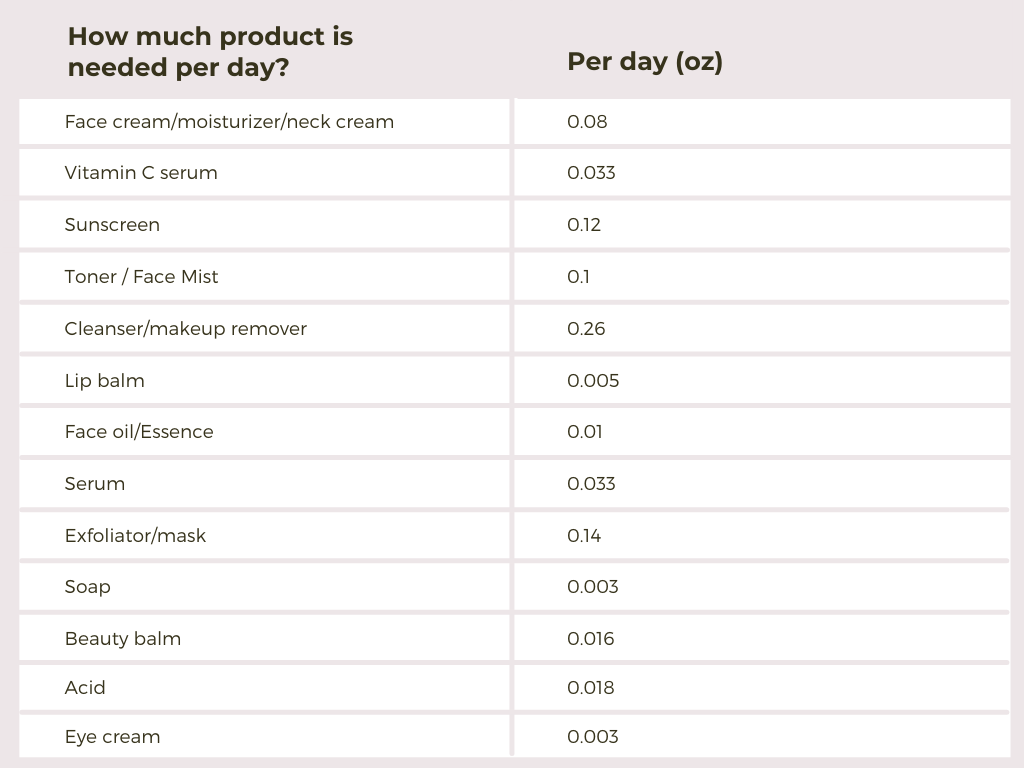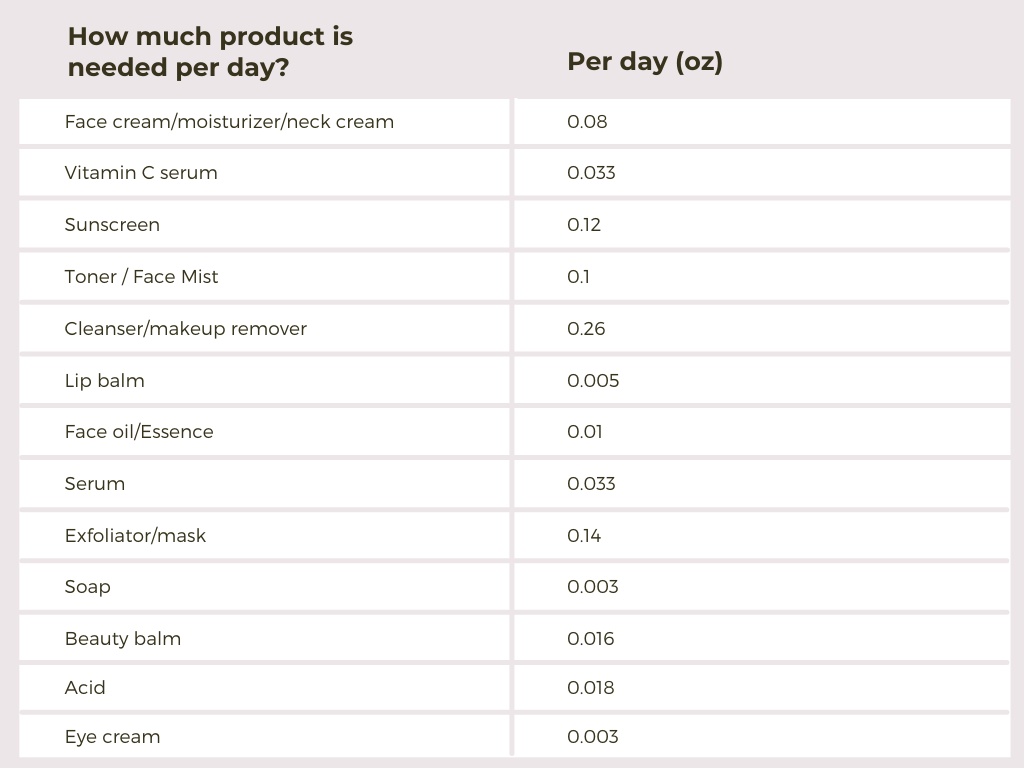 Cheapest products
The top 3 cheapest products on the list are: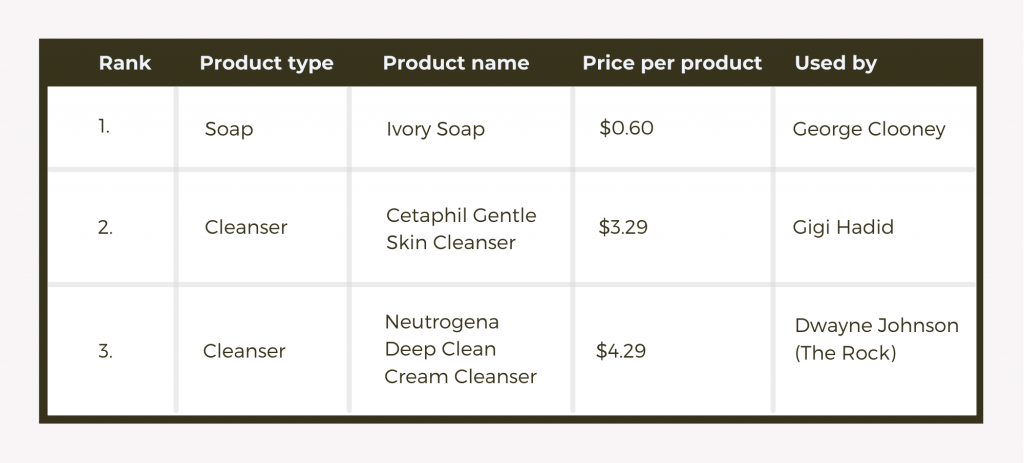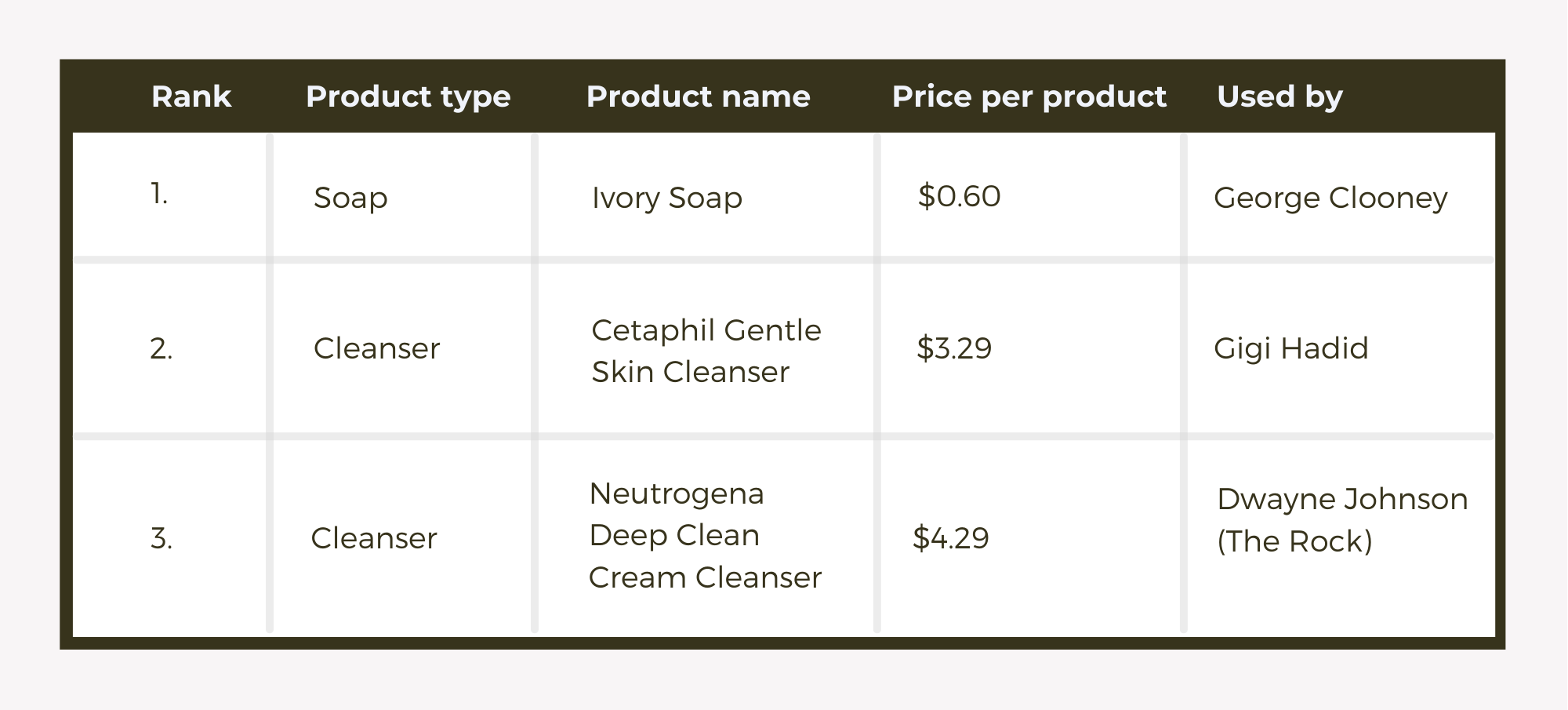 The top 3 cheapest products to use per day are: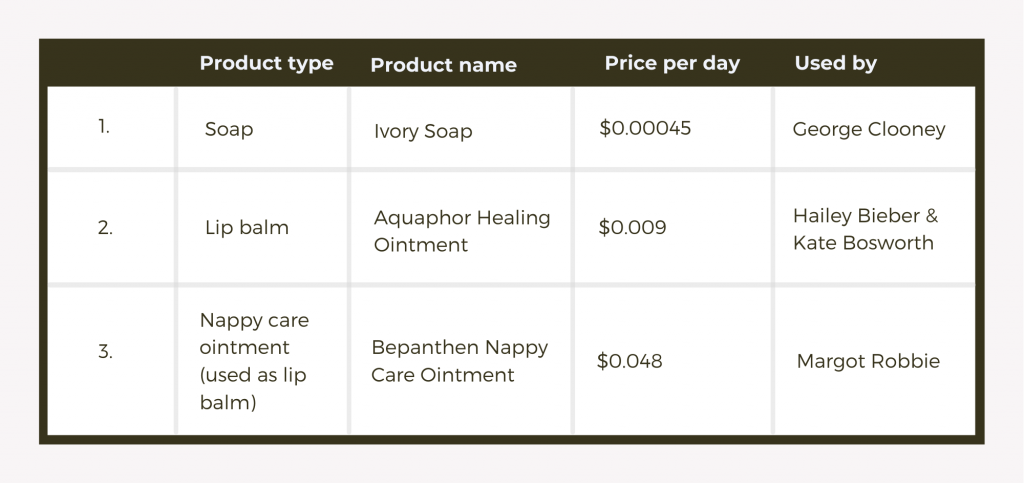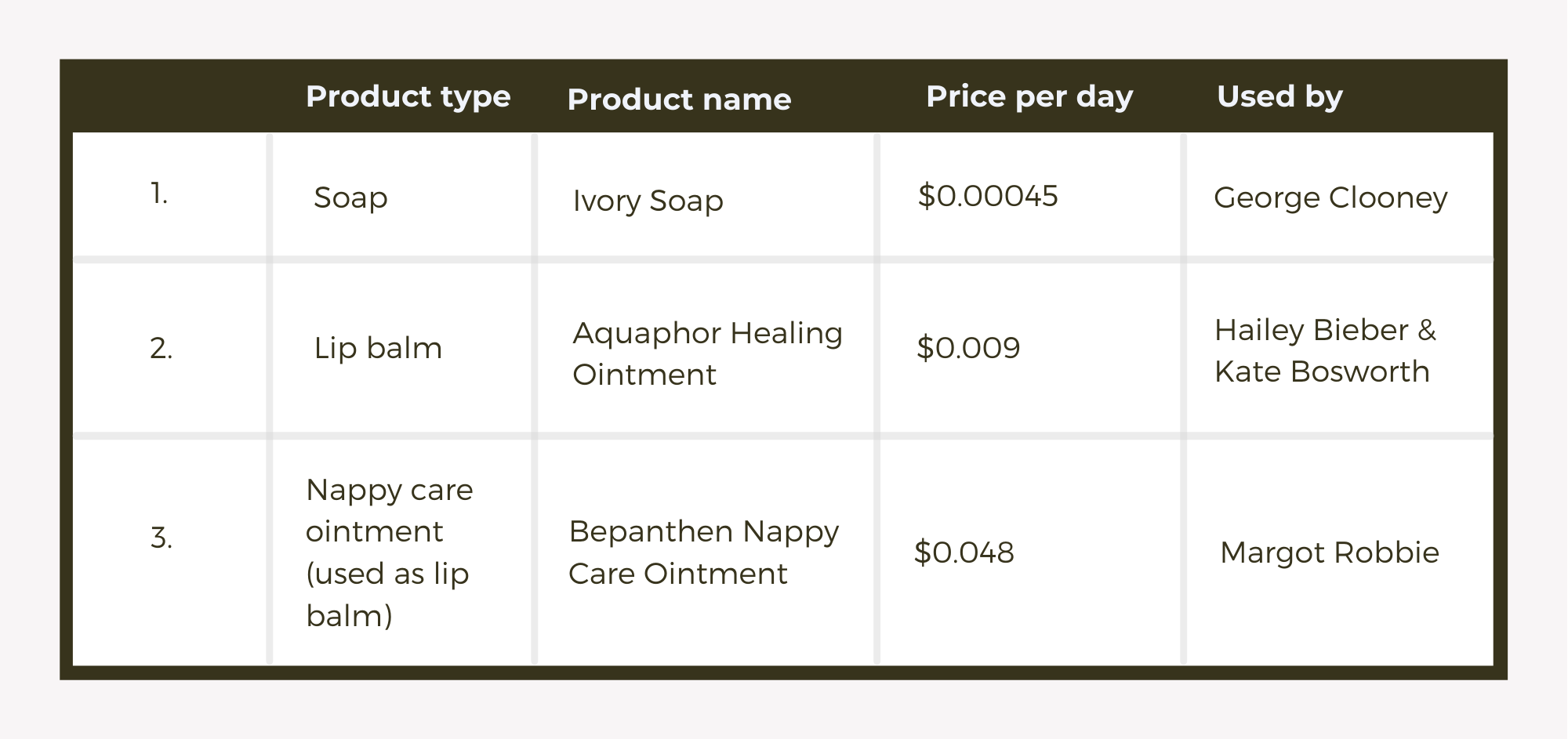 Methodology
Pricing information from each celebrity's skincare routine was gathered in May 2021. For each category type (moisturizer, serum etc.) we estimated the daily recommended usage of each product to calculate a yearly cost. Certain items (such as exfoliators and spot treatments) are based on the assumption that they are used on average 2-3 days a week.
Disclaimer
The skin routine of each celebrity has been collected from various editorial articles through May 2021 and may not be up to date. Please note that The Derm Review is unable to guarantee the accuracy of each routine. A full list of products, sources and calculations can be found here.
Sources:Annmarie: How Long Do Your Full Sized Products Last? .
Beba Botanica: How long does a bar of soap last?
Dermacare Direct: A guide to how much product you really need
Dr. Leslie Baumann: How Much Skin Cream Should I Use on My Face?
Fustany: 9 Male Celebrities You Didn't Know Had a Skincare Routine!
GQ: The Rock Keeps His Skin Freakishly Youthful with These 4 Things
Hollywood Life: Gwyneth Paltrow Reveals Her $900Everyday 'Skincare & Wellness' Routine —Watch
National Library of Medicine: How much is a 'pea-sized amount'? A study of dentifrice dosing by parents in three countries
Paula's Choice: HOW LONG WILL A PRODUCT LAST?
Refinery29: 14 Male Celebrities With Seriously Impressive Beauty Routines
Refinery29: Exactly How Justin Bieber Keeps His Baby Face So Smooth
Skincare by Alana: How Much Product To Use & When To Use It: Stop Wasting Money!
The Skincare Edit: Cate Blanchett Skincare Routine
The Skincare Edit: Gabrielle Union Skincare Routine
The Skincare Edit: Gigi Hadid Skincare Routine
The Skincare Edit: Hailey Baldwin Skincare Routine
The Skincare Edit: Jennifer Lopez Skincare Routine
The Skincare Edit: Kate Bosworth Skincare Routine
The Skincare Edit: Kylie Jenner Skincare Routine
The Skincare Edit: Margot Robbie Skincare Routine
The Skincare Edit: Naomi Watts Skincare Routine
The Skincare Edit: Salma Hayek Skincare Routine
The Skincare Edit: Victoria Beckham Skincare Routine
The Skincare Edit: Zendaya Skincare Routine
Today.com: Halle Berry revealed her surprisingly simple 4-step skin care routine
Urban Matter: Here Are the Best Skincare Routines Your Favorite Celebrities Are Using
Vogue: Watch Pharrell Do His Morning Skin-Care Routine
Zendaya: MY SIMPLE NIGHTTIME SKINCARE ROUTINE