Beauty Standards Over Time For Women in America
A study from 2020 found that the "ideal" American woman's body would be 5'5", weighing 128 pounds, with a slim 26-inch waist. Bradley University who analyzed the research commented stating that to achieve this, a woman would need to put themselves through an 'extremely unhealthy' lifestyle. Needless to say, beauty standards can be extremely problematic. 
Women's beauty standards are enforced through advertising, social media, and societal structures. One study from 1998, and many others after that, found that media depictions of thin female models caused women to feel worse about their own bodies and have lower self-esteem. 
We wanted to find out what these standards have been over time and how this compares to the average woman in each decade. This project aims to highlight how women are often pressured to change and conform to society's often unrealistic beauty standards. The aim is not to show what beauty is, but to highlight how beauty ideals for women are ever-changing and are getting more difficult to achieve. Remember: every body is a beautiful body.
Women's Beauty Standards Over Time Visualized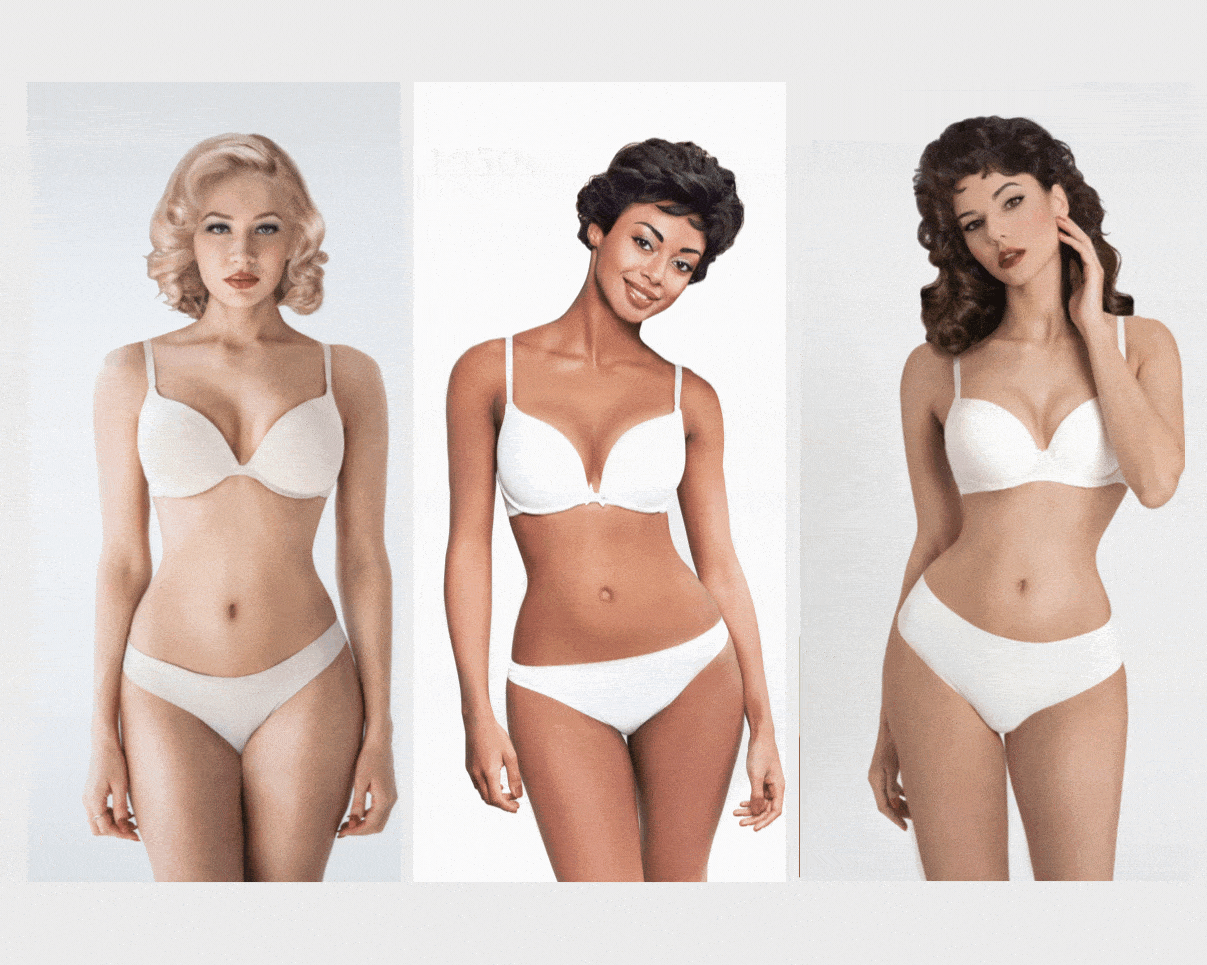 As you can see from our visualizations, the body and beauty expectations placed upon women changes drastically through time. It's extremely difficult, and possibly very damaging, to follow this and change your body each decade. Let's break down what each decade meant for female beauty standards in America.
1950s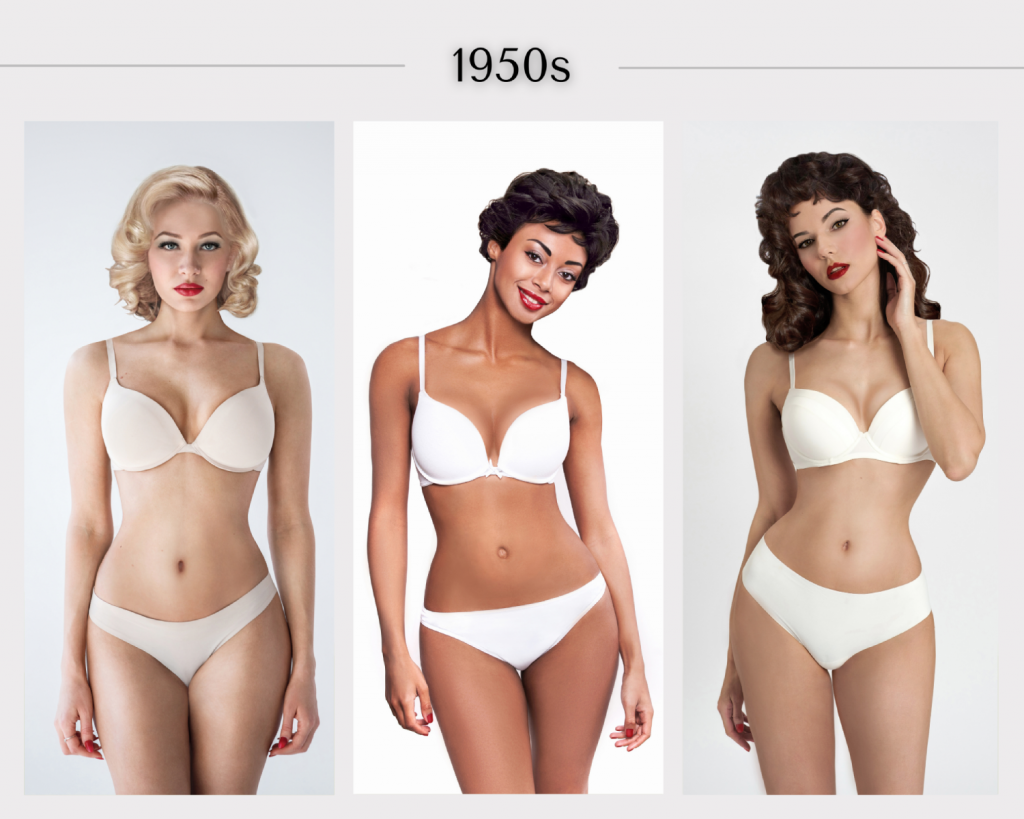 The 1950s was a decade of change for women, influenced by iconic stars such as Marilyn Monroe and Dorothy Dandridge who had a huge impact on body image and beauty. An hourglass figure was favored above all body types. A large bust, hips, and a small waist were accentuated with women wearing corsets and girdles. 
Shorter, relaxed hairstyles were now the fashion with African American women using wigs to protect their natural hair. Makeup was now readily available with more products being released by beauty brands.
In the 50s, beauty-standard-setting Monroe was taller than the average woman by 1-2 inches at 5'4" and weighed approximately 18 lb less at 118 lbs. A Latina actress and singer, Rita Moreno was even shorter at 5'2".
1960s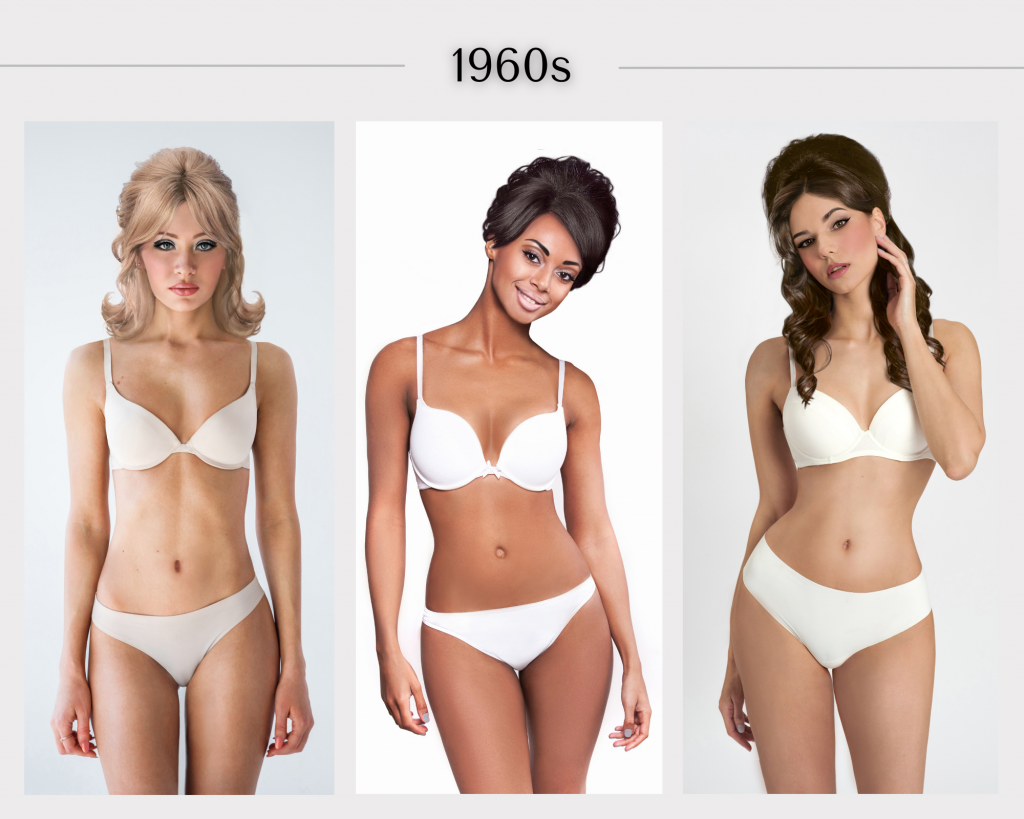 "Just as women started to make dramatic gains in the areas of education, employment and politics, the ideal female body began to look like a malnourished preadolescent girl, weak, emaciated and non-threatening." Bradley University, 2021
It's no secret that Twiggy dominated the 1960s. Her iconic photoshoot increased the popularity of fake eyelashes and women were now experimenting with cooler-toned eyeshadows such as blue and white. 
Towards the end of the decade, being 'slender' was now seen as more feminine and this was the fashion, coupled with the rise of tanning. Showing off your legs was now seen as acceptable with shorts skirts being at the forefront of style. 
While white women were looking up to the likes of Twiggy, black women had the singer, Eartha Kitt to aspire to, and Raquel Welch became an icon among Hispanic communities with her Bolivian background. 
In the 60s, the average American woman weighed around 140 lbs and stood at between 5'3" and 5'4". Icons at the time like Eartha Kitt stood at 5'1", while Shirley MacLaine was just under 5'6", with both reportedly weighing around 128 lbs.
1970s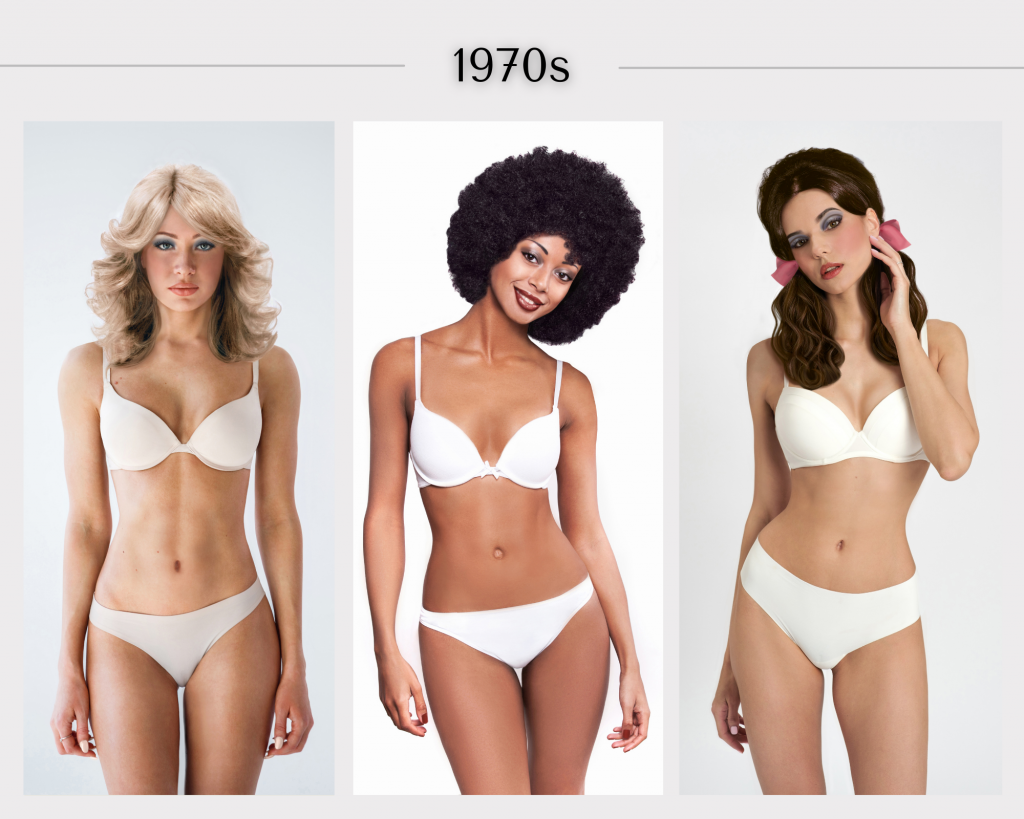 The pressure to maintain a slim figure in the 1970s still remained during this era which saw women wear figure-hugging outfits such as jumpsuits and of course not forgetting flares. African American women were now seen to be showing off their natural hair with the afro being extremely popular and an iconic image of the 'Black is Beautiful' movement. For white women, popular hairstyles included a softer feathered style, inspired by the likes of Farrah Fawcett. 
The 70s saw the continued rise of the Chicano/a Movement for the Hispanic community which was defined by a number of characteristics, but at its heart was a 'Pride in ethnic and racial descent' whereby 'women seized upon a basic acknowledgment of self-worth and dignity' (Gómez-Quiñones, 2014). It was an empowering time for Latina women and it impacted their style more than ever. 
In the 70s, Black icon, Rosalind Cash, stood taller than the average woman at close to 5'6" (compared to 5'4") and weighed 8lb less than the average woman who was around 144lbs.
When looking at other aspirational stars like Barbara Streisand, the average woman was around 29 lbs heavier.
1980s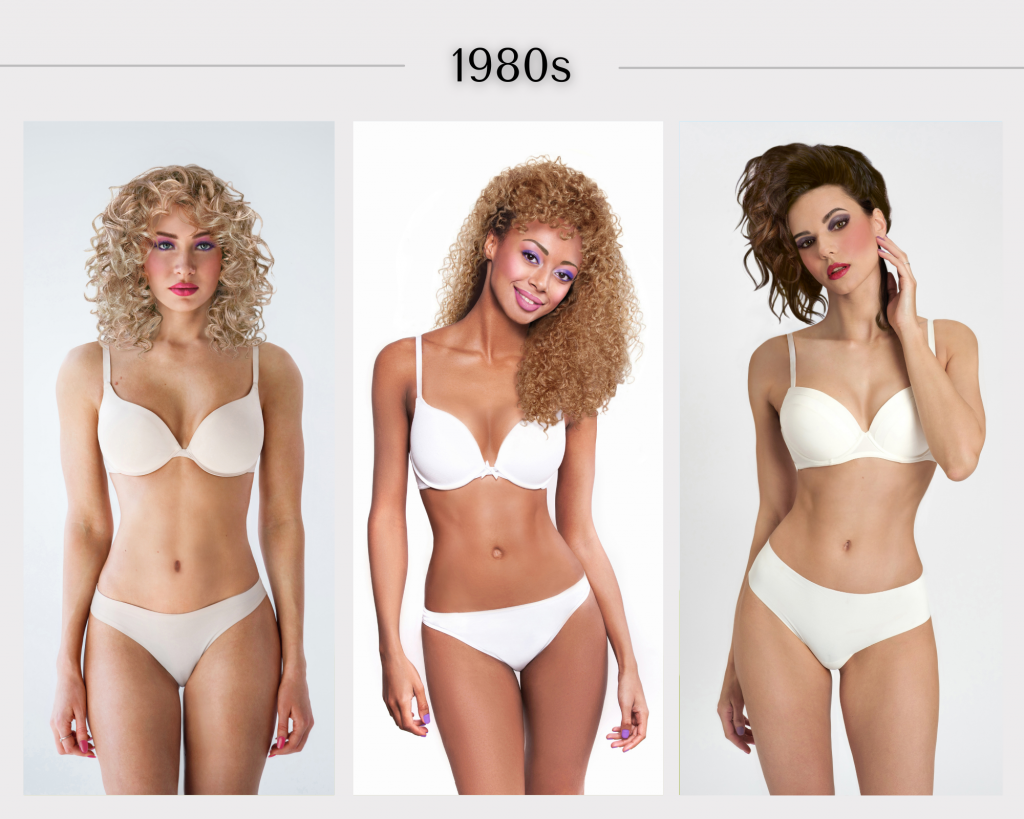 The 1980s saw aerobics rise in popularity meaning women still maintained a slimmer frame. Supermodels were starting to dominate the social scene so being tall and thin was seen as more feminine. Hairstyles changed after the 70s and were swapped for curlier bigger styles. Celebrities such as Whitney Houston and Gloria Estefan influenced many, with women choosing to chemically perm their hair if it wasn't already naturally curly.
Continuing the trend of American women having more body mass each decade, the 80s saw the average woman stand at 5'4" and weigh around 145 lbs. Famous singer, Tina Turner, reportedly weighed around 127 lbs, while someone like actress, Meryl Streep was taller between 5'6" and 5'7".
1990s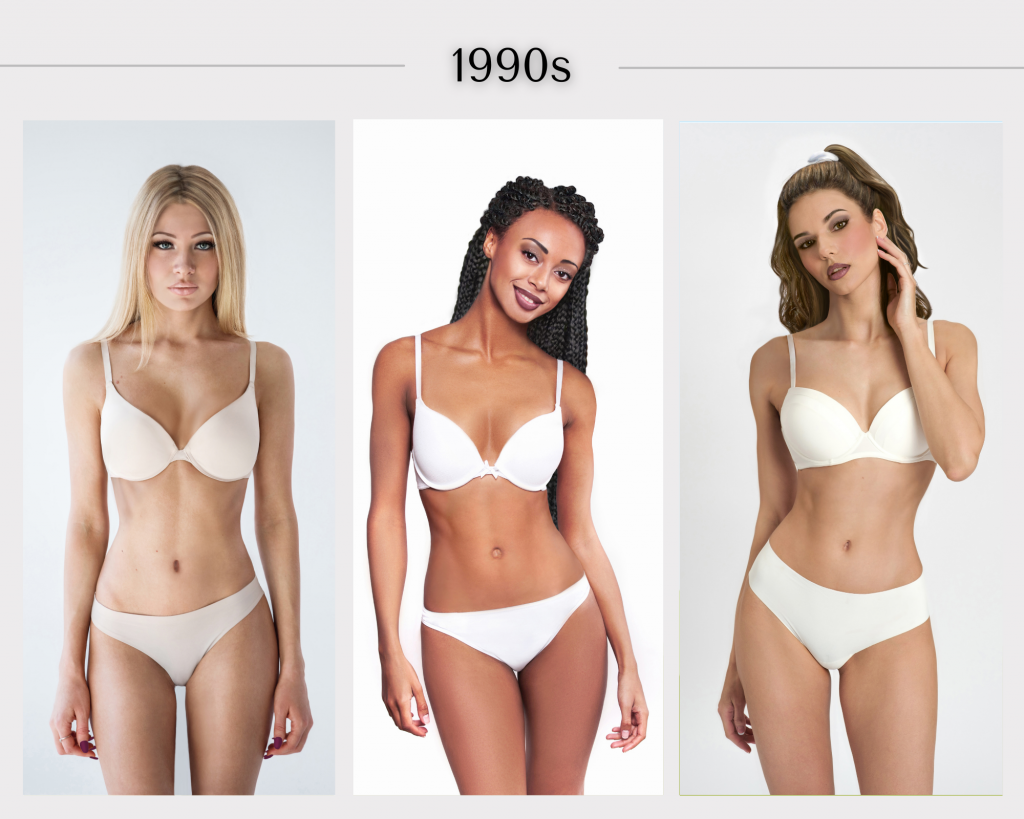 Supermodels continued to rule the 90s with icon Kate Moss influencing natural skin tones, blonde highlights and a very thin physique. Petite angular figures were made more feminine by mini skirts and satin slip dresses. 
Braids were the fashion amongst African American women along with accessories such as hair beads and scrunchies. Compared to previous decades, women were now choosing to tone down their eye makeup with pastel eye shadows and deeper red lipstick.
The 90s saw stars such as Jennifer Aniston and Halle Berry come to light, with the former being 41 lbs lighter than the average American woman at the time who weighed 154 lbs. Both of these popular celebrities were actually the same height as the average woman however at 5'4".
2000s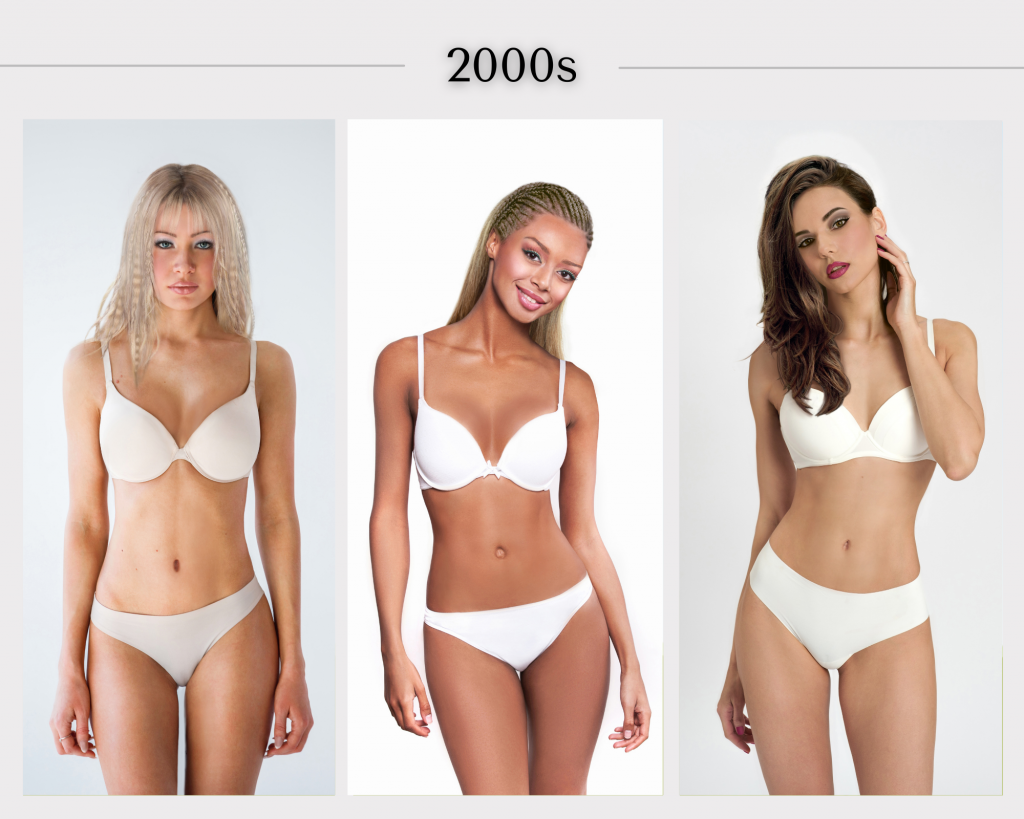 The 2000s saw icons such as Paris Hilton and Victoria's Secret models enter the spotlight.  Being tall and thin was heavily influenced by these celebrities with women now also opting for a heavy tan. Crimped hair was a key trend of this decade as seen on celebrities such as Beyoncé. In comparison to the previous decade, women were now choosing to heavily line their lips, wear bright blush and thin their eyebrows.
Large breasts were seen as a key beauty ideal among black, white, and Latina women, with the average cup size being 36D, the largest yet. This trend only continued into the 2010s. According to the American Society of Plastic Surgeons, breast augmentations (often referred to as 'boob jobs') saw a 48% increase from 2000 to 2018. 
The noughties gave rise to famous women such as Britney Spears, Janet Jackson, and Mariah Carey. Mariah was between 5'6" and 5'7", taller than the average American woman who was still 5'4". In terms of average weight, the 00s American woman was around 164 lbs, with Britney being 126 lbs and Jackson 2lbs more than that.
2010s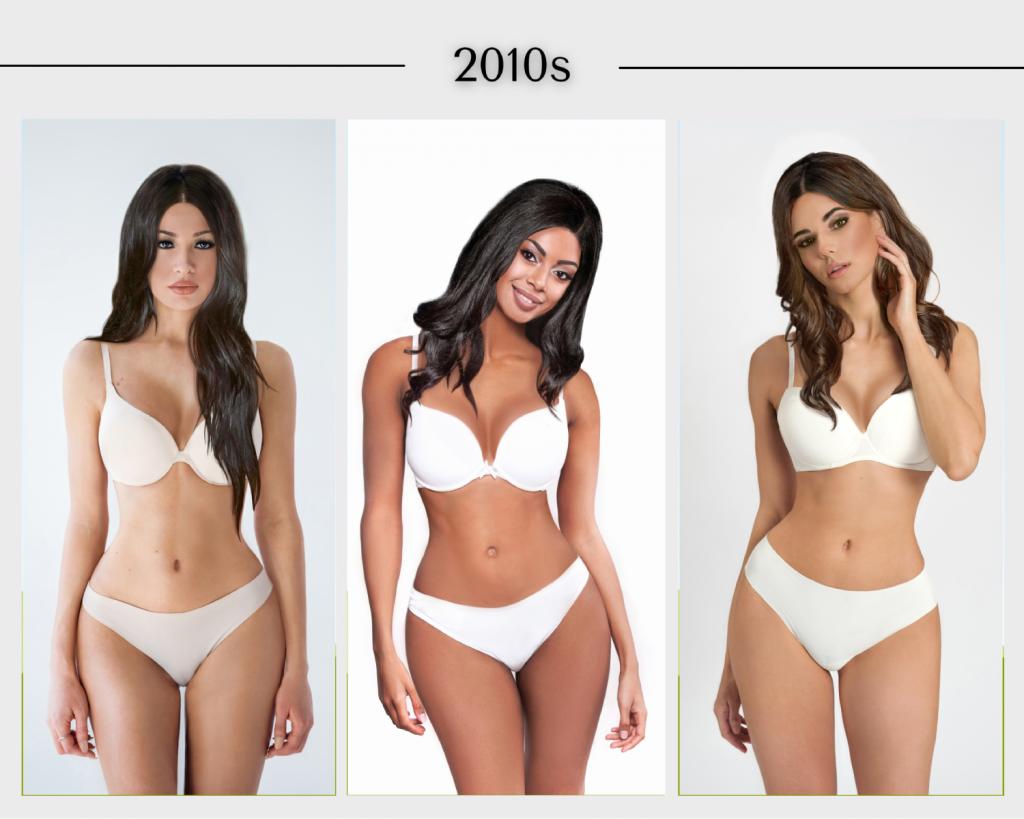 A rise in the use of social media means beauty trends had now become more easily accessible. In comparison to the previous decade a small waist with a large bust and bum is very popular, heavily influenced by the likes of the Kardashians and Rihanna. 
Different body shapes were celebrated by society more, such as plus-size women who have been featured on magazine covers and fashion campaigns. 'Contouring' has taken over the makeup industry – women choosing to contour their face often do so in order to highlight their features and make their face appear more defined. Hairstyles are now extremely varied but more popular styles worn would feature middle partings, soft waves or straightened hair.
More recently, Kim Kardashian reports to be around 5'2", and in 2018 weighed 116lb, around 54lb less than the average American woman (170lbs).
What impact do beauty standards have?
We've highlighted throughout that the average American woman is often not of the same measurements as some of the celebrities they are aspiring to be. 
These are of course just a few celebrities out of thousands throughout the years but it does highlight some of the key differences between media portrayals of beauty and what is actually a true representation of the population. One 2009 study by Swami, Taylor, and Carvalho even found that idolizing celebrities had a direct impact on whether younger women would undertake cosmetic surgery to change their body.
Dr. Elizabeth Lombardo, Ph.D, a licensed practicing psychologist spoke to us about this issue, saying that "In today's world, unrealistic beauty standards are a scourge."
Lombardo continues: "When women look around, they see expectations of what they should look like all around them. This can result in mental health and other problems. It can also lead to women attempting to transform themselves to conform to society's expectations. The impact of celebrity pictures on body image, particularly in women, has been well-documented in studies. Girls comparing themselves to photographs of celebrities on social media were linked to body image dissatisfaction and a desire to be skinny."
The bottom line is that the ideal beautiful body does not exist, and it would be impossible for any person to pursue every beauty standard as it changes throughout time. Every person should determine their own standard for beauty. 
Methodology
These feminine portraits are based on data from studies on beauty standards, advertisements from each decade, and respective fashion trends. 
Naturally, beauty is an individual perception, the aim of this project was to show the fleeting nature of what society deems as beautiful upon a woman's body: for women of color, beauty standards could mean oppressive constructs too. 
It should be noted that the majority of existing research on beauty standards over the last 80 years tends to focus primarily on standards for white women, therefore it is more challenging to investigate what body types would have been idolized and considered beautiful among BIPOC communities in America. 
White, Hispanic, and black women were chosen for this project as they are the three biggest racial groups according to the US Census Bureau (2019): 60.1% white, 18.5% Hispanic, 12.2% black. There is an incredible amount of room to analyze other BIPOC groups and male beauty standards, too, and these would benefit from their own individual studies.