Sun protection is perhaps the best thing you can do for your skin. The signs of premature aging, such as wrinkles, dark spots and sagging, are primarily the result of sun exposure, and protecting yourself from harmful rays can go such a long way. Why? UV rays affect skin's integrity by degrading collagen and elastin, and these two proteins are essential in keeping skin youthful and firm.
With a moisturizer that has SPF, you can fulfill your needs of hydration and protection in one fell swoop. And you don't have to sacrifice texture or scent – a moisturizer with SPF won't leave you with that chalky, pasty residue or any unpleasant scent – two things that often turn people off from using sunscreen regularly, much to their detriment.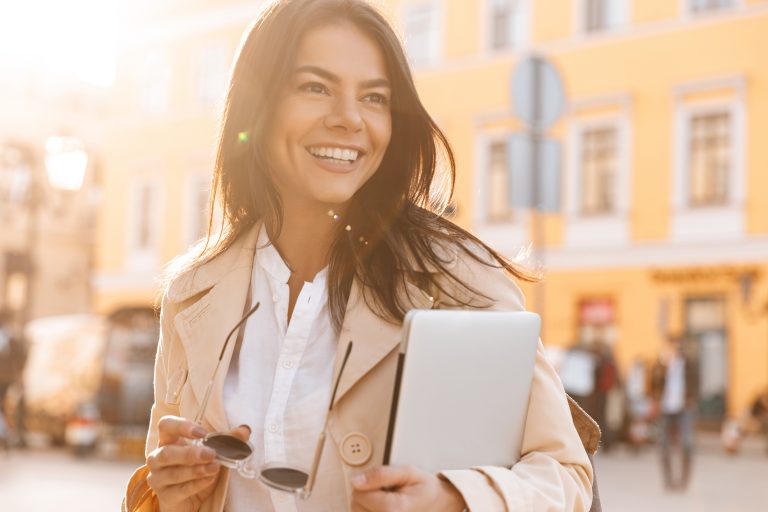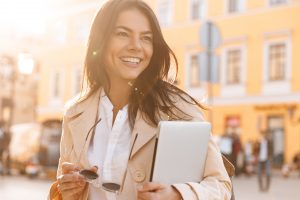 Common ingredients you'll see in these products include zinc oxide and titanium dioxide (mineral sunscreen ingredients) and avobenzone and octisalate (chemical sunscreen ingrediens). Hydrating ingredients common in these formulas are often hyaluronic acid and panthenol. Below you'll find some of our picks for the best moisturizers with SPF currently on the market.
Related: Best Face Moisturizers
The Best Moisturizers With SPF
Elizabeth Arden Prevage City Smart SPF 50
This is a mineral moisturizer with SPF (containing zinc oxide and titanium dioxide) that also protects against pollution to strengthen skin and make it even more prepared against pollutants like smoke. Antioxidants in this formula like ferulic acid, green tea and idebenone, which help neutralize free radicals, protect against collagen degradation to keep skin youthful and perky. This formula also has a universal tint to complement all skin types and help even out skin tone for a flawless finish.
Shiseido Ultimate Sun Protection Lotion
This is a great moisturizer with SPF that becomes even more effective when exposed to water, so if you happen to be engaging in water-based activities, you can rest assured this moisturizer will continue working. This is a non-sticky and non-greasy formula that includes hydrating ingredients like glycerin and botanical extracts like strawberry begonia and sophora angustifolia. Glycerin is an emollient that helps skin retain moisture while strawberry begonia and sophora angustifolia act as skin conditioning agents to provide hydration and softness. Sophora angustifolia has also been shown in studies to be effective against hyperpigmentation.
Differin Oil Control Moisturizer SPF 30
A great day cream with SPF for oily skin, Differin's Oil Control Moisturizer hydrates and protects while being lightweight and very gentle. It also won't clog pores and can be used with Different anti-acne products as well. A chemical sunscreen with protective ingredients of avobenzone, octisalate and octocrylene, this formula also contains hydrating ingredients of glycerin and panthenol (vitamin B5). Panthenol is well-researched and known for its ability to significantly reduce water loss to keep skin deeply hydrated.
NeoCutis Journee Bio-Restorative Day Cream
A combination of hyaluronic acid and powerful antioxidants make this face moisturizer with SPF 30 a great choice. Hyaluronic acid is a naturally-occurring substance that helps plump up wrinkles and fine lines to make them less noticeable to the eye. Antioxidants, including green tea extract and vitamins C and E (which work better together), help fight off free radicals to prevent collagen and elastin degradation. Collagen and elastin are two proteins that keep skin firm and bouncy. Vitamin C can also help reduce the appearance of sun spots that can make skin look dull and uneven.
La Roche-Posay Anthelios Melt-In Sunscreen Milk SPF 60
Featuring a lightweight, non-greasy texture, La Roche-Posay's Melt-In Sunscreen Milk is highly protective and highly hydrating. With an SPF of 60, it is sure to protect you adequately from UV rays, while a powerful antioxidant complex (that includes vitamin E) scavenges free radicals to ensure no deleterious effects from oxidative stress (an imbalance of antioxidants and free radicals). This is a fast-absorbing moisturizer that is ideal for sensitive skin and will leave skin looking and feeling dewy fresh.
Eve Lom Daily Protection Broad Spectrum SPF 50 Sunscreen
This one doesn't come cheap, but you may find it's worth the splurge. Quickly absorbing and lightweight, it won't leave behind a chalky residue. Key ingredients include niacinamide (vitamin B3), which improves elasticity, helping skin become less prone to wrinkling. Niaicnamide further improves the appearance of hyperpigmentation, fading sun spots or discoloration left from old acne scars. This can help with evening out skin tone for a more radiant complexion. The lactic acid in this formula also gently exfoliates to boost cell turnover and reveal newer, healthier skin cells.
Neutrogena Oil-Free Moisture With SPF35 Sunscreen
A drugstore brand, Neutrogena is often at the top of dermatologist's recommended products. This is a very affordable product that will nonetheless provide protection and hydration in equal measure (avobenzone, octisalate and glycerin are among the top active ingredients). For those with oily skin who are prone to breakouts, this is a godsend, as it provides moisture, protects from sun damage and reduces redness without clogging pores. This drugstore moisturizer with SPF also doesn't contain drying alcohol to further help reduce moisture loss.
Supergoop Everyday Sunscreen With Cellular Response Technology
Supergoop is known as a sunscreen brand, and this product is firstly a sunscreen, but one which boasts impressive hydrating benefits. It contains panthenol and allantoin, two known hydrating ingredients. Allantoin is also a very gentle, non-irritating moisturizer that soothes as it quenches skin thirst. It is great for sensitive skin because of these characteristics. Some botanical extracts, like orange peel oil and lemon peel oil, in this formula further help provide antioxidant protection. Citrus ingredients can also help with fading discoloration because they contain vitamin C.
Josie Maran Argan Daily Moisturizer SPF 47
If you're looking for an all-natural moisturizer with SPF, Josie Maran's formula is the one for you. This SPF moisturizer obviously relies on mineral sunscreens titanium dioxide and zinc oxide as opposed to chemical sunscreens. As the name suggests, this formula contains hydrating argan oil to provide moisture and skin conditioning benefits. Jojoba seed oil also helps to condition and smooth, reducing the appearance of wrinkles, while green tea extract provides antioxidant help to scavenge free radicals and reduce the damage caused by them. With regular use, skin is left feeling soft and looking luminous.
First Aid Beauty Ultra Repair Tinted Moisturizer SPF 30
If you'd like a tinted moisturizer with SPF, try this one by First Aid Beauty. Available in six shades, it helps cover up any imperfections while also offering continued protection against sun damage and providing hydration thanks to ingredients like hyaluronic acid. Other active ingredients include colloidal oatmeal to help soothe and calm dry skin, vitamin E to provide antioxidant protection against free radicals and micro-pearls with light-reflecting qualities that impart a beautiful luminosity to skin. This formula is also free of mineral oil, parabens, artificial colors and fragrance, formaldehydes, alcohol and sulfates.
EltaMD UV Clear Broad-Spectrum SPF 46
Largely considered among the best mineral moisturizers with SPF, the EltaMD UV Clear Broad-Spectrum lotion comes highly recommended by dermatologists. It's especially great for those suffering from acne, rosacea and hyperpigmentation. Another perk is that this formula is extremely lightweight, fast-absorbing and feels quite silky on skin. Active ingredients include hyaluronic acid, niacinamide and lactic acid. Hyaluronic acid and niacinamide provide the bulk of the hydration, while lactic acid is gently exfoliating to help refine texture. The lactic acid likely also aids in helping to combat acne.
SkinCeuticals Sheer Physical UV Defense Sunscreen SPF 50
This is an ultra-sheer mineral moisturizer with SPF. Though it contains mineral ingredients zinc oxide and titanium dioxide (which are usually responsible for leaving behind that unwanted white film), it is transparent and goes on silky smooth. Another key ingredient is artemia salina, which is a plankton extract that actually boosts skin's resistance to UV light and heat-induced stress. Other ingredients include magnesium sulfate (which acts as an inflammatory) and tocopherol (vitamin E) to provide antioxidant protection. This is also paraben-free and non-comedogenic (meaning it won't clog pores).
ColoreScience Sunforgettable Mineral Sunscreen Brush SPF
If you hate reapplying cream-based sunscreen every two hours, you can use a mineral sunscreen brush instead to dust on some SPF throughout the day. Though it's a powder, it still moisturizes thanks to hyaluronic acid powder that works by drawing moisture into the skin from the environment and from deeper in the dermis. This sunscreen also boasts antioxidant protection thanks to green tea extract, grape seed extract and oak wood extract. Moreover, you can enjoy blue light protection thanks to the iron oxides in this formula. Blue light is the light emitted by our phone screens and computers that also has deleterious effects on skin.
Avene SPF 50+ Mineral Light Hydrating Sunscreen Lotion
This moisturizer with SPF provides up to eight hours of hydration as zinc oxide and titanium dioxide provide sun protection. It is great for skin prone to irritation from chemical sunscreens, and has a lovely milky texture that applies easily and absorbs quickly. A key ingredient for moisturization is glycerin, which acts as a humectant to help skin retain moisture, and is often a top ingredient in many moisturizers. Vitamin E, as previously mentioned, acts as an antixodiant. Meanwhile, Avene thermal spring water helps to soothe, calm and soften.
References: Experimental Dermatology, "The Effects of Sophora angustifolia and Other Natural Plant Extracts on Melanogenesis and Melanin Transfer in Human Skin Cells"; Journal of Cosmetic Science, "Skin Moisturizing Effects of Panthenol Based Formulations"; American Society for Dermatologic Surgery, "Niacinamide: A B Vitamin that Improves Aging Facial Skin Appearance";