Many of us have unwanted dark spots on our faces, hands and chest. Chalk it up to the unfortunate side effects of aging and hormones as well as damage from the sun. If you have looked into how to get rid of your dark spots, an ingredient called hydroquinone has probably popped up. Although it is one of the most effective skin lightening ingredients on the market, it is not without its controversy.
What Causes Dark Spots?
Not all dark spots are created equally. While we have learned to embrace our freckles thanks to celebrities such as Meghan Markle, Lucy Liu and Emma Watson, dark spots caused from acne scars, aging and sun damage are another story – and over time those once cute freckles sometimes grow and merge with their neighbors, creating even larger brown spots. These unwanted visitors appear on our faces due to a variety of reasons, ranging from sun exposure to hormones and aging. Many women develop dark spots on their face during pregnancy, which is known as the mask pregnancy.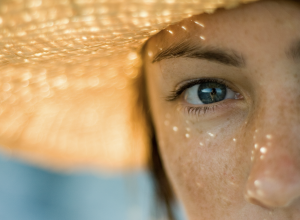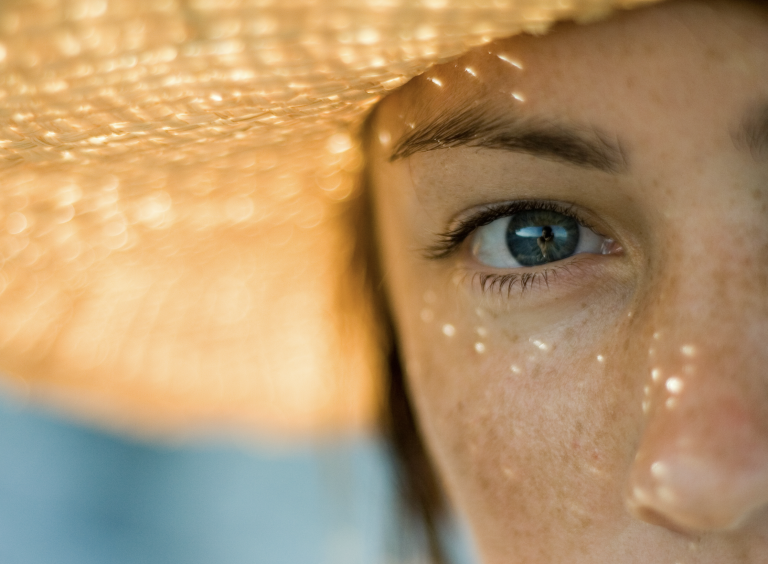 Also called hyper pigmentation, dark spots can pop up on your face, body or back of the hands. They're caused by an excess of melanin, which can be triggered from hormones, too much as sun as well as genetics. They're also an unwelcome part of the aging process. Dark spots can also appear when inflammation occurs, such as after popping a pimple, and skin cells produce extra pigment during the healing process. Anyone with fair skin is more likely to suffer from hyperpigmentation.
There are plenty of products on the market that help to fade dark spots and brighten skin, and these range from patches to creams and serums. Some of them contain hydroquinone, which is effective but also a potentially harmful ingredient that is banned in some countries.
What is Hydroquinone?
Hydroquinone is also known as benzene-1,4-diol or quino and it essentially bleaches the skin. It is highly effective, and works by blocking a melanin-producing enzyme called tyrosinase. When tyrosinase is blocked, less melanin is produced, and this creates a lighter appearance of the skin in the treated area. Hydroquinone works, and can be used to treat not only dark spots but also freckles and scars.
Pros of Hydroquinone
Nobody disputes that hydroquinone works to fade dark spots and discoloration. It's highly effective and also works faster than other products on the market. Most users can expect to see improvement within eight to 12 weeks of use. Another pro? It's also cost effective. Products containing hydroquinone cost far less than in-office procedures such as chemical peels, microdermabrasion and laser treatments. Many people use hydroquinone in conjunction with other skin brightening ingredients such as vitamin C and retinols for a multi-prong approach.
Where Can I Buy Hydroquinone?
Hydroquinone is available in over the counter products as well as by prescription. Most over the counter products contain up to 2% hydroquinone, such as Murad Rapid Age Spot and Pigment Lightening Serum. Other serums containing hydroquinone include PCA Skin Pigment gel, Vivier Advanced Skin Lightening Serum, and Genuine Black & White Bleaching Cream. Retail giant Amazon sells a wide variety of bleaching creams containing hydroquinone. By comparison, a prescription hydroquinone contains around 4% of the ingredient.
Why is Hydroquinone Controversial?
While nobody disputes that hydroquinone works, controversy swirls around its safety. It is banned in Europe, Australia and Japan due to concerns that it may be a carcinogen. It can also irritate the skin, and some studies indicate it may be linked to altered immune function. With long term use of a high concentration of hydroquinone, the product can cause ochronosis, or increased pigmentation and darkening of the skin. The discolored skin can be permanent in some cases, which is why anyone using a prescription strength product should be closely monitored by their doctor. Some dermatologists simply won't prescribe it as they feel the risks outweigh the benefits, and feel that other potentially safer products can achieve similar results.
In some users, the cream can cause excessively dry skin, as well as redness and a burning sensation. Since hydroquinone lightens pigment, there is also concern that it makes skin more prone to UV damage which will also continue the vicious cycle of dark spots. If you are using any type of lightening cream, always be extra vigilant about applying sunscreen – otherwise the dark spots will just reappear. This goes for all skin lightening products. The skin fading effects lasts as long as you use the product so exposure to the sun can trigger more pigment production and the return of the dark spot.
Anyone using hydroquinone should use extreme precision when applying it to avoid "halo spots." Hydroquinone targets dark spots but will lighten any skin it comes in contact with, so if you apply some beyond the perimeter of your dark spot, the surrounding skin may also become lighter, creating a halo effect.
Why Do Dermatologists Prescribe Hydroquinone?
Hydroquinone continues to be prescribed by some dermatologists because it works, and is often a last resort before turning to pricier in-office procedures such as lasers. Dermatologists in favor of hydroquinone believe that using a small amount for a short time period while under medical supervision is safe. Many doctors will prescribe it for up to 12 weeks and then have their patients pause it to give their skin a break from the chemical. A prescription strength hydroquinone cream may be useful in fading stubborn spots that haven't responded to other products.
Alternatives to Hydroquinone
If hydroquinone doesn't seem right for you, there are other options for lightening and brightening the skin. The first line of defense should be preventing the appearance of a dark spot by using a sunblock with a high SPF every single day. To make sure you don't forget your sunblock, chose a daily moisturizer with a high SPF.
To lighten existing dark spots, the best approach is a multi-prong one of prevention and treatment using multiple products. Blocking melanin production is one part of the process, but exfoliating is also important.
When skin is sloughed off, the pigmented skin appears to fade over time. Instead of a harsh, grainy exfoliator, switch to a fruit acid. They gently dissolve dead skin cells to reveal a brighter, clearer complexion with an improved texture. Use a product such as Formulyst Retexturing and Perfecting Serum to help skin look and feel clear and bright. The serum is packed with gentle but effective alpha hydroxy acid (AHA) and beta hydroxy acid (BHA) product which whisk away dead skin cells and leave behind fresher looking skin.
Look for natural lighteners such as kojic acid (a chemical produced from different types of fungi), licorice root, mulberry extract, and green tea. All of these ingredients work in a similar way to hydroquinone, by inhibiting the enzyme tyrosinase, which is necessary for the production of melanin within the skin. Without the enzyme, melanin cannot be produced. Another one to look for is ellagic acid, a compound that can be found in some vegetables, nuts and fruits. It is a natural antioxidant containing polyphenolic, which helps inhibits the formation of sun and age spots.
Arbutin is also a common alternative to hydroquinone, and can be made in a lab or derived from the bearberry plant. It is the star ingredient in Formulyst's Luminous Skin Serum, which tackles skin discoloration and hyperpigmentation. The serum is powered by Triple Brightening Technology, a powerful blend of naturally derived alpha arbutin, rumex extract (a plant that helps stop the production of melanin) and a biomimetic peptide. The serum leaves skin looking lighter, brighter and more luminous.
You can also spot treat troublesome areas with Formulyst Dark Spot Solutions. It's powered by HyWhite, which is derived from alpha linolenic acid, an omega-3 fatty acid found in plants. It works to minimize the appearance of dark spots while also hydrating the skin thanks to hyaluronic acid.
Vitamin C is also an important skin brightener, and can be found in products such as Formulyst Active Serum, which is loaded with good for you ingredients, such as nourishing vitamins B and E. Rounding out the all-star list are ferulic acid and niacinamide. The antioxidant ferulic acid fights free radical damage and helps stabilize vitamins C and E, boosting their potency.
Finally, consider adding a retinol, a vitamin A derivative, to help fade dark spots. Retinols are ideal for tackling skin discoloration as they encourage skin cell turnover, along with reducing fine lines. Get your dose of retinol in the evening with Formulyst's Anti-Aging Night Cream. The retinol helps tackle fine lines, crow's feet as well as fade dark spots. What makes this formula different is that it contains a high dose of retinol as well as ultra-soothing and hydrating safflower seed oil and jojoba, which lock moisture in and help minimize any potential irritation.