Whisking away dead skin cells is one of the most effective ways to achieve a flawless looking complexion, and exfoliation should be incorporated in every skincare routine. Dry, flaky skin cells can leave the face look dull and tired. By getting rid of old skin cells, new cell turnover is encouraged and you're left with fresher looking skin with a smoother texture. Exfoliating also boosts circulation to the face, which leaves you with a newfound glow and radiant looking skin. The benefits go beyond just looking better- it can also help unclog pores which can help keep acne under control.
Another benefit to buffing and polishing the skin? You've just created a fresh, smooth canvas that's primed for the next step in your skin care routine. Serums and moisturizers will readily sink into skin that's been scrubbed and smoothed, and makeup will glide on more easily and won't settle into fine lines and crevices.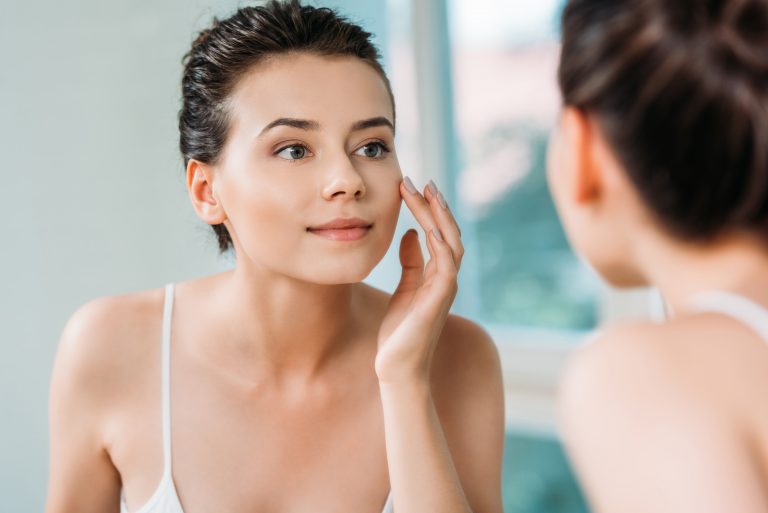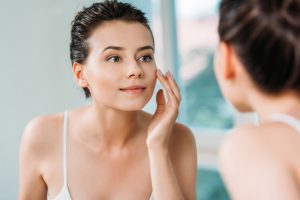 But not all exfoliation treatments are the same. Some people prefer a chunky scrub made from fruit kernels. These formulas tend to be thick and grainy. They work – but can often be too overly harsh to the skin. Save these kinds of scrubs for your feet or hands if you really love how they feel. A more gentle alternative to a physical exfoliant is a chemical one using salicylic and lactic acid, or fruit enzymes, to gently dissolve dry skin cells.
Another way to pack a major exfoliating punch is with microdermabrasion. For the uninitiated, microdermabrasion is like a combination sandblaster and vacuum cleaner for your skin. It's usually performed by an aesthetician or in a dermatologist's office. It works by spraying a fine layer of aluminum oxide crystals which remove a layer of skin, which is then then vacuumed away. The sucking mechanism pulls double duty by increasing blood flow to the area, leaving skin with a healthy glow. Microdermabrasion is effective at smoothing out acne scars and hyperpigmentation, and may also help promote collagen production.
Making an appointment for microdermabrasion can be pricey, especially if you commit to doing it once a month. One alternative is an at-home microdermabrasion kit. These handheld devices come with diamond tips and perform the same sandblasting and suctioning actions as their office counterparts. An at-home device won't be as strong as what you'd get in a spa but the savings are significant.
If you don't like the idea of buying your own microdermabrasion kit, consider a microdermabrasion paste. Many of these formulas are packed with crystals that annihilate old skin cells and leave you with a glowing, radiant look. They're also packed with soothing ingredients to calm skin after its been scrubbed as well as antioxidants. Think of it as an office visit in a jar.
Although exfoliating certainly feels satisfying, it's important not to overdo it. You don't want to rub your face raw. Depending on your skin type, most people should exfoliate two to three times a week at the most. Anyone with sensitive skin, or is using a retinol product, should take extra precaution not to over exfoliate as it could cause more harm than good.
Trophy Skin MicrodermMd
Just five minutes of using the MicrodermMd home kit can result in seriously improved skin. This kit is packed with multiple tools such as a diamond tip to gently buff away dead skin cells, and an extraction tip to deep clean pores. The infusion tip helps serums and creams penetrate deeper into the skin. The kit can be used in two modes—a manual and an auto setting where each section of the face has a pre-set suction level and timer, and users are guided by the kit's instructions on the screen. There are multiple versions of the Microderm MD for sale, including a kit with a sensitive skin mode, a small hand held device and a mini one for buffing on the go.
PMD Personal Microderm
The PMD Personal Microderm is about the same size as a tv remote control and comes with a set of exfoliating discs which vary in intensity. What makes it different is that the device combines the power of the spinning disc with a vacuum suction. There are four different versions to choose from, including the Classic, Plus, Pro and Man. Each one comes with a variety of face and body caps; the Plus comes with a two speed setting. Start off with the gentle training disk and work in long continuous sweeps across the face without stopping in one area.
NuBrilliance Microdermabrasion
This at-home mircrodermabrasion machine comes with diamond tips that exfoliate dead skin cells while also suctioning them away. The kit comes with five different levels of suction power, depending on your skincare needs and sensitivity, as well as three different types of grit tips. Reach for the fine grit tips for the face and neck areas while the precision tip is best for small areas such as around the nostrils. The coarse diamond tip should be used on large areas such as the body. Tips should be replaced after 10-20 uses.
Neutrogena Microdermabrasion System
Neutrogena's microdermabrasion system is housed in a small, portable, battery-operated tool that comes with 12 single use puffs. Each puff is packed with ultra-fine crystals and a gentle purifier to deliver just the right amount of exfoliation. The heads also vibrate when in use, and massaging the skin also encourages cell turnover for fresher looking skin. All it takes is one to two minutes to exfoliate the face, and Neutrogena's system is one of the most affordable on the market.
Microderm Glo
This sleek looking device gently but effectively removes the outer layer of the skin while also suctioning it- the suctioning helps increases blood flow to the epidermis to rebuild collagen and elastin. All you need is four minutes of use with the Microderm Glo to get smoother and softer skin. The device also helps to reduce pore size, help tackle sun spots and acne scars. The kit comes with diamond tips which should last six to nine months as well as filter replacements. A mini version is also available.
Silk'n Revit Prestige
Silk'n Revit's slim wand has a small LCD screen to help guide you through the microdermabrasion treatment. Dead skin cells will be whisked away during the process, while the skin is also being vacuumed. The suctioning helps improve blood circulation, leaving skin with a healthy looking glow. The device comes with three different diamond tips, for sensitive, regular and body treatment areas, and offers two different suction settings.
Rodan + Fields Enhancements Micro-dermabrasion Paste
If you don't like the idea of using a handheld device, try a microdermabrasion paste instead. This oil-free exfoliator leaves skin feeling silky soft and helps to encourage cell turnover. The paste is packed with sugar and salt to whisk away dead skin cells, while the antioxidants vitamins C and E help protect the skin and leave it looking brighter. Using the pasts helps reduce pore size and clean blackheads. The paste is thick so a little goes a long way. It can be used on the face as well as the body, and some fans use it in lieu of a face wash.
Kiehl's Epidermal Retexturizing Micro-dermabrasion
For the smoothest looking skin, aim to use this paste three times a week. Kiehl's Epidermal Retexturizing Micro-dermabrasion is formulated with micronized shells (diatomatious earth), which is a naturally occurring crystalline silica. This is what will slough off old skin cells while shea butter leaves skin hydrated and nourished. A dose of willow herb will soothe skin and it has antimicrobial properties. Using this paste leaves skin with a smoother texture, and leaving it perfectly prepped for the next step in your skincare routine.
Dr. Brandt Microdermabrasion
This cult favorite exfoliator is packed with aluminum oxide crystals to refresh the skin, as well as skin softening lactic acid. After whisking away old, dull skin, botanicals such as chamomile help to soothe skin and leave it looking fresh, bright and polished. The formula also contains jojoba seed oil and aloe vera to hydrate and nourish the skin. The paste helps tackle fine lines, acne marks, and skin discolorations. It should be used once or twice a week, and can also be used on the body.
Exuviance Triple Microdermabrasion Face Polish
Dull, dry skin is no match from this triple threat face polish. Exuviance Triple Microdermabrasion Face Polish is formulated with professional grade crystals to give the skin a good scrub to get rid of dead skin cells. Glycolic acid and papaya enzyme work together to gently dissolve skin cells, revealing a brighter, silky complexion.
Formulyst Retexturising and Perfecting Serum
If you don't like the thought of a handheld device or a physical scrub – they can be overly harsh and irritating to the skin, and it's easy to overdo it, try this serum from Formulyst. It's powered by gentle but effective alpha hydroxy acid (AHA) and beta hydroxy acid (BHA) product which work to dissolve dead skin cells, leaving behind fresher, smoother looking skin.