Sometimes it feels like there's no end to the amount of skin issues. Melasma is a type of discoloration that is yet another problem. Mostly affecting women, melasma appears as dark blotches on different areas of the face including the forehead, upper lip and cheeks. Melasma can be caused by sun exposure and be triggered by certain hormones during pregnancy. It is sometimes referred to as "the mask of pregnancy." Melasma can also sometimes be resistant to treatment.
But that doesn't mean there aren't plenty of options and best products out there that can either reduce melasma or fade it away completely, depending on its severity. You can also try to prevent melasma by always wearing sunscreen, rain or shine.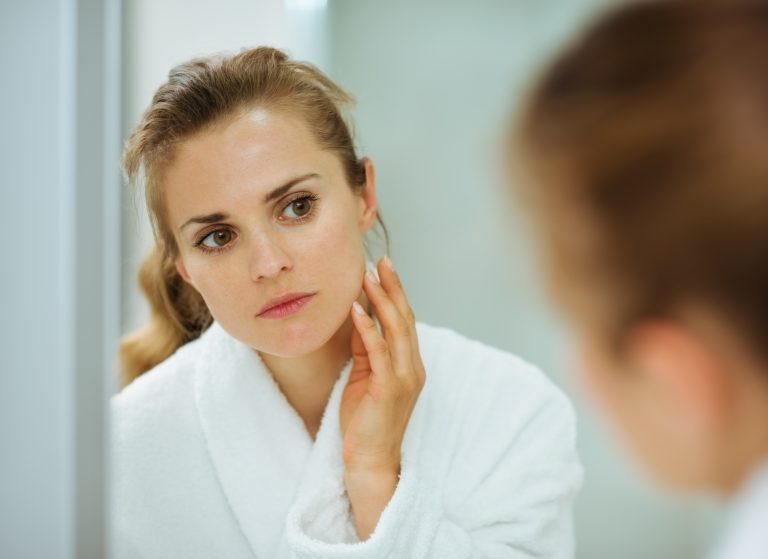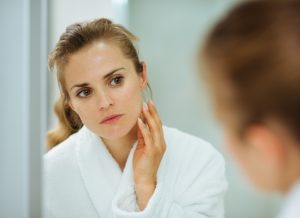 Some of the most common ingredients used to fight melasma include hydroquinone, vitamin C, kojic acid and niacinamide. These ingredients mainly work by inhibiting tyrosinase activity. Tyrosinase is an enzyme that triggers and controls the production of melanin. Melanin is pigment in the skin that darkens when exposed to sunlight (it's what causes you to tan). It is essentially a line of defense against sun damage. In some cases, chemical exfoliants like alpha hydroxy acids may also be present in skin lightening products as they encourage exfoliation. By removing surface dead skin cells, exfoliation can promote the emergence of newer skin cells and help fade dark spots.
In this list, you'll find 10 potent melasma treatments that can effectively combat discoloration and hyperpigmentation. We've carefully curated this list to give you your best fighting chance against this common skin condition.
SkinCeuticals Discoloration Defense
SkinCeuticals Discoloration Defense Serum helps combat dark spots caused by melasma with a variety of ingredients, including 3% tranexamic acid, 1% kojic acid, 5% niacinamide and 5% HEPES. Tranexamic acid is a synthetically derived ingredient that targets stubborn brown patches characteristic of melasma. Kojic acid is a type of fungi that helps brighten and lighten dark spots. Niacinamide (vitamin B3) has been shown in various studies to help reduce discoloration as well as redness and yellowing of the skin. It's a great ingredient for evening out skin tone overall. HEPES is a synthetically-derived acid that helps unglue dead skin cells from each other to exfoliate and reduce discoloration.
Obagi Nu-Derm FX System
The Obagi system of products relies on arbutin to help lighten and brighten skin plagued by melasma. The system consists of a cleanser and toner followed by skin-brightening creams and lotions that are formulated with alpha hydroxy acids and arbutin. The alpha hydroxy acids helps with exfoliation, removing surface dead skin cells to reveal brighter, more radiant skin underneath. Arbutin works by inhibiting tyrosinase, an enzyme that aids in the creation of melanin. This helps prevent and treat discoloration.
NeoStrata Enligthen Pigment Controller
This product features a combo of skin-lightening ingredients including NeoGlucosamine, vitamin C and an antioxidant found in turmeric. NeoGlucosamine is a patented ingredient that not only helps with discoloration but also helps minimize wrinkles and fine lines. Vitamin C is one of the most potent skin-lighteners available. It works by inhibiting the formation of tyrosinase, thus keeping melanin from forming. Curcumin, the active ingredient in turmeric, works similarly to vitamin C in inhibiting melanin formation. Thus, you can see how this NeoStrata formula can be quite effective at treating melasma.
Vivant Skin Care Bleaching Cream Level 1
This bleaching cream features the very potent hydroquinone as one of its main ingredients. Hydroquinone is one of the best-known skin lighteners available. It works by interfering with tyrosinase and melanin production. Other active ingredients include kojic acid and alpha hydroxy acids. Kojic acid also prevents the formation of tyrosinase, while the acids helps with exfoliating skin to bring newer, brighter skin to the surface.
Lancer Corrective Lightening Treatment
Lancer's Corrective Lightening Treatment contains 2% hydroquinone (a very powerful skin lightener), the highest percentage allowed in an over-the-counter treatment. Other ingredients that help with skin lightening include niacinamide, pentapeptide-21 and licorice extract. In addition to fighting melasma, this product can be helpful in combating wrinkles and fine lines thanks to hydrolyzed hyaluronic acid. Hyaluronic acid is a naturally occurring substance in the skin. When applied topically it helps to hydrate and plump up wrinkles to make them less noticeable.
Clinique Even Better Clinical Dark Spot Corrector
Clinique's Even Better Clinical Dark Spot Corrector features ascorbyl glucoside (vitamin C) and turmeric extract to help combat melasma and dark spots like acne scars. Ascorbyl glucoside is water-soluble and highly stable (vitamin C is often unstable and thus difficult to use effectively). Vitamin C is also an antioxidant and works to scavenge free radicals, which can damage skin cells and accelerate aging. It is recommended this product be used twice a day, morning and night, after cleansing and before moisturizing.
R+F Reverse Skin Lightening Treatment
This treatment system from Rodan and Fields involves four steps. It begins with a deep exfoliating wash featuring alpha hydroxy acids to help exfoliate and remove dead skin cells. The cleanser is followed by a toner that contains 2% hydroquinone, kojic acid and salicylic acid — all of which work together to lighten and exfoliate. The skin lightening treatment that follows the toner also features 2% hydroquinone to gradually and effectively fade away melasma. Finally, broad spectrum SPF is the final step to protect against sun damage that will further exacerbate melasma and bring about more dark spots.
Lytera 2.0 Pigment Correcting Serum
This is another very potent skin lightening serum that can show marked improvement in dark spots. In clinical studies, 95% of patients said that Lytera 2.0 lightened "darker blotches" on their skin. This formulation contains tranexamic acid, phenylethyl resorcinol (supports melanin balance to reduce hyperpigmentation), niacinamide and phytic acid (promotes even tone throughout). Moreover, a marine extract blend helps protect and support the skin barrier while also preventing further hyperpigmentation.
Formulyst Dark Spot Solutions
Formulyst's Dark Spot Solutions serum only has five ingredients. The active ones are linolenic acid and hyaluronic acid. Linolenic acid is the one that directly fights hyperpigmentation caused by melasma. It works by inhibiting melanin production. Hyaluronic acid is a hydrating ingredient that will give a satisfying burst of moisture to help prevent and treat signs of aging.
Formulyst Luminous Skin Serum
This particular serum from Formulyst is highly concentrated and features three powerhouse ingredients — alpha arbutin, rumex extract and a biomimetic peptide. In studies, rumex extract has been shown to be a safe and effective treatment for melasma. Nonapeptide-1 is a skin lightening peptide that prevents tyrosinase activity in the skin. This formula also contains sodium hyaluronate (the salt of hyaluronic acid) to provide hydration and moisture.
References: Indian Dermatology Online Journal, "Vitamin C in Dermatology"; The British Journal of Dermatology, "The effect of niacinamide on reducing cutaneous pigmentation and suppression of melanosome transfer"; Indian Journal of Dermatology, "A Comparative Study of the Efficacy of 4% Hydroquinone vs 0.75% Kojic Acid Cream in the Treatment of Facial Melasma"; International Journal of Dermatology, "A randomized, double-blind, placebo-controlled clinical trial on the efficacy and safety of 3% Rumex occidentalis cream versus 4% hydroquinone cream in the treatment of melasma among Filipinos";