What Is
Homosalate
?
Homosalate is an ingredient used in the formulation of sunscreen products. It is also used in some eyebrow pencils, skincare, and lipsticks.
Homosalate is used mainly as a sunscreen ingredient, protecting the skin against UV rays.  As you probably know by now, sun damage from UV rays contributes to the risk of skin cancers such as melanoma, as well as contributing to premature aging.
Another way in which homosalate is used is to protect ingredients in other formulations from degrading or absorbing UV rays. It does this by converting UV rays into less damaging infrared heat. 
In terms of chemistry, homosalate is formed by reacting salicylic acid and another compound 3,3,5-trimethylcyclohexanol. Understandably the second ingredient may sound scary however, it is actually used as a food additive to improve the minty taste of products.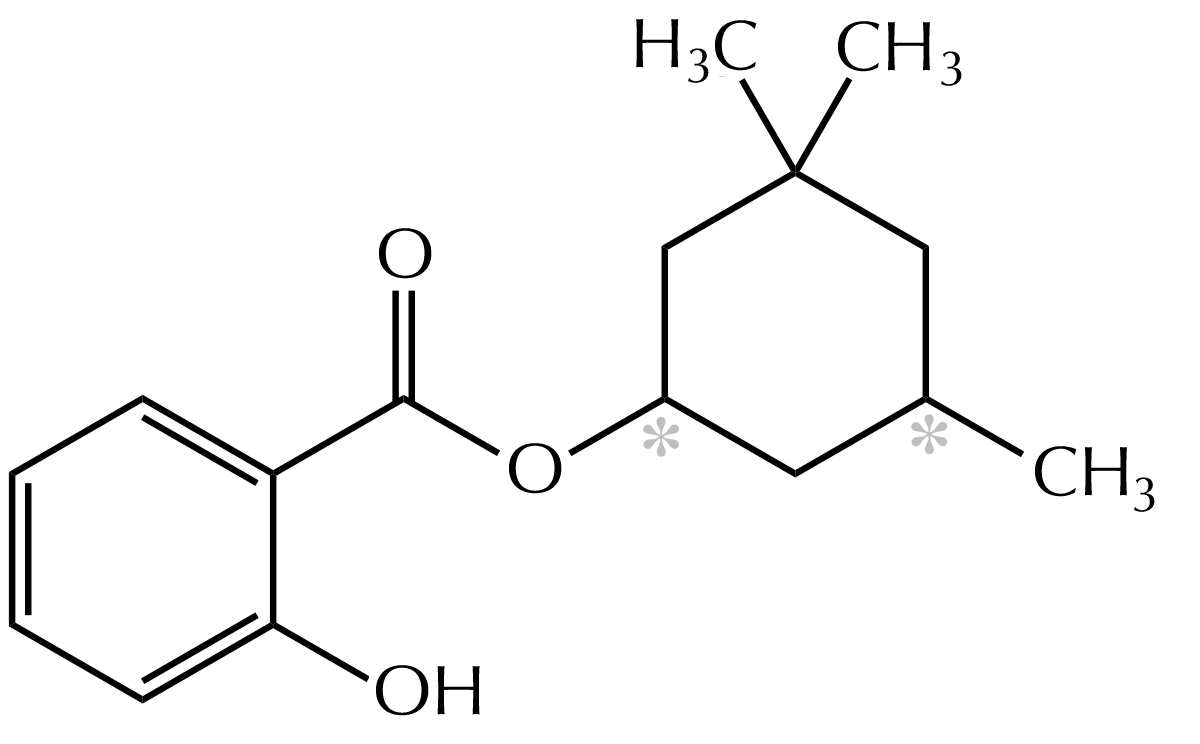 Homosalate
the good: Protects the skin against UV damage, reducing the risk of sun-related skin cancers. It also may help to reduce the likelihood of premature aging.
the not so good: There is some misunderstanding around the safety of this ingredient. Despite the online blogs reporting otherwise, homosalate is considered to be safe in the approved concentrations. The EU limits the concentration of homosalate to 10% in products.
Who is it for? All skin types except those that have an identified allergy to it.
Synergetic ingredients: Works well with most ingredients.
Keep an eye on: Keep an eye out for the variety of products you can find homosalate in.
What Are The Benefits of
Homosalate
?
The main benefit of homosalate is that it is able to protect the skin from the harmful effects of the sun. Sunscreens generally reduce the risk of skin cancers such as melanoma. As well as this important benefit sunscreens can also reduce sun sensitivity that is often experienced by those on medications that increase your sensitivity to the sun such as tetracyclines, sulfa drug, and isotretinoin. 
The other main benefit to sunscreens is that they also protect the skin from sunburn and premature aging. Sun damage is one of the major contributing factors to premature aging, leading to more visible wrinkles, and fine lines. 
Sunscreens work in either of two ways, the first is physical sunscreens like zinc and titanium dioxide, which reflect the sun's rays preventing it from penetrating into the deeper layers of the skin where damage can be caused. The issue with physical sunscreens is that they need to be applied in a thick layer that often leaves a white layer of product on the skin in order for the sunscreen to reflect the UV rays properly. 
The other is a chemical sunscreen like homosalate which absorbs UV rays and transfers them into infrared heat. Keep in mind that the heat that is produced from using chemical sunscreens is very minimal and unlikely to cause any irritation or damage by itself. 
As always, make sure to regularly apply sunscreen and protect your skin from sun exposure by wearing long sleeve shirts, hats and avoiding extended periods of time in the sun. 
How Much Sunscreen Should I Use?
Generally speaking you should use about 1 ounce or 30 grams of sunscreen for the body. With sunscreens, more lotion is better to ensure you are able to coat the skin adequately. Always apply the sunscreen 30 minutes before sun exposure and reapply after swimming, sweating, or after 2 hours has passed since your last application.
Is
Homosalate
Safe?
The US Food and Drug Administration has reviewed the safety of homosalate and approved its use in the concentrations and indications that it is currently used in. The FDA limits the concentration of homosalate in products to 15%. 
The Cosmetic Ingredient Review Expert Panel, a group responsible for evaluating the safety and efficacy of skincare and cosmetic ingredients has deferred the review of homosalate as the FDA has already conducted a thorough review.
References:
Ruszkiewicz JA, Pinkas A, Ferrer B, Peres TV, Tsatsakis A, Aschner M. Neurotoxic effect of active ingredients in sunscreen products, a contemporary review. Toxicol Rep. 2017;4:245-259. Published 2017 May 27.
Paul SP. Ensuring the Safety of Sunscreens, and Their Efficacy in Preventing Skin Cancers: Challenges and Controversies for Clinicians, Formulators, and Regulators. Front Med (Lausanne). 2019;6:195. Published 2019 Sep 4.