If we all had two options, aging naturally or aging slowly, when it comes to the exterior—the skin—most of us would choose the latter. That's why there are hundreds of skincare products meant to slow down wrinkles and sagging, including moisturizers for aging skin over 50 years old.
Related: Best Face Moisturizers
But what's the best wrinkle cream on the market? Start with ingredients, including vitamin C, hyaluronic acid, peptides and niacinamide, which have been well researched and offer results. These ingredients exist in many of the moisturizers on this list, which is why they were selected. Take a look and you'll find something right for you.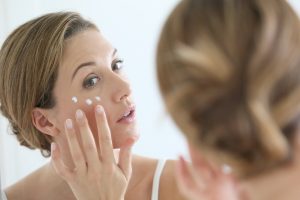 Olay Regenerist Micro-Sculpting Cream
The Olay Regenerist Micro-Sculpting Cream combines a variety of anti-aging ingredients for best results. Amino-peptides, hyaluronic acid and niacinamide (vitamin B3) work together to hydrate and firm while also reducing the appearance of fine lines and wrinkles. Amino-peptides are the building blocks of proteins in our skin and body. Collagen, the most abundant protein in the body, is what keeps skin firm and taut. Amino-peptides in creams can help maintain this firmness. Hyaluronic acid also occurs naturally in the body, helping keep skin plump and hydrated. Niacinamide, meanwhile, has a variety of benefits, include the ability to treat acne, reduce moisture loss, improve on discoloration and smooth out wrinkles.
Kiehl's Ultra Facial Cream
Kiehl's Ultra Facial Cream is a popular favorite. Providing 24-hour hydration, it is formulated with glacial glycoprotein and olive-derived squalane. Glacial glycoprotein comes from glaciers. This remarkable ingredient is celebrated for its ability to thrive in extreme environments, with the idea being that it is resilient enough to be good for human skin. In this formula, it hydrates and prevents moisture loss to keep skin supple. Olive-derived squalane is a moisturizing face oil that also prevents moisture loss and protects the skin barrier. The skin barrier, when compromise, can result in redness, flakiness and dryness, making skin look exhausted and less radiant. Protecting skin barrier is very important in maintaining a smooth and luminous complexion.
Amorepacific Future Response Age Defense Crème
This moisturizer is specifically formulated to protect against pollution and free radical damage. Free radicals can degrade collagen and elastin, the two proteins in skin that keep it looking youthful. Protecting with the antioxidants in this formula, which include green tea and pine mushroom, can go a long way in preventing free radical damage. Green tea contains a powerful antioxidant known as EGCG, which prevents cell damage. Pine mushroom contains flavonoids that can neutralize free radicals. This formula also contains a fusion of twelve Asian botanicals that help reduce traditional signs of aging like fine lines.
La Mer Crème de la Mer
A moisturizer that needs no introduction, La Mer's famous Crème de la Mer owes its protective powers to the Miracle Broth, which is created by fermenting sea kelp. A giant kelp called Macrofys pyrifera is the main ingredient. It is an anti-inflammatory that protects against puffiness, irritation and redness. It is also thought to assist in wound healing. This cream offers great hydration for dry skin, which shows age more readily than oily or combination skin.
Dr. Barbara Sturm Face Cream
This cream is rich in highly moisturizing ingredients like panthenol, squalane and shea butter. Well hydrated skin is less likely to show wrinkles and fine lines, and these ingredients can help restore moisture loss that occurs as we age. However, the main ingredient in this moisturizer is purslane, an herbaceous plant that reportedly has regenerative properties. According to Dr. Sturm herself, "Purslane protects the DNA of the cells from age-related dysfunction, thereby maintaining the cells' repair function and strengthening them with the natural antioxidant system contained in these compounds." As previously mentioned, antioxidants help protect against free radical cell damage. Thus, this cream with its antioxidant strength can be very beneficial in protecting aging skin.
SK-II R.N.A. POWER Radical New Age Cream
Quite a few ingredients make up the formulation of this cream, including the RNArchitect Complex and trademarked Pitera. RNArchitect Complex contains hydrolyzed soy and yeast extracts that help maintain skin firmness. Pitera is derived from yeast fermentation and contains over 50 micro-nutrients such as amino acids, vitamins and minerals that nourish and condition, making skin soft and supple. Niacinamide and chlorella extract are two other ingredients that reduce moisture loss and brighten skin, and hydrate and condition to help prevent wrinkles, respectively.
Estee Lauder Revitalizing Supreme Global Anti-Aging Cream
This luxurious cream's secret ingredient is moringa extract. The moringa plant contains nourishing nutrients like vitamin C, which helps with evening out skin tone (fading discoloration and hyperpigmentation) and promoting collagen synthesis. Collagen synthesis helps with preventing and treating wrinkle formation. Estee Lauder's own laboratory testing found that 96% of women in the study felt they had firmer skin after just four weeks of using this moisturizer. Hydrating ingredients in this formula include sodium hyaluronate (the salt of hyaluronic acid, which can retain 1,000 times its weight in water) and squalane.
Chanel Le Lift Crème
Another luxurious product, this moisturizer feels lightweight and absorbs easily into skin. Chanel's Le Lift contains botanical alfalfa concentrate. This ingredient is considered as efficient as retinol, according to Chanel's own testing. Retinol, or vitamin A, is known for its ability to refine the appearance of wrinkles and even help with acne, particularly stubborn acne. It is great at cell turnover, helping skin to shed old cells and make new cells come to the surface, effectively making skin appear much more vibrant. Regular use of this cream can help skin feel firmer and make wrinkles appear less noticeable by softening them.
Shiseido Benefiance WrinkleResist24 Night Cream
This rich moisturizer quenches skin's thirst and provides deep hydration. It relies on WrinkleResist24 technology, which includes chlorella extract, mukurossi extract and gambir extract. These are all excellent skin conditioning agents that soften and smooth, helping wrinkles look less noticeable over time. This cream also contains hyaluronic acid to help plump up wrinkles and moisturize skin, while hydroxyproline (an amino acid) also provides conditioning to make aging skin look and feel more supple. This combination of ingredients packs quite a wallop against aging skin for people in their 30s (when prevention is key) and beyond (when restoring youthfulness becomes a primary skin concern).
Algenist Regenerative Anti-Aging Moisturizer
Algenist's Regenerative Anti-Aging Moisturizer relies on algae to provide a boost of hydration and anti-aging prowess. The main ingredient in this cream is alguronic acid, which is a compound that protects microalgae in the oceans. The thought process behind this is that alguronic acid will also protect human skin cells against aging. In vitro testing of this ingredient also showed that it is effective in elastin synthesis. Elastin is a protein that keeps skin firm and elastic, helping it to bounce back. Like collagen, it is essential in keeping skin looking youthful. This moisturizer also contains vitamin C and apple stem cell extract. Apple stem cell extract has shown promise in helping to reduce wrinkle depth and length. All together, these ingredients can go a long way in revitalizing aging skin.
Advanced Dermatology Complete Age Defense Day Cream
Noted ingredients like hyaluronic acid, squalane and argan oil are included in Advanced Dermatology's Complete Age Defense Day Cream anti-aging moisturizer. While squalane and argan oil condition to keep skin hydrated and smooth, hyaluronic acid draws moisture in from the environment and from deeper in the skin to help plump up fine lines and wrinkles, effectively making them much less discernible to the eye. Other skin conditioners that help reduce the appearance of wrinkles include jojoba oil and apricot kernel oil. Both of these are great at deeply hydrating skin to alleviate the dryness that often exacerbates fine lines.
Formulyst Anti-Aging Night Cream
Formulyst's Anti-Aging Night Cream contains retinol as one of its main ingredients. Retinol is a powerful ingredient recommended by dermatologists, available in both prescription and non-prescription forms. Retinol helps with cell turnover, refining skin to make it look much smoother. Fine lines can be effectively reduced in length and depth, and even deeper wrinkles can be softened to make their appearance less harsh. Retinol is also known for its ability to fight acne thanks to its efficacy at promoting cell turnover. This formula also contains sodium hyaluronate to decrease wrinkle depth and jojoba and safflower seed oil to act as skin conditioners that provide deep hydration, keeping skin soft, strong and protected.
References: Journal of Cosmetic Dermatology, "Nicotinic Acid/Niacinamide and the Skin"; The Cut, "10 Conspiracy Theories About the World's Most Infamous Skin Cream"; Popsugar, "Celebrities Swear By This Skincare, and It Contains a Garden Weed"; Nutrients, "The Roles of Vitamin C in Skin Health"; Clinical Interventions in Aging, "Retinoids in the Treatment of Skin Aging: An Overview of Clinical Efficacy and Safety"; New York Times, "Trolling The Oceans To Combat Aging"; Future Science OA, "Plant Stem Cells in Cosmetics: Current Trends and Future Directions";