What Is Dipotassium Glycyrrhizate?
Dipotassium glycyrrhizate is an ingredient derived from licorice root extract that is used in skincare and cosmetic formulations. It is primarily used to condition the skin, help soothe irritated or inflamed skin and to improve the texture and feel of the product. 
Dipotassium glycyrrhizate is the dipotassium salt of glycyrrhizic acid, also known as glycyrrhizin, a key component in licorice root extract. Licorice is the root of the Glycyrrhiza glabra plant, native to southern Europe and parts of Asia, such as India. The plant produces long flowers that are purple to pale whitish blue. Glycyrrhizin is the central sweet-tasting part of the Glycyrrhiza glabra plant, which can be extracted and used in candies or as a sweetener. Licorice extract is 30 to 50 times sweeter than sugar.
Licorice root extract has also been used in traditional Chinese medicine for thousands of years. It is used in traditional Chinese medicine for its soothing effects and its expectorant properties in removing phlegm and mucus from the respiratory tract. Many of the health benefits provided by licorice come from glycyrrhizin, which could be why dipotassium glycyrrhizate is now used in skincare products as a soothing ingredient.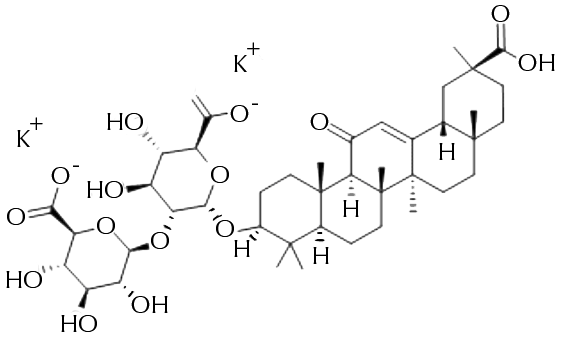 Dipotassium Glycyrrhizate
the good: Dipotassium glycyrrhizate helps to condition the skin, soothes irritated skin, and improves the texture of formulations. 
the not so good: Dipotassium glycyrrhizate is not absorbed well into the skin, so it isn't considered to cause allergy or sensitivity. 
Who is it for? All skin types except those that have an identified allergy to it. 
Synergetic ingredients: Works well with most ingredients 
Keep an eye on: Keep an eye out for other uses. 
Why Is Dipotassium Glycyrrhizate Used?
In cosmetics and skincare products, dipotassium glycyrrhizate functions as a skin-conditioning ingredient with skin soothing properties. It is also used as an emulsifier and gel-forming agent to improve the texture and feel.
Conditioning
Dipotassium glycyrrhizate is a skin-conditioning ingredient that can improve the appearance of dry or damaged skin by reducing flaking and restoring suppleness.
Soothing
Dipotassium glycyrrhizate has a soothing effect on the skin and is thought to help support the calming of inflammation in the skin. Clinical studies have determined that dipotassium glycyrrhizate is an effective treatment for atopic dermatitis or eczema because of its ability to reduce redness and irritation.
Hydration
Dipotassium glycyrrhizate has also been linked with the preservation of hyaluronic acid content in the skin. Hyaluronic acid is a key molecule involved in maintaining skin hydration with the ability to hold up to 1,000 times its weight in water. By preserving hyaluronic acid content in the skin, dipotassium glycyrrhizate helps to maintain hydrated, youthful skin. While this potential benefit of dipotassium glycyrrhizate is not well explored, some research suggests this may be an added benefit. 
Texture
Lastly, dipotassium glycyrrhizate functions as an emulsifier and gel-forming ingredient in cosmetics and skincare products. Emulsifiers are necessary for products that contain both water and oil-based ingredients. Mixing water and oil can be difficult as they tend to separate and settle. An emulsifier can be added to the formulation to help the two types of ingredients remain mixed. Emulsifiers improve the consistency of a product, which enables an even distribution of skincare benefits.
Is Dipotassium Glycyrrhizate Safe?
The safety of dipotassium glycyrrhizate has been assessed by the Cosmetic Ingredient Review Expert Panel. The Expert Panel noted that this ingredient is poorly absorbed through the skin, meaning that it is unlikely to cause irritation, sensitivity, or systemic issues. Dipotassium glycyrrhizate is non-irritating, non-sensitizing, and non-phototoxic. After evaluating the scientific data, the Expert Panel concluded that dipotassium glycyrrhizate was safe for use in cosmetic and personal care products.
References:
Cosmetic Ingredient Review, 2007. 'Final Report on the Safety Assessment of Glycyrrhetinic Acid, Potassium Glycyrrhetinate, Disodium Succinoyl Glycyrrhetinate, Glyceryl Glycyrrhetinate, Glycyrrhetinyl Stearate, Stearyl Glycyrrhetinate, Glycyrrhizic Acid, Ammonium Glycyrrhizate, Dipotassium Glycyrrhizate, Disodium Glycyrrhizate, Trisodium Glycyrrhizate, Methyl Glycyrrhizate, and Potassium Glycyrrhizinate,' International Journal of Toxicology, vol. 26, pp.76-112.