What Are Palmitoyl Oligopeptides?
Many skincare blogs and reference websites provide confusing information about this group of skincare ingredients. Palmitoyl oligopeptides are the name of both the group of ingredients and the name of one specific ingredient. Palmitoyl oligopeptides are named after the first ingredient that was discovered. The subsequent ingredients with similar chemical structures were identified and given different names to characterize their structure and difference in function. However, the first discovered palmitoyl oligopeptide kept its name and became the name for this group of ingredients.  
Palmitoyl oligopeptides are peptide or small proteins, characterized by a generic structure of a string of amino acids. Generally, palmitoyl oligopeptides have similar uses in skincare, and cosmetic formulations are often used as an anti-aging ingredient. They are thought to be beneficial in anti-aging formulations due to their potential to help stimulate collagen production and promote healthy cell functioning. The three most commonly used palmitoyl oligopeptides in skincare formulations are palmitoyl tripeptide-5, palmitoyl tetrapeptide-7, and palmitoyl oligopeptide. They are all synthetically made.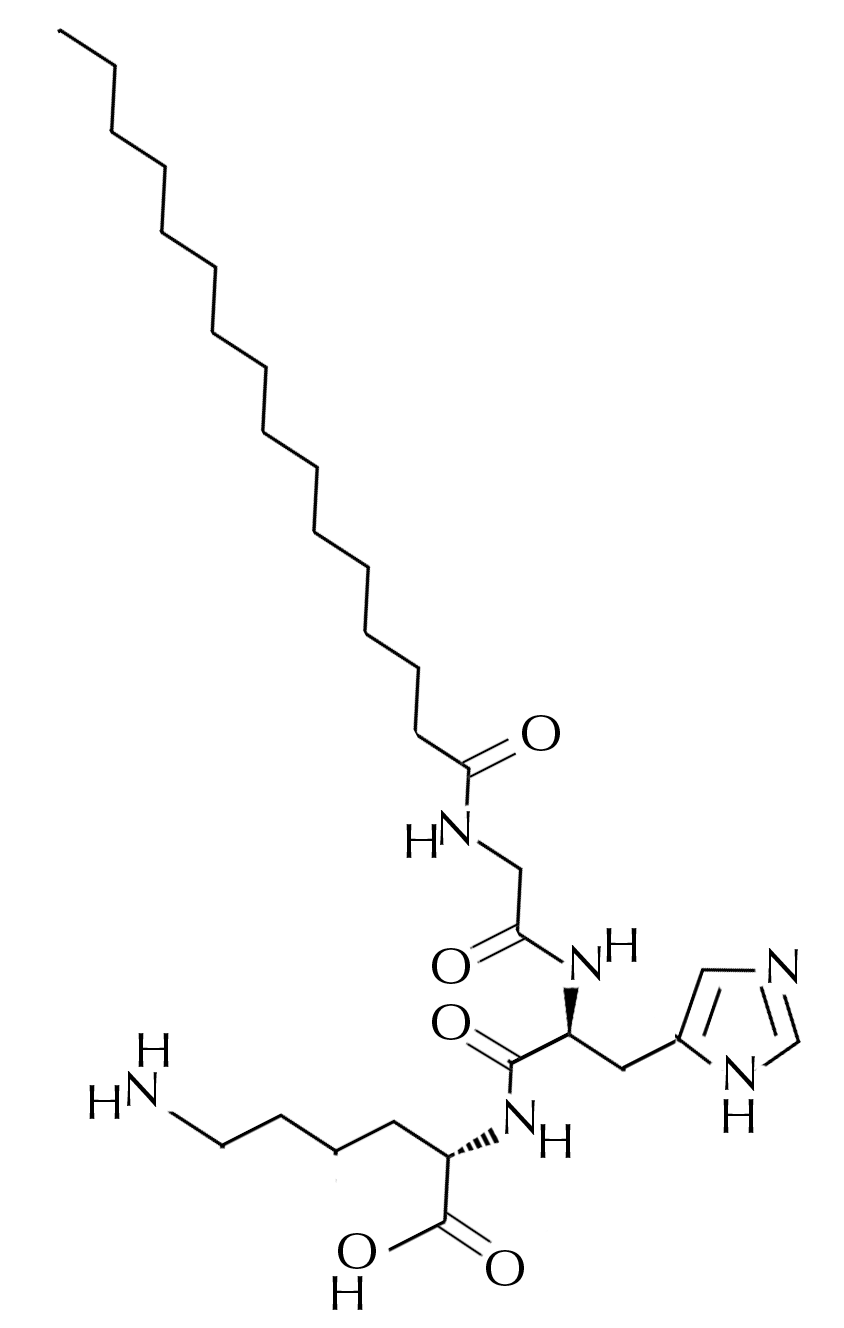 Palmitoyl Oligopeptide
the good:May help to improve the appearance of the skin by supporting collagen production and improve general skin cell health.
the not so good:It is a relatively new ingredient that has not been as well researched as other ingredients such as ascorbic acid or hyaluronic acid.
Who is it for?All skin types except those that have an identified allergy to it.
Synergetic ingredients:Works well with most ingredients
Keep an eye on:Palmitoyl hexapeptide-12 or Pal-GHK
What Is Palmitoyl Oligopeptide and How Does It Work?
As a skincare ingredient, rather than the group of skincare ingredients, palmitoyl oligopeptide is used for its anti-aging benefits. This peptide is also known as palmitoyl hexapeptide-12 or Pal-GHK, so keep an eye out for these other names when researching your skincare products. 
Palmitoyl oligopeptide is one of many peptides that have recently been discovered that are used due to the positive effect on skin health. Peptides are chemicals that exist naturally, but many cosmetic companies are now creating them synthetically, in the lab, to achieve greater control over how they affect the skin.
Most peptides are made of chains of amino acids, which are directly involved in the creation of proteins in the body. Palmitoyl oligopeptide is a relatively new addition to the list of peptides that are used in skincare. Studies into its function suggest that the chains of amino acids communicate with the skin's collagen production systems and boost its production, which is a significant factor in achieving smooth, wrinkle-free skin. 
It is also thought that palmitoyl oligopeptide may interact with hyaluronic acid and elastin production systems. The combined effect of these characteristics is increased water content, improved appearance of fine lines and wrinkles, and a thickening of the skin. Palmitoyl oligopeptide is most often found in anti-aging serums, moisturizers, and in some cosmetic formulations.
In a study reviewed by the Cosmetic Ingredient Review Expert Panel, the results indicated that there was a statistically significant reduction in deep wrinkles and improved skin texture after 56 days of use at 3%. This study also found improved elasticity in the skin. 
Palmitoyl oligopeptide is being studied for its positive effects on the skin, especially for those who are looking for a reduction in the visible signs of aging. It is considered to have a similar use to retinol with less irritation and sensitivity issues. While Palmitoyl oligopeptide is still being studied, early tests suggest that this peptide may be an effective anti-aging ingredient. 
Is Palmitoyl Oligopeptide Safe?
The Cosmetic Ingredient Review Expert Panel, a group that reviews the safety of skincare and cosmetic ingredients, has reviewed the available data on palmitoyl oligopeptides and has determined they are safe for use. There are no reported issues in terms of sensitivity, toxicity, or hormone disruption. However, palmitoyl oligopeptides are a relatively new ingredient. While there is a respectable amount of research on its effects, further information will be reviewed by the Cosmetic Ingredient Review Expert Panel. As they mentioned in their report, given the similarity in structure to other peptides in the body, they have the potential to interact with different pathways in the body.  
References:
El Hadmed, H & Castillo, R, 2016. 'Cosmeceuticals: peptides, proteins, and growth factors', Journal of Cosmetic Dermatology, vol. 15, is. 4, pp 514-519. Schagen, S, 2017. 'Topical Peptide Treatments with Effective Anti-Aging Results', Cosmetics, vol. 4, is. 2. Apone, F, Barbulova, A & Colucci, M, 2019. 'Plant and Micoralgae Derived Peptides Are Advantageously Employed as Bioactive Compounds in Cosmetics', Frontiers in Plant Science, vol. 10. Johnson, w et al. 2018. 'Safety Assessment of Tripeptide-1, Hexapeptide-12, Their Metal Salts and Fatty Acyl Derivatives, and Palmitoyl Tetrapeptide-7 as Used in Cosmetics', International Journal of Toxicology. Trookman, N, Rizer, R, Ford, R, Ho, E & Gotz, V, 2009. 'Immediate and Long-term Clinical Benefits of a Topical Treatment for Facial Lines and Wrinkles', Journal of Clinical and Aesthetic Dermatology', vol. 2, is. 3, pp. 38-43.