An apple a day may keep the doctor away, and the same idea applies to Vitamin C. As an adult you already know that vitamin C is good for your body. Found in some vegetables as well as citrus fruits such as grapefruits and oranges, many people swear by it during cold and flu season. Vitamin C is critical for the proper development and function of the body, and helps to maintain the immune system. It also is a powerful antioxidant and helps keep skin and muscles healthy.
While vitamin C is good for your body, it also has plenty of benefits when applied topically to the face. Here's a closer look at what vitamin C is, and what it can do for your skin.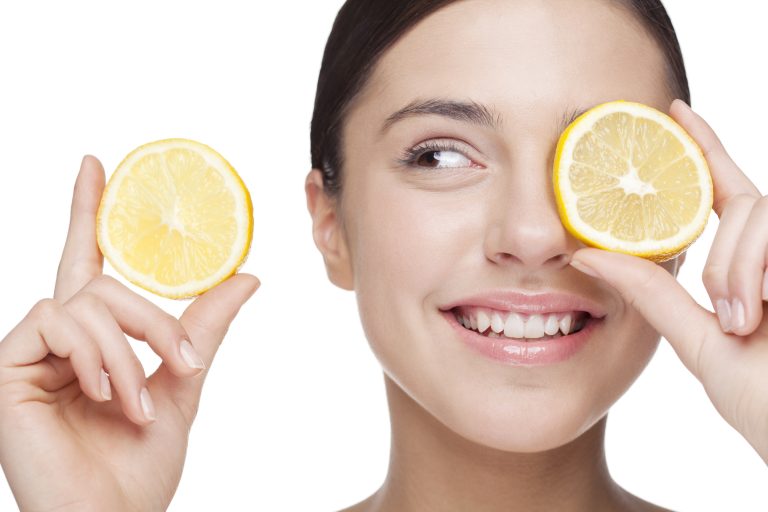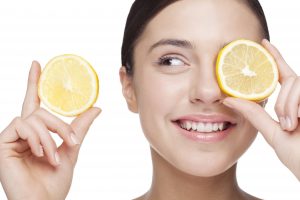 What is Vitamin C?
Vitamin C is also known as ascorbic acid. It is found in vegetables and citrus fruits such as limes, oranges and grapefruits, red and green peppers, tomatoes, broccoli, and certain greens such as kale and snow peas. Vitamin C used in beauty products will be listed as ascorbic acid, L-ascorbic acid, sodium ascorbyl phosphatem ascorbyl palmitate and retinyl ascorbate. L-ascorbic acid is the type of vitamin C most commonly used in beauty products, and has the most research behind it.
What type of beauty products contain Vitamin C?
Vitamin C is found in a wide variety of beauty products. The most common is a serum, but it is also available in a powder from. Vitamin C can also be found in certain moisturizers, toners, face mists, oils, masks and cleansers. Many eye creams are also spiked with vitamin C to help prevent fine lines and protect against the sun, while also targeting dark circles. A vitamin C infused face mist can offer a quick pick me up during the day to boost the complexion. A few spritzes is all you need for a little extra hydration and glow.
Mists and powders aside, a serum is the most widely used way to get a dose of vitamin C, as serums tend to be lightweight and can be easily layered under products. The advantage of a serum over a moisturizer is that serums are absorbed quickly and can penetrate the skin deeper than a cream. A few drops is all you need; just tap the product gently onto the face after cleansing and before applying moisturizer. Most serums are formulated to leave the skin feeling smooth and velvety post-application, so it will feel good after cleansing.
What are the benefits?
Vitamin C offers a wide range of benefits to the skin. It's often called a "hero" or "superpower" ingredient because of all that it can do. Many skincare experts would argue that if you had to pare down a beauty routine to the bare essentials, it would include a retinol as well as a vitamin C.
Here's why.
Vitamin C improves everything from skin texture to acne, and targets inflammation as well as hyper pigmentation. The topical application of vitamin C can work to smooth and firm skin, as it helps to promote collagen production, which is the critical for giving skin firmness and strength. This miracle worker can also help fend off the signs of aging by fighting free radicals as well as reducing the appearance of fine lines and wrinkles.
It's also an important part of a healthy and safe skin routine, as it provides enhanced protection against UV exposure – but remember that it shouldn't take the place of sunscreen. Think of it as an enhancement. A dose of vitamin C can help skin look brighter and tighter, and help achieve that healthy, radiant glow. Hydration is also boosted thanks to vitamin C, which helps to enhance the protective barrier function of the skin. This means skin retains moisture for longer.
There's more. Vitamin C can help repair the skin, and can also work wonders to fade dark marks, sun spots and smooth over acne scars. Vitamin C basically acts as a gentle, natural bleaching agent which can help fade hyperpigmentation as well as dark under-eye circles.
How should you use vitamin C?
The way you get your vitamin C (from a powder, cream or serum) will affect how and when you should use it. It's a good idea to incorporate vitamin C in your daily beauty routine. Since vitamin C can help protect skin from UV damage and environmental stressors, it makes sense to use it in the morning, so you're protected all day. However, some vitamin C infused products are meant to be used specifically at night. Read the label carefully. If you're using a product containing retinol, it can be a good idea to stick with vitamin C in the morning and apply the retinol at night to avoid irritating the skin.
Some people like to use a vitamin C serum twice a day, in the morning and at night. But if you're also using a product containing glycolic or salicylic acid, it's a good idea to wait before applying the vitamin C to avoid stinging and redness.
Who should be using it?
Vitamin C is suitable for all skin types and ages, whether you have younger or more mature skin, or skin is dry, oily or sensitive. This hero ingredient helps to build collagen in the skin which is beneficial to all ages either as prevention or treatment. No matter what age you are, it's critical to protect yourself from the sun. Vitamin c helps to protect again damaging UV rays, so it's beneficial for all ages.
What percentage of vitamin C is ideal?
Every product contains a different amount of vitamin C. Read the label carefully to see how much pure vitamin C- usually listed as L-Ascorbic Acid- the product contains. Vitamin C should be high up on the list of ingredients. But bigger isn't always better, depending on your skin. Some products with high concentrations can irritate the skin so start with a lower dose and build up to a higher formula. A tiny amount of vitamin C can still make improvements and may be ideal for someone with sensitive skin.
Most products tend to contain between 15-20% vitamin C. The formulas with the highest concentration of vitamin C top out around 30% pure vitamin C. These super charged serums are formulated to be absorbed slowly over time. Some research suggests the optimal amount of vitamin C is about 20%.
What should I look for on the package?
Read the ingredient list carefully to make sure it contains L-ascorbic acid, sodium ascorbyl phosphatem ascorbyl palmitate or retinyl ascorbate.
It's important to remember that vitamin C isn't very stable. This means it breaks down when exposed to light, heat and air. While it won't harm your skin, it means the product can become less effective over time. If your serum is turning brown or darkening, it's time to throw it away. Look for formulas in an air-tight package, a pump or a dark bottle. Or choose a powdered vitamin C, which is always fresh and doesn't become activated until it is mixed with water.
Many serums blend vitamin C with other antioxidants and nourishing ingredients to maximize its benefits. The formula that you choose depends on your skin type and concern, such as hydration or anti-aging. If you have dry skin, look for vitamin C products that also contain moisture-boosting ingredients such as hyaluronic acid or glycerin.
For an anti-aging supercharged cocktail, look for vitamin E, as well as extracts of superfoods. Some formulas contain everything from extracts of kale, spinach and sprouts to rose oil and kakadu plums, which are thought to have more than 55 times the amount of vitamin C as a Florida orange.
Also look for formulas with ferulic acid, which extends the life and effectiveness of vitamin C. It also helps to prevent against sun damage, which niacinamide has anti-inflammatory properties. The addition of copper peptide may help to improve skin elasticity and firmness. Some serums have time release delivery systems, which means the formula is released slowly throughout the day to ensure you're protected all day from free radical damage. No matter which formula or delivery system you use, remember that consistency is key.
Further reading: Best vitamin c serums