Up until recently, the majority of skin care brands have marketed their products to primarily appeal to women, leaving men to use whatever their partner picked out or to simply use drugstore products. Fortunately, more and more brands are realizing the unique skin care needs of men, and have created products to meet these needs. One of those brands is Lumin. 
Lumin Skin Care for men offers an extensive collection of products that can be used by all men — regardless of race, skin type, or age. In this review, we are going to discuss the Lumin Skin Care products through a scientific lens, meaning we'll evaluate the key ingredients and the research that supports (or doesn't support) their use in skincare. We'll also share some Lumin Skin Care reviews so that you can get an idea of what customers really think of these products. 
What are the Best Skin Care Products of 2023?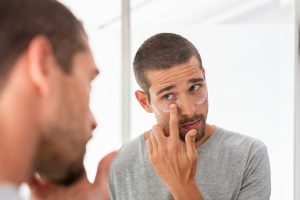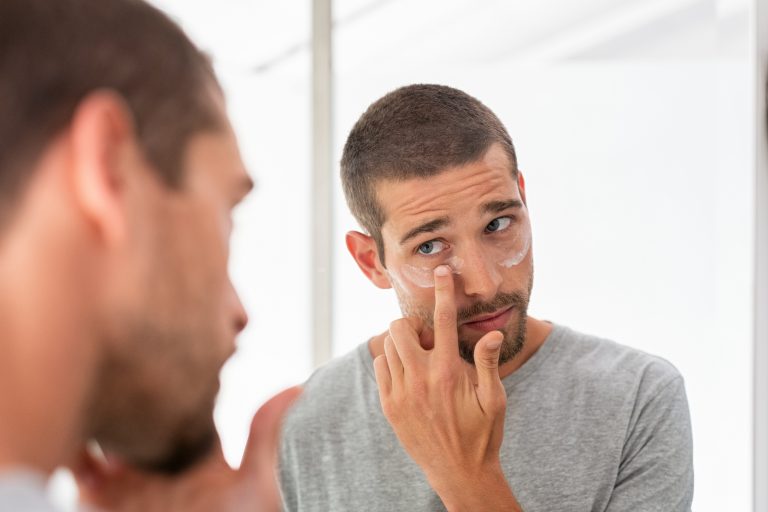 What Are The Top 10 Best Lumin Skin Care Products?
Lumin Skin Care for men gives you everything you need to create a complete skin care routine, from your cleanser to toner to serum and more. You can purchase the Lumin Skin Care products individually or in kits.
For example, the brand has a kit called Classic Maintenance Set with three products (cleanser, exfoliator, moisturizing balm), and another kit called Anti-Fatigue Essentials, which contains four products to address dull, tired-looking skin. But those aren't the only two; the brand actually offers more than 15 different kits! If you aren't ready to invest in a kit, here's a breakdown of the top 10 best Lumin Skin Care products. 
Lumin No-Nonsense Charcoal Cleanser
We all need a "no-nonsense" cleanser. One that can be used daily to remove the excess oil, dirt, and other grime that accumulates on our skin during the day. And the Lumin No-Nonsense Charcoal Cleanser will do exactly that thanks to a combination of surfactants with activated charcoal. Activated charcoal works by trapping toxins and impurities in its millions of tiny pores. Rather than absorbing the toxins, however, activated charcoal works through adsorption (the chemical reaction where elements bind to a surface). Thus, activated charcoal helps to purify and detox the skin.
The only thing we don't love about this Lumin Skin Care cleanser is the blend of fragrant essential oils. Fragrance (whether natural or synthetic) poses the risk of skin sensitivity and irritation. We know you want to smell good, but that's what cologne is for!
Lumin Ultra-Hydrating Moisturizing Balm
We think the Lumin Ultra-Hydrating Moisturizing Balm contains an excellent blend of brightening-ingredients and softening emollients that won't clog your pores. We love that the formula contains a decent amount of niacinamide, which is one of the best skincare ingredients, in our opinion. And there's research to back it up. For example, a publication in the Journal of Clinical and Aesthetic Dermatology, states that niacinamide can repair the skin barrier and improve skin moisture, as well as reduce inflammation, blotchiness, hyperpigmentation, acne, and wrinkling. Pretty impressive, right?
The rest of the Lumin Moisturizing Balm formula includes a mix of brightening botanicals (like ginger root and licorice root extracts), as well as emollients like meadowfoam seed oil and caprylic/capric triglyceride (from coconut oil). 
Lumin Reload Exfoliating Rub
Skin looking a little dull? If so, adding in a product that exfoliates (aka removes dead skin cells) can help to revive dull, tired skin. The Lumin Reload Exfoliating Rub is formulated to do exactly that. The formula contains cellulose in order to physically exfoliate the skin, which helps to remove dead skin cells that can clog pores and cause a dull complexion. Activated charcoal is included to help remove impurities, while extracts from licorice and gotu kola help to soothe and calm the skin. 
Lumin After Hours Recovery Oil
After Hours Recovery Oil is a multi-purpose facial oil that is formulated to help repair your skin's protective barrier. It can be used overnight, in cold weather, on long flights, or really any time your skin is looking dry or dull. The formula contains high concentrations of caprylic/capric triglyceride (an emollient derived from coconut), squalane, apricot kernel oil, vegetable oil, and vitamin E. Unfortunately, like most Lumin Skin Care products, there are fragrant essential oils in this formula, so that's something to keep in mind before using this product. 
Lumin Anti-Wrinkle Defense Serum
Your skin and the sun have a love/hate relationship. While a sweet tan is always nice, sun damage is the #1 external cause of aging. There's no such thing as a miracle treatment when it comes to combating age, though vitamin C comes pretty close.
Vitamin C is a powerful antioxidant that protects your skin from environmental free radical damage. It also helps fade dark spots, evens out skin tone, and increases radiance. As if that wasn't enough, research suggests that when vitamin C is applied to the skin, it significantly reverses aging-related structural changes by influencing collagen and elastin synthesis. A vitamin C serum is the best way to deliver this active ingredient into the deeper layers of your skin.
Lumin Anti-Wrinkle Defense Serum combines pure vitamin C (ascorbic acid) with antioxidant-rich extracts, like pomegranate, tomato, and carrot root extract. This serum is great to use in combination with a broad spectrum sunscreen to protect your skin from UV damage.
Lumin Dark Circle Defense
A winner of the 2020 Men's Health Grooming Awards, the Lumin Dark Circle Defense is formulated to help tackle under-eye darkness, wrinkles, and puffiness. The formula contains a high concentration of skin-brightening niacinamide, ginger root, and licorice root extract.
And like most eye creams, Lumin Dark Circle Defense includes caffeine. Caffeine is an excellent ingredient for eye care products because it's a stimulant that causes vasoconstriction (constriction of blood vessels) and stimulates blood flow when applied to the skin. This helps to tighten and firm the skin, and also aids in reducing the amount of blood that accumulates under the eyes (a major factor that contributes to dark circles). 
Lumin Anti-Fatigue Eye Patch
Whether it's because of work, going out for drinks, or just binge-watching Netflix, everyone is guilty of staying up too late every now and then. If you're anything like us, the first thing you do the next morning is grab a cup of coffee for an energy boost. But what are you doing for your puffy, fatigued, dehydrated under-eyes that let everyone know how tired you feel? Lumin has the perfect solution. 
Lumin's Anti-Fatigue Eye Patches are designed to reduce puffiness, brighten dark circles, and even smooth fine lines — in just 10 to 15 minutes! The formula contains caffeine (duh) along with detoxifying charcoal powder, antioxidant-rich green tea extract, and soothing calendula extract. And there's also hydrating ingredients, like glycerin and hyaluronic acid, that draw moisture into the skin, thereby helping to reduce signs of dehydration. 
Lumin Charcoal Cleansing Pore Strip
Sick of dealing with blackheads on your nose? If so, the Lumin Charcoal Cleansing Pore Strip is a quick way to pull out all the deep-down dirt and impurities from your pores. Just as the name suggests, charcoal is one of the key ingredients in this formula since it's so good at trapping toxins. The formula also includes oil-absorbing kaolin clay and acne-fighting tea tree extract. With this formula, blackheads don't stand a chance!
Lumin Skin Purifying Toner
This alcohol-free toner is formulated to gently clear pores of dirt and excess oil, while helping restore the pH balance of your skin. The formula contains a high concentration of witch hazel extract. Witch hazel contains phenolic compounds called tannins that impart astringent properties, resulting in a constricting and drying effect when applied to the skin. They work by cross-linking with keratin proteins, creating an invisible film that can temporarily degrease skin, tighten and tone skin, and minimize the appearance of enlarged pores. The Lumin Skin Purifying Toner also includes soothing botanical extracts like cucumber, aloe vera, ginger root, oat kernel, green tea, licorice root, and more. 
Lumin Soothing Beard Oil
A beard oil is the way to go if you want to reduce breakage and promote healthier growth. The Lumin Soothing Beard Oil is formulated with a blend of oils, including sunflower seed, grape seed, argan, tamanu, avocado, and more. The fatty acids in these oils coat the hair strands in order to reduce breakage and strengthen follicles. There's also a blend of fragrant oils, including lavender, bergamot, orange peel, grapefruit, geranium, and lemon peel. 
What Are The Key Ingredients in Lumin Skin Care Products?
You probably already noticed from our descriptions of the best selling Lumin Skin Care products that a few key ingredients show up again and again throughout the collection, such as ginger root extract, shea butter, green tea leaf extract, and licorice root extract. Let's take a closer look at how these ingredients will benefit your skin. 
Ginger root extract is used throughout the Lumin Skin Care collection due to its antioxidant, anti-inflammatory, and anti-aging benefits. There's even
research that demonstrates how certain components of ginger (such as 6-shogaol) can inhibit collagen degradation (collagen is the protein that keeps skin strong, firm, and youthful). 
Shea butter is one of the key emollients in the Lumin Moisturizing Balm, as well as several other Lumin Skin Care products. As an emollient, shea butter works to soften and soothe the skin. Since shea butter melts at body temperature, it is able to coat the skin and form an occlusive film. This film helps to prevent evaporation of the skin's natural moisture and increases skin hydration by causing buildup of water in the stratum corneum (the uppermost layer of skin). Plus, shea butter is non-comedogenic (won't clog your pores) and it doesn't leave a greasy feeling behind. 
All Lumin Skin Care products contain green tea leaf extract. One of the most important components in green tea is the polyphenol epigallocatechin gallate (EGCG), which is widely regarded as one of the most powerful antioxidants available. EGCG targets free radicals, particularly those caused by UV-induced oxidative damage.
According to a publication in the journal Colloids and Surfaces B: Biointerfaces, "Catechin molecules such as epigallocatechin-3-gallate (EGCG) are capable of attenuating the biomolecular damage induced by UV radiation, possibly through molecular mechanisms involving the cell membranes."
Licorice root extract is used throughout the Lumin Skin Care collection because it provides numerous benefits to the skin. One of the active components in licorice root is glycyrrhizin. It functions as a skin-conditioning agent that has the ability to improve the appearance of dry or damaged skin by reducing flaking and restoring suppleness. It has a soothing effect and also calms inflammation. Licorice root extract may also help to brighten skin and improve uneven skin tone. 
The only problem with Lumin Skin Care products is that nearly all of them contain fragrant essential oils. While these ingredients create a pleasant scent, it's important to note that fragrance isn't helping your skin in any way. So why is fragrance a problem in skin care? Let's look at the science. 
All fragrance ingredients (whether natural or synthetic) impart scent through a volatile reaction, and this natural reaction almost always causes a sensitizing reaction on skin.  In fact, according to a 2016 publication in the scholarly journal Dermatitis, nearly 80 essential oils have caused contact allergy. Even if you don't have a full blown reaction to the ingredient, the damage may still be occurring every day. Ultimately, this can cause mild problems for your skin in the short term and worse problems in the long term. This is something to keep in mind before purchasing Lumin Skin Care products, especially if you have sensitive skin. 
How Much is Lumin Skin Care For Men?
Lumin Skin Care products are more expensive than drugstore products, but we think they are reasonably priced. For example, the No-Nonsense Charcoal Cleanser costs $16 USD, and the Anti-Wrinkle Defense Vitamin C Serum costs $19. 
You can save money by purchasing the Lumin Skin Care kits. For example, The Complete Skin Care Gift Set retails for $128, but you can purchase this kit for $108. 
Another way to save money is by opting in for a subscription when you purchase a product, which takes 20% off the total cost of the product. 
Lumin Skin Care also offers a free trial (you just have to pay for shipping). The free trial is only available for three kits: Age Management Set, Classic Maintenance Set, and Correction Trio Set. With the free trial purchase, you are automatically enrolled into an accompanying subscription (bimonthly or monthly), which renews after the 30 day trial period.
Where to Buy Lumin Skin Care For Men?
Lumin Skin Care products are sold on the brand's website, as well as some third party online retailers, such as Urban Outfitters and Amazon. 
What is The Lumin Skin Care Return Policy?
The Lumin return policy states, "We do not accept returns for free trial, bulk, or commitment plan orders. Orders must be returned within 60 days of the original delivery date, as stated by the tracking number. Returns processed after the 60 day window are not be eligible for a refund. For eligible returns, postage for the return parcel is the responsibility of the customer and we are unable to issue pre-paid postage labels at this time."
Is Lumin Skin Care Cruelty Free?
Yes, Lumin Skin Care is cruelty free. 
Lumin Skin Care Reviews
Lumin Skin Care reviews on the brand's website are overall very positive. The brand does not display reviews for individual products. Rather, they have just one page that houses reviews for the brand in general. 
The positive reviews for the Lumin Skin Care line mention how well these products work to promote a healthier, smoother, more youthful complexion. 
For example, one review says, "After trying so many brands, Lumin skin care has taken the helm as my go-to daily skincare routine. My face looks healthy and smooth, fine lines and wrinkles have diminished and overall my confidence has improved thanks to not having oily skin anymore. Thanks Lumin for making skin care easy for men and even women alike!"
And another very positive Lumin Skin Care review says, "Stop wasting your money on OTC junk products. Lumin skin care is by far the best skin care for men on the market. Taking before and after pictures you can actually see the results. Men can be pretty too ok?"
However, there are some negative Lumin Skin Care reviews, which are mostly from customers who were disappointed that they didn't see the results they were hoping to see. 
For example, one review says, "Been using this for six months with very mixed results. The cleanser is alright; it's about what I would expect from something in this price range. It doesn't dry out my skin too much but also doesn't seem to do anything for my complexion. I LOVE the exfoliating gel; kinda wish I could just get that delivered by itself every month. I greatly dislike the moisturizing balm, however. It feels very heavy and leaves my skin oily."
And another Lumin Skin Care review says, "Pretty solid but still seeing acne on face, chest and back."
Our Verdict
Overall, we think that Lumin Skin Care products are formulated well, although we wish the brand would remove the fragrance from their products!
Pros
Products contain a good mix of botanicals (ginger, licorice, green tea, etc) and safe synthetics (ascorbic acid, emollients, silicones, etc.)

Many positive Lumin Skin Care reviews

Lumin Skin Care is cruelty free

Reasonably priced
Cons
Almost all Lumin Skin Care products contain fragrance (which can lead to skin sensitivity and irritation)
What Are Some Alternatives to Lumin Skin Care For Men?
The ingredients used in Lumin Skin Care products are good but pretty standard ingredients that can be found in numerous other skin care products, even drug store products. That's why we'd like to recommend a skin care brand that combines tried-and-true ingredients with cutting edge technology and truly unique ingredients: Formulyst. 
One example is Formulyst's Anti-Aging Concentrate, an all-in-one serum for healthy, younger-looking skin. It is formulated with unique ingredients such as ProBioBalance to help balance the skin's microbiome and a powerful Peptide Complex to help stimulate new collagen production. This serum also harnesses the natural skin care benefits of shea butter, green tea leaf extract, vitamins C and E, and more. Overall, the Anti-Aging Concentrate helps to promote the five signs of youth – radiance, elasticity, firmness, skin tone and smoothness.
Another brand that balances the power of plants with cutting edge science is Carrot & Stick. Not only is Carrot & Stick good for your skin, it is also good for the environment as the formulas skip harmful chemicals commonly found in skin care products.
References:
J Clin Aesthet Dermatol. 2010 Feb; 3(2): 22–41
Biomedical Dermatology volume 2, Article number: 27 (2018
Colloids Surf B Biointerfaces 2019 Jan 1;173:312-319.
de Groot AC, Schmidt E. Essential Oils, Part IV: Contact Allergy. Dermatitis. 2016;27(4):170-175. doi:10.1097/DER.0000000000000197