Some cosmetics and skincare brands are born out of necessity, when their founder noticed a gap in the market or couldn't find a product to suit their skin concerns. Others come about by accident, when someone discovers a plant or ingredient that seems to have near miraculous powers on the skin (we're looking at you, Max Huber, founder of Crème de la Mer) – while other companies are born by chance. That's the story of Boom! by Cindy Joseph.

What are the Best Skin Care Products of 2021?
Who is Cindy Joseph?
Cindy Joseph was a top makeup artist for 27 years, working with supermodels such as Cindy Crawford and Christy Turlington until a chance encounter when she was 49 years old changed the course of her life. She had recently stopped dying her hair and embraced her silver locks when a casting agent for legendary photographer Steven Miesel spotted her and asked her to be in a Dolce & Gabbana advertisement. After that, Joseph embarked on an unlikely career for someone nearing 50- a model.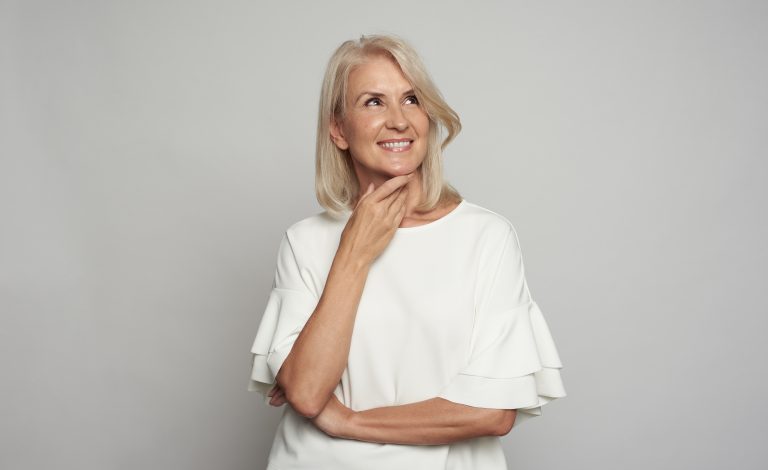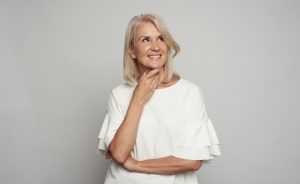 Joseph was signed to the Ford modeling agency and appeared in ads for companies including Ann Taylor, Olay, Anthropologie and Elizabeth Arden in her 50s and 60s. Part of her appeal was embracing her age, including her well-earned laugh lines and silvery grey hair.
Inspired by embracing her age, she founded Boom! by Cindy Joseph in 2010, an all-natural cosmetics company whose goal is to embrace and enhance your age, rather than hide it. In an interview with The New York Times, Joseph said she is "pro-age," explaining that a woman can be beautiful without trying to look younger.
What Is Boom! By Cindy Joseph?
Boom! by Cindy Joseph is a makeup and skincare line devoted to helping women in their 50s, 60s, 70s and beyond to bring out their natural beauty. The company's philosophy is that older women should wear less makeup, rather than more. Boom! suggests skipping the powdered foundations and using cream based products instead. Joseph also advises women to avoid eye shadow, don't layer on the under eye concealer and don't overdo it when it comes to filling in your brow (instead, just embrace what your eyebrows are doing). Joseph herself doesn't like to call wrinkles and crow's feet, well, wrinkles and crow's feet- in makeup tutorials, she prefers to call it "textured skin."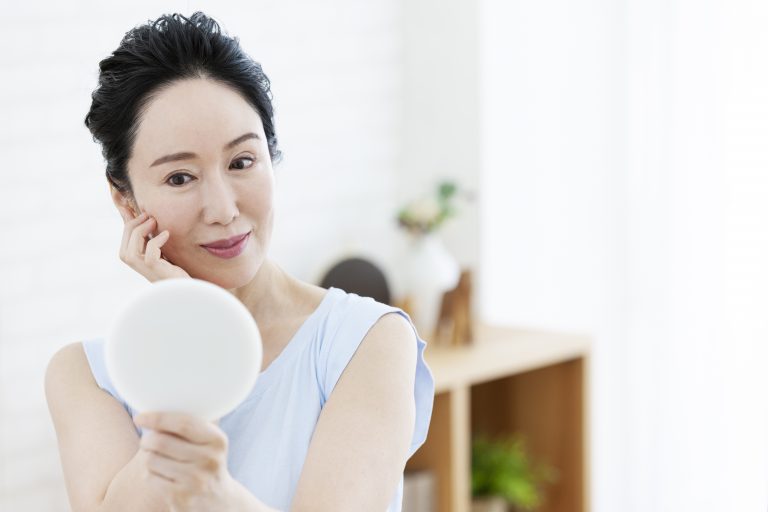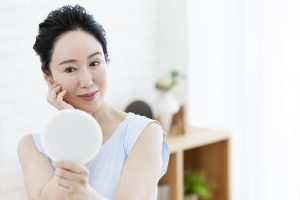 The cornerstone of Boom! is multi-purpose creamy color sticks that can be used on the cheeks, lips and brow bone. The company's motto is "It's about women. It's about beauty. It's about time."
What Does Boom! By Cindy Joseph Sell?
Boom! By Cindy Joseph sells a pared down collection of multi-use makeup as well as skincare products. The company embraces a "less is more" philosophy when it comes to products and ingredients. Here's a closer look.
Boom! Makeup
Boomstick Color- This slim tube contains a combination lipstick, blush, eyeshadow and bronzer that gives a little pop of color to lips, eyes and cheeks.
Boomstick Glo- Think of this as moisturizer in a tube. Boomstick Glo is a slim seven gram tube that can be used on the face, body and cuticles, and is handmade by beekeepers in Hawaii. The main ingredients are beeswax and olive oil.
Boomstick Glimmer – Use this product adds a pearly glimmer to eyelids, cheeks and brow bone.
Boom! Skincare
Boom! Nectar- Add a drop or two of this oil based serum to moisturize and nourish the skin.
Boom! Silk – Packed with honey, extra virgin olive oil and bee pollen, the multi-tasking Boomsilk can be used on lips, hands, body, feet and face.
Boom Scrub – This exfoliator gently sloughs off dead skin cells but the company says it is gentle enough to use every day.
Boom Cotton – If you don't want shiny looking skin, this organic moisturizer is designed to nourish and protect without leaving any traces of oil.
What Ingredients are in Boom Products?
Boom products are paraben and phthalate free, and do not contain emulsifiers, binders and perfumes, and are based on natural ingredients. The company says its products are not tested on animals.
Boomstick Glo, a moisturizer, contains organic extra virgin olive oil, beeswax with propolis and pollen as well as raw pupekea wildflower honey. According to Boom, honey helps attract and retain moisture while soothing the skin. Bee pollen is rich in vitamins, minerals and amino acids while propolis, which is collected by bees, has antiseptic properties. Beeswax helps to soften the skin while extra virgin olive oil is a moisturizer.
Boomstick Glimmer is crafted from castor seed oil, lanolin and mineral oil and the color comes from mica and iron oxides. Boomstick Color mimics a lipstick formula, and is made from castor seed oil, canola oil and candelilla wax, as well as shea butter. Boom Nectar, the oil based serum, is packed with camu camu extract (a berry containing vitamin C), as well as organic jojoba oil, organic witch hazel extract, organic extra virgin olive oil and rosehip oil. Rounding out the formula are organic propolis extract (thought to be antimicrobial, antibacterial and antifungal), Hawaiian beeswax and chaga mushroom extract.
Boom Silk also has a small ingredients list: purified water, organic extra virgin olive oil, beeswax with propolis and pollen, raw pupekea wildflower honey, and d-alpha Vit E.
How Much Are Boom! Products?
Boom! By Cindy Joseph is priced closer to a prestige brand. Boomstick Color, Glimmer and Glo sticks retail for $27 each, while the Trio pack, which contains all three products, is $76. The Boom Nectar is $58, and Boom Silk is $64 for an eight ounce jar. Boom Clean, a daily cleanser, is $34, and Boom Cotton is $36.
Boom products are also available as kits. The Boom Bag contains the daily facial cleanser and three all-natural moisturizers for $133.95, while the Boom Bag Complete has all the Boom products (Boomstick Trio, Boomsilk, Boom Cotton, Boom Clean, Boom Scrub, Boom Nectar and Boom Touch) for $331.60.
Where are Boom! Products Sold?
Boom! Products are not sold in any retail locations. They are only available through Boom's website.
Do Boom Products Work?
Since Boom products are only sold via the company's website, it is hard to find unbiased reviews of the products. On the Boom website, customer reviews include comments such as "Boomsilk is the greatest moisturizer, ever" and "My Boomstick Color arrived this morning and I'm so impressed with it. All I'm wearing on my face right now is mascara and the Boomstick Color on my cheeks, lips and forehead. I look healthy, not like I'm wearing make-up. Just what I was hoping for."
Customers also appreciate the versatility of the products- "I like how the products are multi-purpose. Great for travel and everyday at home too. I will be ordering again!"
Some reviews can be found on YouTube. One vlogger, Beth Buchanon, reviewed the products and her conclusion is that she enjoyed the products for a "no makeup makeup look" and suggested the products would be great for a teenager or preteen as they don't have wrinkles and dark spots, and don't need any concealer. Buchanon felt that the products left her face looking like it had moisture and color.
The Life over Sixty With Sandra vlogger said she liked the Boom Silk cream but was disappointed that the ingredients didn't include anything to tackle the signs of aging – but that is not the philosophy of Boom. The vlogger was looking for something to help tighten the appearance of her face.Other vloggers, like Littlelulu111, thought the Boom Glo was fine for spot treating dry spots but didn't like that you had to vigorously rub it in your face. Vlogger KimTV said she was a fan of the Boom concept but the color from the Boomstick Color didn't last all day.
Is Boom! Right For Me?
Boom! Products are targeting a very specific market- women who embrace their fine lines (or "textured skin" as Joseph called it) and are not looking to cover up their flaws. If someone wants to have a no makeup makeup look and are only needing to moisturize and add a little color and shimmer to their face, the products can achieve that. But every woman has different skin concerns and for many women, the products may not be enough, especially for anyone who is used to wearing foundation or tinted moisturizer. Not everyone wants to show the world their skin without a little concealer or foundation.
What Are Some Alternatives to Boom! By Cindy Joseph?
Boom! By Cindy Joseph may not work for everyone. Not everyone wants the "no makeup makeup" look and as some vloggers pointed out, some people want to fight their wrinkles rather than embracing them. And not everyone wants to put olive oil and beeswax on their face. But if you're looking for a well rounded skincare line, there are a few other brands to consider.
Formulyst's philosophy is long-term and effective skincare. The brand wants to help its customers achieve their best looking skin, rather than covering it up with makeup. The comprehensive line of products targets everything from wrinkles to dark spots and dry skin. Some of the products designed to help improve skin's texture include Formulyst Retexturing and Perfecting Serum. The serum is powered by gentle but effective alpha hydroxy acid (AHA) which dissolves dead skin cells, leaving behind fresher, smoother looking skin.
If you would rather minimize the appearance of wrinkles rather than embracing them, reach for a product with the gold standard ingredient for tackling fine lines — retinol, a vitamin A derivative. This is the star ingredient in Formulyst's Anti-Aging Night Cream. What makes this formula different is that it contains a high dose of retinol but it's also packed with ultra-soothing and hydrating safflower seed oil and jojoba to lock moisture in and soothe the skin.
If you like the simplicity of a skincare kit, consider Advanced Dermatology. This no nonsense brand offers a pared down approach to skincare. The packaging is simple and streamlined, and the products bring skincare back to the basics. The kit contains just six essential items including a daily cleanser; serum; anti-wrinkle firming treatment; night cream; day cream and an eye cream. In other words, everything you need to achieve your best possible looking skin.
There's no need to compromise when it comes to finding skincare that is effective and safe. Carrot & Stick takes a tough love approach to skincare, perfectly balancing the power of plants with cutting edge science. Not only is Carrot & Stick good for your skin, it is also good for the environment as the formulas skip harmful chemicals as well as the preservatives, emulsifiers and thickeners commonly found in skincare products.