Clinique is one of the most popular skincare brands in the US, and as the name suggests, is known for its clinical approach to beauty. When Clinique debuted in 1967, it was one of the first brands to offer customized products, as well as products that were free from fragrance, parabens and anything that may irritate the skin. Since its debut, Clinique has created several best selling products, including Dramatically Different Moisturizer, Chubby Sticks and Moisture Surge. Here's a closer look at the Moisture Surge line, what it does, and is it right for you?

What are the Best Skin Care Products of 2021?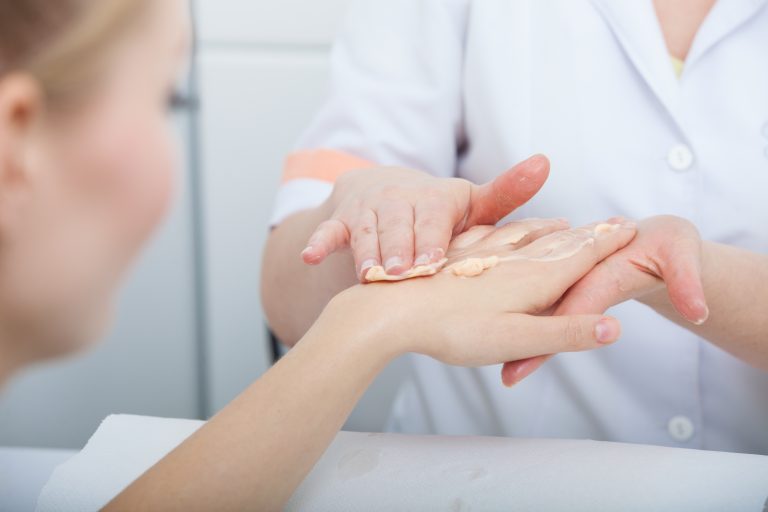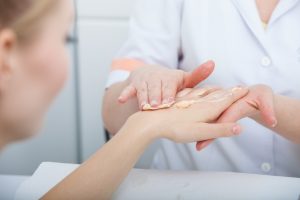 What Is Clinique Moisture Surge?
Clinique debuted its Moisture Surge Intense Skin Fortifying Hydrator more than a decade ago. It was developed for dry skin and anyone who needed extra hydration. What made it unique was its gel-cream texture that was designed to hydrate while repairing the skin barrier. Since its debut, the formula for Moisture Surge has changed and evolved, from the now discontinued Moisture Surge Extended Thirst Relief to the newest version, the Moisture Surge 72-Hour Auto-Replenishing Hydrator. The Moisture Surge collection has also expanded to include CC creams, a mask, eye creams and a facial spray.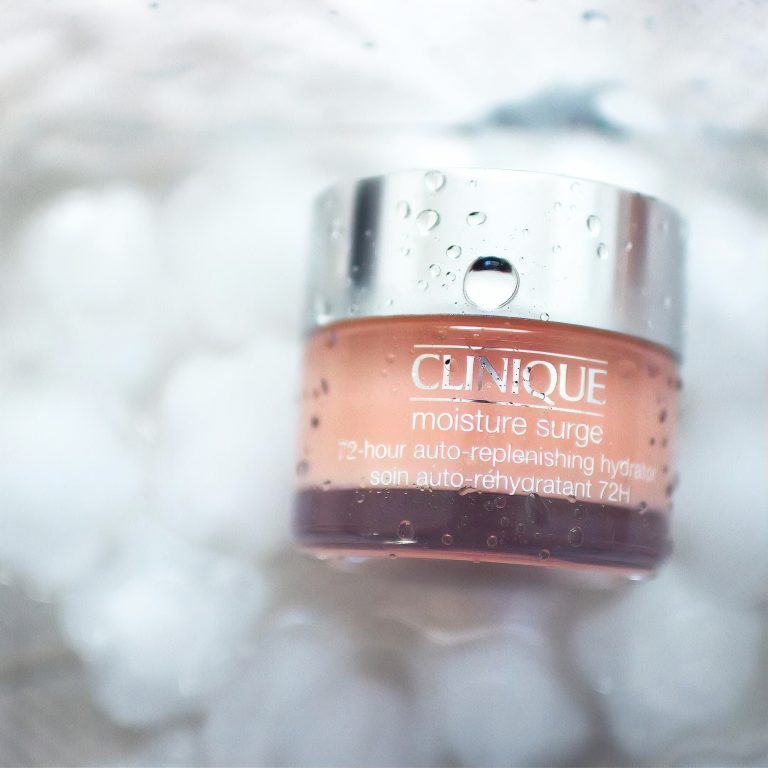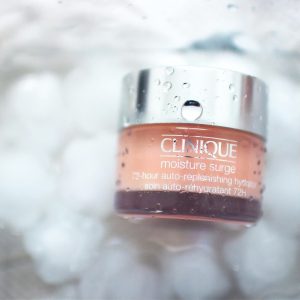 How Does Clinique Moisture Surge Work?
The latest formula, the Moisture Surge 72-Hour Auto-Replenishing Hydrator, has the same gel-cream texture as the original version. The oil free, fragrance fee formula contains aloe water to help skin create and maintain hydration levels, along with humectants, glycerin, green tea extract and hyaluronic acid, which occurs naturally in the body and holds up to 1,000 times its weight in water. According to Clinique, the new formula delivers twice as much hydration as the previous version and the cream is designed to keep skin hydrated and dewy for 72 hours- even after washing your face.
According to the company, the secret sauce is the new "auto-replenishing technology" which is designed to help skin rehydrate itself. This includes caffeine to help trigger the skin's own rehydration system, along with hyaluronic acid and activated aloe water. A "super-holding matrix" of humectants and polymers help reduce water loss and seal in moisture.
How Should Clinique Moisture Surge Be Used?
Clinique's moisturizer can be used twice a day (morning and night) and can also be applied over or under makeup any time the skin needs a boost. It can also be used as a five -minute mask.
What Ingredients Are in Clinique Moisture Surge Products?
The key ingredients in Moisture Surge 72-Hour Auto-Replenishing Hydrator are the "auto replenishing technology with caffeine" as well as hyaluronic acid, activate aloe water and humectants that seal in moisture.
What Other Products Are in the Clinique Moisture Surge Line?
The Moisture Surge collection includes a handful of hydrating products, including:
Moisture Surge CC Cream Hydrating Colour Corrector Broad Spectrum SPF 30– This cream comes in five different shades, and is designed to be worn alone or under a moisturizer. It helps to correct any skin concerns, such as redness or dullness.
Moisture Surge Overnight Mask– Apply this mask at night, which is designed to give skin an extra dose of moisture while you sleep.
Moisture Surge Face Spray Thirsty Skin Relief– Activated aloe water is a key ingredient in this oil free spray. It can be sprayed on the face anytime a burst of moisture is needed.
All About Eyes– Formulated with caffeine and mulberry root extract, this eye cream is designed to reduce the appearance of puffiness around the eyes as well as dark circles. It can be used twice a day.
Moisture Surge Intense Skin Fortifying Hydrator- This version of the gel-cream is designed to deliver hydration for 24 hours.
Is Clinique Moisture Surge Cruelty Free?
Its parent company, Estée Lauder, says "The Estée Lauder Companies does not test on animals and we never ask others to do so on our behalf. If a regulatory body demands it for its safety or regulatory assessment, an exception can be made."
Where Can I Buy Clinique Moisture Surge Products?
Clinique is sold in more than 135 stores worldwide as well as in department stores such as Bloomingdales, Saks Fifth Avenue and Neiman Marcus, as well as beauty stores including Ulta and Sephora.
How Much Do Clinique Moisture Surge Products Cost?
Clinique Moisture Surge products are priced at a mid range level that are more expensive than drugstore products but would not be the most expensive at a department store. A 125ml jar of Moisture Surge 72-Hour Auto-Replenishing Hydrator retails for $78, the Moisture Surge CC Cream Hydrating Colour Corrector is $39, and the Moisture Surge Overnight Mask sells for $35. The Moisture Surge Face Spray Thirsty Skin Relief sells for $25.50. All About Eyes starts at $32.50, and the Moisture Surge Intense Skin Fortifying Hydrator is also $78 for 125ml.
Do Clinique Moisture Surge Products Work?
One person's miracle cream may cause breakouts or simply not to do anything at all for someone else, so when deciding if a product is right for you, some research and trial and error is always key. Clinique's Moisture Surge 72-Hour Auto-Replenishing Hydrator debuted to much fanfare from magazines.
Good Housekeeping UK gave it its approval and said that "It performed well in the lab hydration study, and fared well with our testers. Most testers said it absorbed quickly into their skin. They also said their skin felt hydrated immediately after use, and thought their skin had stayed hydrated at 72 hours after use. Most testers found that after 14 days of use, the product reduced the tightness of the skin (which is caused by dehydration)." The cream also received a Best of Beauty Award from Allure in 2018, and was named a Super Hero (Iconic Beauty Award Prestige) in 2016 from Cosmetic Executive Women.
On Sephora, the product has 50,000 "loves" and gets 4.4 out of 4 stars, with 86% of users recommending it. Positive reviews include " I have very dry skin due to eczema, especially around my mouth. This cream made my skin soft and as smooth as glass. Now when I wear makeup, I look beautiful for once 🙂 Love this stuff and their "Pretty Easy" eyeliner" and "I am thoroughly impressed with this moisturizer. I have combination oily skin where my t-zone is quite oily and my cheeks are normal to dry. This moisturizer kept my t-zone balance while also hydrating my cheeks. I really love the gel-cream texture, I am pretty sure it is the only texture for me and my skin type."
Those who were not fans found the formula too greasy or made their face feel tight. "The name and look of this is promising, but did not deliver. I returned it after about 3 uses, as it was not moisturizing on my skin at all. In fact, it seemed to leave a drying sheen, almost like egg white." Another detractor said "They are not joking as far as this product being long-lasting. The problem is it creates an unnatural gel layer over your face. The normal moisture surge feels similar at first, but that product absorbs in after a few minutes. Although, true to advertising, this is auto-replenishing; even after washing face with soap, the gel layer will reform!"
What Are Some Alternatives to Clinique Moisture Surge?
Clinique Moisture Surge may not be the right choice for everyone, because it may not react well with your skin or the price tag isn't right. If you are looking for deeply hydrating products, consider Formulyst and Advanced Dermatology.
Formulyst's philosophy is long-term and effective skincare. The brand wants to help its customers achieve their best looking skin, rather than covering it up with makeup. The comprehensive line of products targets everything from wrinkles to dark spots and dry skin.
Hyaluronic acid, a key ingredient in the Moisture Surge collection, is also found in Formulyst's Complete Anti-Aging Eye Cream. The multi-tasking formula contains retinyl complex and peptide technology to help reduce the appearance of fine lines and wrinkles, while hyaluronic acid and cucumber extract soothe and hydrate the delicate eye area.
If you like the feel of a lightweight moisturizer, try Formulyst Super Hyaluronic Water Moisturizer. Hyaluronic acid helps keep skin plumped, hydrated and dewy looking. This oil free formula is packed with multiple types of hyaluronic acid and it works as a moisture magnet by drawing water to the skin.
If you like the simplicity of a skincare kit, consider Advanced Dermatology. This no nonsense brand offers a pared down approach to skincare. The packaging is simple and streamlined, and the products bring skincare back to the basics. The kit contains just six essential items including a daily cleanser; serum; anti-wrinkle firming treatment; night cream; day cream and an eye cream. In other words, everything you need to achieve your best possible looking skin.
There's no need to compromise when it comes to finding skincare that is effective and safe. Carrot & Stick takes a tough love approach to skincare, perfectly balancing the power of plants with cutting edge science. Not only is Carrot & Stick good for your skin, it is also good for the environment as the formulas skip harmful chemicals commonly found in skin care products.