The Story Behind 100% Pure
100% Pure is a clean beauty brand that is on a mission to produce the purest, healthiest products while also educating consumers on why using products with natural, non-toxic ingredients is so important. The brand defines "natural" as an ingredient or formula composed of plant, mineral, and/or marine vegetation that undergoes chemical changes due to biological processes such as fermentation, distillation, and cold processing. In this review, we'll discuss some of the brand's best selling products, key ingredients, 100% Pure reviews from real customers, and more
What are the Best Skin Care Products of 2023?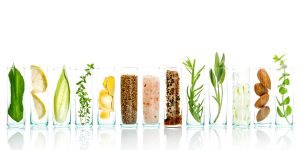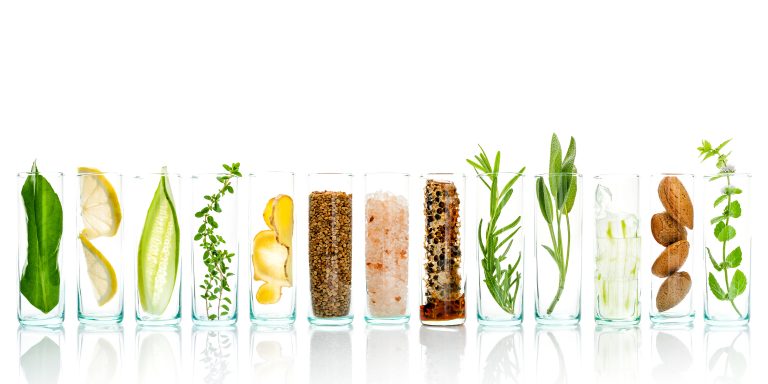 The Top 5 100% Pure Skincare Products
Coffee Bean Caffeine Eye Cream
The 100% Pure eye cream is one of the brand's most popular products. It is said to reduce puffiness, boost circulation, and brighten dark circles in order to promote a youthful eye area. This eye cream can be used by all skin types both morning and night. 
Vitamin C Serum
The 100% Pure Vitamin C Serum is a lightweight serum that is said to help firm and brighten skin tone while promoting collagen production. This serum can be used by all skin types and is said to be most effective when used in the evening. 
Multi-Vitamin PM Serum
The multi-vitamin PM serum contains potent, stabilized vitamins that work together to reduce the appearance of fine lines and wrinkles, increase firmness and elasticity, and brighten and even skin tone. This serum is recommended for those with normal, dry, oily, and combination skin. 
Retinol Restorative Overnight Balm
The 100% Pure Retinol Restorative Overnight Balm is said to enhance firmness, tone, and elasticity due to "vegan retinol" derived from carrots. We'd like to point out that this is a little misleading. Retinol is vitamin A, and it can only be found in animal foods. Carrots do not contain retinol, they contain beta carotene, which is a precursor to vitamin A. Interestingly, the ingredient list for this balm still says retinol, not carrot extract or beta carotene. So it appears as though the brand is using synthetic retinol in this balm, even though they claim to be using a natural ingredient from carrots. 
Luminous Primer
The final 100% Pure skincare product we'd like to discuss is the Luminous Primer, a silicone-free, antioxidant infused primer. This primer is said to help diffuse pores and illuminate the skin with light reflective pigment. 
What Are The Key 100% Pure Skincare Ingredients?
Instead of just focusing on one key ingredient, 100% Pure uses a variety of ingredients to formulate their skincare products. But like we said in the introduction, the brand adheres to strict purity standards and doesn't use harsh or toxic ingredients. With that being said, let's take a closer look at the key ingredients that you'll find in the best selling products we introduced above. 
The 100% Pure Coffee Bean Caffeine Eye Cream contains three sources of caffeine: green coffee, green tea, and coffee cherry extract. As a natural stimulant, caffeine causes vasoconstriction (constriction of the blood vessels) when applied to the skin. This function aids in reducing the amount of blood that accumulates under the eyes (a major factor that contributes to dark circles). Additionally, vasoconstriction can firm the skin due to the removal of excess fluids and possible stimulation of the lymphatic drainage system. Therefore, the 100% Pure eye cream should be able to help with eye puffiness and dark circles. 
The 100% Pure Vitamin C Serum contains a stable vitamin C derivative called magnesium ascorbyl phosphate (MAP). After being absorbed into the skin, MAP is converted to ascorbic acid, the active form that can provide numerous benefits to the skin. First, it's a potent antioxidant that helps the skin to combat the damaging effects of free radicals, the unstable molecules that contribute to the formation of premature wrinkles and fine lines on the skin. Ascorbic acid also has the ability to stimulate collagen production, fade dark spots, and improve uneven skin tone. 
The 100% Pure Multi-Vitamin PM Serum features two of the best vitamins for skin health: niacinamide (vitamin B3) and vitamin C. These two vitamins are not usually formulated together because of their different pH levels. However, 100% Pure discovered that the vitamin C derivative magnesium ascorbyl phosphate (which has a pH of 6) can be formulated with niacinamide (also has a pH of 6). In addition to the benefits of vitamin C that we mentioned above, the niacinamide in this serum can help repair the skin barrier and improve skin moisture, as well as reduce inflammation, blotchiness, hyperpigmentation, acne, and wrinkling.
Like we mentioned above, the brand's description of the Retinol Restorative Overnight Balm is pretty confusing. We aren't sure if they are using synthetic retinol or beta carotene from carrots, but it seems as though they are using retinol since this is what is listed on the ingredient list. There's nothing wrong with using synthetic retinol; in fact, it's quite beneficial to the skin. For example, retinol is clinically proven to minimize the appearance of fine lines and wrinkles, improve uneven skin tone, restore skin firmness, and shrink the appearance of enlarged pores. 
The final key ingredient we'd like to highlight is aloe vera extract, which makes up the base of the 100% Pure Luminous Primer. Aloe is rich in vitamins and enzymes that help to brighten the skin tone. It also contains a rich supply of glycosaminoglycans (GAGs), a class of sugar molecules that help bind moisture to the skin. GAGs are naturally found in human skin with a primary role of supporting the proteins collagen and elastin in the dermis. Collagen, elastin, and GAGs form the majority of an important support system called the extracellular matrix (ECM). GAGs readily absorb water, which creates the fluid that fills the space between collagen and elastin fibers in the dermis, giving it turgidity. 
Where is 100% Pure Skincare Sold?
100% Pure skincare is sold on the brand's website, as well as several third party online retailers such as Dermstore, Amazon, and more. 
What is The 100% Pure Return Policy?
100% Pure offers refunds for items purchased in the last 45 days for their US customers only.
Is 100% Pure Cruelty Free?
100% Pure is certified cruelty free. 
100% Pure Reviews
100% Pure reviews on the brand's website are very positive, with most of the products receiving four and five star ratings. The product with the most ratings is the 100% Pure eye cream, which currently has over 3,000 customer reviews. Many reviews for this product comment that it smells nice, applies smoothly, and really does help with puffiness and dark circles. For example, one 100% Pure review for this eye cream says, "I LOVE this eye cream, above all others! Too many brands cause my eyes to burn – this does not. Plus it de-puffs better and smells wonderful!"
However, it's important to take a look at the negative 100% Pure reviews before purchasing a product. Most of the negative reviews for the 100% Pure eye cream are from customers who were disappointed that this product didn't live up to its claims. For example, one reviewer shares, "I have been using this eye cream for a week or so – no difference whatsoever. The cream does however have a pleasant smell and goes on smoothly under eyes. Will continue to use it to see if it takes more time, but given that it's eye cream, it should be showing some results. Disappointed to have wasted my money when much less expensive products do actually live up to claims."
What Are Some Alternatives to 100% Pure?
Overall, we like that 100% Pure uses natural ingredients that are certified organic. This brand is a good option for consumers that want to improve their health by choosing non-toxic personal care products. One thing we didn't like about this brand is their claim that they are using "vegan retinol" in their Retinol Restorative Overnight Balm. With that being said, we'd like to recommend one of our favorite retinol products: Formulyst's Anti-Aging Night Cream with Retinol. 
Rather than using standard retinol, the formula contains innovative Encapsulated Retinol Technology in order to deliver a higher concentration of retinol to your skin for intense rejuvenation. Remember that retinol can provide numerous benefits to the skin, such as helping to minimize the appearance of fine lines and wrinkles, fade dark spots, improve uneven skin tone, restore skin firmness, and shrink the appearance of enlarged pores. The Anti-Aging Night Cream with Retinol also helps to lock in moisture and restore the skin's barrier function with emollients such as safflower oil, squalane, and jojoba oil.
There's no need to compromise when it comes to finding skincare that is effective and safe. Carrot & Stick takes a tough love approach to skincare, perfectly balancing the power of plants with cutting edge science. Not only is Carrot & Stick good for your skin, it is also good for the environment as the formulas skip harmful chemicals commonly found in skin care products.