Pregnancy is one of the most exciting and joyful times in a woman's life, but it's also fraught with worry. Expectant moms re-examine everything in their lives in terms of how it might affect their unborn child, from what they put into their bodies to how much they're exercising. The list of do's and don'ts while pregnant is enough to make anyone's head spin.
Skincare while pregnant is also a whole different ball game, as skin can change due to hormone fluctuations. Some lucky women have that tell-tale "pregnancy glow." Chalk it up to increased blood flow and a change in hormones which makes skin look rosy and vibrant. Many women also seem to have thicker, glossier hair during their pregnancy, as higher levels of estrogen prolong the hair's growth — but the flipside is that you'll shed a lot once you give birth.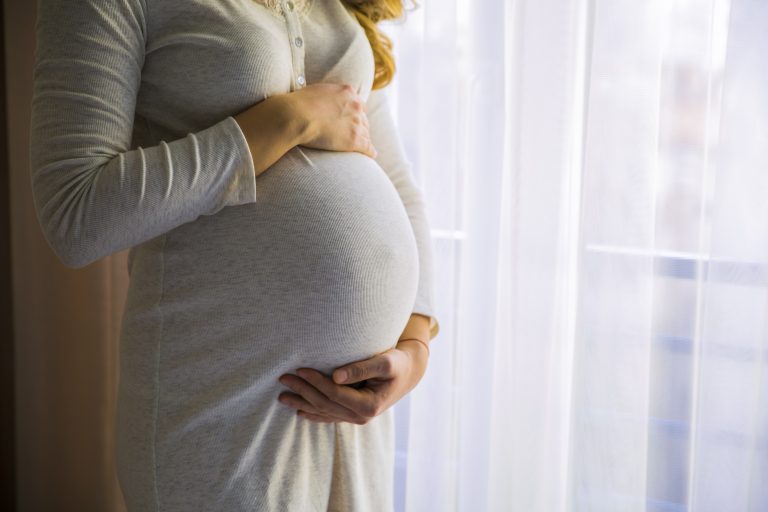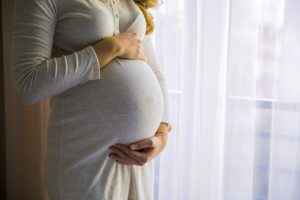 But the roller coaster of hormones can also bring unwanted changes to the skin, ranging from acne to dry skin, or darker circles under your eyes. Varicose are also common during pregnancy as is dark spots on the face, known as melasma or the "mask of pregnancy."
Navigating the world of beauty products while pregnant can feel like a minefield. Here's a look at some products and ingredients to avoid during pregnancy, and what to choose instead. Remember to always consult with your doctor or midwife first, and keep in mind that products to be avoided during pregnancy should generally be skipped when breastfeeding.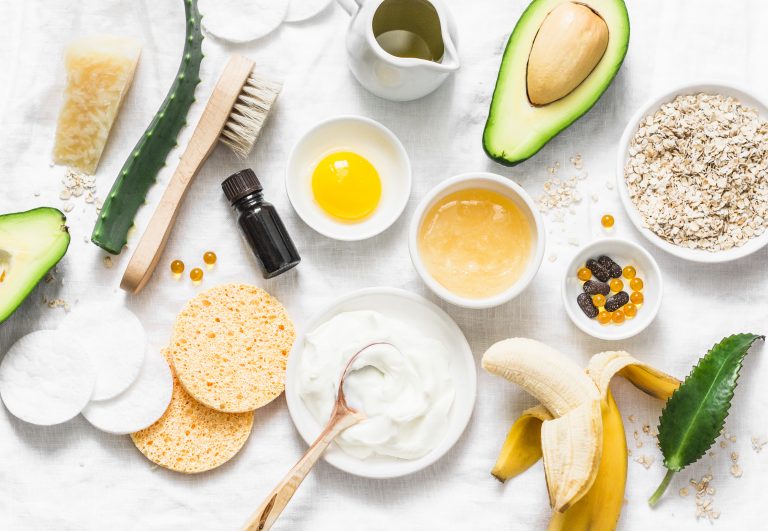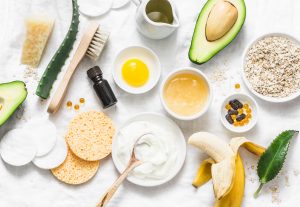 Retinoids
Retinoids, a derivative of vitamin A, are found in anti-aging creams as well as treatments for acne and dark spots. But doctors recommend that pregnant women take a break from products containing retinol, as high doses of vitamin A during pregnancy can be harmful to an unborn child. Steer clear of oral retinoids such as isotretinoin as they are known to cause birth defects. Topical application is not thought to cause harm but doctors avoid it out of an abundance of caution. Another reason to avoid retinoids during pregnancy is that because they accelerate cell turnover, this leaves skin more susceptible to sun damage and hyperpigmentation.
The bottom line? Skip the retinol while pregnant and choose moisturizers or serums containing vitamin C, hyalaruonic acid and peptides which are generally considered safe for use during pregnancy. Focus on keeping skin nourished and hydrated during this time, with a face oil or serum packed with hyaluronic acid. Or treat yourself to a weekly hydrating sheet mask or under eye mask so you still feel like you're taking care of your skin.
Sunscreens
There's nothing wrong with enjoying the last beach getaway before the baby comes but don't forget the sunscreen. And even if you're not heading on vacation, it's important to use a daily sunscreen for skin health as well as prevention of dark spots and wrinkles. Some pregnant women don't want to use a chemical sunscreen (some studies show evidence of sunscreen risk)- so why take a chance when there are other options? Choose a mineral based sunscreen instead. Ingredients such as titanium dioxide and zinc oxide create a physical block against the sun and don't penetrate the skin. You'll find mineral sunscreens in a liquid and powder form.
Acne products
Plenty of pregnant women experience breakouts, due to changing hormone levels, and the acne will most likely calm down after giving birth. But be careful before self-treating it while pregnant. Stay away from any acne products containing retinol and salicylic acid (often listed as willow bark). Opinion is divided on whether benzoyl peroxide is safe during pregnancy. Some doctors think it's safe in low doses, while others suggest avoiding it all-together, so be sure to ask your obstetrician or midwife what can be used to tackle acne.
Another way to treat acne is find a pregnancy safe face wash. Look for one that contains a low percentage of glycolic acid to help target the acne, or find a face wash containing tea tree oil. Azelaic acid is considered to be pregnancy safe and also helps fight acne, as it works by killing the bacteria that cause acne. Avoid products containing alcohol and fragrance which can worsen inflammation.
Hydroquinone
Some pregnant women have the "mask of pregnancy," or hyperpigmentation, on their face during this time. It occurs most often on the forehead and cheeks, and is often genetic. It's not harmful and usually goes away after giving birth. You may feel tempted to reach for a whitening or lightening product but read the label carefully. Many lightening products contain hydroquinone, but it has not been tested for safety during pregnancy, and is best avoided. Instead, look for a brightening product that contains vitamin C or azelaic acid to help battle hyperpigmentation as well as acne and hyperpigmentation. Remember to wear a mineral SPF cream or powder every day as well to prevent further hyperpigmentation.
Hydroxy Acids
Hydroxy acids are found in cleaners, toners and exfoliants. They work by sloughing off a layer of skin to reveal a fresher, smoother looking complexion. Most doctors advise to skip anything containing salicylic acid, but the consensus is that small amounts of glycolic acid and lactic acid are considered safe in low dosages. Check with your doctor. Look for a sheet mask or daily cleanser containing alpha hydroxy acids to help leave skin feeling bright and glowing.
Phthalates/formaldehyde/toluene
These chemicals are found in cosmetics such as perfume and nail polish, and some researchers are looking into the link between them and possible birth defects. As always, pregnant women will want to err on the side of caution but this doesn't mean you have to skip your weekly manicure or give up a soothing pedicure. Choose a nail polish brands such as Nailberry, Zoya or Butter London which are labeled as 3-free or 5-free, and do not contain formaldehyde. Do your nails at home, or bring your own polish to a well-ventilated salon. Or just reach for a nail buffer to give your nails a polished look and look forward to that manicure at a later date.
Hair Treatments
Most hair dyes do not contain a significant amount of chemicals that could potentially harm an unborn baby, but many doctors err on the side of caution and recommend waiting until the second trimester before making an appointment at the hair salon. As always, check with your doctor first. This doesn't mean you have to give in to your greys or stare at your roots for months. Many pregnant women chose an ammonia-free hair dye or try a semi-permanent vegetable based dye. Some salons offer organic hair color as well. If you're dyeing your hair at home, consider a brand such as Madison Reed which is free from ammonia, parabens, resorcinol, PPD, and phthalates. Make sure you choose a well-ventilated salon. Straightening treatments such as keratins should also be skipped during pregnancy as some contain formaldehyde. If you want to indulge in some hair self-care, try an olive oil or coconut hair mask.
Makeup & Moisturizers
Your skin during pregnancy may react differently to your regular makeup and creams due to hormonal changes, and you may notice new sensitivity or dryness. If you're experiencing redness, irritation or acne, consider switching to a mineral makeup. Brands like bareMinerals and Jane Iredale offer mineral makeup in a powder and liquid foundation, and they contain titanium and zinc, which act as a natural SPF to protect your skin from the sun. If skin sensitivity is plaguing you, look for products labeled "noncomedogenic." You may also need to switch up your moisturizer. Try replacing it with something made for sensitive skin, or try applying a facial spritz with naturally soothing ingredients such as aloe vera and rose oil. If your body is feeling dry and itchy, many pregnant women swear by cocoa butter or Bio-Oil to soothe skin and prevent stretch marks.
Spray Tans
Although you may be tempted to spray tan to help camouflage those new pregnancy related spider veins, it might be best to skip it. The active ingredient in self-tanning products as well as professional spray tans is dihydroxyacetone (DHA), which is derived from sugar. Its effects on unborn babies have not been tested. Anyone getting a spray tan in a booth can also end up inhaling some of the ingredients, so it's best avoided while pregnant, especially since it is used over such a large part of the body. Embrace your natural skin color when pregnant.
Thioglycolic Acid
Although shaving your legs (and peering down at them) gets more difficult later in pregnancy, stick with shaving as your hair removal method of choice. Thioglycolic acid is the main ingredient used in hair-removal creams. There have been no studies on its effects on fetuses, so put this in the category of skip it for now. Leave the hair removal creams at the drugstore, and check out a women's shaving club such as Billie for a fresh supply of ergonomically designed razors.