Using a Collagen Mask: Treatment Options and Side Effects
There are a number of treatment options for those who want to look younger, from cosmetic surgery to laser skin resurfacing, but when it comes to ease of use and avoiding after-procedure downtime, a collagen mask may be a useful option for some people. These masks are designed to rejuvenate skin and boost collagen production to tighten skin and get rid of wrinkles and fine lines. Collagen mask kits can be purchased at spas, pharmacies, and beauty supply outlets, as well as through a multitude of online retailers. While masks like this can be beneficial to the skin, anyone who uses them should temper their expectations for rapid results and make an effort to understand how to increase collagen and improve aging skin. Therefore, before as you consider using a collagen mask, take the time to understand your skin type, how the mask will work to address your specific problems, and whether you might suffer from any side effects.
How a Collagen Mask Works
During the natural aging process, the skin loses elastin and collagen, and over time, the skin loses its ability to snap back into place after being pulled. While there is no effective way to replace the skin's elastin, as the body mostly stops producing it in early childhood, the skin's collagen continues to be rejuvenated throughout your lifetime. With some treatments, like collagen pills, or a collagen serum, the body's own natural production cycle can be amplified in a variety of ways. While some treatments can be expensive and painful, such as collagen injections, others are safer and not as costly, such as a collagen mask, for example.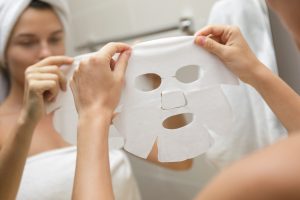 When applied to the face, a collagen mask is designed to tighten skin in the long term. Environmental toxins and the free radicals in the sun's UV rays all destroy collagen, but the ingredients in a collagen mask may rejuvenate the skin by moisturizing it and boosting protein production in order to eventually smooth out fine lines and wrinkles. There are a number of different masks available, from those that come in a cream that you spread over to the skin to individually-wrapped masks that are designed to fit over the face and have holes to accommodate the nose and eyes. No matter which collagen mask application method you choose, be sure to read the ingredients and select one that is free of artificial fillers and parabens.
Preparing the Skin for a Collagen Mask
In order to achieve the best possible results with a collagen mask, it's important that you prepare your skin before applying the product. First, wash your face with a gentle cleanser and then softly exfoliate the skin to remove any old makeup residue and to open up the pores on your face. It's not necessary to steam open your pores before you use a collagen mask, but you can add this step for improved results, as open pores increase the product's ability to penetrate deeper into the skin. If you use a collagen mask that you must spread on yourself, use only your fingertips and spread the gel evenly over your skin, avoiding the eyes and mouth. If you're using a pre-wrapped mask, ensure that you apply it evenly so that the ingredients penetrate the skin more evenly.
Collagen Mask Side Effects
While dangerous side effects from a collagen mask are rare, some people have reported itching, redness, irritation, and in some rare cases, bruising, from the use of these masks. The more sensitive or thin your skin is, the more likely you are to experience these side effects. Before using a collagen mask, consult your doctor or dermatologist to ensure that you are not at a heightened risk because of any existing medical conditions or medications you may be taking. If you experience severe redness or itching, you may be allergic to an ingredient contained within the collagen mask, and should seek medical assistance immediately, as any allergy has the potential to become fatal.
Highly Recommended 
We recommend Advanced Dermatology and Formulyst skin care products.