Dear men: if you're still using bar soap to wash your face, please stop. Men's face care has moved beyond just washing your face and applying a splash of aftershave. And gone are the days when men would feel the need to steal some of their girlfriend's moisturizer in the bathroom. More men are investing time and money in their skincare routine, to help keep their skin healthy, vibrant and looking its best. After all, your face is the first thing people see and taking care of yourself is nothing to be embarrassed about.
The skin is the largest organ in the body and needs to be taken care of properly to keep it looking and feeling healthy. Preventive care is the key; don't wait for an issue such as acne or oily skin to pop up before embarking on a skin care routine. But where do you start choosing the products, and what are some of the best skin care products for men?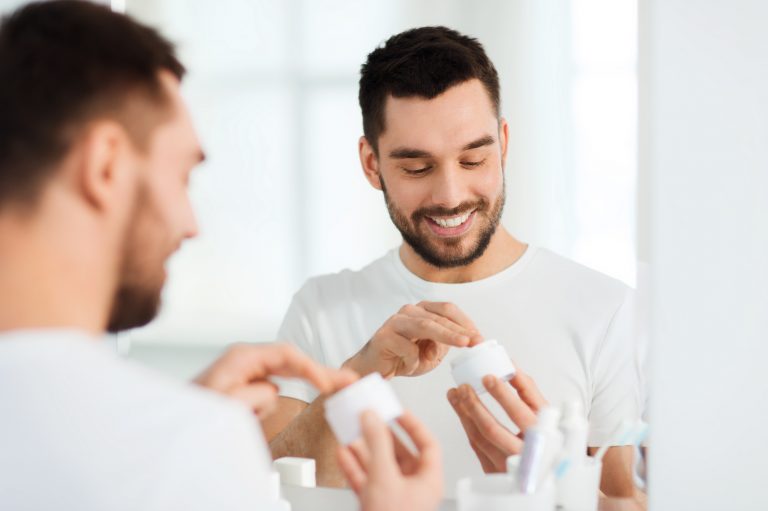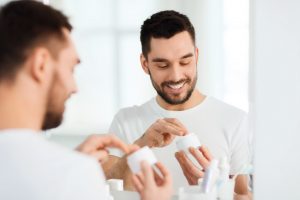 The basics of men's skin care are the same as females—cleansing and moisturizing are key—but the first step in creating a skin routine and selecting the right facial products is to identify and understand your skin type. Skin tends to fall in these categories: dry, oily, combination or sensitive. Seasonal changes can also affect the skin, with the heat and humidity of summer leading to breakouts and oily skin while harsh winter air can cause dryness.
Identifying skin type will help narrow down the correct products to use, which will be the basis of creating a skincare regimen. Those with acne prone skin should choose non-comedogenic and oil free products, while anyone with sensitive skin should look for skincare labeled specifically as such.
In the morning, a quick splash of water is all that most people need but it's essential to wash the face after a workout and before going to sleep. Washing your face gets rid of any dirt, grime and oil that has settled there during the day. Think of it as starting with a clean slate and prepping the skin for what comes next, such as applying a face cream. There's nothing wrong with bar soap for the body but it's too harsh and drying for the face, so choose a product that is designed for facial cleansing. On the flip side, be careful not to over cleanse either– over-washing can wreak havoc on the skin's oil producing glands, leading to breakouts.
Moisturizing is one of the most important cornerstones of any skincare routine for men and women. It keeps skin looking healthy and hydrated and protects the skin. Some of the best moisturizers for men also deliver good-for-you ingredients such as vitamins and nutrients, as well as anti-aging ingredients. Apply a facial moisturizer after showering or shaving to lock in moisture. Moisturizer also helps with how your face feels, by preventing any feeling of tightness and dryness. It's especially important to apply moisturizer as you get older, as skin loses the ability to retain moisture as you age.
Men should also take the time to exfoliate a few times a week. Why? It helps to whisk away any dead skin cells that could lead to clog pores and breakouts. Exfoliating also works to reveal fresher skin. An ideal time to scrub is just before shaving to help discourage ingrown hairs and bumps.
Toner is an important but often overlooked step in men's face care. Toner helps to eliminate any traces of dirt and residue left over after washing your face. It also helps balance the pH level of the skin, and works to soothe and nourish the face. A quick swipe of a toner soaked cotton ball is all you need.
One of the most important parts of any skincare routine for men is the daily application of sunscreen. This should be a no-brainer. Too much sun leads to wrinkles, sunspots and even cancer. The easiest way to incorporate sunscreen into a men's face care routine is to choose a moisturizer with an SPF, to help protect skin from harmful UV rays and prevent the appearance of wrinkles.
Finally, consider incorporating an eye cream into your routine. The right eye cream can help tackle dark circles and puffiness, as well as target any fine lines.
Oh, and that after shave your dad used to splash on his face? Don't even think about it– an alcohol based-aftershave can over dry the skin. Use an after shave balm or a moisturizing after shave lotion instead.
Here's a look at the basics of men's face care, along with some of the best moisturizers for men and men's facial products.
Clinique for Men range
Clinique's 3 Step formula boils it down to the basics: cleanse, exfoliate, moisturize. The full range comes in a sleek charcoal colored packaging, and covers everything from shaving to exfoliating powders, and is designed to deliver an effective formula with a minimal amount of fuss. Take your pick from a variety of facial washes, from a charcoal based gel that helps draw out impurities to a gentle formula for dryer skin.
Kiehl's Facial Fuel range
Kiehl's takes a no-nonsense approach to men's facial products and its Facial Fuel range is packed with good-for-you vitamins. The blue- hued line includes everything to customize a men's skin care routine, including a gel facial wash and moisturizer, to an invigorating scrub containing caffeine and menthol. The line also includes an eye cream and lip balm.
Shiseido Men range
Japanese brand Shiseido offers a small but mighty selection of products for men, which are designed to revitalize and hydrate the skin. The range includes a cleansing foam that doubles as a shaving cream, as well as a moisturizing emulsion that soothes razor burn. Shiseido's high performance eye cream targets wrinkles, bags and dark circles.
Brickell Men's Products
Brickell Men's Products focuses on all-natural skincare for men. The line covers everything from beard maintenance to shampoo and body wash. Brickell's Advanced Anti-Aging Routine contains three products: an evening serum, anti-aging cream to lift and firm the skin, as well as an eye cream.
Jack Black skincare
Jack Black is one of the most popular skincare lines for men, but also counts women among its fan base. The products' fragrance comes from botanicals and extracts, giving it a unisex scent. Women love the Grapefruit & Ginger lip balm but the line includes a wide variety of products for men, from exfoliating resurfacing pads to beard wash and a 2-in-1 liquid cleanser and toner. Deodorant and a pain relieving cream are also available.
Tiege Hanley
Tiege Henley is known for delivering high performance products at a reasonable price directly to the consumer. Men can choose among three different skincare systems. The basic routine includes a face wash, day and evening creams, as well as a scrub, while other systems incorporate serums and eye creams to target anti-aging concerns.
Advanced Dermatology
Advanced Dermatology's line takes all the guesswork out of choosing the correct products for your skin type and concerns. The products are suitable for men and women, and the line contains six products designed to moisturize, protect and boost the skin's appearance. The regimen includes a Daily Renew Cleanser, Super Youth Serum, Anti Wrinkle Firming Night Treatment, Deep Cellular Regeneration Cream, Complete Age Defense Day Cream and Youthful Boost Eye Cream. The products are designed to tackle the signs of aging while helping skin look firm and healthy.