Every great makeup application starts with one essential product: Foundation. Your foundation serves as the base of your entire makeup look and it doesn't matter if you're a beauty expert or makeup novice, if you're using the wrong one, your makeup is done before it even started. The reality is, if you want a flawless makeup application, you need to start with the best foundation for your skin. Fortunately, you're in luck because the cosmetic industry is full of foundations created in shades to match the palest to deepest skin tones, available in an array of textures and finishes, designed for your specific skin type. All you have to do is figure out, which one is the best foundation for you. That's where we come in. Here is your complete guide to finding the best foundation for your skin so your makeup is naturally flawless, every time you apply.
Related: Foundation reviews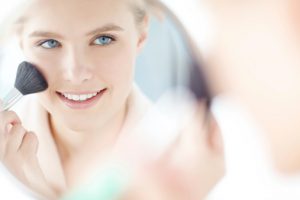 Best Foundation for Oily Skin
Oily skin is one of the most complex skin types to maintain. And while this is true, it also happens to be one of the easier skin types to find the best foundation for. Before we jump into listing the best foundation options for this particular skin type, first let's discuss your oily skin foundation needs. For people who suffer from oily skin, in any degree, one of the main concerns with finding the best foundation, is combatting shine. Oily skin produces a significant amount of sebum—an oily secretion that helps skin from drying out—throughout the day. This leads to oil breaking through the foundation, leaving behind a shiny, greasy appearance to the skin. Along with this concern, obsessive sebum production often shortens the lifespan of your foundation. This means the best foundation for oily skin will undoubtedly need to have some sort of long lasting properties infused within.
Now that we know what we're looking for, it's on to finding the best foundation. It almost goes without saying, that an oil free foundation will be best for oily skin. If you see oil-free on the label, chances are it's a foundation that will work well for this skin type. You'll also want to be on the lookout for foundations that promise to provide a matte finish to skin as these types of foundations are specifically designed to absorb oil over the course of the day. We've chosen three options at different price points that would be great for this particular skin type. The best foundation for oily skin in the luxury makeup space would have to be the Eve Lom Sheer Radiance Oil-Free foundation. The best foundation for oily skin on the department store level would be the Estee Lauder Double Wear Stay In Place Makeup that promises to give your skin a long lasting 15 hours of shine-free wear. Exactly what oily skin needs in a foundation. And finally for the best drugstore foundation for oily skin, L'Oreal's Infallible Pro-Matte has been a fan favorite with its affordable price tag and its soft matte finish it leaves behind on the skin.
Related: Best concealers
Best Foundation for Dry Skin
When it comes to dry skin, finding the best foundation should have one main focus point: Moisture. With that being said, you should stay away from powder foundations at all costs and opt for a liquid, cream, or mousse foundation instead. The trick to finding the best foundation for dry skin is to seek out those with the terms "hydrating" or "luminous" in their names as they will typically contain the nourishing properties that dry skin needs. As far as ingredients go, any product that contains hyaluronic acid would be the best foundation choice for you. And when it comes to formulations, time release foundations are particularly great as they ensure that skin stays hydrated throughout the day.
Once again, we've chosen three foundations at various price points that would work great for your dry skin. At the top of the list, the best luxury foundation for dry skin is the SK-II Facial Treatment. This cream foundation promises to give skin a luminous glow while working to provide intense hydration throughout the day. On the mid-tier level, the best foundation would obviously be fan favorite M.A.C Face and Body Foundation. This is a unique water-based liquid foundation that is lightweight and provides a healthy dose of hydration. And for those looking for the most value for your buck, the best drugstore foundation for dry skin would have to be Revlon's Color Stay Whipped Foundation. This mousse foundation is home to an innovative formulation that releases moisture into the skin all day long.
Best Foundation for Acne Prone Skin
Acne prone skin is one of the more difficult skin types to shop for a foundation. It doesn't help that many people who suffer from acne prone skin tend to shy away from trying new options in fear that the foundation may break them out. To make things easy, to find the best foundation for acne prone skin you'll need to stay away from choices that say anything other than "good for sensitive skin". Typically these will be non-comedogenic foundations that won't clog pores which is the main culprit in blemishes and breakouts. This means you won't be looking for foundations that promise a matte or dewy finish and you'll have to pass on anything that promotes a luminous or radiant glow. The best foundation for acne prone skin will be home to simple formulations that include common acne-fighting ingredients like salicylic acid and won't irritate the skin.
Although acne prone skin is one of the most difficult skin types to shop for, fortunately, there are many foundation options available to try. For starters, the best foundation for acne prone skin would definitely be a mineral foundation. These foundations are natural based, noncomedogenic, and formulated without harsh chemicals. Some of the best mineral foundations on the market are the Bare Minerals Original Foundation and M.A.C's Mineralize Loose Foundation. Both of these foundation options are in the mid-tier range. If your skin is both acne prone and dry, a mineral foundation may not be the best foundation for you. For those skin types, a liquid foundation specifically formulated for acne prone skin would be your next best bet. While other skin types generally can look to any brand to find a foundation option that works  well for them, those with acne prone skin should start with a makeup company that focuses on skincare. The best foundations in this space are Clinique's Acne Solutions Liquid Makeup which is formulated with a healthy dose of salicylic acid or the more affordable Neutrogena SkinClearing Liquid Makeup which is oil-free and works to control breakouts.
Best Foundation for Combination Skin
Next to acne prone skin, another difficult skin type to shop for is combination skin. For most people with combination skin, some areas of the skin are extremely oily while other areas may be equally dry. Many people with combination skin have a difficult time even identifying their skin type because of this. This presence of both oil and dryness can make it challenging to find a foundation that will serve both characteristics of your skin well. As a general rule, the best foundation for combination skin will not contain oil but will contain other nourishing skincare ingredients. Essentially you are looking for a foundation that is moisturizing but won't promote sebum production, oil, or shine.
One of the best types of foundation to use on combination skin are foundation sticks. Depending on the brand and the properties of the foundation, you can use foundation sticks to easily target specific areas of the face. For example, you can use a mattifying stick foundation on your t-zone and another foundation option for the rest of your skin. Some of the best stick foundations available are Bobbi Brown's Skin Foundation Stick, a department store option with a sizable price tag that is a definitive fan favorite, or the more affordable Maybelline FIT ME Shine-Free foundation stick. If you're not a fan of stick foundations and would prefer a more traditional foundation option, the Neutrogena Healthy Skin Foundation is home to a unique antioxidant formulation that allows it to work well on both oily and dry areas of the skin providing you with a simply flawless base application.
Best Foundation for Mature Aging Skin
For those with mature skin, finding the best foundation means looking for something more than just a base to set the tone for your makeup application. Aging skin has specific needs that  foundation should meet in order for the skin to thrive. Before you set off on your search for the best foundation for your mature skin, think about the concerns you want your foundation to address. The best foundation for aging skin should provide intense moisture, promote cell renewal, and improve the appearance of the skin by concealing imperfections and helping to skin to feel firmer and more plump.
The best part about shopping for foundation for mature aging skin is many options will explicitly note that the foundation is specifically designed for this skin type. The best foundations will generally have some sort of anti-aging, age rewind, or skin renewal language which helps shoppers know they are in the right place. One of the most popular foundations for women with mature skin is the Estee Lauder Re-Nutriv foundation. This particular foundation is home to some of the most positive anti-aging foundation reviews with women thoroughly impressed with how well this foundation works.The Re-Nutriv foundation is designed to lift and firm the skin which is a key benefit for mature skin. While some of the best foundation options for aging skin are on the pricier side, there are a few drugstore foundations that would work just as well for most people. The L'Oreal Visible Lift Serum Absolute Advanced Age-Reversing Makeup and the Maybelline Instant Age-Rewind are two drugstore foundations that come with a high recommendation to meet the needs of aging skin.
Best Full Coverage Foundation
The debate surrounding the best full coverage foundation is one that has been ongoing in the beauty space for years and is likely one that will continue as new brands are introduced to the market and as existing brands release new products. But, if you were to poll the makeup enthusiasts and beauty experts of the world, you would no doubt find a couple foundations that are continually regarded as the best full coverage foundations on the market. The full coverage foundation with the most positive consumer reviews is the Estee Lauder Double Wear Maximum Coverage Camouflage Foundation. This foundation is designed to perform exactly as its name suggests, providing skin with the most full coverage, long-lasting foundation application. It is a fan favorite foundation and absolutely one to try if you're searching for maximum coverage in your foundation.
Best Liquid Foundation
So the best full coverage foundation was an easy call, but the best liquid foundation? Not so much. The thing about liquid foundation is, the possibilities are endless and it really comes down to your skin type and needs to determine which would be the best liquid foundation for you. To be fair, we've narrowed it down to two liquid foundations that are considered the cream of the crop, with an option that would work well for every skin type. We have to start the list of best liquid foundations with Lancome's Teint Idol Ultra 24H Foundation. Not only does this foundation promise to provide an impressive 24 hours of wear time, but it's also available in one of the most extensive shade ranges on the market which is a definite bonus. Another option is one that is most likely on the face of your favorite beauty guru and expert. The NARS Sheer Glow Foundation is great for dry skin and provides a host of skin benefits to help improve the texture and appearance of skin with every application.
Best Powder Foundation
For the best powder foundation, the fan favorite is one that you wouldn't expect but has certainly been making a name for itself throughout the cosmetics industry. We have to list the Kat Von D Lock-It Powder Foundation here, as it is one of the most celebrated foundations for its full coverage and staying power. This powder foundation promises to deliver 24 hours of full coverage wear that is sweat resistant, water resistant, and smudge proof.
Best Matte Foundation
As we mentioned earlier, people with oily skin should be searching for a foundation that provides a matte finish. While there are a host of liquid foundations that can give you the effect you are looking for, the best matte foundation will be typically be a powder. There is a wide selection of matte powder foundations available to choose from but one of the best rated is the Make Up For Ever Duo Mat Powder Foundation. This is an oil free matte foundation that provides skin with a long lasting, shine free finish.
Best Drugstore Foundation
While some of the best foundations in general are found amongst the prestige brands, drugstore foundations have come a long way. There are some drugstore foundations in fact that rival some of the most popular high-end foundations. And to make things even more complicated, every year it seems as if a new drugstore foundation is released, ready to replace your current fave. But if we had to pick just one, the best drugstore foundation comes from a tried and true cosmetic brand that has been delivering quality makeup products at an affordable price tag for decades. L'Oreal's True Match is the most versatile drugstore foundation in terms of shade range, texture, and supporting products. Regardless of your personal preferences, this drugstore foundation will be able to meet your needs.
Related: Best Skin Care Products