When your skin is acne-prone it also tends to be oily, which means you might find yourself avoiding moisturizers like the plague. But the truth is even oily, acne-prone skin needs a good moisturizer. A solid moisturizer will help keep your skin balanced and healthy, not to mention help prevent premature signs of aging and keep skin supple in general. Of course that doesn't mean that any old moisturizer will do for you—you absolutely should take your skin's unique needs and physiology into account.
The right acne cream or acne moisturizer for your skin will need to be oil-free and non-comedogenic (won't clog your pores). This will ensure that your skin will stay moisturized without your pores getting congested or your skin being frustrated by even more oiliness. Your skin will also not look annoyingly shiny, just well hydrated and soft to the touch. You don't have to sacrifice hydration because you want to prevent more acne. You can enjoy being properly moisturized and not be afraid that pimples will start popping up everywhere.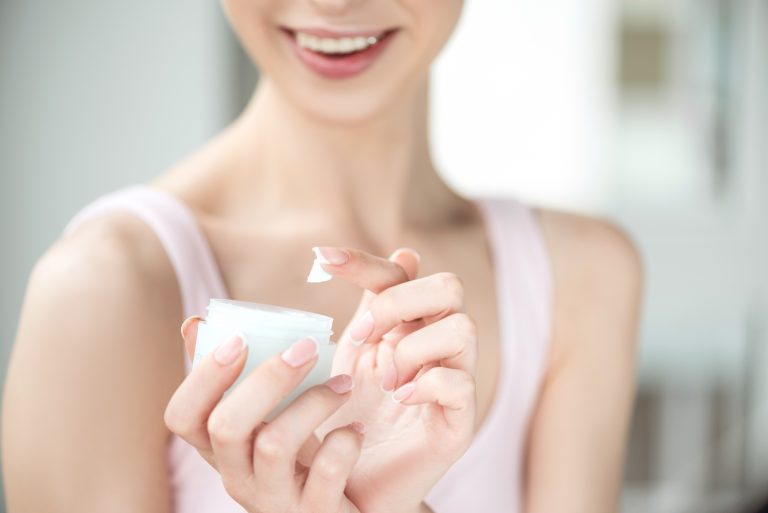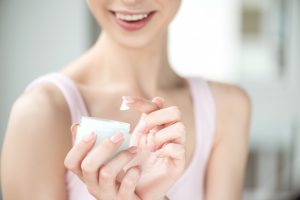 In addition to looking out for oil-free and non-comedogenic moisturizing options, you can also benefit from opting for gel-based lotions that are more lightweight. They are usually not as thick or heavy as traditional moisturizers, which can have a negative impact on skin dealing with excess oil production.
We've curated a list of some of the best acne moisturizers for oily skin. The moisturizers on this list will help control excess oil production, refine pores to make them look smaller and mattify skin to reduce shine.
La Roche-Posay Effaclar Mat
This entire line from La Roche-Posay is great for acne-prone or oily skin because it helps to refine and mattify, meaning smaller pores and no shine. This particular moisturizer features lipo-hydroxy acid to help make pores look smaller and thermal spring water to provide adequate hydration. Again, your skin will look beautifully matte, which is often a desire for those with oily skin who constantly have to deal with excess shininess. This also makes a great base for makeup, but doesn't contain SPF, which you'll have to apply on top.
CeraVe AM Facial Moisturizing Lotion
CeraVe is a popular and great drugstore brand beloved by many. This moisturizing lotion is also an excellent choice for oily skin because it is oil-free, non-comedogenic and also fragrance-free (good for sensitive skin types). Active ingredients include hyaluronic acid (a non-pore clogging hydrating ingredient) and ceramides, both of which provide thorough hydration. Another ingredient, niacinamide, can help decrease inflammation and reduce redness – these are often causes and effects of pimples.
Tatcha Water Cream
A gel-cream moisturizer like this one from Tatcha is an optimal choice for an acne moisturizer. Gel-creams are very lightweight and feel weightless on your skin as well. Not only that, but they are never oily or heavy either. Plant botanicals are the main ingredients in this acne moisturizer. Japanese Wild Rose helps tighten pores so they look smaller, and Japanese Leopard Lily helps control excess oil production. Of course this is also oil-free and non-comedogenic as all acne moisturizers should be.
Vichy Normaderm Anti-Acne Treatment Face Lotion
Specifically created for acne-prone skin, this lotion from Vichy contains glycolic acid and lipo-hydroxy acid to exfoliate, clear pores and thus prevent further acne from developing. But beyond that, of course it also provides hydration to keep skin smooth and supple. This lotion will also address large pores and excess shine by helping to tighten pores and control excess oil production. Oily, combination and normal skin types can benefit from this acne cream.
Elta MD UV Elements Tinted Broad-Spectrum
Elta MD's UV Elements moisturizer comes recommended by dermatologists. This won't make you break out or clog your pores, but will provide hydration and protect you from sun damage. As a bonus, it is also tinted, so it will help camouflage your existing acne and pimples to make them less noticeable while you're waiting for them to heal. This is a very lightweight formula that will feel great on the skin.
Neutrogena Hydra Boost Water Gel
Another water-based formula, Neutrogena's Hydra Boost Water Gel will work very well for oily, acne-prone skin. It is lightweight and absorbs easily into skin to help control oil and reduce shine. In addition to being oil-free and non-comedogenic, this moisturizer is also free of fragrances, making it a great choice for sensitive skin too. Active ingredients that provide hydration include glycerin and hyaluronic acid.
Aveeno Ultra-Calming Daily Moisturizer
This Aveeno moisturizer is particularly good for acne-prone skin because in addition to providing hydration, it also helps reduce redness and calm inflammation with oat extract. It will further soothe irritated and stressed skin that is being impacted by acne and inflamed blemishes. This moisturizer can potentially even help acne heal a little bit faster than without any treatment. Furthermore, this lotion contains SPF to protect against sun damage to keep skin from premature aging.
Peter Thomas Roth Water Drench Hyaluronic Acid Cloud Cream
Peter Thomas Roth's Water Drench Cream is a water-based cream that is actually recommended for all skin types, and not just oily or acne-prone skin. It features 30 percent concentrated hyaluronic acid (a substance that can hold 1,000 times its weight in water) that draws moisture from the environment to deeply hydrate skin. This cream is great for combating fine lines and wrinkles as well, with antioxidant-rich elderberry helping to scavenge free radicals and prevent them from causing damage to healthy skin cells. This can accelerate aging if left untreated.
Glow Recipe Watermelon Pink Juice Moisturizer
This K-beauty brand has skyrocketed in popularity recently because of its "hybrid" approach to skin care, meaning it targets several problems at once. True to form, this particular moisturizer helps combat dryness and uneven skin tone while also boosting radiance and glow. However, it does not complicate oily skin thanks to being lightweight and oil-free. It won't clog pores or worsen acne at all.
Ole Henriksen C-Rush Brightening Gel Crème
Ole Henriksen's C-Rush Brightening Gel Crème offers hydration all day long, while reducing oil production to prevent shine. On top of that, it is packed with vitamin C, a potent ingredient that helps combat dark spots and discoloration. As acne often results in post-inflammatory hyperpigmentation and leaves behind dark scars, this can be a great moisturizer for skin that is prone to these problems. Over time with regular use, skin will become far more even in tone.
Sunday Riley Tidal Brightening Enzyme Water Cream
Another super popular brand, Sunday Riley has revolutionized skin care with its cult-favorite products. This water cream is suited for all skin types, but particularly good for oily skin that battles acne on a regular basis. Two forms of hyaluronic acid and tamarind extract provide hydration, while papaya enzymes help refine, tightening pores and gently exfoliating to prevent further breakouts. Alpha-arbutin further helps lighten dark spots for an even complexion.
Boscia Cactus Water Moisturizer
A fast-absorbing moisturizer, Boscia's Cactus Water helps combat loss of firmness and elasticity while also targeting dullness and dryness. This is important because even oily skin can become dry at times, especially if you happen to be applying a lot of anti-acne spot treatments that can dehydrate skin, like salicylic acid and benzoyl peroxide. However, this moisturizer won't exacerbate oiliness or acne.
Shiseido Pureness Matifying Moisturizer
This moisturizer from Shiseido features oil-absorbing powder to help mattify skin and keep oiliness at bay. You won't suffer from unwanted shine as you go about your day, but will reap the benefits of this moisturizer's hydrating powers. This one is also specifically recommended for oily and blemish-prone skin so you know it works.
Drunk Elephant B-Hydra Intensive Hydration Serum
A lightweight serum that won't clog pores or make you shine like Rudolph's nose, this offering from Drunk Elephant is much beloved by fans. It will provide intense hydration that lasts all day. Ingredients include vitamin B5 (to improve skin barrier function), pineapple ceramide (to plump up skin) and sodium hyaluronate (to plump up fine lines). Although it is mainly used to combat signs of aging, it is also recommended for oily skin because it is oil-free and extremely lightweight.
Origins GinZing Energy-Boosting Gel Moisturizer
This moisturizer contains panax ginseng and coffee bean to give skin a boost — it's great if your skin is feeling especially dull. This formula will also help add luminosity and brighten skin overall for those suffering from dark spots and acne scars. As it combats unevenness and dryness, it also addresses excess oiliness thanks to a lightweight texture that cools as it hydrates.