What Causes Dry Skin
At some stage in our lives, we all experience dry skin, regardless of which part of the world we live in. The weather, our food and daily activities play an important role in determining how dry our skin becomes. When the weather is too hot or humid, our skin tends to get dry and will need proper hydration. On the contrary, in extremely cold weather, when the heaters are turned up and the air becomes dry, skin tends to lose its moisture. And in today's busy world, stress is also known to contribute to dry, neglected and flaky skin.
The Right Lotion for your Skin
Once you've noticed that your skin is dry, it is important to seek the help of a pharmacist at a drug store near you or a doctor about the right kind of lotion for your skin. Listed here are tried and tested body lotions. Interestingly, some are mild enough for the face too. The primary function of these lotions is to moisturise. In some cases they are also a form ofo stress relief for skin conditions like eczema, as they are effective in making skin look and feel healthy.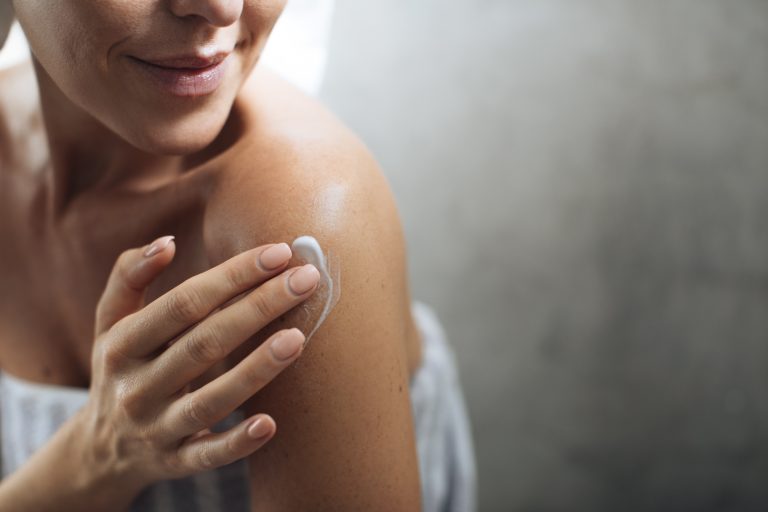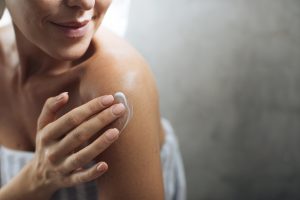 EltaMD Lotion
If you are looking for a little moisturizing that goes a long way, EltaMD Lotion is your answer. Formulated for dry and itchy skin, a small amount is all it takes to help your skin become silky-soft almost immediately. To get the best from this long-lasting therapeutic lotion which is well-known for its moisturizing effects, be sure to apply EltaMD Lotion daily just after a shower or bath. This will help to soothe and strengthen the skin's protective barrier while rehydrating it in a therapeutic way. EltaMD is known to strengthen skin against damage caused by frequent hand washing, swimming and cold, dry air. It is water-soluble and guards against moisture loss by binding moisture to the keratin in skin cells, keeping the skin cells plump and supple. It's fragrance free and can be applied on the face too.
Aveeno Daily Moisturizing Lotion
Trusted for its use of natural ingredients, this AVEENO lotion uses Colloidal Oatmeal as an active ingredient to help restore skin's normal pH. It works together with rich emollients to protect dry skin for a full 24 hours. In fact, this nourishing lotion is clinically proven to improve the health of dry skin in just a day and if used daily, you will notice a significant improvement in 2 weeks. The result is soft, smooth and naturally healthy looking skin. Fragrance free, non-greasy and non-comedogenic, it is a popular drugstore brand recommended by dermatologists for skin conditions like eczema.
Kiehl's Creme de Corps
Enriched with the finest skin-nurturing ingredients known to Kiehl, namely Beta-Carotene, Cocoa Butter and Sesame Seeds, this rich formulation is able to heal and refresh dry skin. Beta-Carotene, derived from orange and red vegetables, helps in Vitamin A production. Cocoa Butter comes from the roasted seeds of the cocoa plant and melts almost magically at body temperature to soften and lubricate your skin. Sesame Oil, obtained in a refined way from Sesame Seeds helps this lotion to be absorbed easily by the skin. For a maximum moisturizing effect, apply it gently after a bath or shower and allow it to soak in before you get dressed.
Avène Trixera Nutrition Nutri-fluid Lotion
Here's a moisturizing lotion that is so mild, everyone in the family can use, including children aged 3 years and above. Made using the Avène Thermal Spring Water, it soothes, softens and cools the skin on the face and body. Its nourishing fluid texture helps to replenish lipids, which are lacking in dry skin, to bring about 48-hour hydration. Plus, it can be applied quickly and easily, making it the perfect choice for the busy, modern family.
Clarins Moisture-rich Body Lotion
This moisturizing lotion with softening Peach Milk, Shea, Candlenut Oil and Orange Blossom sounds good enough to eat! Well-known for rescuing dry skin by gently removing dull, flaky cells, it creates a smooth and firm feeling in no time. Enjoy the youthful, all-over glow it offers as this lotion absorbs quickly into the skin so no time is wasted for it to dry and you can get dressed faster. Adding to this is its delicate fragrance which makes it a wonderful body care solution for soothing and firming skin.
CeraVe Daily Moisturizing Lotion
This non-foaming lotion, with 3 essential ceramides and hyaluronic acid, gently removes dirt and oil while increasing skin hydration. You will feel its cleansing and moisturizing effects after just one use. Although it is used mainly as a body lotion, it works perfectly on the face too. Easily available at a drug store, it has a fragrance free formula which is suitable for sensitive skin.
AmLactin Daily Moisturising Body Lotion
Clinically proven to contain 12% lactic acid, this lotion exfoliates dead skin gently while promoting new cell growth. Its formula has a pH balance of up to 5.5, ensuring rapid absorption and instant hydration for skin that is soft, smooth and supple. Its natural renewal process overcomes severely dry, cracked or flaking skin. It is suitable for persons with Psoriasis or Keratosis Pilaris as it does not cause irritation.
Lubriderm Daily Moisture Lotion
Known to absorb in seconds and moisturize for hours, this non-greasy formula is fortified with vitamin B5 and essential skin moisturizers. There is clinical proof that it can moisturize skin for 24 hours, as it cleans, restores and replenishes the dryness. It's a great everyday lotion that the whole family will love.
Aquation Daily Moisturizing Lotion
Proven to be effective during the long harsh winters, Aquation is a daily moisturizing lotion that replenishes moisture with the help of 3 enriching ceramides. Lightweight enough for the face and body, it also contains hyaluronic acid and marine algae to restore and fortify skin's natural water balance. Its quick-absorbing formula provides 24-hour hydration for dry skin, leaving it soft, smooth and hydrated.
Hempz Original Herbal Body Lotion (Moisturizer)
If you are a strict vegan who is trying to keep your skin moisturised, here is your solution. Enriched with 100% pure natural Hemp Seed oil, this moisturizer is 100% vegan. In addition, it is paraben-free and gluten-free. The Shea Butter and Ginseng content help to calm and soothe the skin while vitamins A, C and E help protect skin from natural and environmentally triggered oxidants. This moisturizer features two types of fragrances – floral and banana. Take your pick and enjoy dramatic skin hydration and nourishment for 12 hours.
Cetaphil Moisturizing Lotion
Feel comfortable in your own skin with Cetaphil Moisturizing Lotion. Specifically formulated to soothe dry skin, it is non-greasy, non–irritating and non–comedogenic, leaving skin feeling soft and smooth. Lightweight enough to hydrate and soothe even sensitive skin, it enhances natural moisture with special ingredients that bind water to the skin. The result is skin that is pleasantly nourished.
Eucerin Intense Repair Lotion
True to its name, this triple acting formula moisturizes, exfoliates and conditions to repair very dry and rough skin. It provides serious relief with an enriched formulation that does not clog pores and is fragrance free. By combining the moisturizer naturally found in the skin with alpha hydroxy, it intensively hydrates and smoothens skin, to give it a clean, healthy feeling.