It can be challenging and frustrating to find the best, most gentle face wash for sensitive skin. Sensitive skin is delicate and often temperamental. You never really know how it will react when introduced to a new ingredient. And that means you rarely want to introduce it to new ingredients. An ingredient (like glycolic acid) may be great in theory, but cause your already sensitive skin to turn red, become excessively dry or irritated, start to itch or, in very bad cases, develop a rash.
Sensitive skin needs to be treated very gently. If your skin reacts by becoming irritated when exposed to the elements, certain skin care products, stress or makeup, it is most likely sensitive and should be handled accordingly. This means you have to take extra care when looking for the right products.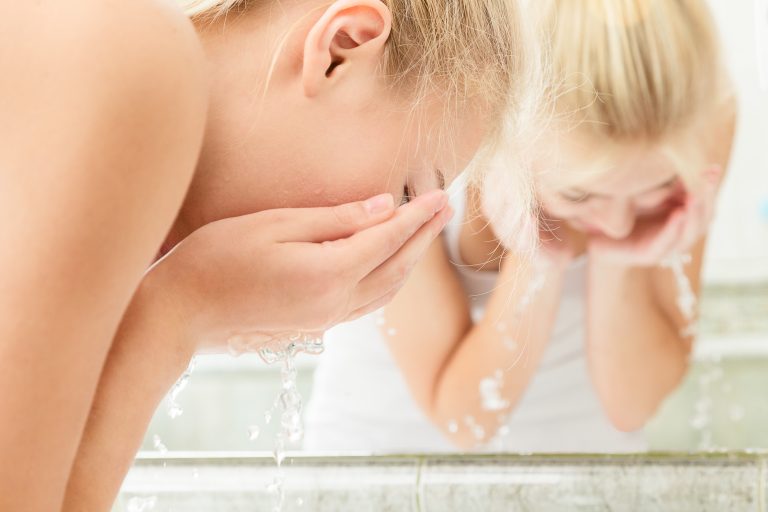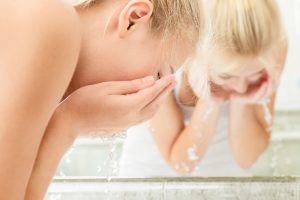 The trouble is that many products come formulated with harsh ingredients. Face wipes, cleansers, moisturizers, etc. can all include ingredients (like fragrances, exfoliants and soaps) that strip away the skin's natural oils, further compromising the skin's natural barrier, or cause irritation. When the skin barrier is compromised is when sensitive skin experiences its various problems.
The skin barrier, or the lipid barrier, is the outermost layer of skin and it is what keeps irritants and other stressors out. But when it's compromised (like when you use harsh ingredients), irritants burrow in and cause inflammation and irritation. If your skin barrier is healthy, your skin will look radiant and plump. Knowing your skin barrier is easily compromised may be very frustrating, but there are plenty of gentle face washes for sensitive skin that will keep your complexion looking its best. In this piece, we'll look more closely at them, their ingredients and what makes them so great.
Best Ingredients for Sensitive Skin
Here are a list of ingredients you can look for when searching for a gentle face wash for sensitive skin. These ingredients have been trusted for a long time, and will most likely have a great effect on your complexion.
Aloe – Aloe is known and prized for its soothing properties. It helps reduce inflammation and is very hydrating and nourishing.
Shea Butter – Derived from the African karite tree, shea butter continues to grow in popularity. It is a very gentle moisturizing ingredient.
Honey – Honey has antibacterial properties, assists in wound healing and is naturally soothing.
Rice Extract – Rice extract is very soothing and calming for skin.
Colloidal Oatmeal – You may find this ingredient in many products formulated for sensitive skin thanks to its naturally soothing properties.
Panthenol – Also known as vitamin B5, panthenol is a hydrating ingredient that also helps reduce redness.
Worst Ingredients for Sensitive Skin
This list of worst ingredients for sensitive skin warns you to stay away from some popular ingredients that are often found in many products, but any good cleanser marketed specifically for sensitive skin will typically not have these ingredients in it.
Fragrances – Fragrances are often synthetic and the full ingredients that go into making them are rarely, if ever, revealed. Without knowing exactly what goes into them, you can't really protect yourself from any harsh ingredients. Thus, it's best to avoid them.
Preservatives – Preservatives like parabens can sensitive skin, causing redness and irritation. For people with eczema and psoriasis, they can even cause an allergic reaction.
Sulfates – Sulfates like sodium lauryl sulfate and sodium laureth sulfate are what cause cleansers to foam. They are often also found in shampoos. For sensitive skin, they can strip too much of the natural and important oils that keep skin protected and hydrated.
Exfoliants – Some physical exfoliants, like walnut powder, can be extremely abrasive on sensitive skin. It is better to rely on chemical exfoliants that are usually much gentler. However, some types of sensitive skin should steer clear of exfoliants altogether.
The best and worst ingredients may not necessarily have good or bad results on every type of sensitive skin. People are individuals and their skin may react well to one recommended ingredient but not another. Conversely, some people's skin may not react badly to any of the worst ingredients listed above. Still, these are general guidelines you can look to when searching for the best, most gentle face wash for sensitive skin.
Gentle Face Wash for Sensitive Skin
It is generally recommended that you only cleanse once a day to avoid stripping away too many of your natural oils. If you tend to exfoliate, you should limit it to once per week or perhaps even less (it all depends on how your skin reacts to certain exfoliants). These gentle face washes are popular and highly rated, and come recommended by many dermatologists.
Cetaphil Daily Facial Cleanser
Cetaphil is a popular drugstore brand and a recommended choice for sensitive skin. It is unscented and non-comedogenic, which means it won't clog pores.
Avène Antirougeurs CLEAN Redness-Relief Refreshing Cleansing Lotion
This is one of the gentlest cleansers available on the market, and will help reduce redness and irritation. It is paraben-, fragrance- and soap-free to boot.
CeraVe Hydrating Facial Cleanser
Another popular drugstore brand, this cleanser is fragrance-free and non-comedogenic. It features ceramides (naturally occurring fats) that hydrate and nourish.
La Roche-Posay Toleriane Hydrating Gentle Cleanser
This creamy and luxurious face wash will not only remove all traces of makeup, but also nourish skin with its gentle ingredients of thermal water, glycerin and ceramides.
Fresh Soy Face Cleanser
Fresh's popular Soy Face Cleanser is also free of soaps and fragrances. It features lovely ingredients like soy, aloe vera and cucumber to keep sensitive skin refreshed and calm.
First Aid Beauty Face Cleanser
First Aid Beauty as a brand usually features very gentle products. This one is no exception, as it contains aloe, glycerin and allantoin to keep skin hydrated and cleansed without stripping away crucial oils.
Dermalogica Special Cleansing Gel
The mint and lavender in this gel formula help soothe and calm skin. This cleanser is considered very gentle and pleasing overall.
Skinceuticals Soothing Cleanser Foam
Great for dry or combination sensitive skin, this foaming cleanser helps remove impurities and grime without over-drying. It hydrates with ingredients like glycerin and cucumber extract.
Neutrogena Hydro Boost Gentle Cleansing Lotion
This gentle formula is sulfate- and fragrance-free, and features hydrating hyaluronic acid to keep skin plump. It also won't clog pores and happens to be very affordable.
Formulyst Gentle Foaming Cleanser
This cleanser turns into a lovely foam upon application, giving you a luxurious cleansing experience. Regenerative ingredients like rosehip seed oil and vitamins A, C and E provide hydration while also protecting from free radical damage.
Eucerin Ultra Sensitive Cleansing Lotion
Eucerin's Ultra Sensitive Cleansing Lotion is free of preservatives, parabens, fragrances and emulsifiers. This cleanser will help reduce redness and calm irritation.