Nobody is immune to dry skin and signs of aging—yes, including men! And regular hydration works wonders in defeating fatigued, parched skin as well as helping to soften the appearance of fine lines and wrinkles. For men who want to look their best, moisturizer is a must. Our skin loses moisture as we age, and dryness can make you look a lot older and feel uncomfortable in general, making your face feel tight. Even if you have oily skin, the right moisturizer can help balance out sebum production and leave you glowing without the shine.
And don't forget about SPF. Whether you spend a lot of time outdoors or not, a moisturizer with SPF will protect you from damaging UV rays that can degrade collagen and accelerate aging. For this reason, it's always a good idea to consider a moisturizer with built-in sun protection. Another ingredient to look out for when shopping for a men's moisturizer is hyaluronic acid, a humectant that draws in moisture and helps prevent water loss that can lead to dryness.
Related: Best Face Moisturizers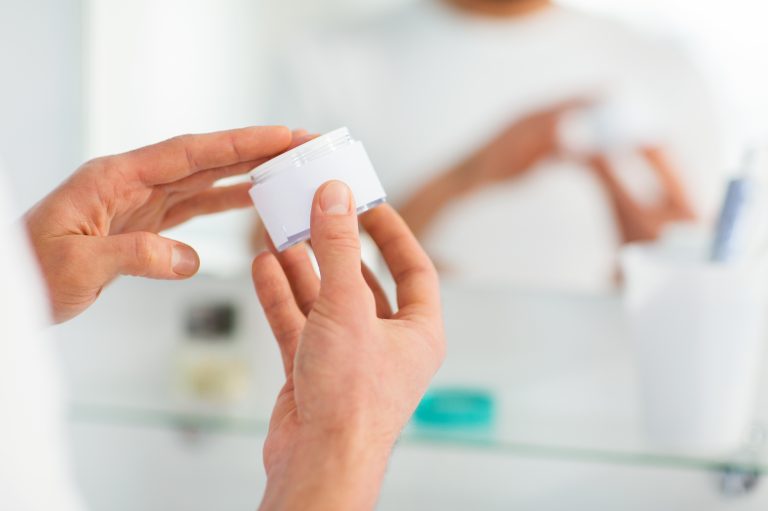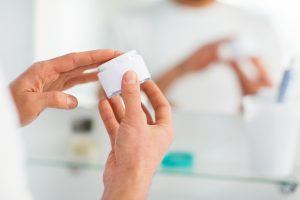 A good moisturizer can also soothe skin aggravated by shaving, which most men probably have experience with. Calming ingredients like aloe vera can reduce redness while also providing hydration to soften skin, while jojoba and shea butter act as skin conditioning agents to improve texture and feel. We've compiled some of the best moisturizers out there geared toward men that won't leave you disappointed. Take a look below.
The Best Moisturizers For Men
Burberry Mr. Burberry Face Moisturizer
Burberry's Mr. Burberry Face Moisturizer is lightly scented with the popular Mr. Burberry cologne and is a great moisturizer for men's dry skin. More importantly, it calms, soothes and hydrates with aloe vera. Other ingredients that help hydrate include glycerin, sunflower and mango seed oil and panthenol (vitamin B5). Tocopherol acetate (vitamin E) acts as an antioxidant to scavenge free radicals that can also degrade collagen, making skin develop wrinkles as it lose its elasticity. Apply this after cleansing or shaving for a truly refreshing and rejuvenating feel.
L'Occitane Complete Care Moisturizer
This hydrating cream is packed with botanical extracts to replenish skin's moisture stores and firm it up. Grape seed oil and cade (prickly juniper) essential oil protect from environmental stressors like pollution and irritation (common for men since they shave so often). This formula also contains oak, birch and beachwood extracts that soothe and calm while also improving texture. Lightweight and easily absorbed, it's recommended that you smooth this on your face and neck right after shaving. This can also be used both daytime and nighttime for optimal benefits.
Shiseido Men Hydro Master Gel
For men with oily skin, this is a sure bet. Thanks to its gel cream texture, it is lightweight and won't feel heavy on the skin. It also helps reduce oil production (thanks to peony root extract) and makes pores appear less noticeable. Dryness and roughness are also alleviated thanks to white nettle flower extract and spiny rest harrow root extract, which condition and soothe, respectively. Apply two pumps all over face after shaving or cleansing for a truly hydrating and refreshing experience.
Clinique For Men Maximum Hydrator Water Gel
Another great option for those with oily skin, this is an ultra-light formula that offers intense hydration. It also offers 72 hours of hydration after application, making sure skin stays dewy fresh for a long time. Like the Burberry cream, this also contains aloe vera to help soothe and calm irritation and redness, while further working to deeply moisturize. Other active ingredients include sodium hyaluronate (the salt of hyaluronic acid that retains 1,000 times its weight in water) and caffeine (which helps reduce puffiness and gives a boost of energy to fatigued skin). Skin is left feeling refreshed and reinvigorated with regular use.
Chanel La Solution 10 De Chanel
Men with sensitive skin will appreciate Chanel's Le Solution 10. And if you want to soak up some luxury while you're at it, Chanel is certainly the go-to. This formula relies on silver needle tea as its active ingredient to help soothe and calm sensitive skin prone to irritation and redness. Hydrating ingredients include vegetable squalane, glycerin and shea butter extract, all of which soften and help skin retain moisture. This formula is also made without alcohol or fragrance to further prevent irritation. Those with sensitive skin should always look for a lack of artificial fragrances and alcohol for this very reason, especially since shaving often leaves skin sensitized.
NYR Men Rejuvenating Moisturizer
Interested in a natural moisturizer? This product is right up your alley, then. Featuring natural and organic ingredients, it also follows an ethical and sustainable model. Green coffee is a key ingredient that is full of antioxidants to protect against UV damage and free radicals. Plant botanicals also comprise the bulk of the ingredients in this formula, including almond oil, shea butter, clary sage oil, cleavers extract and jojoba seed oil. All of these work marvels at skin conditioning to soften and refresh. Skin is left feeling rejuvenated and energized as a result of regular use.
Lancome Men Hydrix Baume Hydratant
This is a moisturizing balm developed specifically with men's skincare needs in mind. Men's skin can be rougher than women's skin, and since many men are not in the habit of daily moisturizing, their skin can also be drier. This has a rich texture that nonetheless absorbs easily and doesn't leave skin feeling sticky or greasy. The active ingredients are ceramides, which are waxy lipid molecules that form much of the skin's barrier and help it to retain moisture. They also help protect against pollution and other environmental irritants.
Tom Ford For Men Oil-Free Daily Moisturizer
This one doesn't come cheap and is quite a splurge, but will help protect and rejuvenate your skin greatly, so it's worth it. A lightweight formula that leaves behind a matte finish, this is also great for men with an oilier complexion who want to eliminate shine. Ingredients include shea and jojoba butters to hydrate, aloe vera to soothe and calm irritation, sodium hyaluronate to plump up wrinkles and help skin retain moisture and caffeine to decrease puffiness. Together, these ingredients are potent and efficient, great for coarse, thick men's skin that can often be neglected.
Lab Series BB Tinted Moisturizer SPF35
No need to fear a tinted moisturizer or a men's moisturizer with SPF. In fact, it can go far in evening out a complexion that may be a bit blotchy or have dark spots. The SPF in this formula also helps to protect against sun damage and prevent the further addition of sun spots that can make a complexion look dull and uneven. Truly a multitasker, this formula also controls shine and reduces the appearance of pores while, of course, hydrating deeply. Key ingredients include octinoxate and octisalate for sun protection, sodium hyaluronate for a plumping effect on wrinkles and fine lines, vitamin E to provide antioxidant protection, apple fruit extract to also work against wrinkles and caffeine to help reduce puffiness.
La Roche Posay Effaclar K
La Roche Posay's Effaclar K is a mattifying, oil-free formula that is great for oily or acne-prone skin. Lactic acid and salicylic acid, AHA and BHA acids, respectively, help exfoliate to refine pores, reduce oil production and boost cell turnover to fight against blemishes. Trademarked airlicium also helps control oil production for up to eight hours. Furthermore, this product's aquagel texture goes on silky smooth and leaves skin feeling refreshed. An ideal product for many reasons, this one definitely belongs on your bathroom shelf.
Kiehl's Age Defender Moisturizer
Kiehl's is known for its rich moisturizers that provide long-lasting hydration. This particular moisturizer is specifically formulated for men's generally coarser and thicker skin. A men's cream for anti-aging, this is a great product for older men who are experiencing wrinkles and fine lines and would like a more youthful complexion. Capryloyl salicylic acid helps to exfoliate to improve imperfections and soften fine lines. Linseed extract helps firm skin and make wrinkles less noticeable. Caffeine improves dullness and energizes skin to make it look less fatigued. This is also a great moisturizer for men in winter. Apply this diligently in the morning and night after cleansing.
Jack Black Clean Break Oil-Free Moisturizer
Another oil-free moisturizer that can help with excess sebum, it features active ingredients niacinamide, organic white tea and sodium hyaluronate. Niacinamide has many benefits. It improves elasticity, making skin less likely to wrinkle, helps reduce fine line appearance and even improves the look of blotchiness and discoloration, or dark spots. Organic white tea is a powerful antioxidant that protects against pollution and sun damage. As mentioned previously, sodium hyaluronate helps skin retain moisture as it draws in moisture from the surrounding environment and deeper in the skin.
References: Journal of Cosmetic Science, "Skin Moisturizing Effects of Panthenol Based Formulations"; Dermato Endocrinology, "Hyaluronic Acid: A Key Molecule in Skin Aging"; International Journal of Molecular Sciences, "Anti-Inflammatory and Skin Barrier Repair Effects of Topical Application of Some Plant Oils"; American Society for Dermatologic Surgery, "Niacinamide: A B Vitamin That Improves Aging Facial Skin Appearance";