Remove, reduce, and keep only what's essential.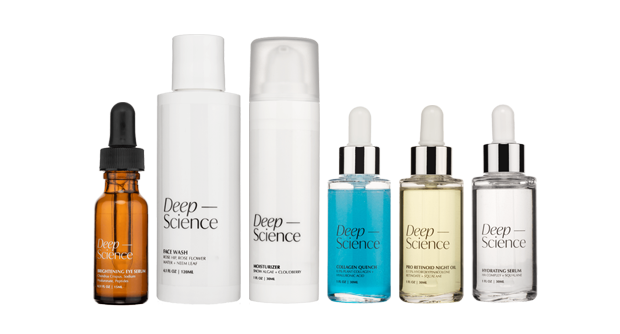 That's good for your skin. Your health. And the planet.
Some people love to take care of their skin with an elaborate daily ritual that involves layering multiple products and a nightly facial massage with a jade roller.
But most of us can't devote that kind of time to our skin every single day, and too many products can aggravate the skin.
In an ideal world we would pare down our products and ingredients to be only what skin needs.
The "less is more" philosophy is what drives the skincare brand Deep Science. The company takes a meticulous approach to formulating, whittling down skincare ingredients to just the essentials, which are safe and gentle. 
Anything that isn't absolutely critical has been eliminated from the formula, which means the formulations are pristine. 
Here's a closer look.
What is
Deep Science

?

Deep Science is a skincare company that embraces effictinvess, purity and transparency. 

The products are formulated with pristine ingredients that are the heavy lifters of a skincare regimen. These simple and powerful ingredients are free of toxic chemicals, so they're gentle on the skin.

The ingredients are carefully chosen with respect to the health of people, the planet and all living creatures. Everything about Deep Science is intentional and carefully thought out, from the ingredients used to the product's packaging.
What Is the Deep Science Philosophy?
The Deep Science philosophy is all about effectivness, simplicity and transparency, and the brand's mantra is "always gentle, never overcomplicated."
It strives for purity and integrity of materials and of purpose. It does this by stripping skincare down to just the essential ingredients, which are powerful but also kind on the skin.
The formulas give skin what it needs to look its best, and anything not needed has been eliminated.
What Ingredients are in Deep Science Products?
Deep Science products are formulated with pristine, powerful ingredients that are the workhorses of a skincare routine.
It's also important to note what Deep Science products don't contain: there are no sulfates, parabens, formaldehydes, phthalates, mineral oil, retinyl palmitate, oxybenzone, coal tar, hydroquinone, triclosan, triclocarban, synthetic fragrances or animal-based ingredients.
Instead, Deep Science harnesses the power of gold standard ingredients.
Vitamin A derived retinols are the superheroes of fighting fine lines, and it's the key ingredient in Pro Retinoid Night Oil.
The Hydrating Serum is powered by two of the best known hydrators- hyaluronic acid, which can hold up to 1,000 times its weight in water, and squalene, which is similar to the body's own sebum (natural oils).
Some of the lesser known ingredients include cloudberry and snow algae in the Moisturizerr, along with bamboo in the
The Anti Aging serum contains 5 Biomimetic Peptides +. Neuropeptide Complex work in the deepest layers of the skin to target multiple signs of aging. 
The Vitamin C Brightening Serum contains This high-performance formulation contains just two ingredients, ensuring skin gets only what is most effective. L-ascorbic acid, considered the most potent and effective form of vitamin C, is easily absorbed and provides unparalleled antioxidant protection.
Is
Deep Science

Cruelty Free?

Yes, Deep Science is cruelty-free. The company is also environmentally friendly, with practices that include minimizing packaging, and using recycled components wherever possible
Where Are

Deep Science

Products Sold?
Deep Science products are sold directly to the consumer via its website.