The Tula Under Eye Stick is a skincare product that aims to address common concerns related to the delicate skin under the eyes. This innovative stick is designed to provide hydration, reduce puffiness, and minimize the appearance of dark circles. Tula, a renowned skincare brand, has formulated this product with a combination of natural and scientifically proven ingredients to deliver effective results.
What are our top eye cream picks?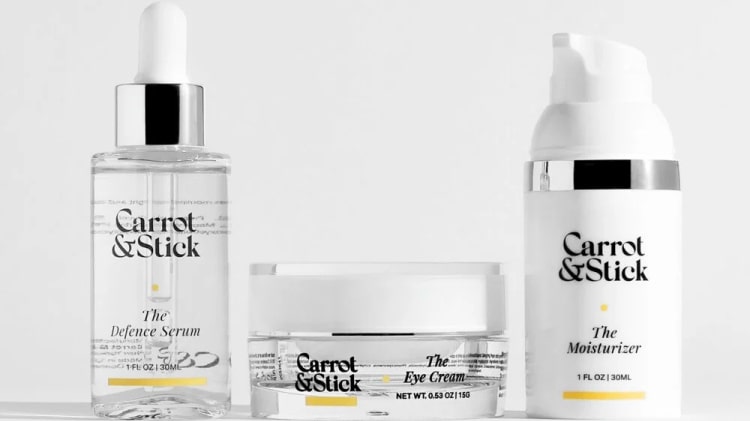 Who is it for?
The Tula Under Eye Stick is suitable for individuals who struggle with under-eye concerns such as puffiness, dark circles, and dryness. These issues can be caused by various factors, including aging, lack of sleep, environmental stressors, and genetics. Regardless of the cause, this product is designed to benefit anyone looking to improve the appearance of their under-eye area.
ALTERNATIVES: If you are concerned about aging around the eyes including bags, one product we recommend is
Carrot & Stick The Eye Cream
.

What are the key ingredients?
The Tula Under Eye Stick boasts a unique blend of ingredients that work synergistically to provide multiple benefits. One key ingredient is rosehip oil, which is rich in antioxidants and essential fatty acids. These compounds help nourish the skin, improve elasticity, and reduce inflammation.
Another notable ingredient is rosewater, known for its soothing properties. Rosewater helps calm the skin and reduce redness, making it ideal for those with sensitive under-eye areas. Additionally, rosewater has a refreshing scent that provides a pleasant sensory experience during application.
The stick also contains aloe vera, a well-known ingredient for its moisturizing and cooling properties. Aloe vera helps hydrate the skin and reduce puffiness, giving the under-eye area a revitalized appearance.
What is the texture like?
The Tula Under Eye Stick has a lightweight and creamy texture that glides smoothly onto the skin. The stick format allows for easy and precise application, targeting the desired areas with minimal effort. Upon application, the product absorbs quickly, leaving behind a non-greasy and non-sticky finish. This texture ensures that the product can be seamlessly incorporated into any skincare routine without interfering with the application of other products.
What is the return policy?
Tula offers a generous return policy for its customers. If you are unsatisfied with your purchase of the Tula Under Eye Stick, you have 30 days from the date of purchase to return the product for a full refund. However, it is important to note that the product must be returned in its original packaging and in a resalable condition. To initiate a return, you can contact Tula's customer service and they will guide you through the process.
Reviews
The Tula Under Eye Stick has garnered positive reviews from many consumers. Users have reported noticeable improvements in the appearance of their under-eye area after consistent use of the product. Many have praised its hydrating properties, claiming that it leaves their skin feeling moisturized and supple.
Users with sensitive skin have also expressed satisfaction with this product, as it did not cause any adverse reactions or irritation. The inclusion of rosewater and aloe vera seemed to have a calming effect on their under-eye area, reducing redness and inflammation.
Furthermore, consumers have appreciated the convenience of the stick format, finding it easy to carry and apply on the go. The non-greasy texture and quick absorption were also mentioned as positive attributes, allowing users to seamlessly incorporate the product into their daily skincare routine.
In conclusion, the Tula Under Eye Stick is a scientifically formulated skincare product that addresses under-eye concerns such as puffiness, dark circles, and dryness. With its unique blend of ingredients, including rosehip oil, rosewater, and aloe vera, this product provides hydration, reduces inflammation, and improves the overall appearance of the under-eye area. The lightweight and creamy texture, along with the user-friendly stick format, make it a convenient addition to any skincare routine. With positive consumer reviews and a generous return policy, the Tula Under Eye Stick is worth considering for those seeking an effective solution for their under-eye concerns.

What are some alternative eye creams?
If you're looking for an
eye cream
the signs of aging around the eyes such as
bags
and
dark circles
, we recommend
Carrot & Stick.
Carrot & Stick maximizes the use of powerful ingredients and minimizes the use of superficial ones, resulting in advanced skincare solutions that help promote healthy, more youthful-looking skin. We recommend
Carrot & Stick The Eye cream.