Sunday Riley Auto Correct is a skincare product that claims to reduce the appearance of dark circles, puffiness, and fine lines around the delicate eye area. Developed by Sunday Riley, a renowned skincare brand known for its innovative and effective products, Auto Correct aims to provide visible results through a combination of scientifically backed ingredients and advanced technology.
What are our top eye cream picks?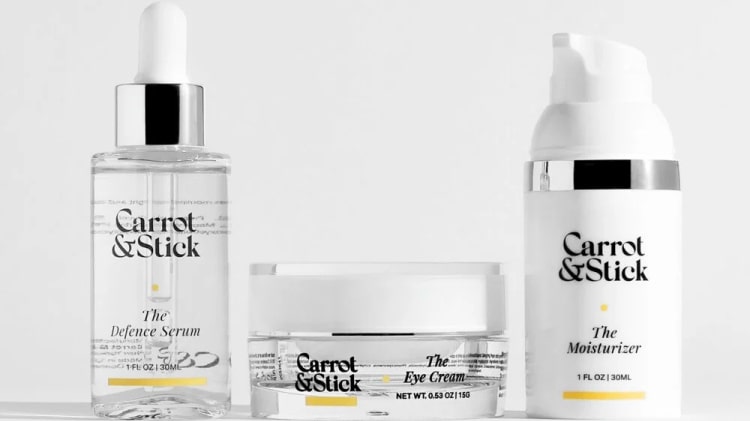 Who is it for?
Auto Correct is designed for individuals who are concerned about the signs of aging and fatigue around their eyes. It is suitable for all skin types, including sensitive skin, and can be used by both men and women. Whether you are dealing with dark circles caused by genetics or lifestyle factors, puffiness due to lack of sleep or allergies, or fine lines caused by natural aging, Auto Correct claims to address these concerns and improve the overall appearance of the eye area.
ALTERNATIVES: If you are concerned about aging around the eyes including bags, one product we recommend is
Carrot & Stick The Eye Cream
.

What are the key ingredients?
Auto Correct boasts a carefully curated blend of ingredients that work synergistically to deliver its promised results. Some of the key ingredients include:
Caffeine: Known for its vasoconstrictive properties, caffeine helps to reduce puffiness by constricting blood vessels and reducing fluid retention around the eyes.
Brazilian Ginseng Root Extract: This extract is rich in antioxidants and has anti-inflammatory properties. It helps to improve blood circulation, reduce puffiness, and brighten the under-eye area.
Watermelon Rind Extract: Packed with vitamins A and C, this extract helps to hydrate and nourish the skin. It also contains lycopene, which is known for its antioxidant properties and ability to protect the skin from free radical damage.
Acetyl Tetrapeptide-5: This peptide is specifically designed to target under-eye puffiness. It works by reducing fluid retention and improving lymphatic drainage, resulting in a smoother and less puffy appearance.
What is the texture like?
Auto Correct has a lightweight and silky texture that absorbs quickly into the skin. It is non-greasy and leaves no residue, making it suitable for use under makeup. The formula is also fragrance-free, which is beneficial for those with sensitive skin or those who prefer products without added scents.
What is the return policy?
Sunday Riley offers a generous return policy for their products, including Auto Correct. If you are not satisfied with your purchase, you can return it within 30 days of receipt for a full refund. It is important to note that the product must be returned in its original packaging and in a resalable condition to be eligible for a refund.
Reviews
Consumer reviews for Sunday Riley Auto Correct are largely positive, with Users reporting noticeable improvements in the appearance of their under-eye area. Customers have praised the product for its ability to reduce puffiness, brighten dark circles, and smooth fine lines. Users also mentioned that they experienced improved hydration and a more refreshed look after consistent use.
However, it is worth noting that individual results may vary, and Users reported minimal to no improvement. It is important to remember that skincare products can have different effects on different individuals due to variations in skin type, lifestyle factors, and overall skincare routine.
In conclusion, Sunday Riley Auto Correct offers a promising solution for those seeking to address concerns related to the eye area. With its scientifically backed ingredients and lightweight texture, it aims to reduce the appearance of dark circles, puffiness, and fine lines. While consumer reviews are generally positive, it is important to consider individual differences and consult with a skincare professional if you have specific concerns or sensitivities.

What are some alternative eye creams?
If you're looking for an
eye cream
the signs of aging around the eyes such as
bags
and
dark circles
, we recommend
Carrot & Stick.
Carrot & Stick maximizes the use of powerful ingredients and minimizes the use of superficial ones, resulting in advanced skincare solutions that help promote healthy, more youthful-looking skin. We recommend
Carrot & Stick The Eye cream.