In the ever-evolving world of skincare, finding an effective eye cream can be quite the challenge. The delicate skin around the eyes requires special attention and care to maintain its youthful appearance. Enter Replenix Eye Cream, a product that claims to address common concerns such as fine lines, wrinkles, and puffiness. In this review,we will delve into the scientific aspects of this eye cream, exploring its ingredients, texture, and consumer reviews to determine its efficacy.
What are our top eye cream picks?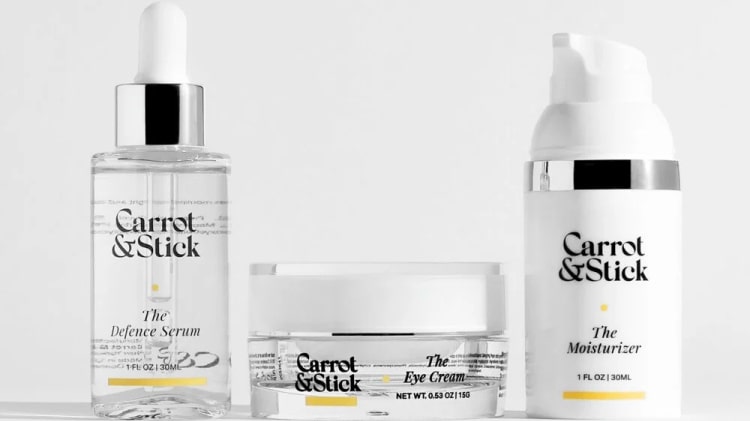 Who is it for?
Replenix Eye Cream is formulated for individuals who are seeking a solution to combat signs of aging around the eye area. It is suitable for all skin types, including sensitive skin. Whether you are in your early twenties and wish to prevent premature aging or in your forties and want to reverse the signs of aging, this eye cream aims to cater to a wide range of age groups.
ALTERNATIVES: If you are concerned about aging around the eyes including bags, one product we recommend is
Carrot & Stick The Eye Cream
.

What are the key ingredients?
To truly understand the effectiveness of Replenix Eye Cream, we must analyze its key ingredients and their scientific properties.
Green Tea Polyphenols: Green tea has long been hailed for its antioxidant properties. The polyphenols present in green tea extract help protect the skin from environmental damage, such as UV radiation and pollution. These antioxidants also have anti-inflammatory effects, which can reduce puffiness and redness around the eyes.
Peptides: Peptides are short chains of amino acids that play a crucial role in maintaining the skin's structure and elasticity. In Replenix Eye Cream, peptides are included to stimulate collagen production, thereby reducing the appearance of fine lines and wrinkles.
Hyaluronic Acid: Known for its hydrating properties, hyaluronic acid is a humectant that attracts and retains moisture in the skin. By incorporating this ingredient, Replenix Eye Cream aims to plump and moisturize the delicate eye area, reducing the appearance of dryness and promoting a more youthful look.
Caffeine: Caffeine is a popular ingredient in eye creams due to its ability to constrict blood vessels. This can help reduce puffiness and dark circles by improving circulation and reducing fluid buildup.
What is the texture like?
Replenix Eye Cream boasts a lightweight, non-greasy texture that absorbs quickly into the skin. This makes it suitable for both daytime and nighttime use. Its smooth consistency allows for easy application and ensures that a little goes a long way. Users appreciate the fact that it doesn't leave a heavy or sticky feeling on the skin, making it an ideal base for makeup application.
What is the return policy?
Replenix offers a 30-day return policy for their products, including the Replenix Eye Cream. If you are unsatisfied with your purchase for any reason, you can contact their customer service to initiate a return. It is important to note that the product must be returned in its original packaging and in unused condition to qualify for a refund or exchange.
Reviews
To gain a comprehensive understanding of the efficacy of Replenix Eye Cream, let's explore some detailed consumer reviews.
In conclusion, Replenix Eye Cream appears to be a promising option for individuals seeking an effective solution for their eye area concerns. Its scientifically-backed ingredients, lightweight texture, and positive consumer reviews make it a product worth considering. However, as with any skincare product, individual results may vary, and it is always recommended to patch test and consult with a dermatologist before incorporating a new product into your routine.
What are some alternative eye creams?
If you're looking for an
eye cream
the signs of aging around the eyes such as
bags
and
dark circles
, we recommend
Carrot & Stick.
Carrot & Stick maximizes the use of powerful ingredients and minimizes the use of superficial ones, resulting in advanced skincare solutions that help promote healthy, more youthful-looking skin. We recommend
Carrot & Stick The Eye cream.