Openeyes Awaken is a revolutionary eye cream designed to combat the signs of aging and fatigue around the delicate eye area. This scientifically formulated product is packed with powerful ingredients that work synergistically to reduce the appearance of dark circles, puffiness, and fine lines. With regular use, Openeyes Awaken promises to rejuvenate and refresh tired-looking eyes, leaving them looking brighter, smoother, and more youthful.
What are our top eye cream picks?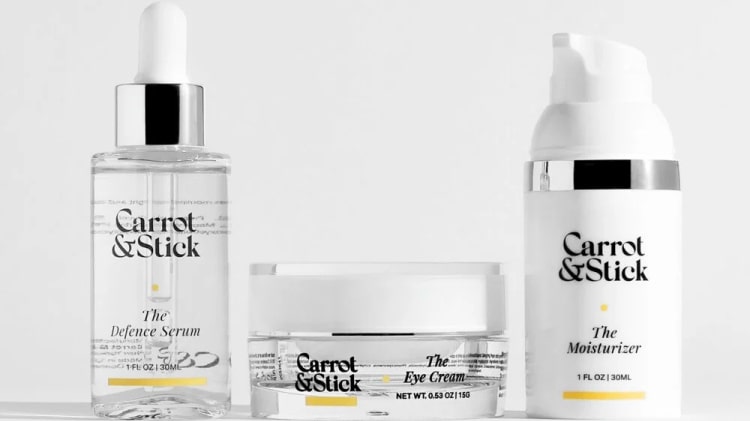 Who is it for?
Openeyes Awaken is suitable for individuals of all skin types who are concerned about the visible signs of aging around their eyes. Whether you're in your twenties and want to prevent premature aging or in your fifties and looking to address existing concerns, this eye cream is for you. Its gentle formulation makes it suitable for even the most sensitive skin, ensuring it can be used by a wide range of individuals.
ALTERNATIVES: If you are concerned about aging around the eyes including bags, one product we recommend is
Carrot & Stick The Eye Cream
.

What are the key ingredients?
Openeyes Awaken boasts a carefully selected blend of potent ingredients, each chosen for its specific benefits in addressing common eye area concerns. Here are some of the key ingredients found in this eye cream:
Retinol: This vitamin A derivative is known for its ability to stimulate collagen production, reducing the appearance of fine lines and wrinkles. It also helps to improve skin texture and tone, giving the eye area a smoother and more youthful look.
Peptides: These small chains of amino acids play a crucial role in skin health. In Openeyes Awaken, peptides help to support collagen synthesis, improving the elasticity and firmness of the skin around the eyes.
Niacinamide: Also known as vitamin B3, niacinamide is a versatile ingredient that offers multiple benefits for the skin. It helps to improve the skin barrier function, reducing moisture loss and preventing dryness. Additionally, niacinamide has been shown to reduce hyperpigmentation, making it effective in reducing the appearance of dark circles.
Caffeine: This well-known stimulant has more to offer than just a morning pick-me-up. In Openeyes Awaken, caffeine helps to constrict blood vessels, reducing puffiness and inflammation around the eyes. It also acts as an antioxidant, protecting the skin from damage caused by free radicals.
What is the texture like?
Openeyes Awaken has a lightweight and fast-absorbing texture, making it perfect for use under makeup or as part of your nighttime skincare routine. The cream is non-greasy and leaves no residue, allowing for easy application and comfortable wear throughout the day. Its silky smooth texture glides effortlessly onto the skin, providing an instant hydrating and soothing effect.
What is the return policy?
Openeyes Awaken offers a 30-day satisfaction guarantee. If you are not completely satisfied with your purchase, you can return the product within 30 days for a full refund. Simply contact the customer service team, and they will guide you through the return process.
Reviews
Openeyes Awaken is a scientifically formulated eye cream that addresses the common signs of aging and fatigue around the eyes. Its powerful ingredients, lightweight texture, and positive consumer reviews make it a promising choice for individuals looking to rejuvenate their eye area. With a generous return policy, there is no reason not to give Openeyes Awaken a try and experience its transformative effects for yourself.

What are some alternative eye creams?
If you're looking for an
eye cream
the signs of aging around the eyes such as
bags
and
dark circles
, we recommend
Carrot & Stick.
Carrot & Stick maximizes the use of powerful ingredients and minimizes the use of superficial ones, resulting in advanced skincare solutions that help promote healthy, more youthful-looking skin. We recommend
Carrot & Stick The Eye cream.