Monat Eye Smooth is an innovative skincare product designed to target common concerns around the delicate eye area. This scientifically formulated cream is developed by Monat, a reputable company known for its commitment to using high-quality ingredients and advanced technology in their products. Eye Smooth aims to reduce the appearance of fine lines, wrinkles, puffiness, and dark circles, providing a more youthful and refreshed look to the eyes.
What are our top eye cream picks?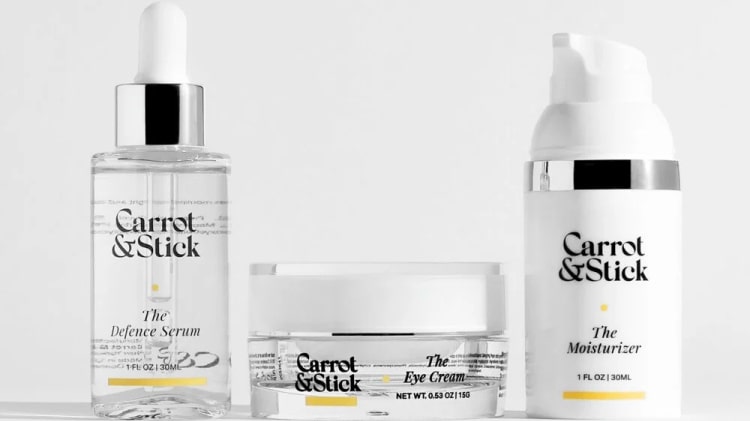 Who is it for?
Monat Eye Smooth is suitable for individuals of all skin types who are looking to address signs of aging and fatigue around the eye area. It is particularly beneficial for those experiencing fine lines, wrinkles, puffiness, and dark circles. Whether you are in your 20s and want to prevent premature aging or in your 50s and looking to reverse the signs of aging, Eye Smooth can be a valuable addition to your skincare routine.
ALTERNATIVES: If you are concerned about aging around the eyes including bags, one product we recommend is
Carrot & Stick The Eye Cream
.

What are the key ingredients?
Eye Smooth boasts a carefully selected blend of scientifically proven ingredients that work synergistically to deliver visible results. Some of the key ingredients in this innovative formula include:
Peptides: Peptides are short chains of amino acids that play a vital role in collagen production. Eye Smooth contains peptides that stimulate collagen synthesis, promoting skin elasticity and reducing the appearance of wrinkles.
Niacinamide: Also known as vitamin B3, niacinamide has been shown to improve skin barrier function, hydration, and elasticity. It helps to reduce the appearance of dark circles and puffiness, resulting in a more rejuvenated eye area.
Hyaluronic Acid: This powerful humectant attracts and retains moisture in the skin, providing intense hydration. By plumping the skin, hyaluronic acid helps to minimize the appearance of fine lines and wrinkles.
Caffeine: Caffeine is known for its ability to constrict blood vessels, reducing puffiness and inflammation. It also has antioxidant properties that help protect the skin against free radical damage.
Retinol: A derivative of vitamin A, retinol is a potent ingredient that aids in reducing the appearance of fine lines and wrinkles. It promotes cell turnover and stimulates collagen production, resulting in smoother and firmer skin.
What is the texture like?
Monat Eye Smooth has a luxurious and lightweight texture that absorbs quickly into the skin. The cream is non-greasy and does not leave a heavy residue, making it suitable for use both day and night. Its silky texture allows for easy application and effortless blending, ensuring optimal absorption of the active ingredients.
What is the return policy?
Monat offers a 30-day satisfaction guarantee on all their products, including Eye Smooth. If you are not completely satisfied with your purchase, you can return the product within 30 days of receipt for a full refund. This demonstrates Monat's confidence in the effectiveness of their products and their commitment to customer satisfaction.
Reviews
Many consumers have reported positive experiences with Monat Eye Smooth.
Several consumers also highlighted the lightweight texture of the cream, noting that it absorbs quickly without leaving a greasy residue. This makes it an ideal base for makeup application, as it does not interfere with the longevity or finish of other products.
However, it is important to note that individual results may vary, and Users may experience different outcomes depending on their skin type and specific concerns. It is always recommended to conduct a patch test before incorporating any new skincare product into your routine.
Monat Eye Smooth is a scientifically formulated cream that targets common concerns around the delicate eye area. With its blend of peptides, niacinamide, hyaluronic acid, caffeine, and retinol, this product aims to reduce the appearance of fine lines, wrinkles, puffiness, and dark circles. Its lightweight texture and 30-day satisfaction guarantee make it a promising addition to any skincare routine.
What are some alternative eye creams?
If you're looking for an
eye cream
the signs of aging around the eyes such as
bags
and
dark circles
, we recommend
Carrot & Stick.
Carrot & Stick maximizes the use of powerful ingredients and minimizes the use of superficial ones, resulting in advanced skincare solutions that help promote healthy, more youthful-looking skin. We recommend
Carrot & Stick The Eye cream.