The delicate skin around our eyes is often the first to show signs of aging, such as fine lines, wrinkles, and puffiness. To combat these concerns, Miami MD has developed the Intensive Eye Repair Serum. This advanced formula claims to improve the appearance of the eye area by reducing the signs of aging and providing deep hydration. In this scientific review, we will delve into the efficacy of this serum and explore its key ingredients, texture, return policy, and consumer reviews.
What are our top eye cream picks?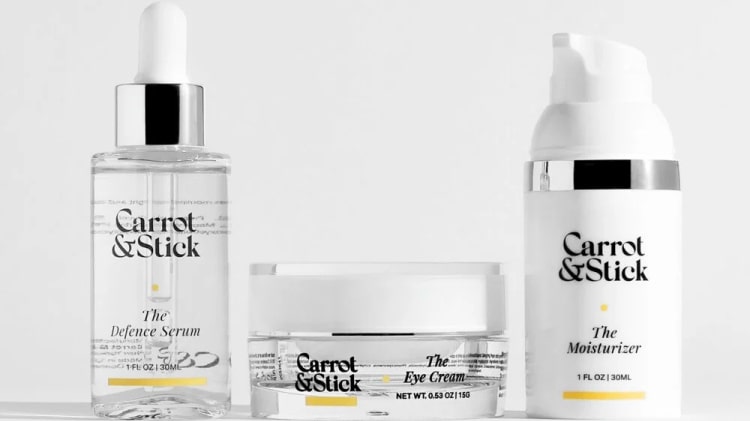 Who is it for?
The Miami MD Intensive Eye Repair Serum is designed for individuals who are concerned about the visible signs of aging around their eyes. This serum is suitable for all skin types and can be used by both men and women. It is especially beneficial for those experiencing fine lines, wrinkles, dark circles, puffiness, and dryness in the eye area.
ALTERNATIVES: If you are concerned about aging around the eyes including bags, one product we recommend is
Carrot & Stick The Eye Cream
.

What are the key ingredients?
To understand the effectiveness of the Miami MD Intensive Eye Repair Serum, it is crucial to examine its key ingredients:
Hyaluronic Acid: This ingredient is well-known for its ability to retain moisture, providing intense hydration to the skin. Hyaluronic acid helps plump up fine lines and wrinkles, resulting in a smoother and more youthful appearance.
Matrixyl 3000: This peptide complex stimulates collagen production, promoting skin elasticity and firmness. By increasing collagen synthesis, Matrixyl 3000 helps reduce the appearance of wrinkles and fine lines.
Argireline: Also known as Acetyl Hexapeptide-8, this ingredient works by inhibiting muscle contractions, similar to . By relaxing the facial muscles, Argireline helps reduce the depth and formation of expression lines around the eyes.
Haloxyl: This compound targets dark circles by strengthening the blood vessels and reducing the leakage of blood pigments. It also helps eliminate accumulated hemoglobin, which contributes to the appearance of dark circles.
Eyeliss: This ingredient combats under-eye puffiness by improving lymphatic circulation and reducing fluid retention. Eyeliss also strengthens the skin's elasticity, minimizing the appearance of bags under the eyes.
What is the texture like?
The Miami MD Intensive Eye Repair Serum has a lightweight and silky texture, allowing for easy application and quick absorption. It does not leave a greasy or sticky residue, making it suitable for use under makeup. The serum is fragrance-free, which is beneficial for individuals with sensitive skin or those who prefer unscented products.
What is the return policy?
Miami MD offers a 90-day satisfaction guarantee on all their products, including the Intensive Eye Repair Serum. If you are not completely satisfied with your purchase, you can return the product within 90 days of receipt for a full refund, minus shipping and handling fees. This return policy demonstrates the brand's confidence in the effectiveness of their products.
Reviews
Miami MD Intensive Eye Repair Serum offers a scientifically formulated solution to address various signs of aging around the eyes. With key ingredients like hyaluronic acid, Matrixyl 3000, Argireline, Haloxyl, and Eyeliss, this serum aims to hydrate, reduce wrinkles, diminish dark circles, and alleviate puffiness. Its lightweight texture, fragrance-free formula, and 90-day return policy make it an appealing choice for individuals seeking an effective eye repair serum.
What are some alternative eye creams?
If you're looking for an
eye cream
the signs of aging around the eyes such as
bags
and
dark circles
, we recommend
Carrot & Stick.
Carrot & Stick maximizes the use of powerful ingredients and minimizes the use of superficial ones, resulting in advanced skincare solutions that help promote healthy, more youthful-looking skin. We recommend
Carrot & Stick The Eye cream.