Maya Chia Eye Serum is a skincare product designed to address various concerns around the delicate eye area. This serum claims to reduce the appearance of fine lines, wrinkles, dark circles, and puffiness, while also providing hydration and nourishment to the skin. In this scientific review, we will delve into the ingredients, texture, return policy, and detailed consumer reviews to assess the efficacy and safety of Maya Chia Eye Serum.
What are our top eye cream picks?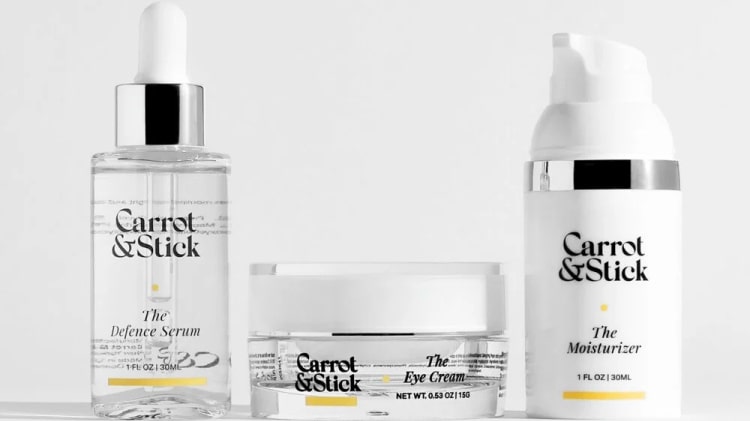 Who is it for?
Maya Chia Eye Serum is formulated for individuals looking to combat signs of aging and improve the overall appearance of their under-eye area. It is suitable for all skin types, including sensitive skin, as it is free from synthetic fragrances, parabens, and other potentially irritating ingredients. However, it is always recommended to perform a patch test before incorporating any new skincare product into your routine, especially if you have known allergies or sensitivities.
ALTERNATIVES: If you are concerned about aging around the eyes including bags, one product we recommend is
Carrot & Stick The Eye Cream
.

What are the key ingredients?
The key ingredients in Maya Chia Eye Serum include:
Chia Seed Oil: Rich in omega-3 fatty acids, antioxidants, and vitamins, chia seed oil nourishes and protects the delicate skin around the eyes. It helps to improve skin elasticity and reduce the appearance of fine lines and wrinkles.
Astaxanthin: A potent antioxidant derived from microalgae, astaxanthin helps to neutralize free radicals and protect the skin from environmental stressors. It has been shown to improve skin elasticity and reduce signs of aging.
CoQ10: This enzyme occurs naturally in the body and plays a crucial role in energy production within cells. As we age, the levels of CoQ10 in our skin decrease, leading to a loss of elasticity and firmness. By topically applying CoQ10, this serum aims to replenish and support the natural processes of the skin.
Vitamin C: Known for its brightening and antioxidant properties, vitamin C helps to reduce the appearance of dark circles and promote a more even skin tone. It also stimulates collagen production, which can improve the overall texture and firmness of the skin.
What is the texture like?
Maya Chia Eye Serum has a lightweight and silky texture that absorbs quickly into the skin. It is non-greasy and leaves a smooth finish, making it suitable for both morning and evening use. The serum's formulation allows for easy application and effortless blending, ensuring a comfortable experience for the user.
What is the return policy?
Maya Chia offers a 30-day return policy for their products, including the Eye Serum. If you are unsatisfied with your purchase, you can contact their customer service within 30 days of receiving the product to initiate the return process. It is important to note that the product must be unused and in its original packaging to be eligible for a refund. For more detailed information on the return policy, it is advisable to visit Maya Chia's official website or reach out to their customer service directly.
Reviews
Consumer reviews of Maya Chia Eye Serum have generally been positive, with Users reporting visible improvements in the appearance of their under-eye area. Several reviewers mentioned that the serum effectively reduced the appearance of fine lines and dark circles, leaving their skin looking brighter and more youthful.
However, it is worth mentioning that individual results may vary, and Users may not experience the same level of improvement. Some consumers reported that while the serum provided hydration, they did not notice significant changes in the appearance of their fine lines or wrinkles.
In conclusion, Maya Chia Eye Serum appears to be a promising skincare product for addressing various concerns around the eye area. Its formulation, including key ingredients like chia seed oil, astaxanthin, CoQ10, and vitamin C, suggests potential benefits in reducing signs of aging and improving skin texture. The lightweight texture and positive consumer reviews further support its efficacy. However, as with any skincare product, it is recommended to perform a patch test and consult with a dermatologist if you have any specific skin concerns or conditions.
What are some alternative eye creams?
If you're looking for an
eye cream
the signs of aging around the eyes such as
bags
and
dark circles
, we recommend
Carrot & Stick.
Carrot & Stick maximizes the use of powerful ingredients and minimizes the use of superficial ones, resulting in advanced skincare solutions that help promote healthy, more youthful-looking skin. We recommend
Carrot & Stick The Eye cream.