In the ever-evolving world of skincare, finding the perfect eye cream can be a daunting task. The delicate skin around the eyes requires special attention and care, making it crucial to choose a product that addresses specific concerns while nourishing and protecting this sensitive area. Enter M 61 Hydraboost Eye Cream, a scientifically advanced formula designed to hydrate, firm, and brighten the delicate skin around the eyes. In this review,we will delve into the details of this eye cream, exploring its ingredients, texture, and consumer reviews to help you make an informed decision.
What are our top eye cream picks?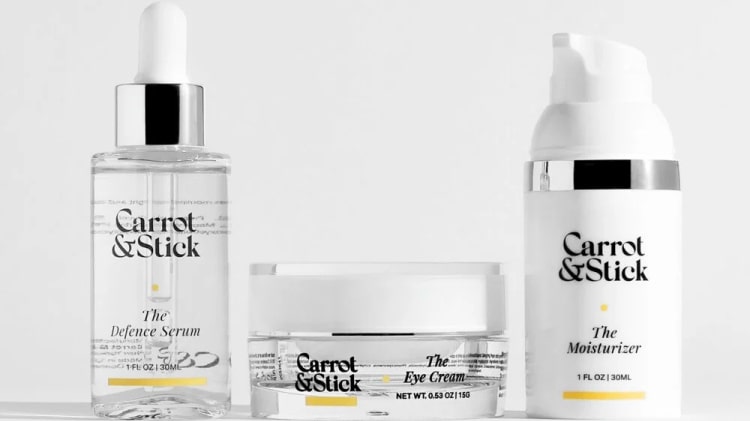 Who is it for?
M 61 Hydraboost Eye Cream is formulated for individuals of all skin types who are seeking a comprehensive solution to address common eye area concerns. Whether you are battling fine lines, puffiness, dark circles, or dryness, this eye cream aims to provide a multi-faceted approach to improve the overall appearance and health of the delicate skin around the eyes. It is suitable for both men and women, making it a versatile option for anyone looking to enhance their skincare routine.
ALTERNATIVES: If you are concerned about aging around the eyes including bags, one product we recommend is
Carrot & Stick The Eye Cream
.

What are the key ingredients?
The success of any skincare product lies in its ingredients, and M 61 Hydraboost Eye Cream boasts a powerful blend of scientifically proven components. Key ingredients include:
Hyaluronic Acid: This naturally occurring molecule is renowned for its ability to attract and retain moisture, promoting hydration and plumping the skin. By infusing the eye area with moisture, hyaluronic acid helps to diminish the appearance of fine lines and wrinkles.
Peptides: These small chains of amino acids play a vital role in the production of collagen and elastin, essential proteins that maintain the skin's firmness and elasticity. By stimulating collagen synthesis, peptides help to reduce the signs of aging and improve the overall texture of the skin.
Vitamin C: A potent antioxidant, vitamin C helps to protect the skin from environmental damage caused by free radicals. Additionally, it aids in brightening the skin tone and reducing the appearance of dark circles, resulting in a more youthful and radiant complexion.
Caffeine: Known for its vasoconstrictive properties, caffeine helps to reduce puffiness and under-eye bags by constricting blood vessels. This ingredient also possesses antioxidant properties, further aiding in the protection of the delicate eye area.
What is the texture like?
M 61 Hydraboost Eye Cream features a lightweight and fast-absorbing texture, making it suitable for both day and night use. The cream glides effortlessly onto the skin, instantly providing a refreshing and cooling sensation. Its non-greasy formulation ensures that it can be seamlessly incorporated into your skincare routine without leaving behind any residue or heaviness.
What is the return policy?
Before purchasing any skincare product, it is essential to familiarize yourself with the brand's return policy to ensure a hassle-free experience. M 61 offers a generous return policy, allowing customers to return unopened and unused products within 30 days of purchase for a full refund. However, it is important to note that opened or used products are not eligible for a refund unless they are defective or damaged upon arrival. To initiate a return, customers can contact M 61's customer service team or visit their website for further instructions.
Reviews
M 61 Hydraboost Eye Cream has garnered positive feedback from a multitude of consumers who have incorporated it into their skincare routines. Users have reported noticeable improvements in the hydration and firmness of their eye area, with some even claiming a reduction in the appearance of fine lines and dark circles. The lightweight texture and fast absorption of the cream have also been praised, as it allows for easy application and layering with other skincare products. Overall, the majority of consumers have expressed satisfaction with the performance and efficacy of M 61 Hydraboost Eye Cream.
In conclusion, M 61 Hydraboost Eye Cream offers a scientifically advanced formula that targets various eye area concerns. With a blend of potent ingredients, lightweight texture, and positive consumer reviews, this eye cream presents itself as a promising option for those seeking to improve the appearance and health of their delicate eye area.
What are some alternative eye creams?
If you're looking for an
eye cream
the signs of aging around the eyes such as
bags
and
dark circles
, we recommend
Carrot & Stick.
Carrot & Stick maximizes the use of powerful ingredients and minimizes the use of superficial ones, resulting in advanced skincare solutions that help promote healthy, more youthful-looking skin. We recommend
Carrot & Stick The Eye cream.