Lumispa Idealeyes is a revolutionary skincare product designed to address the specific needs of the delicate skin around the eyes. Developed by a team of experts in dermatology and skincare, this innovative product combines advanced technology with carefully selected ingredients to provide targeted care for the eye area.
What are our top eye cream picks?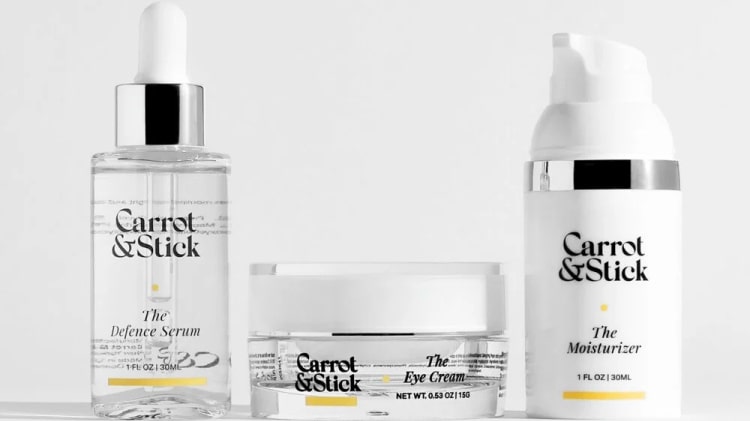 Who is it for?
Lumispa Idealeyes is suitable for individuals of all ages who are concerned about the appearance of their eye area. Whether you are experiencing signs of aging, such as fine lines and wrinkles, or dealing with puffiness and dark circles, this product is designed to address these common concerns. It is particularly beneficial for those with sensitive skin, as it is formulated to be gentle and non-irritating.
ALTERNATIVES: If you are concerned about aging around the eyes including bags, one product we recommend is
Carrot & Stick The Eye Cream
.

What are the key ingredients?
Lumispa Idealeyes contains a unique blend of powerful ingredients that work synergistically to provide comprehensive care for the eye area. One key ingredient is hyaluronic acid, a naturally occurring substance in the skin that helps to hydrate and plump the skin. By incorporating hyaluronic acid into the formula, Lumispa Idealeyes helps to reduce the appearance of fine lines and wrinkles, resulting in a more youthful and rejuvenated look.
Another important ingredient in Lumispa Idealeyes is niacinamide, also known as vitamin B3. Niacinamide has been shown to have numerous benefits for the skin, including reducing inflammation, improving the skin's barrier function, and reducing the appearance of dark spots and hyperpigmentation. By including niacinamide in the formula, Lumispa Idealeyes helps to brighten the eye area and improve overall skin tone.
In addition to these key ingredients, Lumispa Idealeyes also contains a blend of botanical extracts, such as chamomile and green tea, which provide antioxidant protection and soothe the delicate skin around the eyes. These ingredients help to reduce puffiness and calm any irritation or redness, leaving the eye area looking refreshed and revitalized.
What is the texture like?
Lumispa Idealeyes has a lightweight and silky texture that is easily absorbed by the skin. The product comes in a convenient tube with a precision applicator, allowing for targeted application around the eye area. The formula is non-greasy and non-sticky, making it suitable for use both in the morning and evening. Upon application, the product instantly hydrates the skin and leaves it feeling smooth and supple.
What is the return policy?
Lumispa Idealeyes offers a generous return policy to ensure customer satisfaction. If you are not completely satisfied with your purchase, you can return the product within 30 days for a full refund. Simply contact the customer service team to initiate the return process and they will guide you through the necessary steps.
Reviews
Customers who have tried Lumispa Idealeyes have reported positive results and are highly satisfied with the product. Users have noticed a significant improvement in the appearance of their eye area, with reduced puffiness, diminished dark circles, and a more youthful look overall.
Lumispa Idealeyes is a scientifically formulated skincare product that targets the specific needs of the delicate eye area. With a blend of powerful ingredients, lightweight texture, and positive consumer reviews, this product is a must-try for anyone looking to improve the appearance of their eye area.
What are some alternative eye creams?
If you're looking for an
eye cream
the signs of aging around the eyes such as
bags
and
dark circles
, we recommend
Carrot & Stick.
Carrot & Stick maximizes the use of powerful ingredients and minimizes the use of superficial ones, resulting in advanced skincare solutions that help promote healthy, more youthful-looking skin. We recommend
Carrot & Stick The Eye cream.