Lumiara Eyes is a cutting-edge eye cream that aims to address common concerns such as dark circles, puffiness, and fine lines around the delicate eye area. Developed by a team of expert dermatologists and skincare scientists, this product combines advanced ingredients and innovative technology to deliver visible results. In this review,we will delve into the detailed ingredients, texture, and consumer reviews of Lumiara Eyes, providing you with a comprehensive scientific review.
What are our top eye cream picks?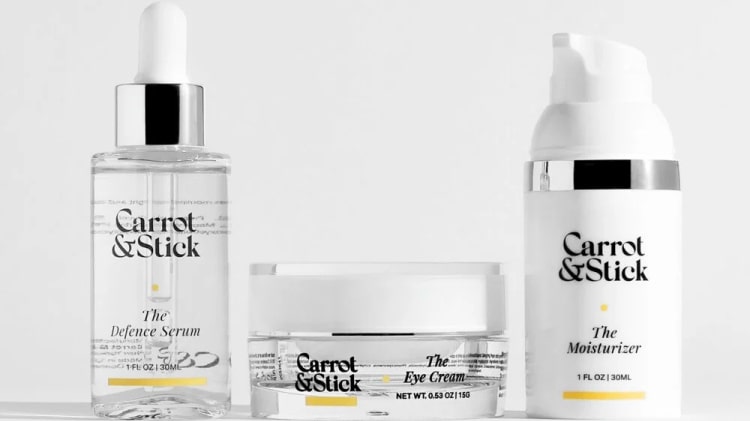 Who is it for?
Lumiara Eyes is designed for individuals of all skin types who are looking to improve the appearance of their under-eye area. Whether you are struggling with dark circles caused by genetics or aging, puffiness due to lack of sleep or allergies, or fine lines caused by natural aging processes, Lumiara Eyes aims to address these concerns and provide a more youthful and rejuvenated look.
ALTERNATIVES: If you are concerned about aging around the eyes including bags, one product we recommend is
Carrot & Stick The Eye Cream
.

What are the key ingredients?
Lumiara Eyes incorporates a range of scientifically proven ingredients that work synergistically to achieve optimal results. Let's take a closer look at some of the key ingredients:
Haloxyl: This powerful peptide complex has been extensively studied for its ability to reduce the appearance of dark circles. By targeting the underlying causes of dark circles, such as blood leakage and inflammation, Haloxyl helps to improve the overall appearance of the under-eye area.
Eyeliss: Comprised of a combination of peptides, Eyeliss is specifically formulated to reduce puffiness and under-eye bags. By strengthening the capillaries and improving lymphatic drainage, Eyeliss helps to reduce fluid retention and promote a smoother and more toned under-eye area.
Matrixyl 3000: This peptide complex stimulates collagen and elastin production, which are essential proteins for maintaining skin elasticity and firmness. By boosting the skin's natural repair processes, Matrixyl 3000 helps to reduce the appearance of fine lines and wrinkles around the eyes.
Hyaluronic Acid: Known for its exceptional hydrating properties, hyaluronic acid helps to plump and moisturize the skin. By attracting and retaining moisture, it improves the overall texture and smoothness of the under-eye area.
What is the texture like?
Lumiara Eyes boasts a lightweight and non-greasy texture, making it easily absorbable into the skin. The cream has a silky smooth consistency that glides effortlessly onto the delicate eye area, providing instant hydration and a soothing sensation. Its quick absorption allows for easy application of makeup over the cream, making it suitable for both day and night use.
What is the return policy?
Lumiara Eyes offers a generous return policy, demonstrating the brand's confidence in the effectiveness of their product. If you are not satisfied with your purchase, you can return it within 30 days for a full refund. This customer-centric approach ensures that you can try Lumiara Eyes risk-free and make an informed decision about its suitability for your skincare routine.
Reviews
Lumiara Eyes has garnered positive feedback from numerous consumers who have incorporated it into their skincare routine. Users have reported visible improvements in the appearance of dark circles, reduced puffiness, and a smoother under-eye area. Some consumers have also noted that the fine lines around their eyes have become less noticeable, resulting in a more youthful and refreshed look.
Lumiara Eyes is a scientifically formulated eye cream that combines advanced ingredients to address common concerns such as dark circles, puffiness, and fine lines. Its powerful ingredients, lightweight texture, and positive consumer reviews make it a promising addition to any skincare routine. If you are looking to improve the appearance of your under-eye area, Lumiara Eyes may be the solution you've been searching for.

What are some alternative eye creams?
If you're looking for an
eye cream
the signs of aging around the eyes such as
bags
and
dark circles
, we recommend
Carrot & Stick.
Carrot & Stick maximizes the use of powerful ingredients and minimizes the use of superficial ones, resulting in advanced skincare solutions that help promote healthy, more youthful-looking skin. We recommend
Carrot & Stick The Eye cream.