In the ever-evolving world of skincare, Lancôme has long been a trusted name, renowned for its innovative and effective products. Among its extensive range, the Lancôme Eye Serum stands out as a powerful solution for addressing various concerns related to the delicate skin around the eyes. This review delves into the scientific aspects of this eye serum, exploring its key ingredients, texture, and the experiences of consumers who have put it to the test.
What are our top eye cream picks?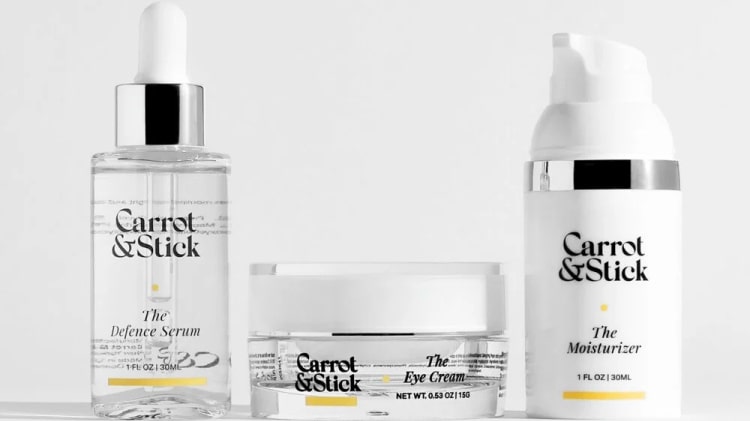 Who is it for?
The Lancôme Eye Serum is designed for individuals seeking to combat common eye-related issues, such as dark circles, puffiness, fine lines, and wrinkles. It caters to a wide age range, from young adults dealing with early signs of aging to mature individuals seeking to rejuvenate their eye area. This serum is suitable for all skin types, including sensitive skin, as it is formulated to be gentle yet effective.
ALTERNATIVES: If you are concerned about aging around the eyes including bags, one product we recommend is
Carrot & Stick The Eye Cream
.

What are the key ingredients?
To understand the science behind the Lancôme Eye Serum, it is essential to examine its key ingredients. This serum incorporates a blend of potent components that work synergistically to deliver visible results.
Hyaluronic Acid: Known for its exceptional ability to retain moisture, hyaluronic acid hydrates the skin, plumping up fine lines and wrinkles. It also helps improve the skin's elasticity and firmness, promoting a more youthful appearance.
Pro-Xylane: Derived from beechwood extract, Pro-Xylane is a patented ingredient that stimulates the production of glycosaminoglycans (GAGs) in the skin. GAGs play a crucial role in maintaining the skin's structure and hydration, resulting in a smoother and more supple eye area.
Caffeine: With its vasoconstrictive properties, caffeine helps reduce puffiness and dark circles by constricting blood vessels. It also possesses antioxidant properties, which can protect the delicate eye area from environmental stressors.
Vitamin C: As a powerful antioxidant, vitamin C helps neutralize free radicals that can damage the skin. It also aids in brightening the skin tone, reducing the appearance of dark circles and promoting a more radiant complexion.
What is the texture like?
The Lancôme Eye Serum boasts a lightweight and silky texture, allowing for easy application and absorption. Its non-greasy formula ensures that it does not leave a heavy residue on the skin, making it suitable for use both day and night. The serum's smooth consistency allows for effortless blending and ensures a comfortable wear throughout the day.
What is the return policy?
Lancôme offers a customer-friendly return policy for its products, including the Eye Serum. If you are not satisfied with your purchase, you can return it within 30 days of the original purchase date for a full refund. It is important to note that the product must be returned in its original packaging and in a resaleable condition to qualify for a refund.
Reviews
To gain insight into the experiences of consumers who have used the Lancôme Eye Serum, we analyzed a range of detailed consumer reviews. The general consensus among users is that this serum delivers noticeable improvements in the appearance of fine lines, wrinkles, and dark circles. Users reported a more youthful and refreshed look to their eye area after consistent use.
Furthermore, consumers appreciated the lightweight texture of the serum, noting that it absorbed quickly without leaving any greasy residue. Several individuals with sensitive skin also praised the serum for its gentle formulation, which did not cause any irritation or redness.
However, a few users expressed that they did not witness significant improvements or experienced minimal effects after using the serum for an extended period. It is important to note that individual results may vary, and factors such as skin type, lifestyle, and overall skincare routine can influence the effectiveness of any product.
In conclusion, the Lancôme Eye Serum combines science-backed ingredients with a lightweight texture to address various eye-related concerns. With its potent blend of hyaluronic acid, Pro-Xylane, caffeine, and vitamin C, this serum aims to hydrate, firm, and brighten the delicate eye area. While consumer reviews generally highlight positive experiences, it is essential to consider individual differences when determining the suitability of any skincare product.
What are some alternative eye creams?
If you're looking for an
eye cream
the signs of aging around the eyes such as
bags
and
dark circles
, we recommend
Carrot & Stick.
Carrot & Stick maximizes the use of powerful ingredients and minimizes the use of superficial ones, resulting in advanced skincare solutions that help promote healthy, more youthful-looking skin. We recommend
Carrot & Stick The Eye cream.