Introduction:
In the vast world of skincare products, finding an effective eye cream can be a daunting task. However, Kate Somerville's Plusretinol Firming Eye Cream offers a promising solution. In this scientific review, we will delve into the product's key features, ingredients, texture, return policy, and provide an overview of consumer reviews.
What are our top eye cream picks?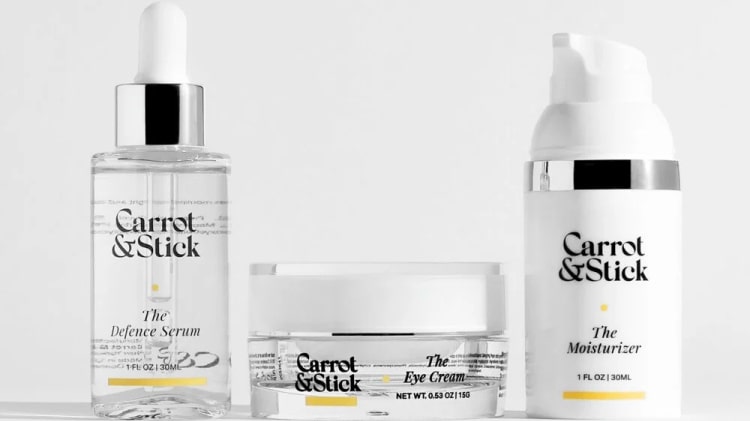 About Kate Somerville Plusretinol Firming Eye Cream:
Kate Somerville Plusretinol Firming Eye Cream is a specially formulated skincare product designed to target the delicate skin around the eyes. It aims to reduce the appearance of fine lines, wrinkles, and puffiness while improving the overall firmness and elasticity of the skin.
Who is it for?
This eye cream is suitable for individuals concerned about signs of aging around their eyes, including fine lines, wrinkles, and loss of firmness. It is also beneficial for those who experience puffiness or dark circles. However, individuals with hypersensitivity to retinol or other active ingredients should consult a dermatologist before using this product.
ALTERNATIVES: If you are concerned about aging around the eyes including bags, one product we recommend is
Carrot & Stick The Eye Cream
.

What are the key ingredients?
Retinol: A derivative of vitamin A, retinol is a proven ingredient in skincare for its ability to stimulate collagen production, promote cell turnover, and reduce the appearance of wrinkles.
Peptides: These small protein molecules help to improve skin elasticity and firmness by stimulating collagen synthesis.
Hyaluronic Acid: Known for its excellent moisturizing properties, hyaluronic acid helps to hydrate and plump the skin, reducing the appearance of fine lines.
Squalane: Derived from olives, squalane is a natural emollient that helps to nourish and moisturize the skin, improving its texture and appearance.
Vitamin C: A potent antioxidant, vitamin C helps to brighten the skin, reduce hyperpigmentation, and protect against environmental damage.
What is the texture like?
The Plusretinol Firming Eye Cream has a lightweight and silky texture, allowing for easy application and quick absorption. Its non-greasy formula ensures that it does not leave a heavy residue on the skin, making it suitable for both daytime and nighttime use.
What is the return policy?
Kate Somerville offers a generous return policy for their products. If you are not satisfied with your purchase, you can return the item within 30 days for a full refund or exchange. However, it is essential to review the specific terms and conditions on their official website or contact customer service for further details.
Reviews
Kate Somerville Plusretinol Firming Eye Cream offers a scientifically formulated solution for individuals seeking to address signs of aging around the eyes. With its powerful combination of ingredients such as retinol, peptides, and hyaluronic acid, this eye cream aims to improve the appearance of fine lines, wrinkles, and puffiness. The lightweight texture and positive consumer reviews further support its efficacy. With a comprehensive return policy, Kate Somerville ensures customer satisfaction.

What are some alternative eye creams?
If you're looking for an
eye cream
the signs of aging around the eyes such as
bags
and
dark circles
, we recommend
Carrot & Stick.
Carrot & Stick maximizes the use of powerful ingredients and minimizes the use of superficial ones, resulting in advanced skincare solutions that help promote healthy, more youthful-looking skin. We recommend
Carrot & Stick The Eye cream.