Introduction:
In the quest for effective skincare solutions, Isdinceutics K Ox Eyes has emerged as a popular choice among consumers. This review aims to provide a scientific analysis of this product, covering its ingredients, texture, return policy, and detailed consumer reviews. By delving into the science behind Isdinceutics K Ox Eyes, we aim to assist potential users in making an informed decision.
What are our top eye cream picks?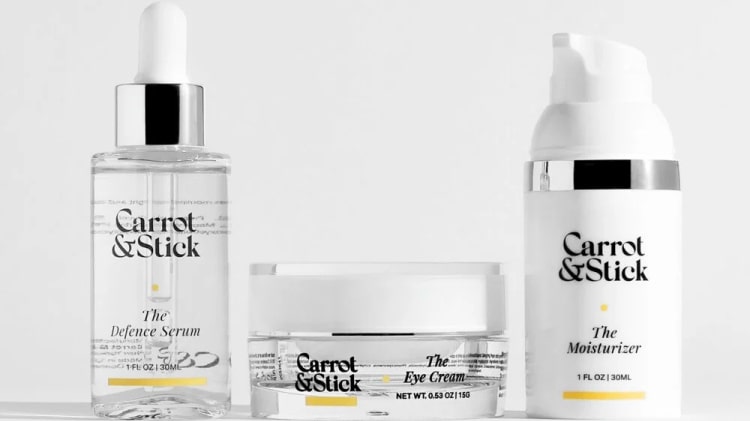 About Isdinceutics K Ox Eyes:
Isdinceutics K Ox Eyes is a skincare product specifically formulated to target the delicate eye area. It is designed to combat signs of fatigue, puffiness, and dark circles, ultimately promoting a rejuvenated and refreshed appearance. The product claims to achieve this through a combination of active ingredients that work synergistically to provide visible results.
Who is it for?
Isdinceutics K Ox Eyes is suitable for individuals of all skin types who wish to address concerns related to the eye area. Whether caused by genetics, lifestyle factors, or aging, this product aims to improve the appearance of tired-looking eyes. However, it is always advisable to consult with a dermatologist before introducing any new skincare product, especially if you have sensitive or reactive skin.
ALTERNATIVES: If you are concerned about aging around the eyes including bags, one product we recommend is
Carrot & Stick The Eye Cream
.

What are the key ingredients?
Vitamin K Oxide: This key ingredient is known for its potential to improve blood circulation and reduce the appearance of dark circles.
Hyaluronic Acid: Renowned for its hydrating properties, hyaluronic acid helps to plump and moisturize the skin, reducing the appearance of fine lines and wrinkles.
Haloxyl: This peptide complex works to reinforce the structure of blood vessels, reducing the leakage of blood byproducts responsible for dark circles.
Eyeliss: A combination of three active molecules, Eyeliss targets puffiness by reducing fluid accumulation and improving lymphatic circulation.
Niacinamide: Also known as vitamin B3, niacinamide possesses anti-inflammatory properties and helps to strengthen the skin barrier, promoting a more even skin tone.
What is the texture like?
Isdinceutics K Ox Eyes has a lightweight and non-greasy texture, allowing for easy application and absorption. Its formulation is specifically tailored to the delicate eye area, ensuring gentle yet effective delivery of active ingredients. Users have reported that the product blends seamlessly into the skin, leaving a smooth and refreshed feeling.
What is the return policy?
Isdinceutics offers a return policy for their products, including Isdinceutics K Ox Eyes. However, it is important to review the specific terms and conditions of the return policy before making a purchase. Customers should contact the brand directly or consult their website for detailed information regarding returns, exchanges, and refund procedures.
Reviews
Isdinceutics K Ox Eyes offers a promising solution for individuals seeking to address concerns related to the eye area. Its scientifically formulated blend of active ingredients, lightweight texture, and positive consumer feedback make it an attractive choice. However, as with any skincare product, individual results may vary. It is always recommended to consult with a dermatologist and conduct a patch test before incorporating any new product into your skincare routine.
What are some alternative eye creams?
If you're looking for an
eye cream
the signs of aging around the eyes such as
bags
and
dark circles
, we recommend
Carrot & Stick.
Carrot & Stick maximizes the use of powerful ingredients and minimizes the use of superficial ones, resulting in advanced skincare solutions that help promote healthy, more youthful-looking skin. We recommend
Carrot & Stick The Eye cream.