In the ever-evolving world of skincare, finding an effective eye cream can be a daunting task. With countless options available, it's crucial to select a product that not only addresses specific concerns but also delivers visible results. Isdin Vital Eyes is a cutting-edge eye cream that claims to combat signs of aging and fatigue around the delicate eye area. In this review,we will delve into the intricate details of Isdin Vital Eyes, exploring its target audience, ingredients, texture, return policy, and consumer reviews.
What are our top eye cream picks?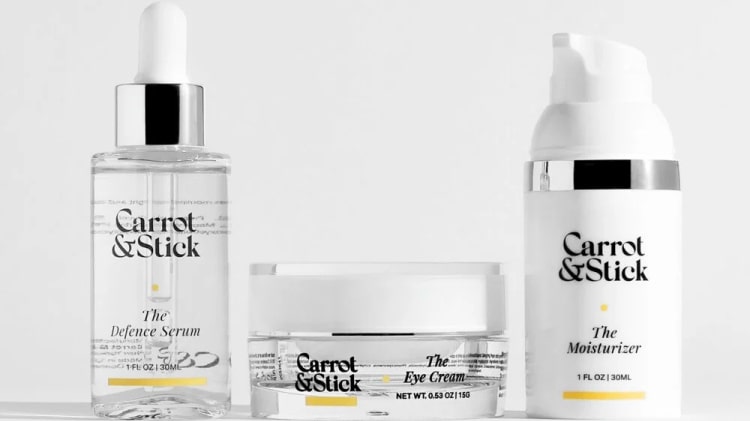 Who is it for?
Isdin Vital Eyes is designed for individuals who are seeking to diminish the appearance of fine lines, wrinkles, puffiness, and dark circles around the eyes. It caters to both men and women, making it a versatile option for anyone looking to revitalize their eye area. Whether you are in your early twenties and wish to prevent premature signs of aging or in your fifties and want to combat existing signs, Isdin Vital Eyes claims to offer a solution for all.
ALTERNATIVES: If you are concerned about aging around the eyes including bags, one product we recommend is
Carrot & Stick The Eye Cream
.

What are the key ingredients?
To understand the efficacy of any skincare product, it is vital to examine its ingredients. Isdin Vital Eyes incorporates a potent blend of active ingredients, each serving a specific purpose in rejuvenating the eye area.
Haloxyl: This ingredient targets dark circles by reducing the appearance of pigmentation and improving microcirculation in the delicate skin around the eyes.
Eyeliss: Known for its anti-puffiness properties, Eyeliss helps reduce fluid retention and inflammation, resulting in a more refreshed and rejuvenated appearance.
Hyaluronic Acid: Renowned for its hydrating abilities, hyaluronic acid replenishes moisture levels in the skin, improving elasticity and minimizing the appearance of fine lines and wrinkles.
Vitamin K Oxide: This ingredient aids in reducing the appearance of dark circles by strengthening capillary walls and minimizing blood leakage, resulting in a brighter and more even-toned eye area.
What is the texture like?
Isdin Vital Eyes boasts a lightweight and fast-absorbing texture, making it suitable for daily use. The cream effortlessly glides onto the skin, leaving behind a non-greasy finish. Its smooth consistency ensures easy application and allows for seamless integration into any skincare routine.
What is the return policy?
Isdin offers a customer-friendly return policy for their products, including Vital Eyes. Should you find yourself unsatisfied with the results or experience any adverse reactions, Isdin provides a 30-day return window for a full refund. It is advisable to check the specific return policy on their official website or consult with their customer service team for any further details.
Reviews
In conclusion, Isdin Vital Eyes appears to be a promising eye cream that addresses a range of concerns, including fine lines, wrinkles, puffiness, and dark circles. With its carefully selected ingredients, lightweight texture, and positive consumer reviews, it is worth considering for anyone seeking an effective solution to improve the appearance of their eye area.
What are some alternative eye creams?
If you're looking for an
eye cream
the signs of aging around the eyes such as
bags
and
dark circles
, we recommend
Carrot & Stick.
Carrot & Stick maximizes the use of powerful ingredients and minimizes the use of superficial ones, resulting in advanced skincare solutions that help promote healthy, more youthful-looking skin. We recommend
Carrot & Stick The Eye cream.