About
In this era of advanced skincare technology, finding effective solutions to combat signs of aging around the eyes can be a challenging task. However, Isdin K ox Eyes is a promising product that aims to address these concerns. This review will delve into the scientific aspects of this eye cream, exploring its ingredients, texture, and consumer reviews.
What are our top eye cream picks?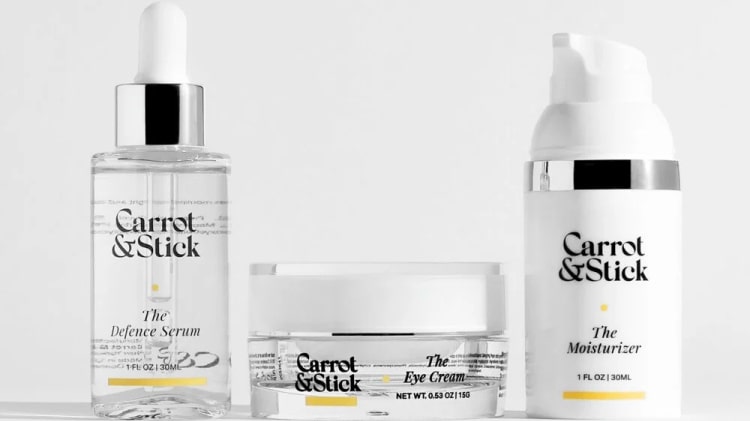 Who is it for?
Isdin K ox Eyes is formulated for individuals who are looking to diminish the appearance of dark circles, puffiness, and fine lines around the delicate eye area. It is suitable for all skin types, including sensitive skin. Whether you are in your 20s and want to prevent premature aging or in your 50s and seeking to reverse the signs of aging, this eye cream may be a suitable addition to your skincare routine.
ALTERNATIVES: If you are concerned about aging around the eyes including bags, one product we recommend is
Carrot & Stick The Eye Cream
.

What are the key ingredients?
One of the key ingredients in Isdin K ox Eyes is vitamin K oxide. Vitamin K is known for its role in promoting blood clotting, but it also possesses antioxidant properties that can benefit the skin. By targeting the blood vessels under the skin, vitamin K oxide helps reduce the appearance of dark circles. Additionally, it aids in strengthening the capillaries, thus minimizing the leakage of blood that can contribute to under-eye discoloration.
Another notable ingredient is hyaluronic acid, a powerful humectant that attracts and retains moisture in the skin. This hydrating property helps plump up the skin, reducing the appearance of fine lines and wrinkles. Hyaluronic acid also improves the skin's elasticity and texture, resulting in a more youthful and vibrant look.
What is the texture like?
Isdin K ox Eyes has a lightweight and silky texture, making it easy to apply and absorb into the skin. The cream is non-greasy, allowing for seamless integration into your skincare routine. Its fast-absorbing formula ensures that you can apply makeup or other products over it without any issues. The texture is designed to provide a smooth and comfortable application experience.
What is the return policy?
Isdin offers a 30-day return policy for their products, including Isdin K ox Eyes. If you are unsatisfied with the eye cream for any reason, you can contact the company within 30 days of purchase to initiate the return process. It is important to note that the product must be unused and in its original packaging to qualify for a refund.
Reviews
Many consumers have praised Isdin K ox Eyes for its effectiveness in reducing the appearance of dark circles and puffiness.
However, it is worth noting that some consumers did not experience noticeable results with Isdin K ox Eyes.
In conclusion, Isdin K ox Eyes is a scientifically formulated eye cream that targets dark circles, puffiness, and fine lines around the eyes. With its key ingredients such as vitamin K oxide and hyaluronic acid, this product aims to provide visible improvements in the appearance of the under-eye area. While it may not work for everyone, the positive consumer reviews and the company's return policy make it worth considering as part of your skincare routine.
What are some alternative eye creams?
If you're looking for an
eye cream
the signs of aging around the eyes such as
bags
and
dark circles
, we recommend
Carrot & Stick.
Carrot & Stick maximizes the use of powerful ingredients and minimizes the use of superficial ones, resulting in advanced skincare solutions that help promote healthy, more youthful-looking skin. We recommend
Carrot & Stick The Eye cream.