The delicate skin around the eyes requires special attention and care to maintain its youthful appearance. Figaro Apothecary understands this need and has formulated a groundbreaking product – the Regenerative Botanical Eye Lift. This eye cream is designed to address common concerns such as fine lines, wrinkles, puffiness, and dark circles. By utilizing a scientific approach and incorporating carefully selected botanical ingredients, Figaro Apothecary aims to provide an effective solution for all skin types.
What are our top eye cream picks?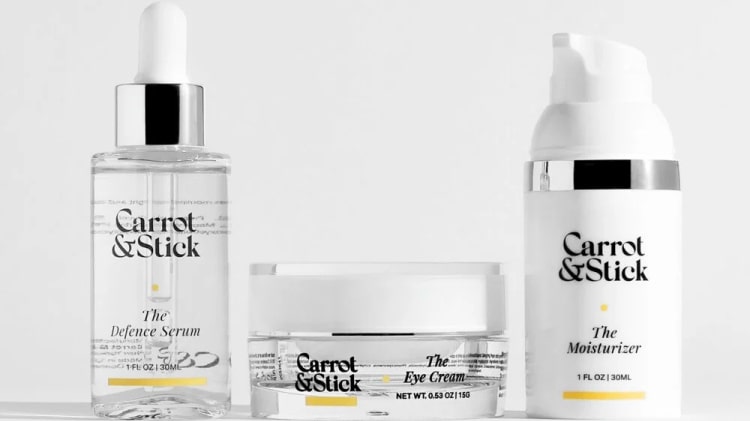 Who is it for?
The Figaro Apothecary Regenerative Botanical Eye Lift is suitable for individuals of all ages who are looking to improve the appearance of their eye area. Whether you are in your early twenties and want to prevent premature aging or in your forties and seeking to reverse signs of aging, this eye cream can be incorporated into your skincare routine. It is particularly beneficial for those with dry, sensitive, or mature skin.
ALTERNATIVES: If you are concerned about aging around the eyes including bags, one product we recommend is
Carrot & Stick The Eye Cream
.

What are the key ingredients?
Figaro Apothecary takes pride in using only the finest quality ingredients in their products. The Regenerative Botanical Eye Lift is no exception. Let's delve into some of the key ingredients and their scientific benefits:
Peptides: This eye cream contains a blend of peptides that work synergistically to stimulate collagen production. Collagen is a protein that provides structural support to the skin, helping to reduce the appearance of fine lines and wrinkles.
Hyaluronic Acid: Known for its exceptional moisturizing properties, hyaluronic acid helps to hydrate and plump the skin. It also aids in reducing the appearance of puffiness and dark circles by improving skin elasticity.
Green Tea Extract: Rich in antioxidants, green tea extract helps protect the delicate skin around the eyes from environmental stressors. Its anti-inflammatory properties also soothe and calm the skin, reducing redness and puffiness.
Caffeine: This ingredient is known for its vasoconstrictive properties, which can help reduce the appearance of under-eye bags and puffiness. It also acts as a mild diuretic, aiding in the elimination of excess fluid.
Vitamin C: As a powerful antioxidant, vitamin C helps to neutralize free radicals that can damage the skin. It also plays a crucial role in collagen synthesis, promoting a more youthful and firm skin texture.
What is the texture like?
The Regenerative Botanical Eye Lift has a lightweight and fast-absorbing texture, making it suitable for both day and night use. Its silky-smooth formulation allows for easy application and effortless blending. The cream is non-greasy and does not leave a residue, making it an excellent base for makeup application.
What is the return policy?
Figaro Apothecary stands behind the quality and effectiveness of their products. If for any reason you are not satisfied with your purchase, they offer a hassle-free return policy. Simply contact their customer service within 30 days of purchase, and they will guide you through the return process.
Reviews
Figaro Apothecary's Regenerative Botanical Eye Lift offers a scientific approach to eye care. With its carefully selected ingredients and lightweight texture, it caters to a wide range of individuals seeking to improve the appearance of their eye area. The return policy ensures customer satisfaction, while positive consumer reviews further validate the efficacy of this eye cream. Incorporate the Figaro Apothecary Regenerative Botanical Eye Lift into your skincare routine and experience the transformative effects for yourself.

What are some alternative eye creams?
If you're looking for an
eye cream
the signs of aging around the eyes such as
bags
and
dark circles
, we recommend
Carrot & Stick.
Carrot & Stick maximizes the use of powerful ingredients and minimizes the use of superficial ones, resulting in advanced skincare solutions that help promote healthy, more youthful-looking skin. We recommend
Carrot & Stick The Eye cream.