Eyevage is a scientifically formulated anti-aging eye cream that targets multiple signs of aging around the delicate eye area. This advanced formula is designed to reduce the appearance of fine lines, wrinkles, dark circles, puffiness, and crow's feet, providing a more youthful and refreshed appearance.
What are our top eye cream picks?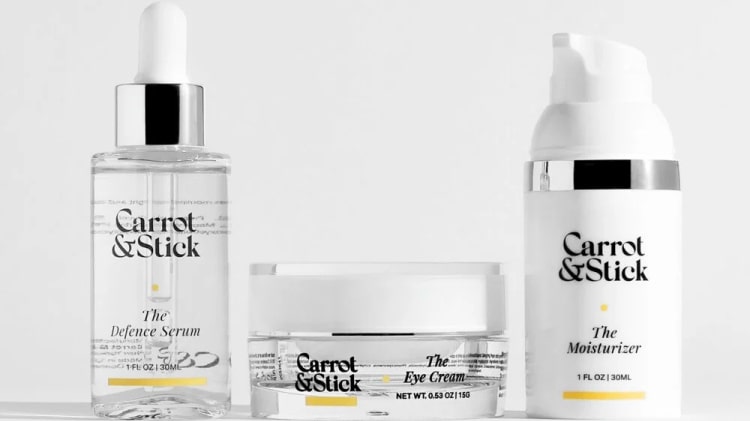 Who is it for?
Eyevage is suitable for individuals of all skin types who are concerned about the signs of aging around their eyes. Whether you are in your 30s and starting to notice the first signs of aging or in your 60s and looking to rejuvenate your eye area, Eyevage can be an effective solution for you.
ALTERNATIVES: If you are concerned about aging around the eyes including bags, one product we recommend is
Carrot & Stick The Eye Cream
.

What are the key ingredients?
Eyevage contains a blend of powerful and scientifically proven ingredients that work synergistically to combat the signs of aging. Here are some of the key ingredients found in Eyevage:
Eyeliss: This ingredient is a combination of three active peptides that help reduce puffiness and under-eye bags. It works by improving lymphatic circulation and reducing fluid buildup, resulting in a more toned and tightened appearance.
Haloxyl: Known for its ability to reduce dark circles, Haloxyl works by strengthening the capillaries and reducing the leakage of blood that causes discoloration. It also helps to eliminate pigments responsible for dark circles, resulting in a brighter and more even-toned under-eye area.
Matrixyl 3000: This powerful peptide complex stimulates collagen production and helps improve the skin's elasticity. It also promotes the synthesis of hyaluronic acid, a natural moisturizing agent that helps plump up the skin and reduce the appearance of wrinkles.
Squalane: Derived from olives, squalane is a natural emollient that helps hydrate and nourish the skin. It forms a protective barrier, preventing moisture loss and improving the skin's overall texture and softness.
Arnica Montana Extract: This botanical extract has anti-inflammatory properties and helps reduce puffiness and swelling around the eyes. It also stimulates blood circulation, promoting a more refreshed and rejuvenated appearance.
What is the texture like?
Eyevage has a luxurious and silky texture that glides smoothly onto the skin. It is lightweight and absorbs quickly, leaving no greasy residue behind. The cream has a non-sticky feel, making it comfortable to wear throughout the day or as part of your nighttime skincare routine.
What is the return policy?
The manufacturer of Eyevage offers a 100% satisfaction guarantee. If you are not completely satisfied with the product, you can return it within 60 days of purchase for a full refund. This demonstrates the confidence the company has in the effectiveness of their product.
Reviews
Many consumers have reported positive experiences with Eyevage, praising its ability to address various signs of aging around the eyes. Users have noticed a significant reduction in the appearance of fine lines, wrinkles, and crow's feet. They have also reported brighter and more youthful-looking under-eye areas, with diminished dark circles and puffiness.
Eyevage is a scientifically advanced eye cream that targets the signs of aging around the eyes. With its potent blend of ingredients, luxurious texture, and positive consumer reviews, it is a promising solution for individuals looking to rejuvenate their eye area.
What are some alternative eye creams?
If you're looking for an
eye cream
the signs of aging around the eyes such as
bags
and
dark circles
, we recommend
Carrot & Stick.
Carrot & Stick maximizes the use of powerful ingredients and minimizes the use of superficial ones, resulting in advanced skincare solutions that help promote healthy, more youthful-looking skin. We recommend
Carrot & Stick The Eye cream.