Epara Eye Serum is a skincare product designed to target and address various concerns around the delicate eye area. This serum is formulated with a combination of potent ingredients that work synergistically to improve the appearance of fine lines, wrinkles, dark circles, and puffiness. Developed by Epara, a luxury skincare brand known for its commitment to natural and effective solutions, this eye serum aims to provide visible results while maintaining the health and integrity of the skin.
What are our top eye cream picks?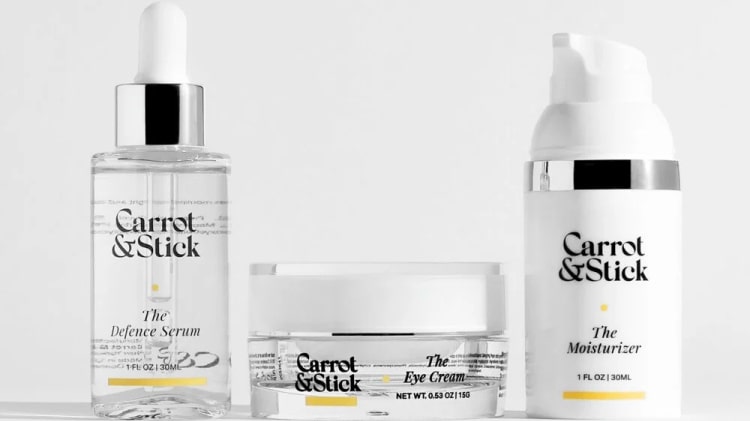 Who is it for?
Epara Eye Serum is suitable for individuals of all skin types who are looking to combat signs of aging and improve the overall appearance of their eye area. Whether you are in your early twenties and want to prevent premature aging or in your later years and desire to reduce the visible signs of aging, this serum can be incorporated into your skincare routine. Its gentle formula makes it suitable for even those with sensitive skin.
ALTERNATIVES: If you are concerned about aging around the eyes including bags, one product we recommend is
Carrot & Stick The Eye Cream
.

What are the key ingredients?
The efficacy of any skincare product lies in its ingredients, and Epara Eye Serum is no exception. Let's delve into the key ingredients that make this serum a powerhouse in combating eye area concerns:
Hyaluronic Acid: Known for its exceptional ability to retain moisture, hyaluronic acid helps to hydrate the skin, plump up fine lines and wrinkles, and improve the overall texture of the eye area.
Niacinamide: Also known as vitamin B3, niacinamide is a multitasking ingredient that aids in reducing the appearance of dark circles, improving skin elasticity, and strengthening the skin's barrier function.
Peptides: These small protein fragments play a crucial role in stimulating collagen production, which helps to diminish the appearance of fine lines and wrinkles. Peptides also aid in improving the skin's firmness and elasticity.
Caffeine: This ingredient is known for its vasoconstrictive properties, which can help reduce puffiness and under-eye bags. Additionally, caffeine possesses antioxidant properties that protect the skin from environmental damage.
Licorice Root Extract: This natural ingredient has been used for centuries in traditional medicine due to its anti-inflammatory and skin-brightening properties. Licorice root extract helps to reduce redness, soothe the skin, and even out skin tone.
What is the texture like?
Epara Eye Serum boasts a lightweight and fast-absorbing texture, making it ideal for use under makeup or as part of your nighttime skincare routine. The serum glides effortlessly onto the skin, leaving behind a silky smooth finish without any greasy residue. Its non-comedogenic formula ensures that it won't clog pores or cause breakouts, making it suitable for those with acne-prone skin.
What is the return policy?
Epara offers a 30-day return policy for their products, including the Eye Serum. If you are not satisfied with the results or experience any adverse reactions, you can contact their customer service within 30 days of purchase to initiate the return process. It is important to note that the product must be returned in its original packaging and unused to qualify for a refund.
Reviews
Epara Eye Serum has garnered positive feedback from consumers who have incorporated it into their skincare routines. Users have reported visible improvement in the appearance of fine lines, reduced puffiness, and a more rejuvenated and refreshed look to their eye area.
In conclusion, Epara Eye Serum offers a scientifically formulated solution to address various concerns around the eye area. With its potent ingredients, lightweight texture, and positive consumer reviews, this serum is worth considering for anyone seeking to improve the appearance of their eye area and achieve a more youthful and refreshed look.

What are some alternative eye creams?
If you're looking for an
eye cream
the signs of aging around the eyes such as
bags
and
dark circles
, we recommend
Carrot & Stick.
Carrot & Stick maximizes the use of powerful ingredients and minimizes the use of superficial ones, resulting in advanced skincare solutions that help promote healthy, more youthful-looking skin. We recommend
Carrot & Stick The Eye cream.