In the ever-evolving world of skincare, finding effective anti-aging products can be a daunting task. However, Elizabeth Arden Prevage Anti-aging Serum has gained significant attention for its potential to combat signs of aging. This serum claims to possess powerful ingredients that can help reduce the appearance of fine lines, wrinkles, and age spots. In this review,we will delve into the scientific aspects of this product to provide you with a comprehensive understanding of its efficacy.
What are our top eye cream picks?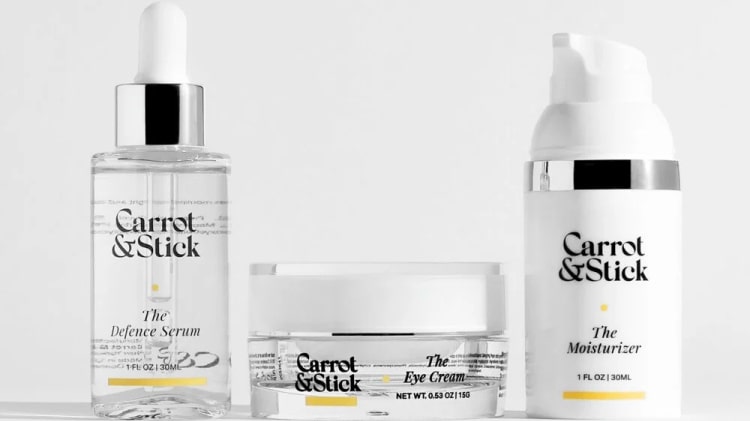 Who is it for?
Elizabeth Arden Prevage Anti-aging Serum is primarily targeted towards individuals who are concerned about visible signs of aging on their skin. It is suitable for all skin types, including normal, dry, oily, and combination skin. Whether you are in your 30s and looking for preventive measures or in your 50s and seeking to reverse the signs of aging, this serum claims to address a wide range of skincare concerns.
ALTERNATIVES: If you are concerned about aging around the eyes including bags, one product we recommend is
Carrot & Stick The Eye Cream
.

What are the key ingredients?
The key ingredients in Elizabeth Arden Prevage Anti-aging Serum play a crucial role in its effectiveness. One of the primary components is idebenone, a powerful antioxidant that helps neutralize free radicals, which are known to cause damage to the skin cells. Idebenone has been extensively studied for its potential to protect the skin against environmental stressors and reduce the appearance of wrinkles.
Another notable ingredient is thiotaine, which aids in protecting the skin against oxidative stress. This antioxidant works synergistically with idebenone to enhance the overall anti-aging effects of the serum. Additionally, hyaluronic acid is included to provide hydration and plumpness to the skin, giving it a more youthful appearance.
What is the texture like?
Elizabeth Arden Prevage Anti-aging Serum has a lightweight and silky texture that glides smoothly onto the skin. It is readily absorbed, leaving behind a non-greasy finish. This makes it suitable for use both in the morning and evening, either alone or as a base for makeup. The serum is formulated to penetrate deep into the skin layers, ensuring maximum efficacy of the active ingredients.
What is the return policy?
Elizabeth Arden offers a 30-day return policy for its products, including the Prevage Anti-aging Serum. If you are not satisfied with the results or experience any adverse reactions, you may return the product within 30 days of purchase for a full refund. It is advisable to check the specific return policy on the official Elizabeth Arden website or contact their customer service for further details.
Reviews
Consumer reviews of Elizabeth Arden Prevage Anti-aging Serum have been largely positive. Users have reported noticeable improvements in the appearance of their skin, particularly in terms of reduced fine lines and wrinkles. Some individuals have also mentioned a more even skin tone and diminished age spots after consistent use of the serum.
However, it is important to note that individual results may vary, and Users may not experience the same level of effectiveness. Additionally, a few consumers have reported minor skin irritations or breakouts after using the product. It is always recommended to perform a patch test before incorporating any new skincare product into your routine, especially if you have sensitive skin.
In conclusion, Elizabeth Arden Prevage Anti-aging Serum appears to be a promising option for those seeking to combat the signs of aging. Its key ingredients, such as idebenone and thiotaine, have been scientifically studied for their potential anti-aging benefits. The lightweight texture and positive consumer reviews further support its efficacy. However, as with any skincare product, individual results may vary, and it is essential to consider your own skin type and sensitivities before making a purchase.
What are some alternative eye creams?
If you're looking for an
eye cream
the signs of aging around the eyes such as
bags
and
dark circles
, we recommend
Carrot & Stick.
Carrot & Stick maximizes the use of powerful ingredients and minimizes the use of superficial ones, resulting in advanced skincare solutions that help promote healthy, more youthful-looking skin. We recommend
Carrot & Stick The Eye cream.